A couple comfortably separates work from life in a smaller living space in Sonoma.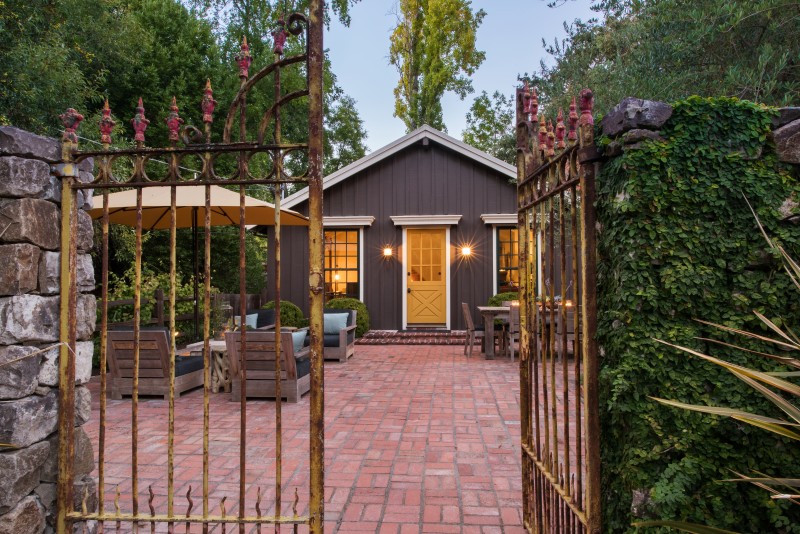 Being able to stroll a few blocks to Sonoma's bustling plaza for dinner, while living alongside a creek on a half-acre that feels rural and remote, is what makes Josh Heiser and Steve Burns love their country-with-urban-benefits lifestyle.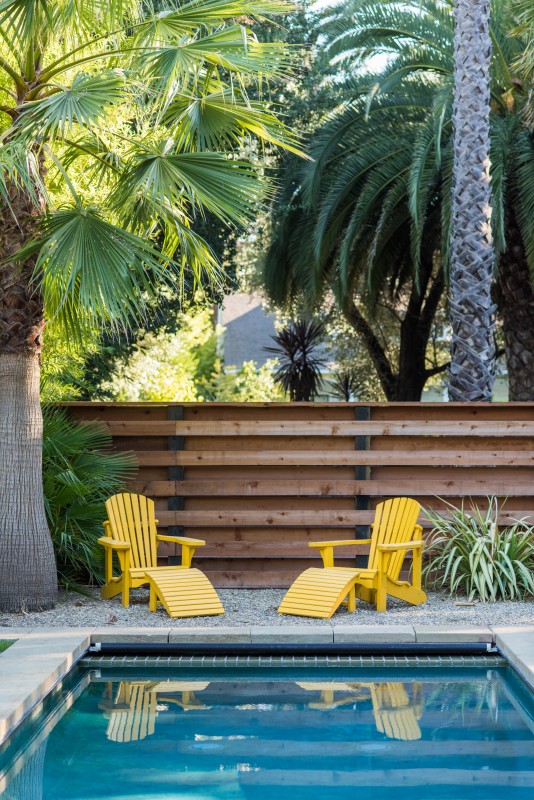 Their property is perfect because it has two buildings: a tiny cottage not far from the sidewalk where they work, and at the far end a building they remodeled into 1,100 square feet of home sweet home. Their work commute involves walking a limestone path past the pool and lovely outside living area to the partners desk in the cottage, which houses their wine marketing and strategic planning firm, O'Donnell Lane.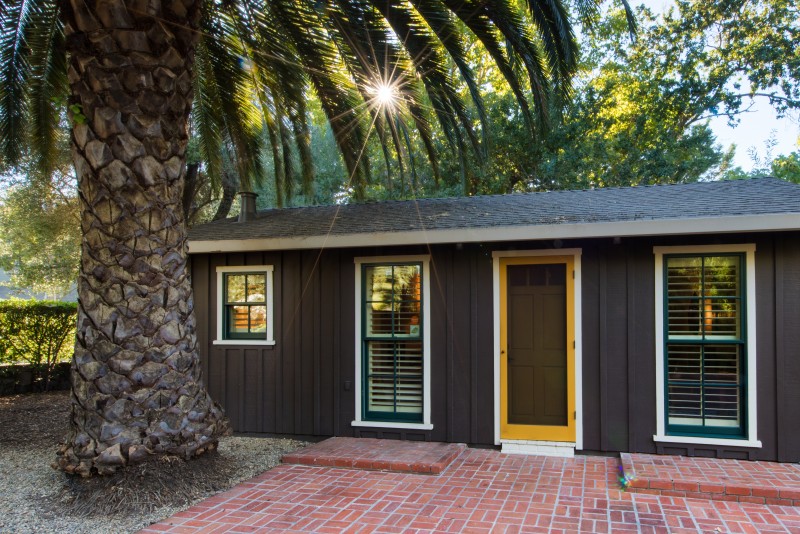 Prior to moving there eight years ago, they lived and worked in a much larger home in Glen Ellen that was wrong for two reasons — living under the same roof as their office made them feel like they never left work, and Glen Ellen was a little farther out of town than they wanted to be. They appreciate walking to the bank and the farmers market, and leaving their Mercedes Benz convertible parked in the driveway.
"Now the office is so close, but yet so far, and we can walk to Cafe La Haye and Whole Foods," Burns said. "And we like living small."
Heiser, with his degree in construction management and experience remodeling and flipping houses (which they did seven times while living in Seattle), designed and reframed their one-bedroom, one-bath home himself, with an emphasis on maximizing every available inch, including high built-ins reachable only by a ladder that hangs artfully on the kitchen wall.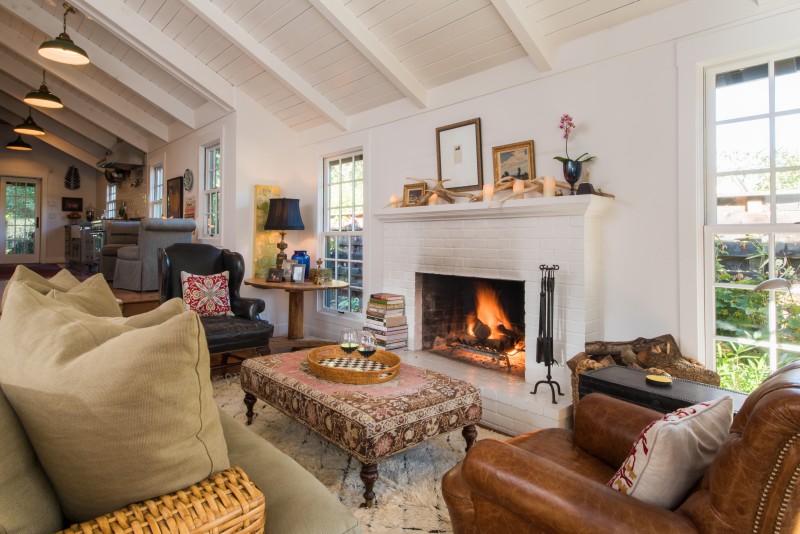 The great room has a white-beamed ceiling that soars to 14 feet and the original brick fireplace. A custom-made Ralph Lauren rattan sofa divides the living and dining areas, and cowhide throw rugs partially cover the rich walnut flooring.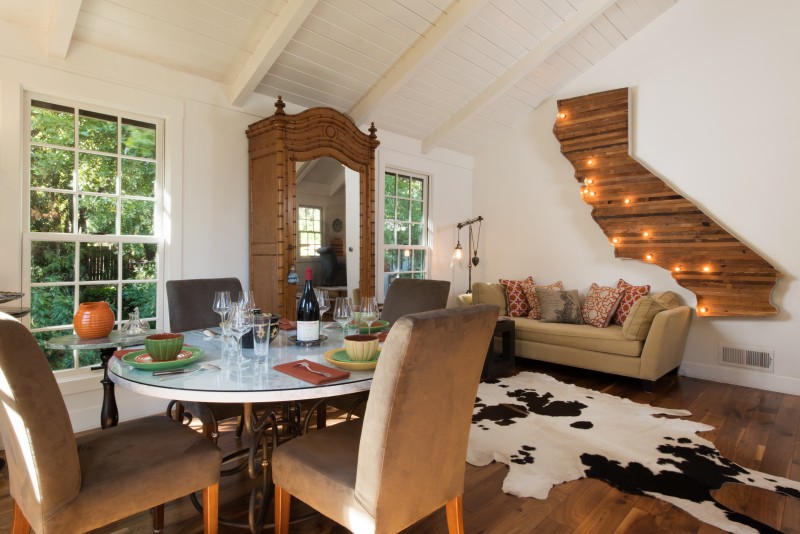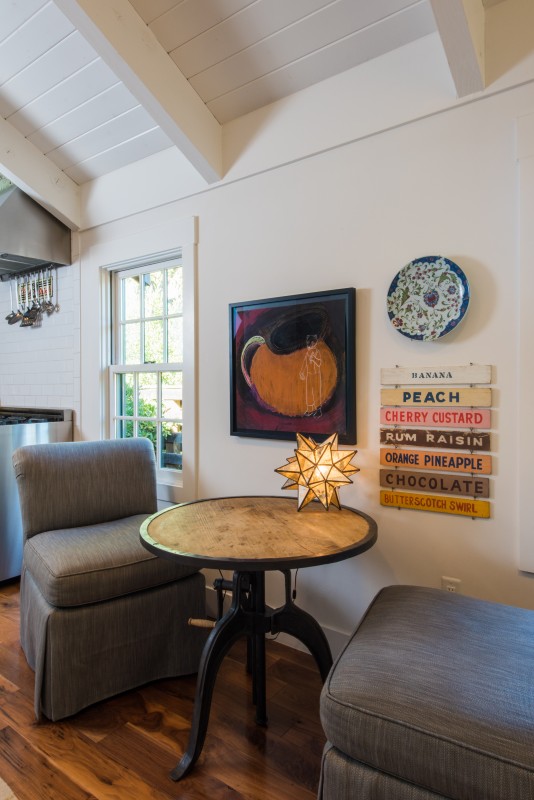 The round dining table, which seats eight crowdedly, is from Sonoma Country Antiques in Sonoma and is surrounded by gray chairs from Cost Plus. Heiser, who sidelines as an interior decorator, found the hutch at Artefacts Design at Cornerstone, also in Sonoma. The antique hanging dish rack is from Chateau Sonoma and holds a collection of plates that were a gift from a dear friend for the couple's 20th anniversary earlier this year, which they celebrated by spending a month in Spain.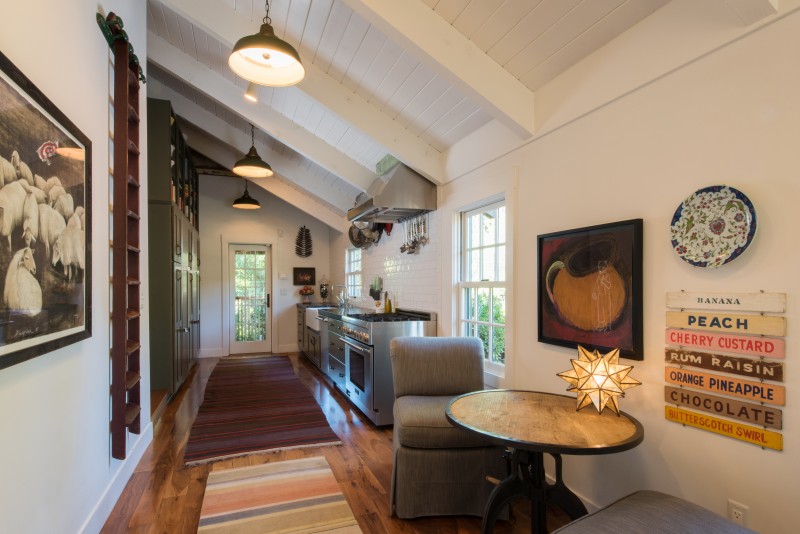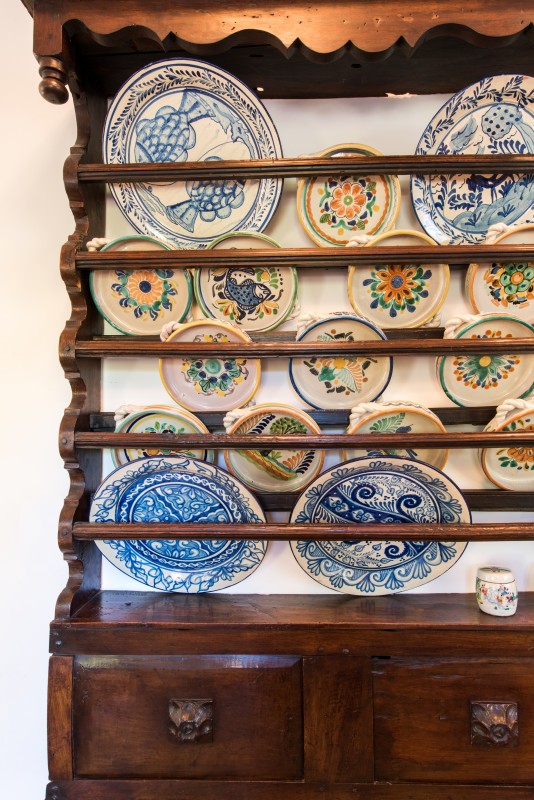 The galley kitchen has Thermador appliances and soapstone counters with a white porcelain cottage sink. There's a small table with two chairs for everyday dining and a painting of sheep that the couple acquired on a recent trip to Cuba.
"When you travel and return to Sonoma, you realize that this is a very special place. There is a reason why people come here to vacation," Burns said.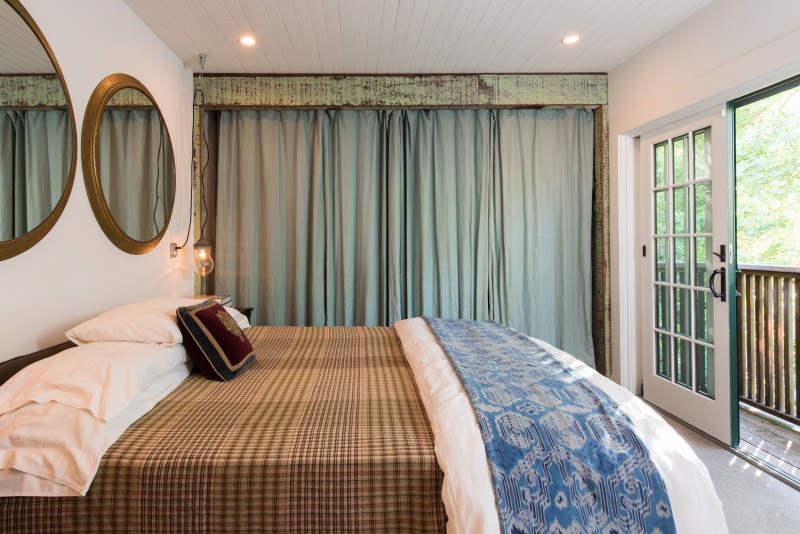 From the kitchen, it's just a few steps up to the bed, bath and laundry area, where French glass sliders fill one bedroom wall, allowing a view of native bay and willow trees and the murmur of Nathanson Creek. "It's like being out of town in town," Heiser said.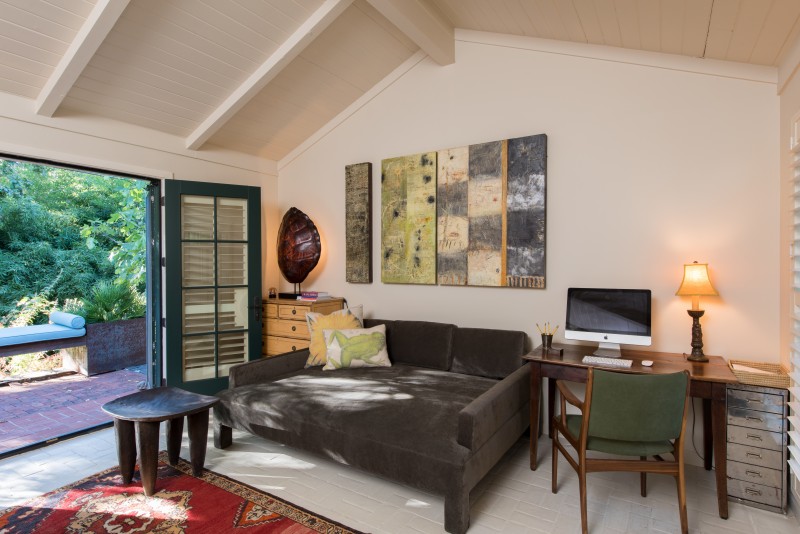 They entertain often, and the cottage office with its king-size bed and compact kitchen can double as a guesthouse. The brick courtyard has four large armchairs with a cocktail table on one side and a dining table and chairs on the other. A vibrant-yellow square umbrella moves on wheels to shade either area, and matches the welcoming Dutch door of the home and the two Adirondack chairs beside the pool.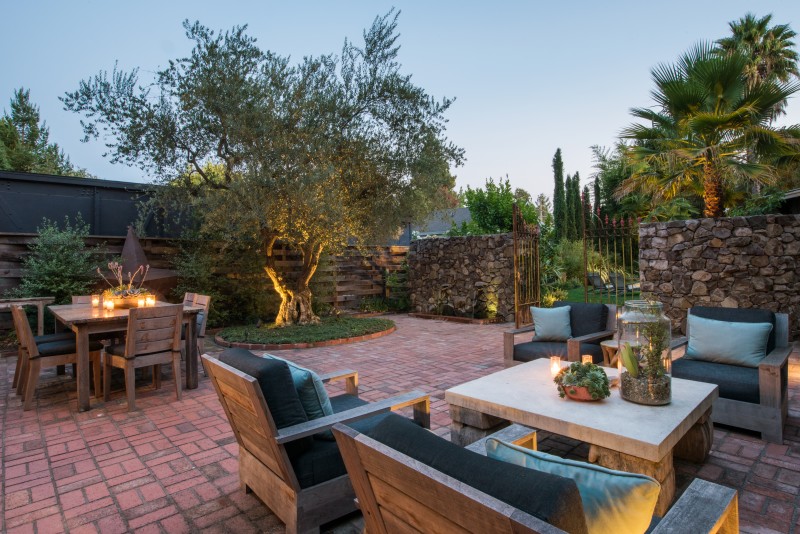 "We wanted to create a tranquil transition between the office and where we live," Heiser said; the trickle of a fountain built into a tall rock wall speaks of their success. Chickens roam the raised vegetable planting beds, figs and lemons hang from trees, and Heiser and Burns planted olive and palm trees, too.
To get from the office back home, they walk through an antique iron gate from Belgium, closing their work life behind.
Photography by Rebecca Chotkowski.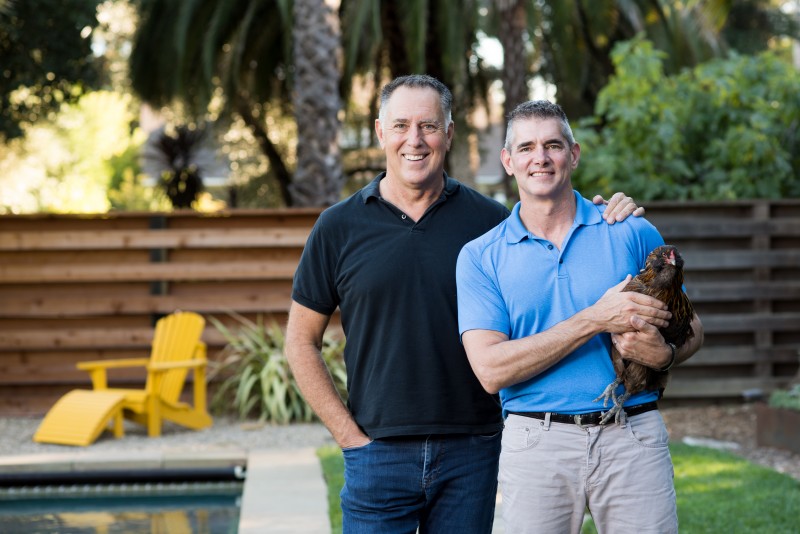 Subscribe to Our Newsletters!