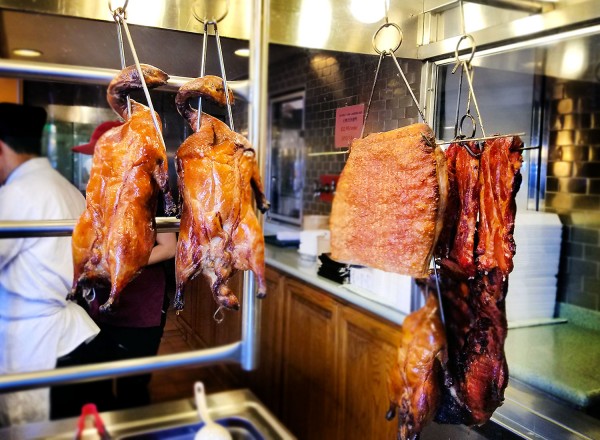 Fantasy Hong Kong Style BBQ isn't for everyone, but it is for anyone who is desperate to find authentic Chinese roasted duck, roasted pork belly, honey pork, and spare ribs cut to order. This is true Chinese barbecue.
Hidden away in a former Round Table pizza, diners are greeted by lacquered roast ducks (heads still on) hanging on hooks in a glass case. The Chinatown similarities extend to a hunk of pork belly, ribs and a few, uh, unrecognizable items hanging by hooks or in steam trays (which turn out to be beef cartilage and pig ears).
Though the menu can be daunting, it's easiest to just ask what's good, and do the bbq special: Two meats, rice or noodles and then enjoy the show as the chef hacks slices of meat with a giant cleaver with the adeptness of a sushi chef. For about $14, you'll get a massive plate of food that could easily feed two. Possibly three.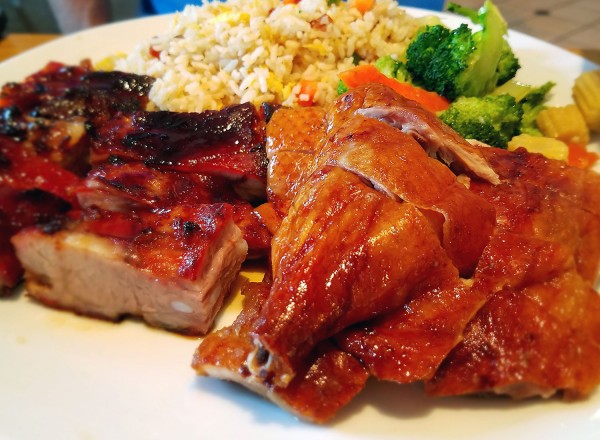 The roasted duck, with crispy skin and five-spice, is the best we've had anywhere in the North Bay, and the honey pork is sweet without being cloying. And though many high-end chefs charge a fortune for pork belly, you'll get a huge portion with crackling skin and moist, lush fat that would cost five times as much elsewhere.
There's a buffet with more typical Chinese offerings like lemon chicken, fish, fried rice and veggies, all made fresh. Plus, fried peanuts if you're a fan.
Fantasy Hong Kong Style BBQ: 1520 E. Washington St., Petaluma, opening 10:30 a.m. to 9 p.m. daily.