It's spring, and restaurants are popping up like daisies throughout Sonoma County. Here are two new spots to try, and a third that's worth another look.
Miminashi
Izakaya, casual Japanese drinking establishments, are finally making their way to Wine Country. Both exotic and familiar, they appeal to young American chefs who are smitten by the raucous after-work spots known for their easy flowing beer, sake and spirits paired with rich bits of fried food, small plates of fish or vegetables, and the signature "sticks" of charcoal-grilled meat and veggies called yakitori.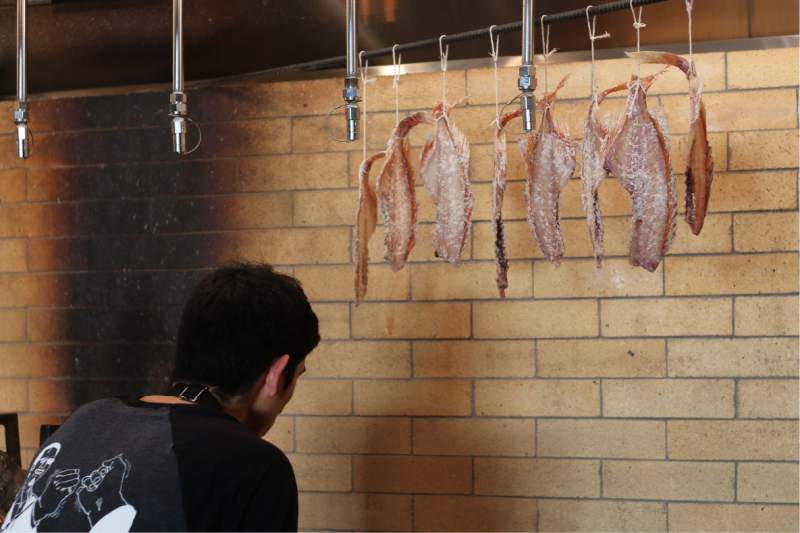 Miminashi is the latest addition, and perhaps the most eagerly anticipated. It recently opened in downtown Napa with Curtis Di Fede at the helm. As chef/co-owner at Oenotri, he spent several years learning authentic Japanese techniques for izakaya.
"It's everything that isn't sushi," says Di Fede, with an offhand nod to Americans' sometimes singular focus on raw fish.
Though the menu includes a few sashimi plates at Miminashi, look for more rib-sticking dishes like pork belly ramen (($16.50), pork stew ($28) and ribeye steak ($75).
Smaller bites include fried potato croquettes with Japanese mayo ($4.50), fried rice ($14), rock cod kaarage (fried, $13.50) and gyoza ($11).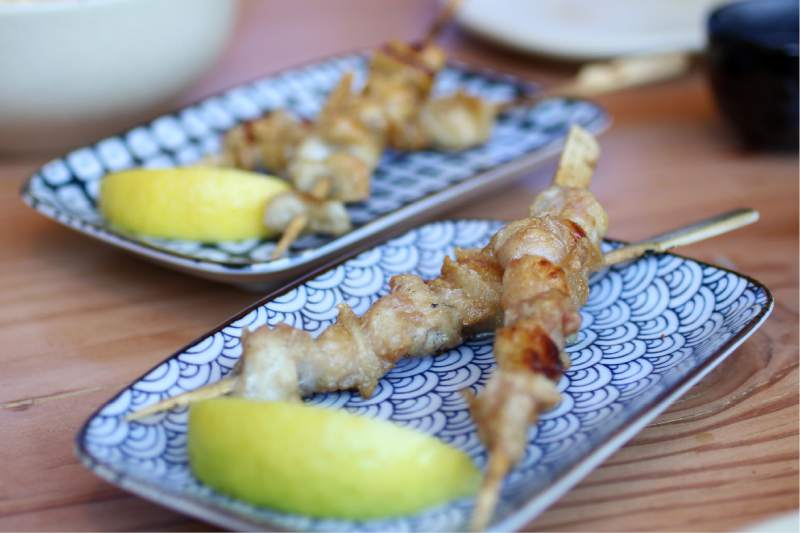 If you go for one thing, however, go for the yakitori. Here you're allowed to play with your food, sharing little bites and nibbling straight off the skewers. If you're squeamish about offal, go for the veggies or thighs ($3.50 to $7 per stick).
But if you're up for a real Japanese experience, try the coveted pieces of skin, tail, gizzard, heart and cartilage ($7 to $9). Trust me, you're about to love the fatty, crispy, rich chicken tail grilled over hot coals.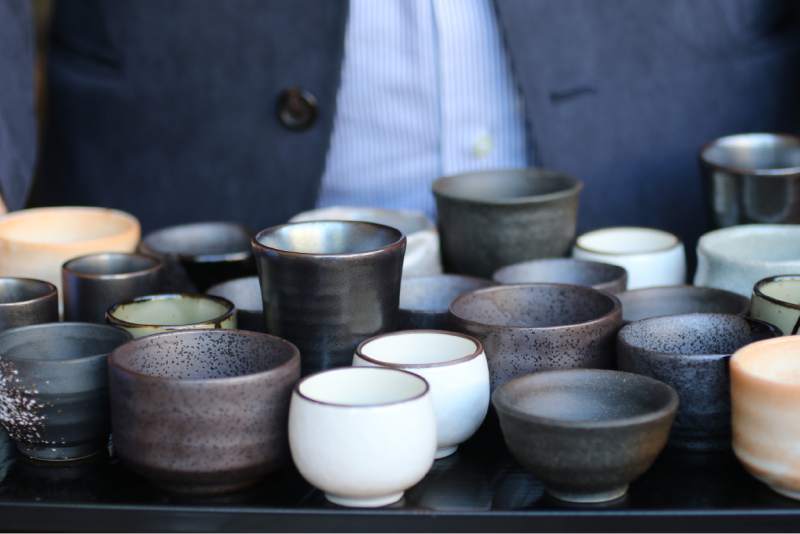 Sake is the traditional spirit enjoyed with this kind of pub grub (like beer with mozzarella sticks, or wine with cheese). Miminashi's sake sommelier will guide you through the process, made interactive by first selecting a cup from his tray of beautifully mismatched ceramics. Our pick: Shichi Hon Yari Junmai, an approachable sake that's easy to pair with the smoky, earthy yakitori.
Soft serve ice cream, called "soft cream" in Japan, has been interpreted from American culture in flavors like black sesame, green tea, ginger peach and "fruity cereal milk" ($6). But add ons like caramelized white miso, tempura "crispies" and whisky butterscotch sauce (50 cents each) make it great.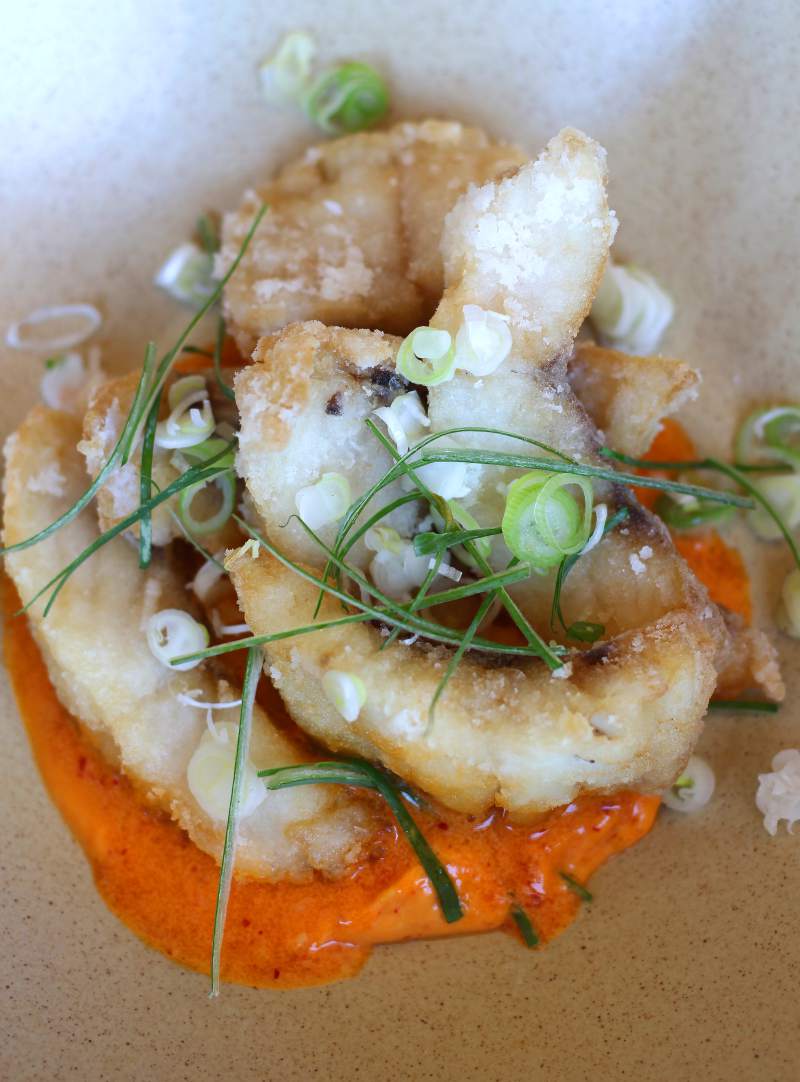 Plans call for opening a walk-up window just for chocolate, black sesame, match green tea or vanilla soft serve, but for now, get it only at the table. Splurge for the crispy, caramelized waffle bowl and as many toppings as you want on the side.
From the moment you arrive, you can't ignore the stunning, representational architecture of the restaurant, beginning with the doors. Surrounding the entrance are thousands of tiny Mount Fujis crafted from wood, looking like so many magnified goosebumps camouflaging the massive door. Not that it matters, because you'll be busy running your fingers over the bumps for the few moments it takes before someone else opens the door.
Inside, the low ceiling rises to a 20-foot center apex, mirroring a Japanese temple, and dried fish hang over a charcoal fire. Despite the fact that you're in downtown Napa, the feeling evokes Nippon, where salarymen hunch over yakitori in dark grottoes, toasting with cups of sake.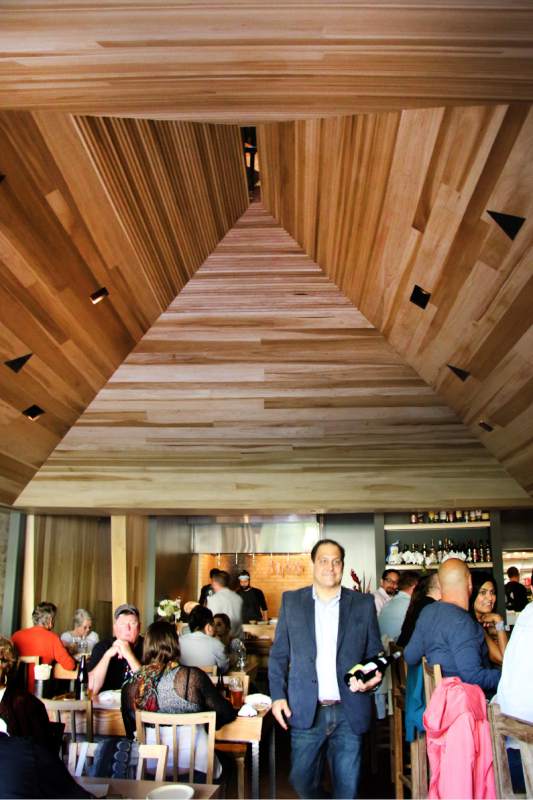 And that's the point. Di Fede's Miminashi is a dreamlike vision of his experiences in Japan, executed deliciously in California. 821 Coombs St., Napa, , 254-9464, miminashi.com. Dinner service only, lunch coming soon.
Fiori's
Above the register of Montgomery Village's Fiori's Grill is a framed newspaper article about the closure of Fiori's Grill. Dated from the 1990s and draped with a red ribbon, its part of Santa Rosa's Fiori family history.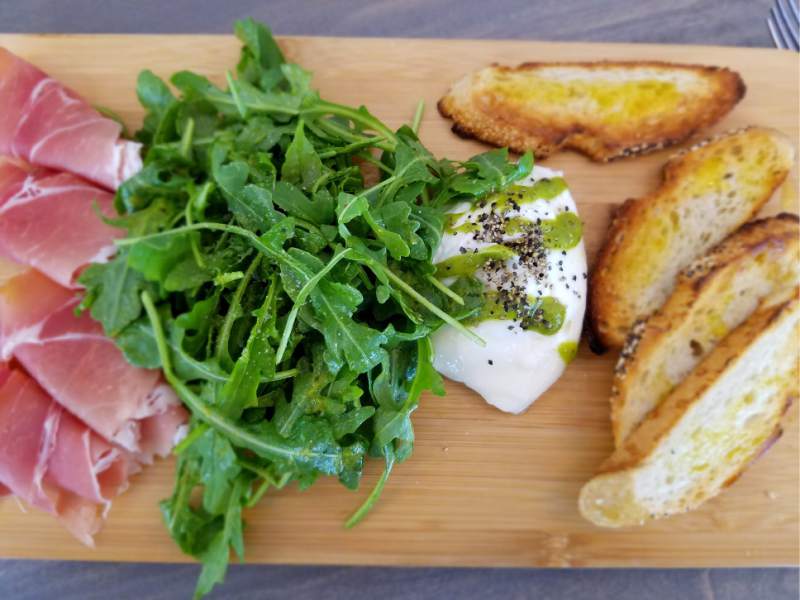 They opened their Occidental Italian restaurant in 1935. Now, a third generation of Fioris has opened a namesake restaurant, still serving Mama Clara's minestrone soup and homemade chili.
The walls of the shiny new restaurant tell the family story with pictures of fathers, sons, cousins, friends and in-laws throughout the years, making it feel like the space has been around much longer than three months. The menu has settled in, as well.
Burgers are a highlight, made thick without being ridiculous and topped with cheese, mushroom, bacon and the usual suspects. Which makes sense, since owner George Jr. is el Jefe at Big Boy's Buns and Burgers in Windsor.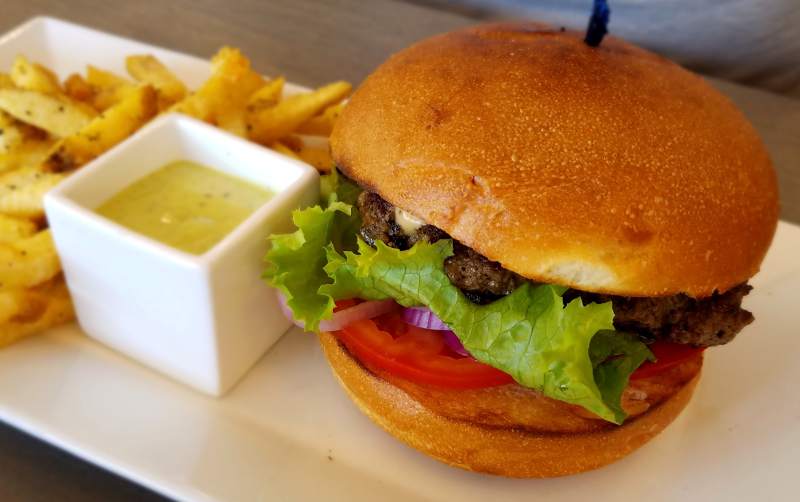 There's also plenty of pasta, though the Bolognese was unremarkable on our first visit.
Don't miss the classic chili, with beef, beans, red onions and tiny cubes of Parmesan ($3.25 bowl) or the gorgeous burrata and prosciutto salad with arugula, basil, lemon, olive oil, creamy mozzarella and prosciutto on a wooden cutting board ($14 for a large). You'd also be remiss not to give the caramel peanut butter shake a shot ($6), but make sure you bring a friend to help you drink it.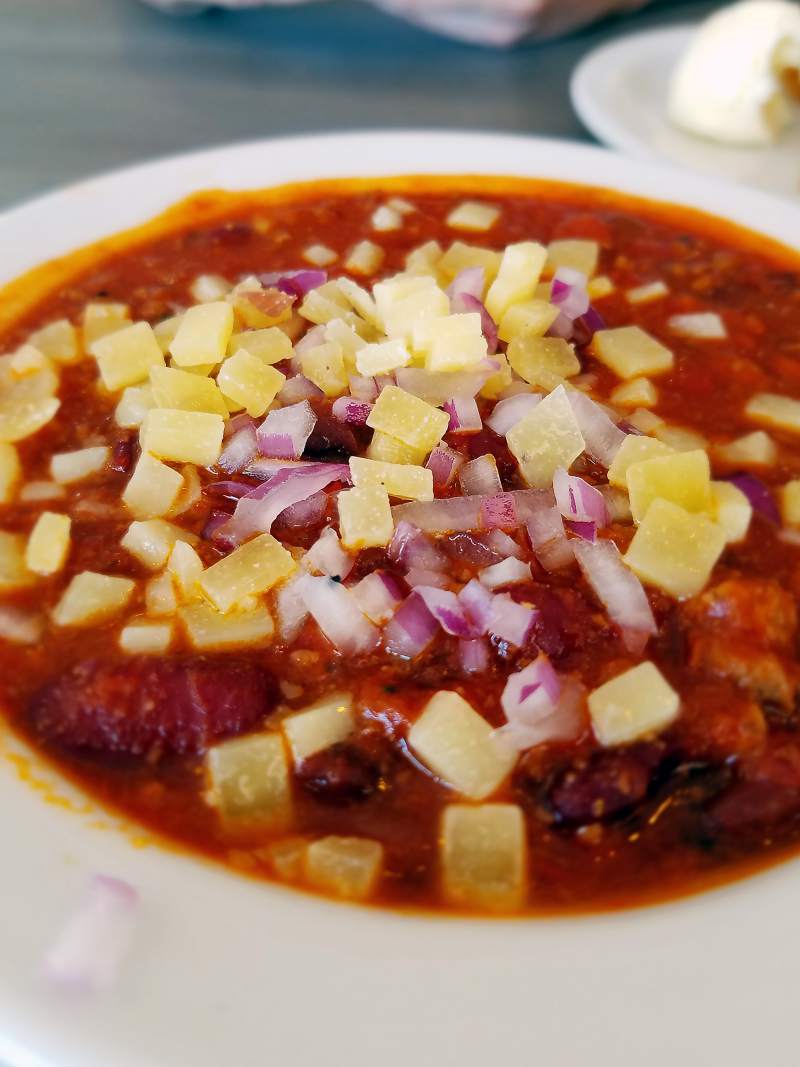 Outdoor seating is shaded, with cozy sofas and outdoor tables, if you can find a spot. Because Fiori's is back, and better than ever.
722 Village Circle, Santa Rosa, 843-7831, fiorisgrill.com. Open from 11 a.m. to 9 p.m. Sunday through Thursday and until 10 p.m. Friday and Saturday.
Vignette Redux
Though its not new, Vignette Pizzeria has made a lot of changes since it opened in 2014, making it worth a second look.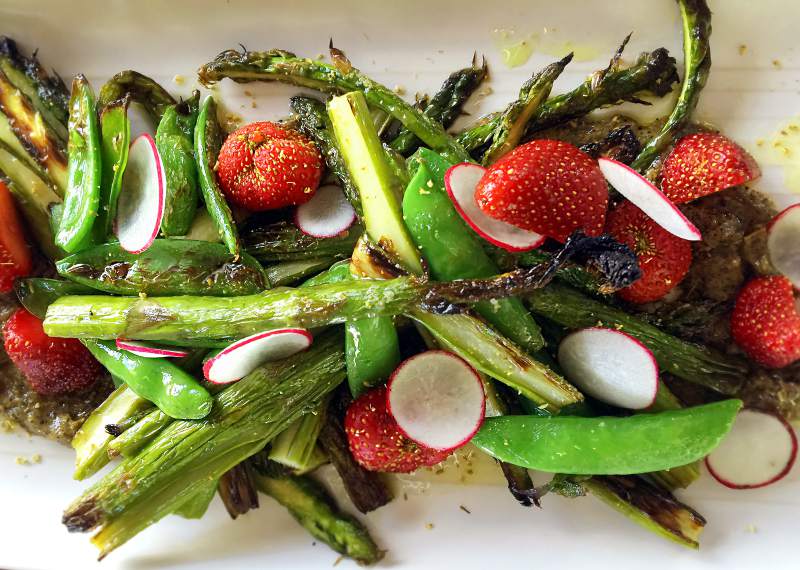 Chef Mark Hopper remains one of the best pizzaiolos in the Bay Area restaurant scene, with a deft hand at cooking pizzas in an 850-degree wood fired oven in mere minutes.
But more than that, he has continued to impress with a dedication to local farmers and producers who have returned the favor by giving him some of their best stuff. Like of-the-moment strawberries, asparagus and snap peas mixed together in an unusual but perfectly seasonal spring dish ($11).
Yellow eggplant is roasted with provolone and mozzarella cheese and almost-sweet San Marzano tomato sauce, with a roasted bite of little gem lettuce ($14), and a devilishly spicy Red Eye pizza is crave-worthy, with blisters of charred crust, paper thin slices of prosciutto, egg, buffalo mozzarella and a side of Calabrian chili pesto sauce ($18).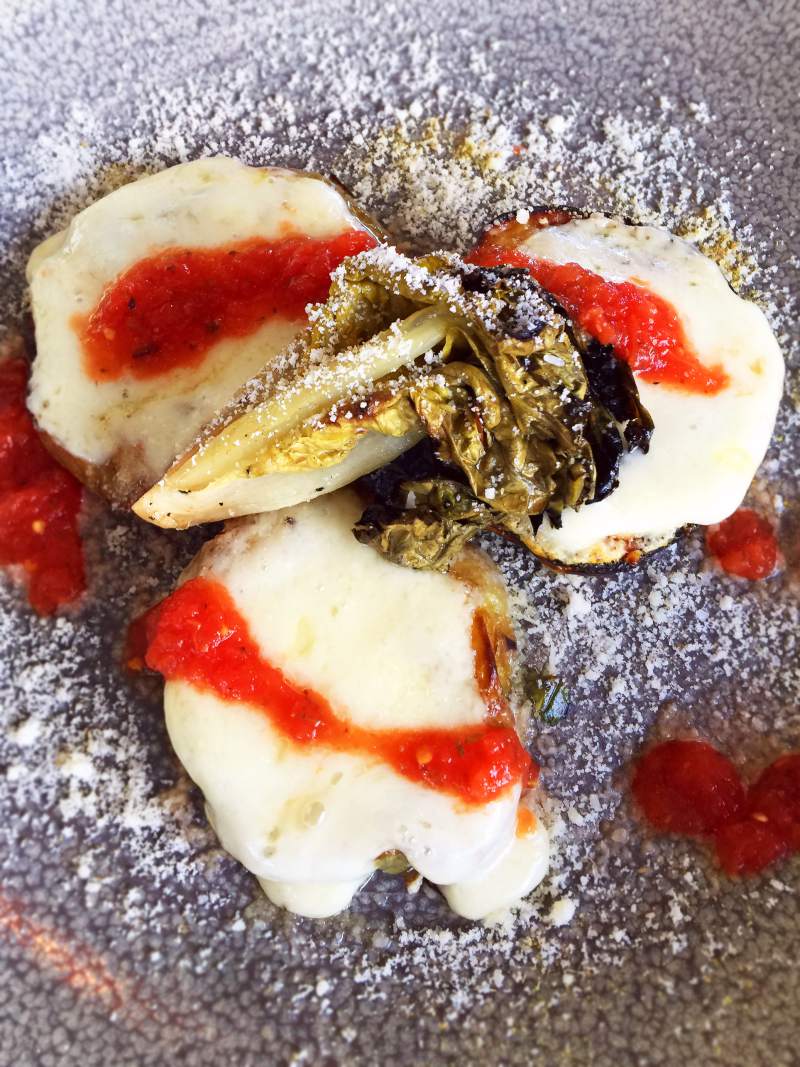 Hopper also offers weekly dinner experiences: Meat Mondays with London broil or Flank steak, polenta, vegetables and salad served family style ($55), and Fish Fridays with a whole roasted fish, salad and roasted veggies ($48). Both of the weekly special dinners must be booked in advance at vignettepizzeria.tocktix.com. 6750 McKinley St., Sebastopol, 861-3897, vignettepizzeria.com. Open noon to 8 p.m. Sunday through Tuesday, and from noon to 9 p.m. Thursday through Saturday, closed Wednesday.