Just in time for fall – Sonoma County style comfort food and full bodied wheat beer. 
Perfect Pairing: Modern Times Unfortunate Islands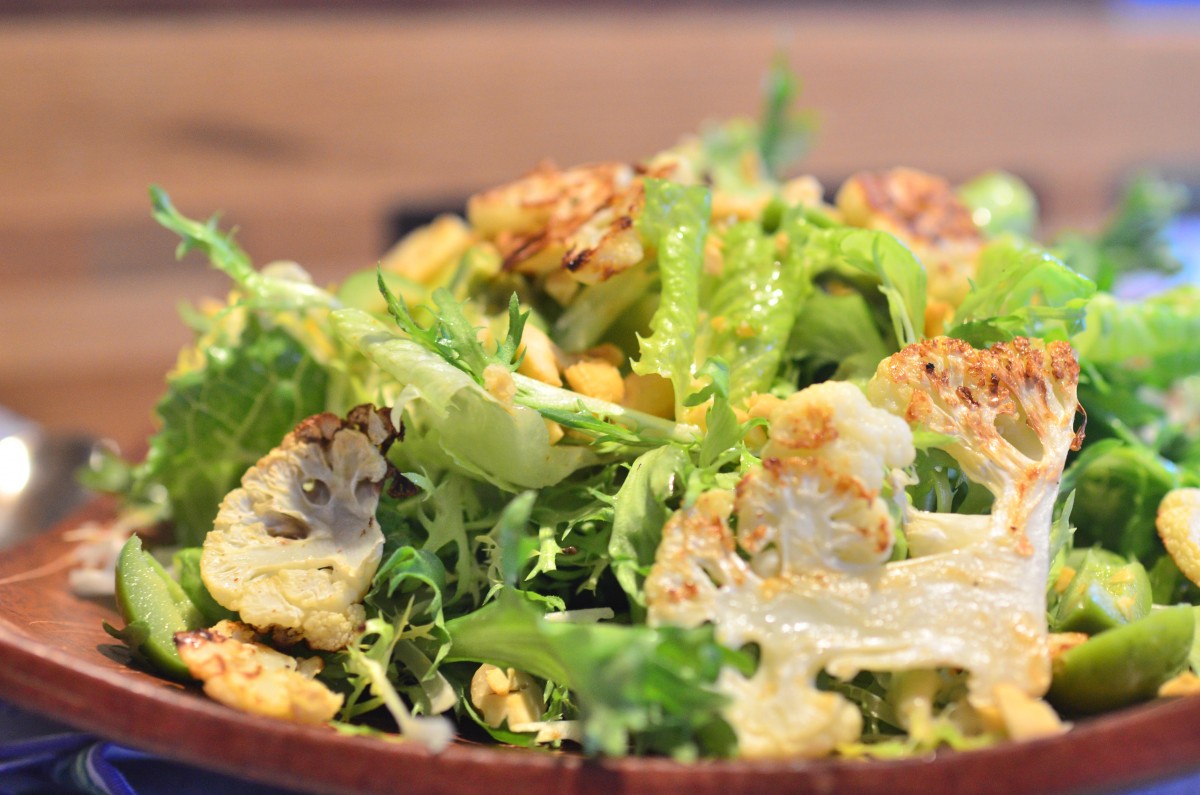 Fall is officially here, and we're getting ready to settle into our comfort food phase with hearty stews and soups on chilly nights. If you'd like to savor some of the summer feeling in early fall, try this recipe with roasted root vegetables seasoned with fresh spices from the local Savory Spice Shop. Pair it with a fruit-forward, hoppy wheat beer – like Modern Times Fortunate Islands, available at Beer Craft in Rohnert Park.
INGREDIENTS
Serves 4.
1 lime, juiced

1 tsp. spicy brown mustard

4 tsp. olive oil, Ancient Olive Trees

½ tsp. coconut nectar (honey substitute)

1 head cauliflower, quartered, sliced in thin steaks

2 tsp. Garam Masala

1 and 1/2 tsp. salt

½ tsp. fresh ground pepper

1 head frisee salad, chopped

3 heads hearts of romaine, chopped

1 c. green olives, sliced in quarters (long)

½ cashews, chopped
DIRECTIONS
Roasted Cauliflower:
Pre-heat oven to 400 degrees. Place cauliflower steaks on a sheet tray. Use two trays if needed to avoid layering. Drizzle 1 tsp. olive oil over cauliflower, dust with garam masala. Roast in oven for 30 minutes, flipping steaks after 15 minutes. Set aside when done.
Dressing:
In a small mixing bowl, squeeze the juice from one lime and add mustard, remaining olive oil, ½ tsp salt and pepper. Blend well. 
Salad:
In a large mixing bowl, add in romaine and frisee salad, olives, half of the cauliflower, and dressing. Mix and transfer to serving bowl. Add remaining cauliflower and sprinkle cashews on top. Ready to serve.
Happy Cooking!
---
Savory Spice Shop
Santa Rosa: 317 D Street, Santa Rosa, CA 95404.
Sonoma: Sonoma Market Place, 201 West Napa Street, Unit 5 , Sonoma, CA 95476.
Beer Craft, Commerce Business Center, 5704 Commerce Blvd, Rohnert Park, CA 94928, (707) 206 – 9440 @BeerCraft
Modern Times, 3725 Greenwood St, San Diego, CA 92110, (619) 546-9694 @ModernTimesBeer