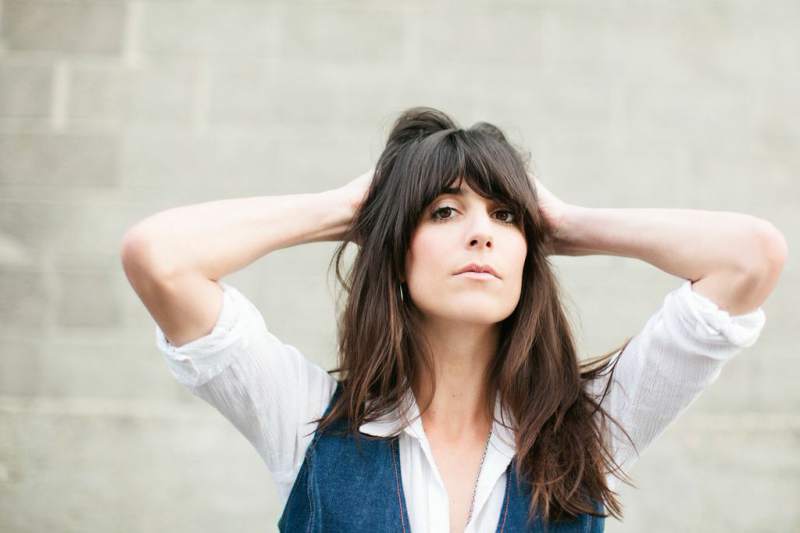 A benefit concert Saturday at Petaluma's Mystic Theatre is a rare opportunity to hear rising star Nicki Bluhm, seasoned vet Jackie Greene, keyboardist Jason Crosby and a host of other talented players, all for a good cause.
The event benefits the Blue Rose Foundation, which helps economically disadvantaged Sonoma County families pay preschool tuition for their children.
Co-headliners Bluhm and Green will play separate sets at the benefit, but there's a chance they also will play together.
"Jackie is a really dear old friend of mine," Bluhm said, so "you never know what could happen."
Bluhm grew up in the East Bay city of Lafayette and now lives in Marin County. She has had breakthrough success during the past few years, gaining the attention of rock legends Boz Scaggs and John Oates of Hall & Oates.
Bluhm and her band, The Gramblers, began recording a series of cover songs a few years ago while driving from gig to gig and called them the Van Sessions.
Their 2012 cover of the Hall and Oates song, "I Can't Go for That," hits a high note when Bluhm plays her kazoo. The song went viral, attracting more than 3 million views.
"I credit John Oates with a lot of the trajectory of my career," Bluhm said. "He was the reason why it (the video) caught on the way that it did. He really helped push us into a place where we could tour more."
Bluhm has a languid and beguiling folksy voice and wears her emotions on her sleeve. On songs such as "Queen of the Rodeo," Bluhm's voice has a plaintive yearning, a vulnerability that makes her work that much more accessible.
Last year's album, "Loved Wild Lost" with The Gramblers, revealed Bluhm's ever-advancing talent for crafting evocative songs.
"When I started writing songs, I really didn't think too much about it; I just did it," Bluhm said.
"And now I know what doesn't really work, as far as the structure of the song. I just have more awareness about writing in general, not that it's better or worse or more advanced or less.
"Something I've learned is to spend more time with my songs so that I can let them breathe. I am not trying to complete them too quickly, because it really does take that reflective period to hear it and to listen and to see if it resonates with you."
But there are times when the songs just roll out, she added. "It's kind of cool to have that off-the-cuff, pure, raw emotion."
Smartly Produced
Though some of Bluhm's songs may sound like they were written in a flash, this is authentic, smartly produced music. Which is what attracted the attention of Boz Scaggs.
At a benefit event at the Fillmore, Bluhm said, "I met Boz backstage and said to him, 'I'm a huge fan,' and he said, 'No, no, no' and pointed in my direction and said, 'I'm a huge fan of yours.'
"I turned around and looked behind me. I was totally blown away. I couldn't even believe he knew who I was."
Later Bluhm had a show at the San Francisco dance hall Bimbo's and asked if Boz would sit in. He agreed.
"He came to a rehearsal, which I also couldn't believe. I'm standing in my family room with my band, and Boz shows up, and we start playing 'Let the Good Times Roll.'
"His voice was just so powerful in my little house. That voice just took up every square millimeter of space. It was just so powerful and resonating. I just couldn't believe it was happening."
Bluhm said she'll never forget that rehearsal. "It was magical to hear him singing that close, no microphone, no reverb, nothing. He really is incredible."
Bluhm's influences range from Joni Mitchell to Lucinda Williams.
"Influences are kind of what shape you, shape your tastes and the direction you go, not only in your musical style but maybe your thinking," Bluhm said.
"Listening to lyrics that other people write, when they resonate with you, that's deep. You find comfort in that and in them. You don't feel completely alone because there's proof that somebody else feels it and can articulate it."
Bluhm admires Mitchell's style, her honesty, her phrasing, her word choices. "I tell men, if you really want to understand women, listen to Joni Mitchell. There is such a timelessness to it," she said.
Those familiar with the Bay Area rock scene may know that Bluhm married Tim Bluhm, lead singer and guitarist of the Mother Hips who she says was "instrumental in getting me into music." They separated last year.
Got Encouragement
About a decade ago, Tim heard Nicki sing and encouraged her to keep singing, she said. "I may have gotten into music at a later point — I probably would have because I've always known that I wanted to sing, but he just sort of helped guide me in. He helped with my discovery."
Bluhm has made tremendous strides recently, and her future looks even brighter.
"Love Your Loved One," a catchy song from Nicki Bluhm and The Gramblers' most recent album, has gotten airplay locally on KRSH. It has an encouraging message and uplifting pop licks without sounding overly polished.
She's touring this summer with The Infamous Stringdusters and spends almost every free moment writing new songs.
"It's not often that I take the time to reflect, but there's a song I was learning to play with The Stringdusters called, 'See How Far You've Come.'"
While learning to play that song, Bluhm had an upwelling of emotion. "It caught me totally by surprise. I just started sobbing," she said.
"I'm so busy looking forward and wanting to take forward steps: What's the next thing, how can I do this better? Always going, always wanting to improve — it's hard to stop yourself and look back and give yourself a pat on the back.
"I really hadn't done that at all until I heard that song."
---