Regulars of the Fairmont Sonoma Mission Inn & Spa's Willow Stream Spa are familiar with the six-step "bathing ritual," where guests take full advantage of the thermal mineral waters common in the area. An exfoliating shower, a soak in two mineral-water pools, and herbal steam and dry-sauna treatments are followed by one of several cool-down showers.
Now there's a chilling change. The final showers have been replaced by something much more luxurious: the Rain Tunnel. And it leaves many guests shrieking, just a little.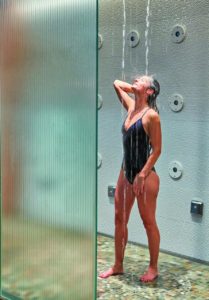 The tunnel is a multifaceted glass shower that allows guests to "take the waters" in several whimsical ways. The experience is a blend of ancient healing ritual and state-of-the-art technology. Fed by artesian mineral water, an overhead mist gently hydrates the face. Move next to the dancing waters spurting from a river-rock floor. Then it's on to a waterfall that cascades over the shoulders, designed to wash away tension and stress.
It's the final step that gets the biggest reaction, and one not necessarily associated with a relaxing experience. A strategically placed wooden bucket with a cord attached is perched overhead. Those brave enough to pull the cord are doused with cold water, and many let out an involuntary screech —and a few laughs — breaking the silence of the otherwise tranquil setting. It's a playful twist on the typical spa experience.
100 Boyes Blvd., Sonoma, 877-289-7354, fairmont.com/sonoma