As chef David Bush prepared to open his OSO restaurant and lounge on the Sonoma Plaza, people kept asking the same, bothersome questions.
What type of food would it be? Was his passion to be a French chef? Italian? Or would he do high-end California cooking like he did in his previous job with St. Francis Winery in Santa Rosa?
They're still asking him after OSO's November 2014 opening.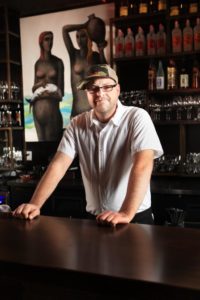 "And I still can't answer," said Bush, who was the chef at Santa Rosa's St. Francis Winery & Vineyards when diners who use the Open Table reservations service rated it America's top eatery for 2013. "I don't like to be boxed in. I mess around with a lot of different stuff, but then it comes down to whatever I'm craving. If I feel like bouillabaisse, it's on the menu. Maybe I feel like Thai — I'll do pork ribs with Thai chile and lime."
Whatever it's called, Bush's style is a shake-up for Sonoma, a town better known for its satisfying, if safer, Wine Country cuisine. At OSO, expect the unexpected, with statements ranging from the late-night hours (until 11 weekdays and midnight on weekends) and offbeat dishes (shiitake and kombu-cured salmon with tamari-soaked egg, Serrano ham, tobiko, basil and a slick of sweet Japanese Kewpie mayonnaise), to a 21-and-over-only policy (because OSO is licensed as a tavern).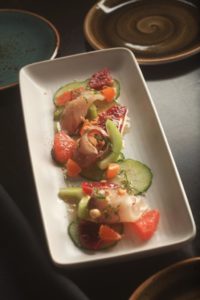 Part of the fun for Bush is in riffing on classics. Many restaurants offer shrimp cocktail, for example, but Bush lightly pickles the seafood and presents it chilled, with a chop of kale and spiced peanut slaw doctored with tomato-horseradish aioli. It's a riveting zip of sweet, sour and fire.
"It's a risk, but being different can fill a new niche," he said. And his dining audience seems to agree. The dark, narrow, 50-seat space is loud with a boisterous bar vibe, yet still, the boomer Sonoma set mingles with the 20-somethings, coming together over an updated Moscow Mule cocktail of cinnamon-spiked Han Soju splashed with ginger beer and lime.
For spring, Bush dreams of favas and peas, baby onions and ramps. "Fresh, young and green," he said. "Anything I can get my hands on." It's anyone's guess what he will create with them.
Subscribe to Our Newsletters!