After moving from San Francisco to Santa Rosa last year, Hoang Cao and Paula Cruz-Cao couldn't find the strong iced coffee drinks they craved.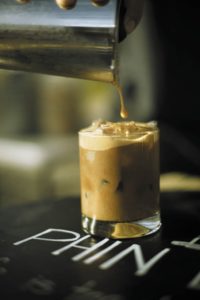 They experimented with brewing Vietnamese iced coffee at home, and Hoang, who is first-generation Vietnamese-American, was struck by inspiration: Why not make condensed milk instead of using canned? No surprise, the sweet and creamy blend of dark-roast coffee and condensed milk over ice — ca-phe sua da — was a hit with friends. In July, the couple launched Phin Bar, a pop-up devoted to the craft of cocktail-inspired Vietnamese iced coffees.
"Los Angeles and New York have farm-to-coffee cocktails but no one had brought that concept here," Paula said. To make the drinks, Hoang steeps ground beans in a phin (pronounced feen), a stainless-steel, single-cup filter popular in Vietnam. With the finesse of a hotshot bartender, he shakes up coffee, ice and condensed milk in a cocktail shaker.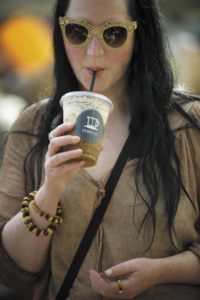 The minimal menu includes the popular Phin & Earl, black coffee, condensed milk and an Earl Grey tea-infused syrup. Versions with muddled mint or lavender syrup and nondairy coconut condensed milk appeal to vegans and lactose lovers alike. Most of the ingredients are organic and sourced locally: The milk is from Clover Stornetta in Petaluma, the beans from Taylor Maid Farms in Sebastopol.
Find Phin Bar at the West End Farmers Market in Santa Rosa every Sunday through Dec. 13 and the Petaluma Farmers Market every other Saturday through Nov. 21. The company also caters and offers delivery.
"The response has been great," Paula said. "People have told us this was much needed in Sonoma County."