Roast turkey. Mashed potatoes. Gingerbread. For many Americans, these are the dishes of which holiday feasts are made. But for four Sonoma families, Christmas and Hanukkah food traditions go way beyond such staples to reflect their diverse ethnic, cultural and religious backgrounds. Sonoma is a melting pot of must-have holiday fare that binds families and communities together.

Mexico in Sonoma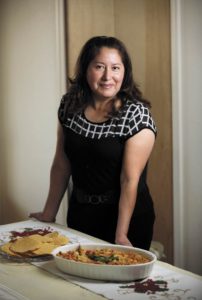 For Irma Flores Garcia the traditional holiday dishes she prepares for her family are a link to another life. Eight years ago, she left San Andrés Timilpan, 50 miles outside Mexico City, and moved to Los Angles with her two children. In 2010, they headed north, to Sonoma, in search of better job opportunities.
"I had heard that Sonoma was a beautiful place, peaceful and safe for children," the Spanish-speaking Flores Garcia said through an interpreter.
Described by her friends as a go-getter, the outgoing mother of two works as a hairdresser while taking English and computer classes at La Luz Center in Sonoma. Despite her intensely busy schedule, the 44-year-old takes special care to prepare the sometimes labor-intensive holiday dishes of her homeland.
In Mexico, the main Christmas celebration happens on the night of Dec. 24, when families gather for a midnight dinner. Flores Garcia brought this tradition to Sonoma, where she prepares a feast of pozole (a rich, smoky pork and hominy soup), tamales, buñuelos (fried dough sprinkled with cinnamon and sugar), fruit salad and warm fruit punch. The meal also includes two dishes that are Christmastime favorites in Mexico City: romeritos and bacalao.
"These dishes are traditional to our region and my family," Flores Garcia said. "I learned to make them from my mother when I was around 17 or 18 years old."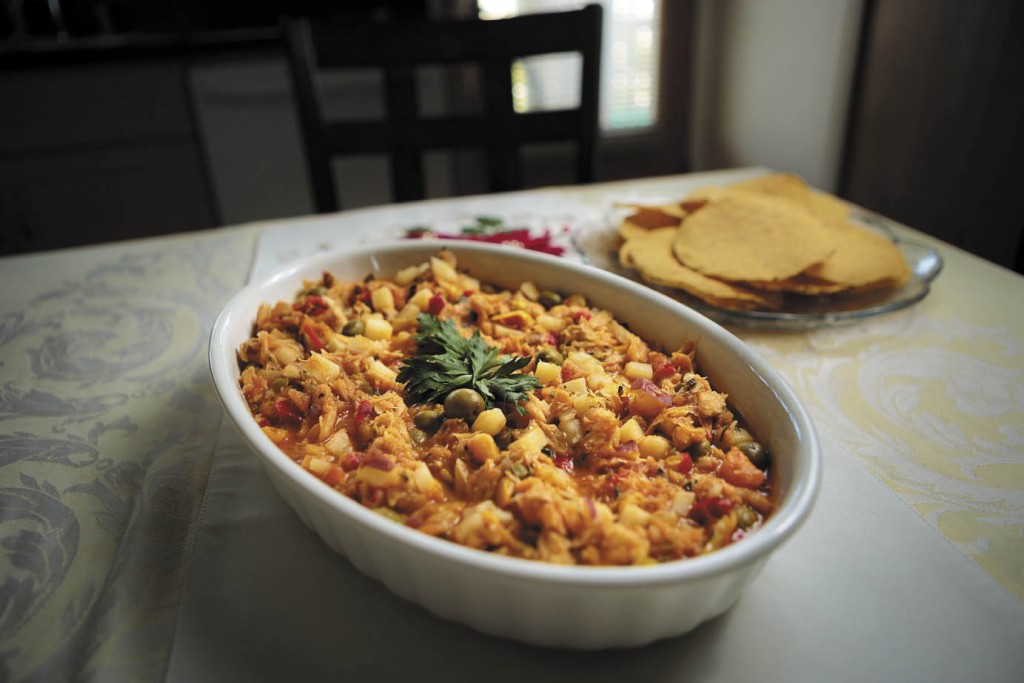 Romeritos are fried patties made with dried shrimp, boiled red potatoes and a wild plant called romerito, which is similar to rosemary. The patties are served with a red sauce made from negro and ancho chiles. The Mexican preparation of baccalao combines dried salt cod, tomatoes, onions, green olives, chiles and garlic to create a deep, flavorful stew.
Along with son Joshua, 16, and daughter Yurhitzia, 13, Flores Garcia's Christmas celebration typically includes her two brothers, Alfred and Noe, who also live in Sonoma, and her sister, Rocio, who stayed in Los Angeles. Sometimes, her parents come to visit from Mexico.
"I prepare everything myself, but when we go to L.A., my sister shares in the cooking," she said.
The feasting continues on New Year's Eve, when Flores Garcia roasts a turkey.
"First, I marinate it in orange juice," she said. "Then I stuff it with ground beef, ground pork, sausage, dried apples, green olives and pine nuts." The cooked turkey is garnished with pineapple slices and cherries.
For Flores Garcia and her family, these dishes are a way of strengthening their roots. "These traditions will not get lost no matter where we go, if we keep them and share them with others," she said.

Liguria in Santa Rosa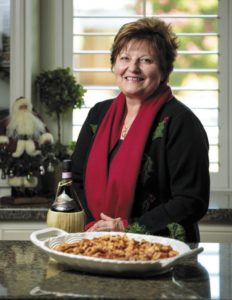 Sandra Traverso has lived in Santa Rosa for more than 40 years, yet her holiday table is laden with dishes from Northern Italy.
Her family came to the United States from Liguria when she was 6, settling first in New York, then San Francisco and the East Bay. She made Sonoma County her home in 1972, when her husband, George, joined the family business at Traverso's Gourmet Foods & Liquors in Santa Rosa (it closed in 2011).
At 67, the retired teacher still has vivid childhood memories of her family's Ligurian Christmas meals.
"On Christmas Eve, there was a big celebration of mostly seafood dishes," Traverso said. Christmas Day dinner was an all-day affair, starting with salumi and pickled vegetables, followed by ravioli in porcini mushroom sauce, roasted capon or veal, a fruit and cheese course and finally, panettone (a dried-fruit-studded sweet bread) and an assortment of biscotti.
"Then you'd just kind of pass out," Traverso recalled.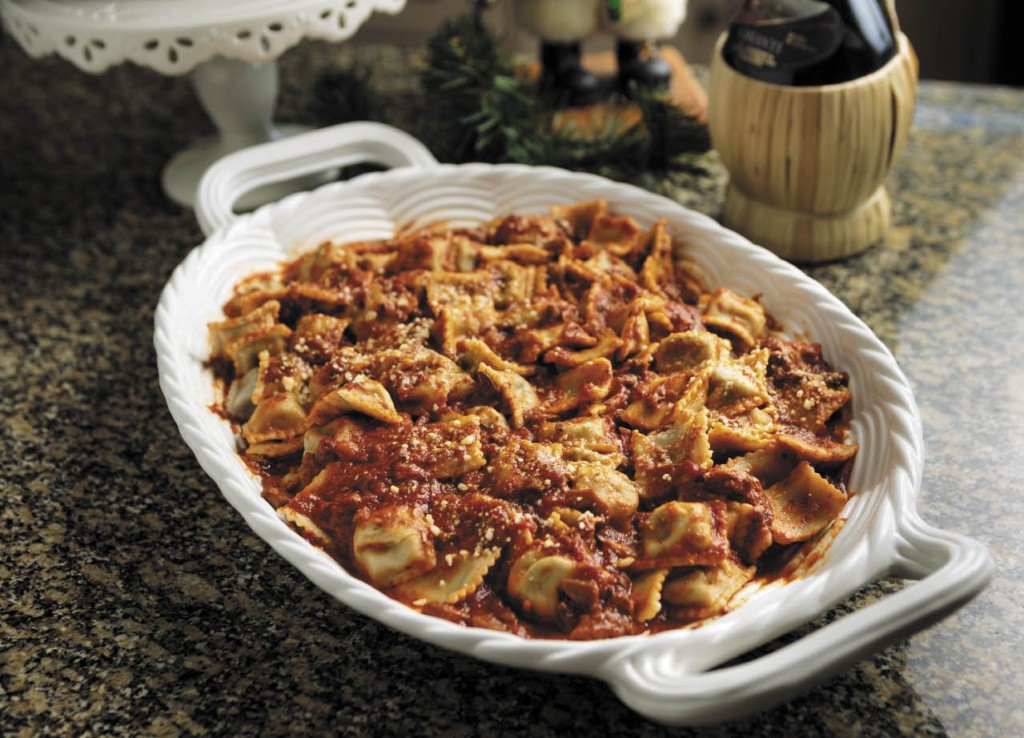 Although the number of courses has been pared down over the years, Traverso still prepares many of the traditional dishes. Typically included in the family feasts are the couple's two grown children, Michael and Andrea, and four grandkids.
"We go to Mass in Healdsburg, where Michael and his wife, Elizabeth, live, and then have a beautiful fish dinner at their home," Sandra said. "They both love to cook. Sometimes I make cioppino, or risotto with prawns and mussels."
Then Sandra and George host the annual Christmas Day feast in Santa Rosa.
"We have an early dinner with the traditional antipasti, roasted meat, vegetables, salad, fruit, cheese and, of course, panettone, biscotti, chocolates and espresso," she said. "And we always try to do the ravioli, because my husband loves it."
In years past, she made the pasta from scratch, but now Traverso buys fresh ravioli from Genova Delicatessen in Walnut Creek. She still makes her mother's mushroom sauce in the traditional way, sauteeing onions, garlic and herbs, then adding a browned piece of beef roast, tomato sauce, red wine and softened dried porcini mushrooms, leaving the pot to simmer for four to five hours.
These dishes, Traverso said, are ingrained in her family's culture. "For Italians, this is a time to come together and enjoy each other, along with wonderful conversation and food."

Houston-Style Hanukkah
When Stephanie Kramer moved from Houston to Santa Rosa in 2011, she made sure to bring her electric griddle. She knew she would need it for her annual latke-making parties.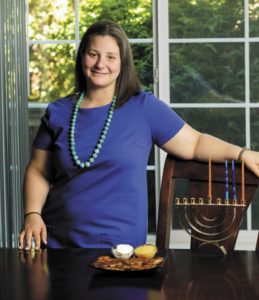 Kramer, 31, is a rabbi at the Congregation Shomrei Torah in Santa Rosa, and making potato pancakes for family and friends is an important part of her Hanukkah tradition. "I've been making latkes since I was probably 4 years old, with my mom," she said.
Back in Houston, Kramer's mother, Lynn Goodman, hosts up to 50 people for the family's annual latke-making festivities. In Santa Rosa, the parties are somewhat smaller, with a handful of families from her temple joining Kramer, her husband, Adam, 5-year-old son Micah and 1-year-old daughter Noa. Similar to her mother's gathering, Kramer's party involves frying dozens of latkes and devouring them on the spot. Later, they light the menorah and sing their blessings.
"We don't fry the latkes until the party starts," Kramer said. "Everyone gathers around in the kitchen and we throw them on the griddle. As they come off, people eat them right away, because that's when they are the most delicious."
As with many traditional dishes, she said, there is no written recipe. Kramer peels and hand-grates potatoes, then mixes in eggs, grated white onion, flour, salt and pepper.
"You want a nice consistency that will hold together enough to fry them," she said," but not too dense."
Along with the latkes, Kramer likes to make nontraditional versions. "I have this great recipe that uses zucchini and cheddar cheese," she said. "They're not as crispy as the ones made from potatoes, but they are very savory."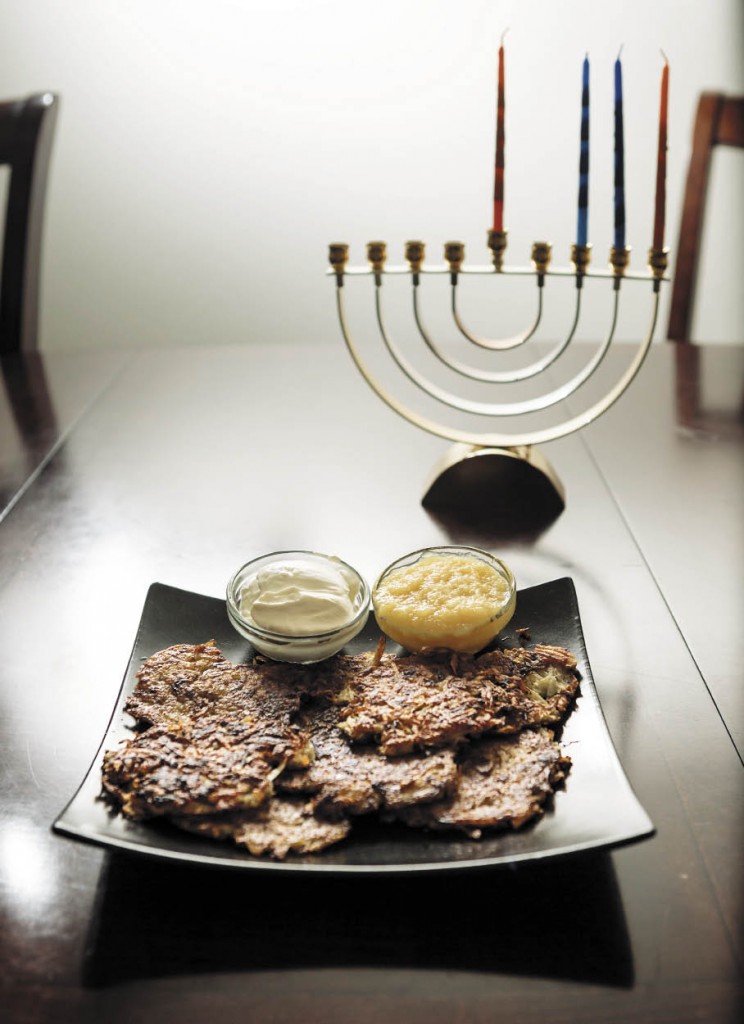 Almost as important as the latkes are the toppings that go along with them.
"My family has always done sour cream and applesauce," Kramer said, "but since I've lived here, that's changed a little bit. Until I moved to Sonoma, I don't know if I had ever had homemade applesauce, and now I can't imagine not having it. We've also had the latkes with compotes from the girl and the fig (restaurant in Sonoma)."
Kramer sometimes cooks a brisket for the parties, but usually, it's all about the pancakes.
"Because you only get latkes once a year, people really like to eat them as a main course," she said. She serves them with a simple green salad, and "because we're in Sonoma County, a bunch of wine."

Foraging in Forestville
Most people choose the wines to accompany holiday dinners based on the dishes they'll serve. Guy Davis, owner and winemaker at Pinot Noir producer Davis Family Vineyards in Healdsburg, created a new family tradition when he did it the other way around.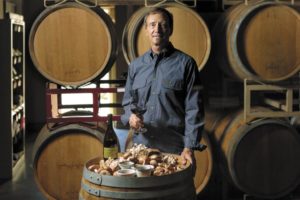 "My wife's father always made prime rib for Christmas dinner – he passed away before she and I met – so I've carried on that tradition for her," Davis said. "We are always drinking Bordeaux reds with the prime rib, and we wanted something to go with Pinot Noir." Because earthy fungi go so well with Pinot, the starter course became mushroom soup.
"When you make a rich mushroom soup, you're not as hungry to eat some massive prime rib," Davis said. "The consommé has become our tradition since we moved to the Russian River Valley from Seattle 25 years ago."
The family lives on its vineyard at Laguna Ridge, between Graton and Forestville.
While it may sound simple, the consommé takes several days to make. Davis begins the week before Christmas, when he forages for wild mushrooms on the vineyard property and other secret Sonoma locations.
"They're sautéed and sweated with sweet onions and shallots, deglazed with sherry, then steeped and reduced overnight," said Davis, 56, who honed his culinary skills working in the kitchen of a French restaurant during college. "It's simmered and further reduced through Christmas Day to give a heavenly aroma to the house, then finished with truffle salt and served with a little chive garnish."
Davis played with various cooking techniques for the prime rib before discovering a "magical" recipe in Thomas Keller's "Ad Hoc at Home" cookbook, which involves searing the meat with a blow torch before cooking it for several hours at an extremely low temperature. While the consommé simmers and the prime rib bakes, he and his brother make brunch.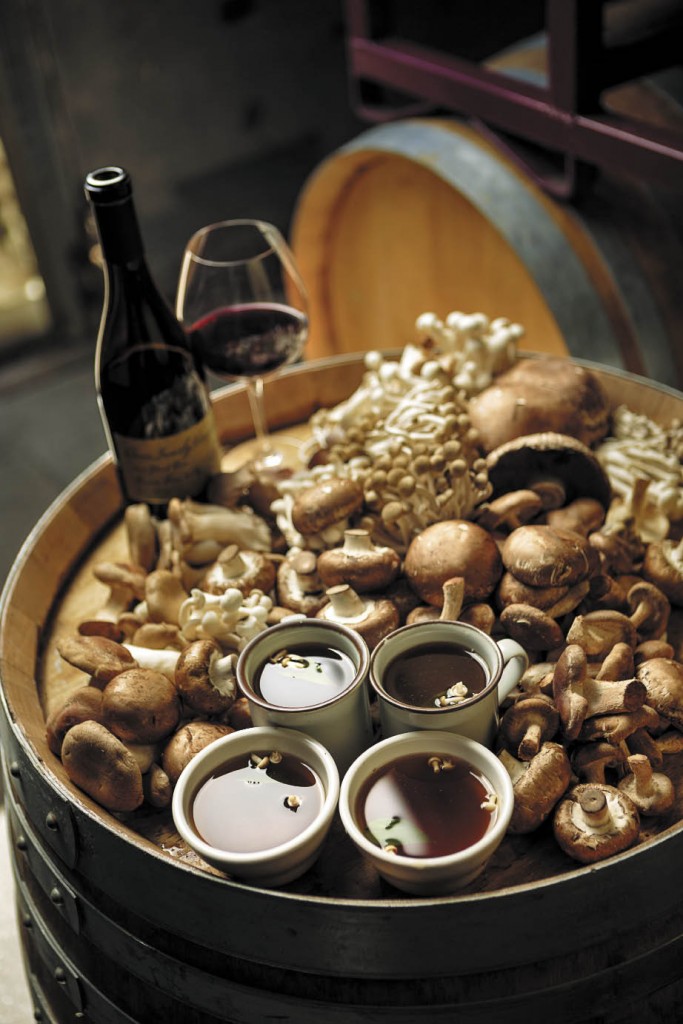 "Kyle comes to our house every year with his wife, and we have a tradition where he and I do the shopping and decide whether we're going to do eggs Benedict or make waffles," he said.
After brunch, Davis said, "We break up the prep work and assign jobs, because everybody loves to cook," including his wife, Judy, and their adult sons Cole and Cooper, who work at the family winery. "When everybody's hungry again, around 2, we have afternoon grazing on appetizers with sparkling wine."
Dinner is usually served around 5 p.m., starting with the mushroom consommé and moving on to the prime rib and an ever-changing array of side dishes.
"We have our traditions, going all the way back to my wife's family and the prime rib," Davis said, "but there are still some new dishes we're collecting."
That is, after all, how traditions are born.