D.C. Looney and Lisa Costa are eager to make friends in Sonoma County. The couple, who met as harvest interns at standout Pinot Noir producer Williams Selyem Winery in 2007, have longstanding ties to the area. Now, with the opening of their new wine bar, The Punchdown, at The Barlow in Sebastopol, the couple aim to build a community around their lineup of natural wines.
The Punchdown in Sebastopol is the second location for the couple's burgeoning wine bar business. Their first Punchdown location, launched in Oakland in 2010, was a 2022 James Beard Award semifinalist for Outstanding Wine Program. Now, they're excited to expand their focus on natural, organic, and biodynamic wines — those produced with minimal sulfur dioxide (SO2), native yeast fermentation, and no fining, filtering or additions of any kind.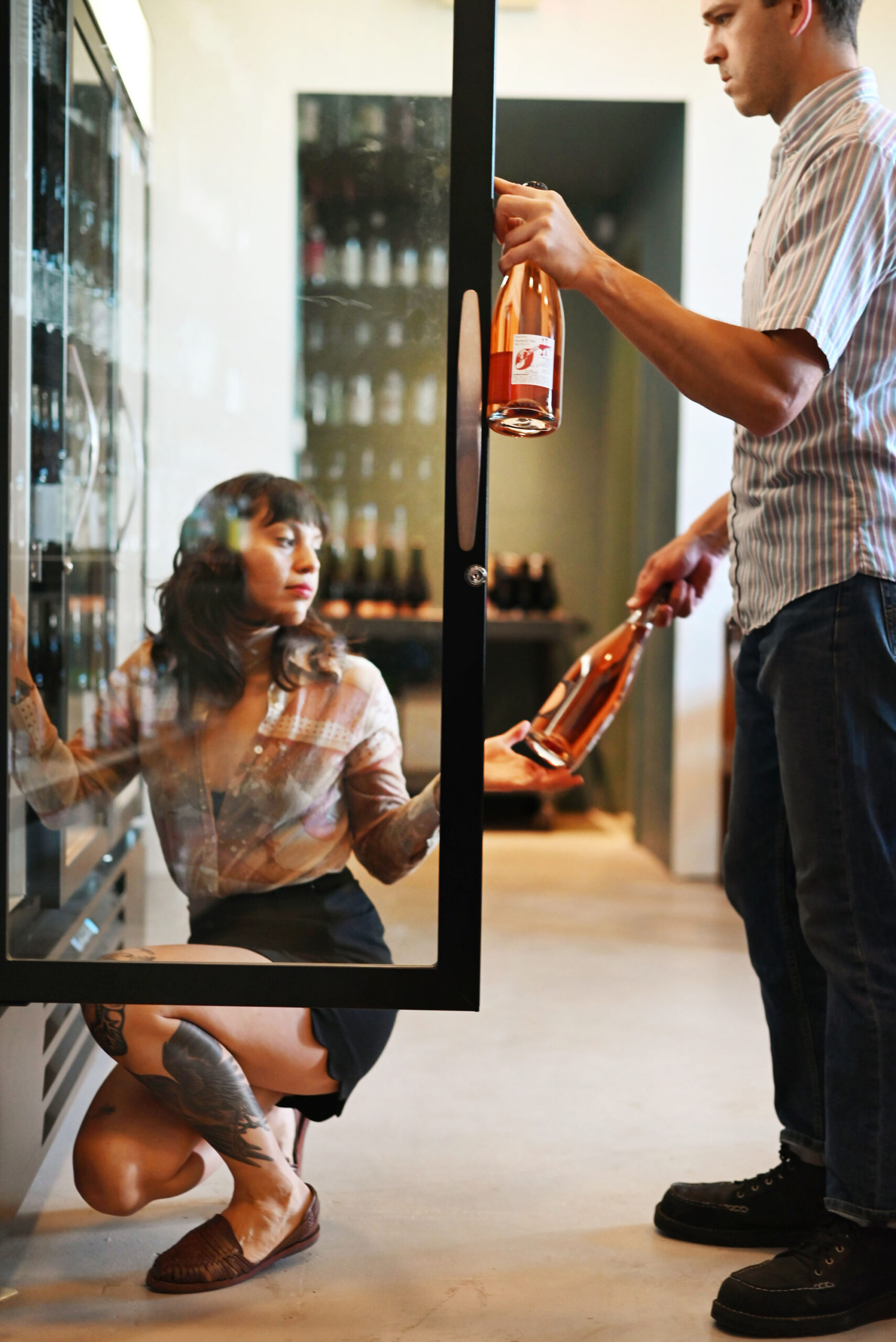 "We're really looking forward to bringing people together, especially those in the wine, food, and restaurant industries, to give them a taste of something a little different," says Looney. "Who knows? Maybe we'll introduce some local winemakers to natural wines, and they'll be inspired to make their own."
Looney and Costa plan to offer the area's largest selection of natural wines under one roof.
Hundreds of natural wines from around the globe line the shelves, including selections from France, Italy, Australia, the Republic of Georgia, California, and beyond. Bottle prices are fair, and there is a special shelf for wines under $25. Wine flights and wines by the glass can be purchased at the bar along with small bites like charcuterie, spiced carrot dip, Spanish olives, fresh bread from Red Bird Bakery, and imported tinned fish.
Inside, the new wine bar has a rustic, handcrafted appeal, with salvaged redwood slabs topping the communal tables and reclaimed sequoia wood for the service bar, enhanced with Japanese shou sugi ban wainscoting applied by the couple themselves. Looney and Costa also sourced gnarled local grapevines to install on the walls.
"We want to do all we can to showcase the history of this region, while also bringing something a little different to the county," explains Looney.
As a young student, Looney gained an appreciation for organic, biodynamic, and natural wines during a study abroad program in France. Over time, he says he and Costa started to feel put off by conventional winemaking techniques, which can include a number of additives. Natural wines, he believes, have a nuance and complexity all their own, and better reflect a sense of season and place. "You can make good, clean wine that doesn't have all the life stripped out of it," says Looney.
The couple, who are now raising their young daughter here, say Sonoma County is an ideal place for a bar focused on natural wines. Sonoma is where they met and fell for each other as harvest interns, and it's also where they fell in love with California. "Salt Point State Park is like our vacation home," says Looney. "We love camping and foraging for mushrooms, so it's a great place to turn everything off and enjoy our hard work.
Lisa and I knew it was inevitable we would start a business in Sonoma County, because we love it so much."
The Punchdown Sebastopol at The Barlow, 6770 McKinley St. 510-788-7877, punchdownwine.com