Seasonal Sonoma Wines for Winter
Winter doesn't mean drinking only red wines. The season also calls for refreshing whites, whether they're to pair with local Dungeness crab and seafood stews, or to fill a longing for the taste of impending spring. Of course, it's also the time for romantic meals and the biggest Sunday on television – the Super Bowl — when we eat and drink with abandon.
Sauvignon Blanc for Oyster Season

If you like: Halleck Vineyard 2014 Little Sister Russian River Valley Sauvignon Blanc ($35)
From the Ritchie Vineyard, a superb source for Sauvignon Blanc and Chardonnay, Little Sister is flinty and full of citrus and orange blossom character. The minimal time the wine spends in neutral oak allows the fruit to shine while adding depth. Crisp and dry, the wine has a lilting salty brine that begs for drinking with fresh oysters.

You may also like: Dry Creek Vineyard 2014 Dry Creek Valley Sauvignon Blanc ($18)
This delicious wine is predominantly Sauvignon Blanc, with small amounts of Sauvignon Gris and Sauvignon Musqué added for accent. On the palate, waxy apple comes first, followed by edgy acidity that manifests itself as fresh-cut lemon and tangerine. Fermented in 100 percent stainless steel, finishes refreshingly.
Chardonnay for Roast Chicken Nights

If you like: Migration 2013 Charles Heintz Vineyard Sonoma Coast Chardonnay ($55)
Bright and balanced, this wine from an exceptional vineyard offers a lovely combination of elegance and complexity. Opulent aromas of caramel and quince lead to a layered, lengthy and viscous palate, ending with a touch of vanilla. It's also a great choice for buttery fried chicken.

You may also like: Balletto Vineyards 2014 Teresa's Unoaked Russian River Valley Chardonnay ($20)
Here is a crowd-pleasing quaffer that even Chardonnay naysayers will love. Pretty and pleasingly tart, it has a fresh-squeezed lemon flavor accompanied by hints of anise, caramel apple and pear. Crisp and dry, it's a pure wine with a lasting finish.
Pinot Noir for Valentine's Day

If you like: Davis Family Vineyards 2013 Dutton Ranch Russian River Valley Pinot Noir ($55)
Aromas of forest floor, truffle, black tea and cardamom make this a savory and wholly compelling wine. Orange blossom, orange peel, rose petal and a sensation of crushed rock add to the complexity of this intriguing Pinot. It's a perfect pick for a romantic evening, paired with pork tenderloin with dried-cherry sauce.

You may also like: Roots Run Deep Winery Educated Guess 2013 Carneros Pinot Noir ($25)
Rich, dark and concentrated, this hearty red has power and velocity to spare. Layers of wild strawberry and earth are wrapped in solid oak. It's a Pinot that will appeal to fans of full-bodied wines and will make for a fine nightcap.
Cabernet Sauvignon for Super Bowl 50

If you like: Ferrari-Carano 2012 PreVail Back Forty Alexander Valley Cabernet Sauvignon ($90)
Just right for grilled sausages and other meats, this wine has smoky cigar and toffee notes on the entry. Soft, thick and rich, this reserve-level bottling is sure to please fans of full-bodied reds. Blackberry and blueberry jam provide the fruit character that complements the savory elements.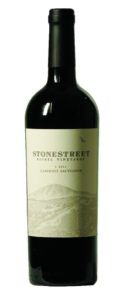 You may also like: Stonestreet Estate Vineyards 2011 Alexander Valley Cabernet Sauvignon ($45)
This wine is quite an accomplishment in flavor and complexity, given the chilly vintage and price. From high-altitude vineyards atop the Mayacamas, it delivers peppercorn, herb and mellow oak notes, and fine, integrated tannins. Graphite and cedar also figure into the mix, long with black cherry and cassis. Pop the cork when the pigs in a blanket come out of the oven.
Subscribe to Our Newsletters!