Petaluma's new Kapu Bar is the tiki-tackiest, booziest, most questionably appropriate escape from reality none of us knew Sonoma County desperately needed.
Because after fires, floods, a pandemic and years of binge drinking at home, it's about time for a few (dozen) mai tais with friends inside faux palm-leaf huts, especially when served with the best garlic chicken east of Kona.
For more than a year, Kapu's General Manager and Beverage Director Michael Richardson has been outfitting his Keller Street lounge with taxidermy puffer fish, hand-carved wood totems and a million other details, like plastic geckos stashed here and there and Spanish "pieces of eight" coins embedded in one of the bars. His motto: No bare walls.
Mission accomplished.
"You can have a place like this for years and still be decorating," he said.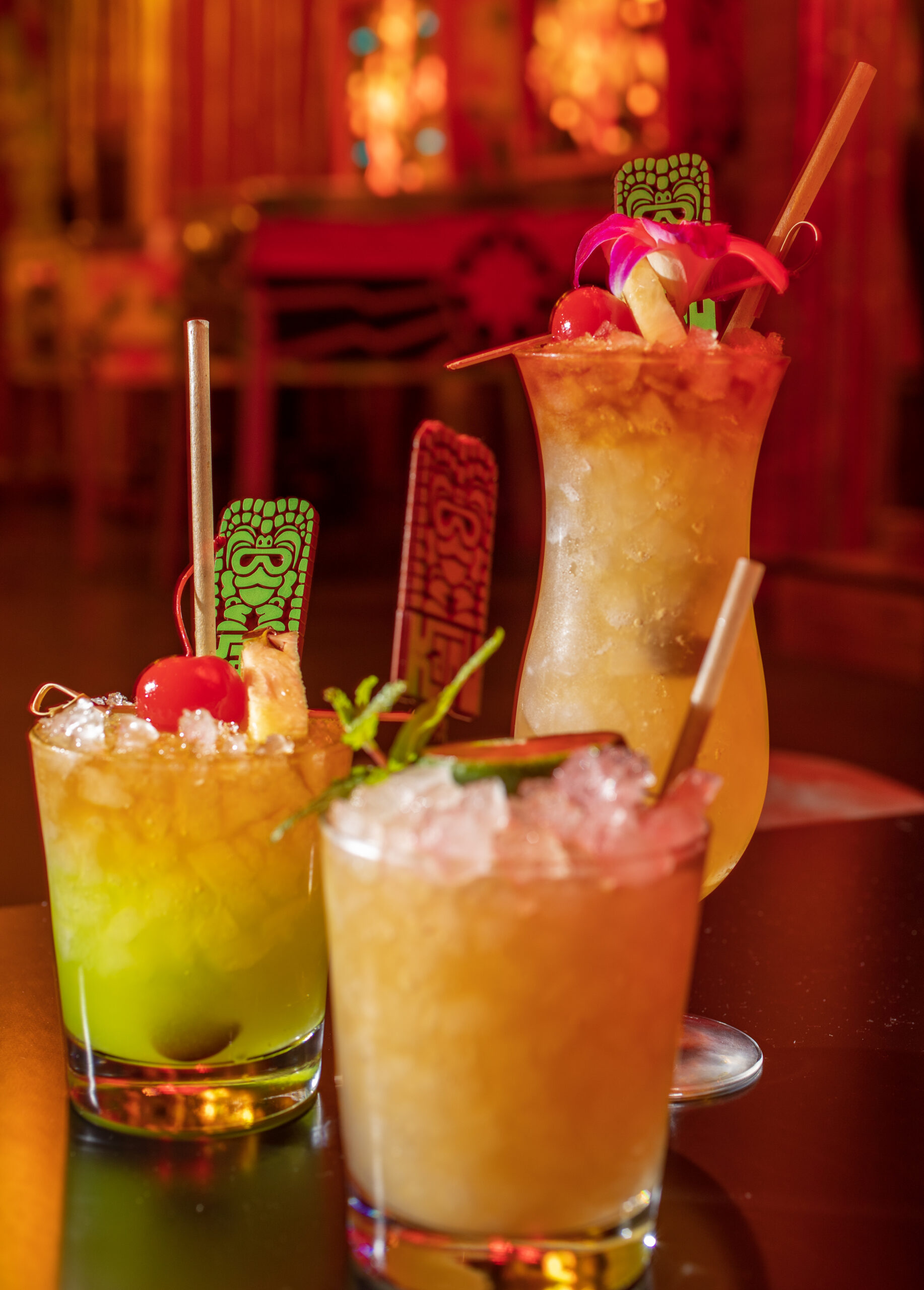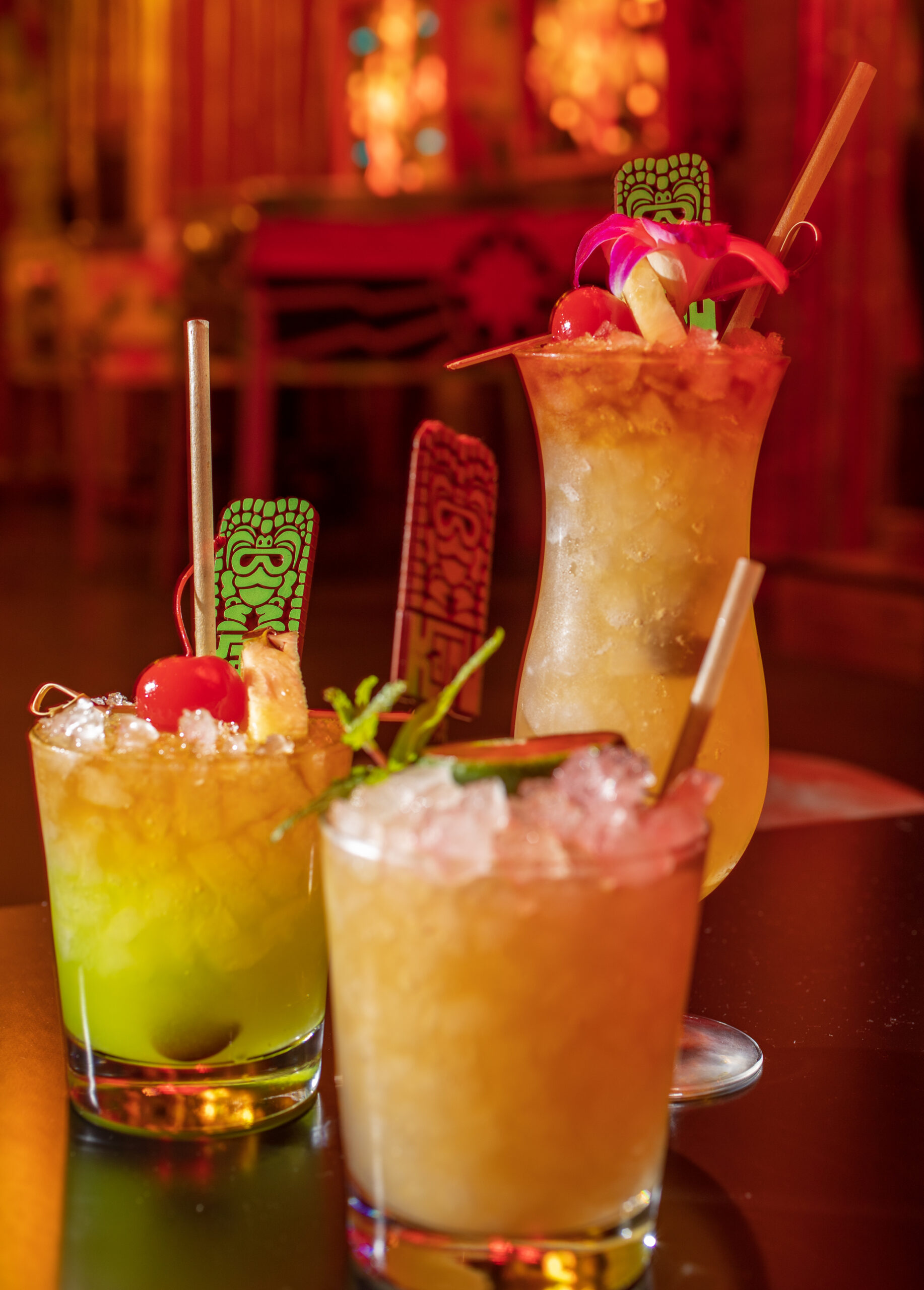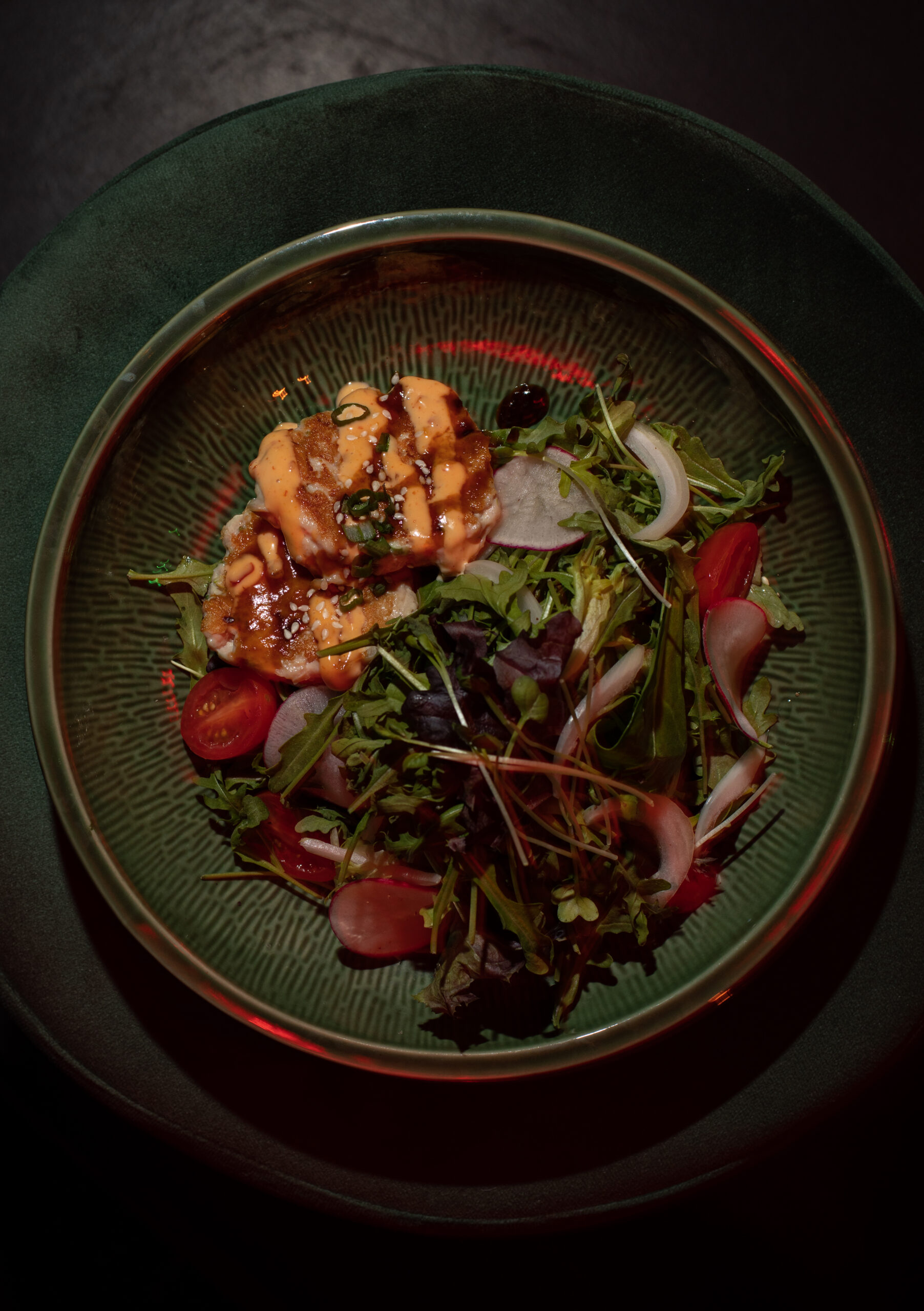 After you walk through the faux molten-lava entrance, it takes a minute for your eyes to adjust to the dark and dreamy wonderland that is Kapu.
Glass fishing floats hang from the ceiling, glowing blue, red and yellow and casting the bar area in a purple haze. A large rectangular bar has open seating for a better view of the bartenders shaking, mixing and blending their mysterious concoctions — the Fink Bomb, Tropical Itch, classic Mai Tai or Missionary's Downfall.
A lounge room includes 20-foot Chinese dragons, pinball machines and tucked-away spots for cozy conversation. A private Captain's Room has a yo-ho-ho pirate theme, while tables surrounding the bar are palm leaf-covered nooks perfect for a little post-rum punch canoodling. Words, in this case, can't do justice to the visual melee that shocks and awes.
Much of the maximalist mashup of faux Polynesian, Pacific pirate, midcentury modern, beachcomber, Indiana Jones and pinup Americana that defines tiki bars was inspired by Eli Hedley, who brought the post-WWII vibe to Southern California.
At Kapu, Richardson hired professional tiki bar designer Ben Bassham, Hedley's grandson, to get the authentic look. He also leaned heavily on Oceanic Arts in Southern California, a legendary purveyor of Asian and Pacific Islander crafts that inspired, for better or worse, the tiki craze in the 1950s and '60s.
"When you walk in here, you get swept away by the current. It just sets the stage," Richardson said.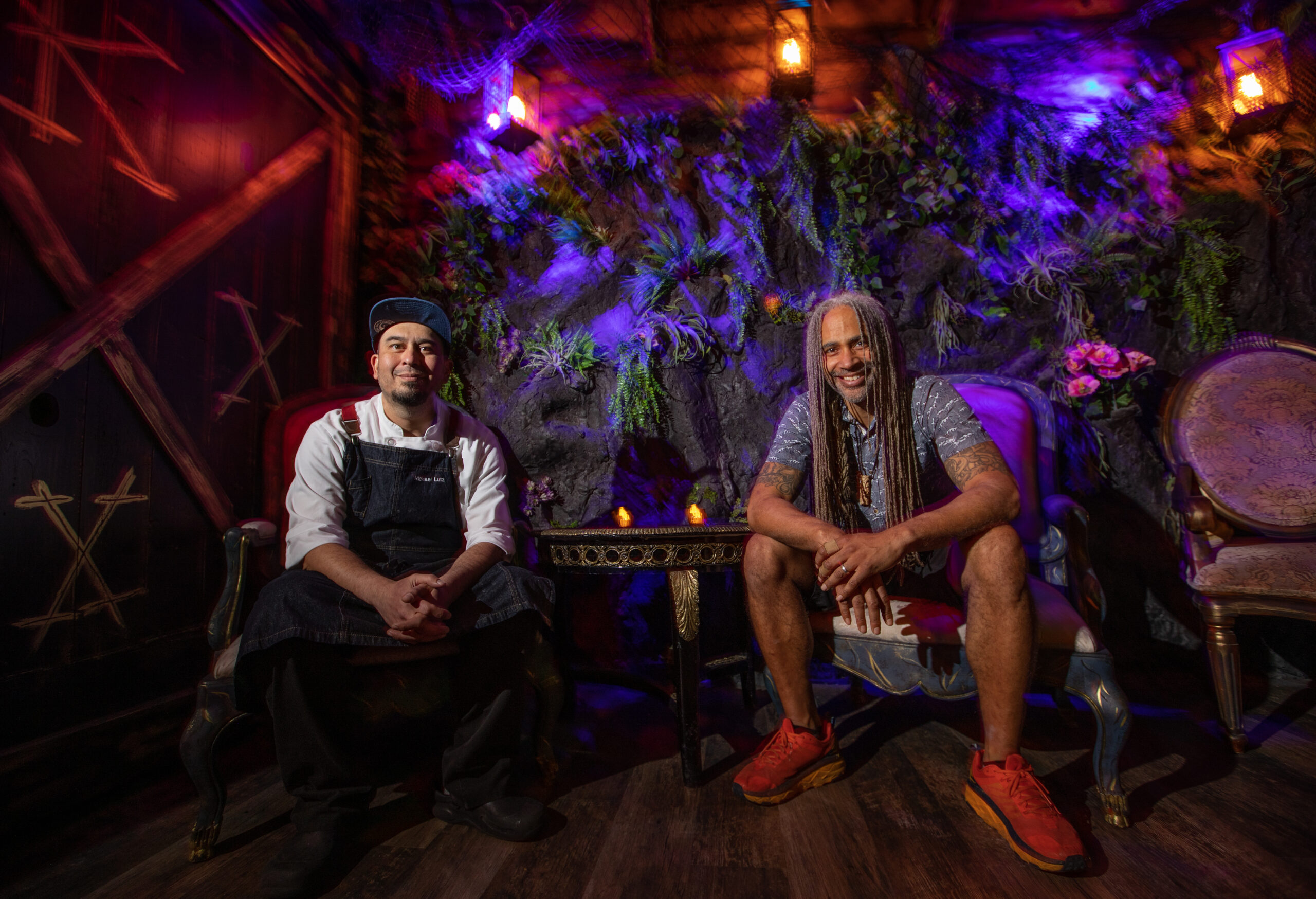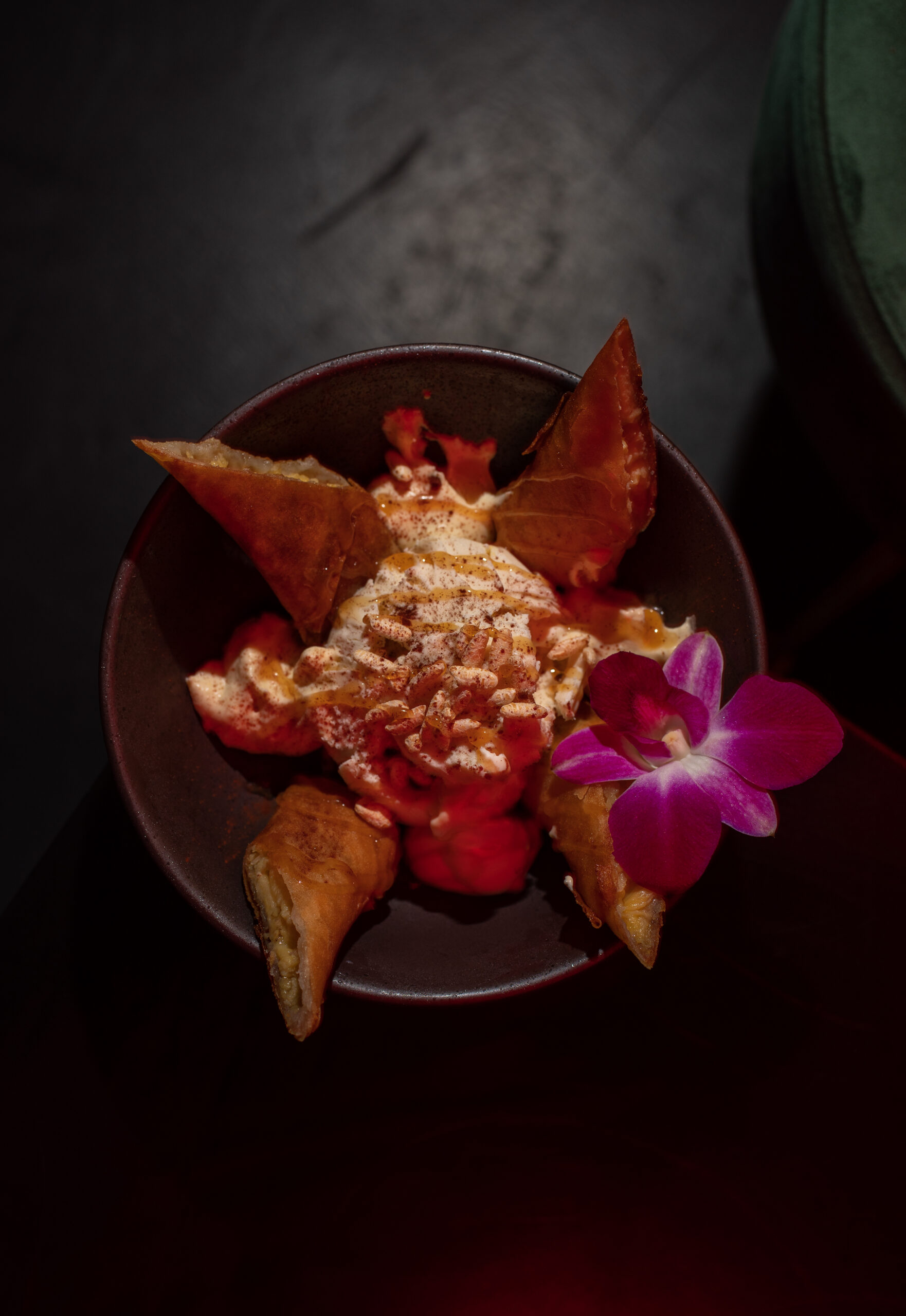 Richardson came to Sonoma County by way of Las Vegas in 2020 to oversee the beverage program at Burdock Bar in Healdsburg, where he wowed locals with the outlandish tiki drinks he created at Frankie's Tiki Room in Las Vegas. Several of his modern recipes for classic rum drinks were included in "Liquid Vacation: 77 Refreshing Tropical Drinks from Frankie's Tiki Room in Las Vegas" (Stephens Press LLC, 2013).
Suffice it to say Richardson has embraced the tiki lifestyle. He usually wears shorts and a Hawaiian shirt with his waist-long dreadlocks.
Though you're here for the cocktails, it's the food that keeps you in your seat. Unlike other tiki bars such as the Tonga Room or Smuggler's Cove in San Francisco, the food isn't an afterthought at Kapu.
Chef Mike Lutz's Hawaiian comfort-food menu is ono-licious. After spending more than 20 years on the islands, he knows his grindz. Sadly, the moody lighting makes it a little challenging to see the beauty of the food. But the flavors speak loud and clear.
"We just want this to be a place you can come as you are," Richardson said.
Aye, aye, captain. There's no question Sonoma County is ready for Kapu, and even more ready to get shipwrecked on this cozy little island.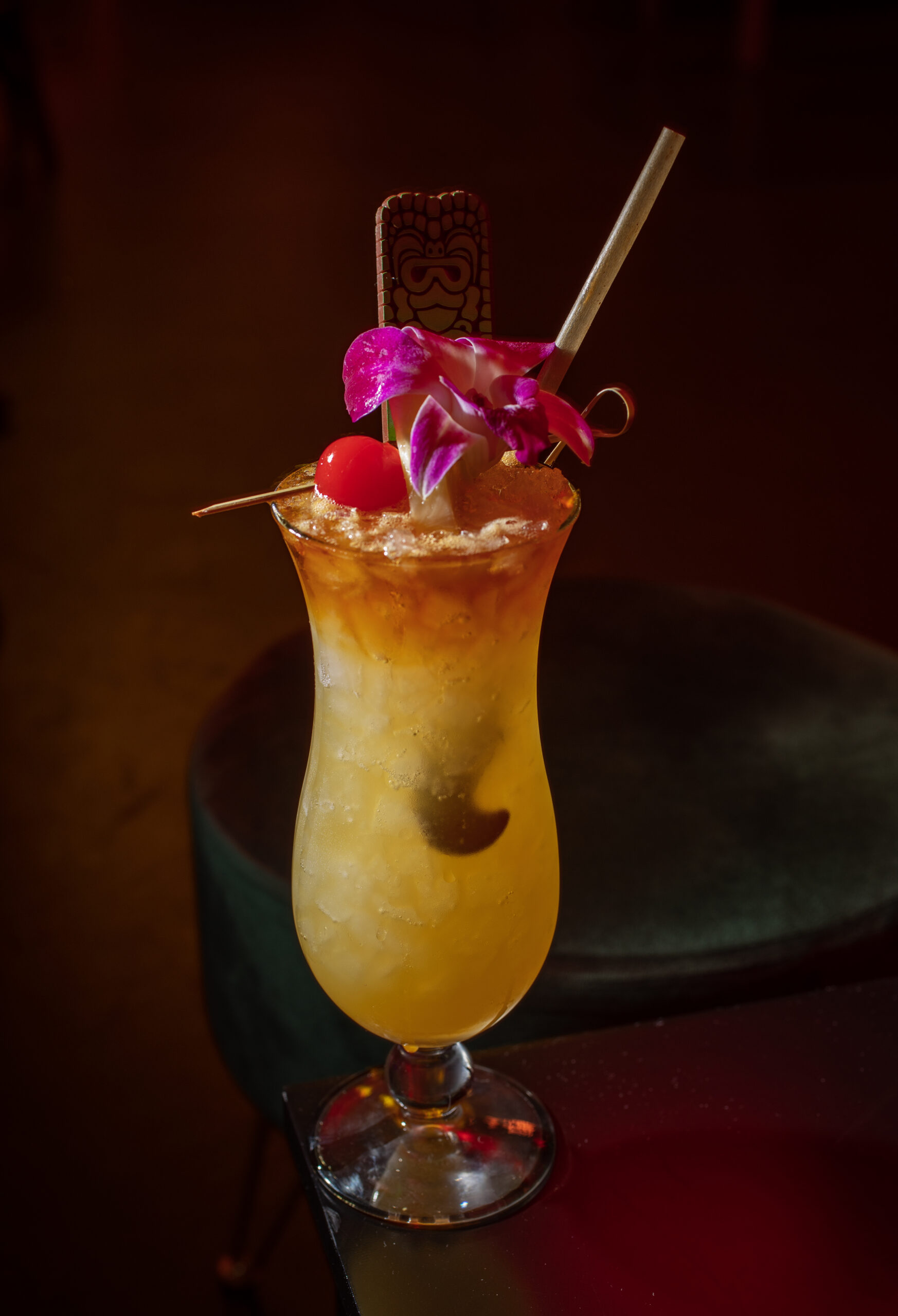 Best bets
Poke Nachos, $24: There's a reason mainland poke never tastes as good as it is on the Islands — we're doing it wrong. Chef Mike Lutz uses fresh tuna, sweet onion, shoyu and inamona (ground kakui nuts) to get the perfect flavor. The dish is made to order, and each ingredient shines rather than becoming part of a muddled mess. It's served beautifully on fried wontons.
Braised Pipikaula, $18: Smoked short ribs with pickled sweet onions fall apart on the fork.
Garlic Chicken, $12: A must-order, these crispy nuggets of double-fried chicken are bathed in shoyu and sprinkled with furikake and crispy garlic. Dip them in a tsukemono (Japanese pickle) dip. The recipe is inspired by the garlic chicken at Broke Da Mouth Grindz in Kona, one of my top 10 favorite dishes in the world.
Gau Gee, $14: Pork and shrimp wonton-style packets with a sweet black bean sauce.
Fried Noodles, $20: One of three "ohana style" (family-style) dishes, this mass of yakisoba noodles, char siu barbecue pork, bok choy and a simple soft-boiled egg is a hearty shareable dish (and will soak up some of that extra rum in your belly). It's also great as leftovers.
Mac and Potato Salad, $6: Don't freak out. It's made with bucatini (a hollow spaghetti-like pasta) with potato, hard-boiled egg and imitation crab (kani). In the traditional sense, it's absolutely not macaroni salad of the plate-lunch sort, but this creamy, carbo-loaded side is a slice of heaven.
Stuffed Fish, $26: Seared rockfish stuffed with linguica, shiitake mushrooms, tomato and watercress with a sweet kabayaki Hollandaise.
Banana Split, $10: If you still have room, get this luxe dessert with banana lumpia, vanilla ice cream, rum caramel and rice puffs.
And the drinks …
Plan to try one or two, maybe three if you're a heavyweight. More than that, and you'll be very, very sorry in the morning. These are dangerously easy-drinking cocktails that will sneak up on you like a sneaker wave at Ocean Beach.
Though most of the drinks here are undeniably sweet, they aren't cut with cheap syrupy mixers that leave you sugar-shocked before you even get a buzz.
Saturn, $14: Gin, passion fruit, lemon, Falernum. It's like drinking a red Sweet-Tart Slurpee, in a really good way.
Domino, $16: Creamy Key lime and pineapple will draw you into this rummy dream of a drink.
Mai Tai, $16: This is the Trader Vic's classic, though there's long been debate. No pineapple juice or grenadine, just rum, Orgeat and lime. Or cheap mixers. Or stupid paper umbrellas. Thank the gods.
Fink Bomb, $16: Here's one of Richardson's classics from Frankie's Tiki Room in Las Vegas. With rum, Midori, coconut and pineapple, it will land you in someone's arms or jail. Drink at your own risk.
Kapu is at 132 Keller St., Petaluma, 707-559-3665, kapubar.com. Reservations are highly recommended.
On the serious side, in my original article about Kapu last June, I acknowledged the very real issue of appropriating island culture. It's worth saying again. There's no getting around the wooden god in the room.
For some, the "exotic" themes of tiki bars are offensive. Using sacred Hawaiian, Pacific Islander and Maori gods as bar decor can be seen as exploitation. Though much of the beachcomber and Polynesian aesthetic that went into tiki decor at restaurants like the Tonga Room and Trader Vic's was a blend of real and imaginary iconography — a sort of nostalgic homage to the South Seas after World War II — it also encompasses Europe's colonization and subjugation of Asian Pacific people.
Richardson admitted he's faced pushback about appropriating from tiki culture. He said people are entitled to their opinions. He believes in enjoying tiki's unique history and in supporting and commissioning Indigenous artists, like Balinese woodworkers who made many of the statues in the bar.
Subscribe to Our Newsletters!