"There's something magical about open fire, and the theater of it captivates people," says chef Joshua Smookler, who opened Animo restaurant in Sonoma last year with his wife, Heidy He. "It's so visual. Humans gravitate towards it, and especially when the weather drops, it makes you feel so snug when you see it in a kitchen."
Fire imparts unmatchable flavors and tenderness and textures that conventional equipment can't always bring. "This is the most natural way of cooking, getting back to the roots of primitive man," Smookler says.
"And I do think the food does come out better over open fire. It's really not just the wood flavor, either. The heat is different. It's alive."
Hundreds of craggy, golden logs—a mix of peach, cherry, apple, almond, and other handwoods—are stacked up outside Smookler and He's restaurant. Inside, a Spanish Mibrasa parrilla grill, stacked with even more wood, dominates the tiny open kitchen. There, at the shiny stainless-steel monster, you'll see Smookler taming the flames to blister the pearlescent skin on a sweet, mild whole turbot flatfish imported from Spain and coax a delicious hint of bitter earth from charred sugar snap peas finished in yuzu sesame salt. It's dishes like these that recently earned the restaurant a spot on Esquire magazine's nationwide top new restaurants list.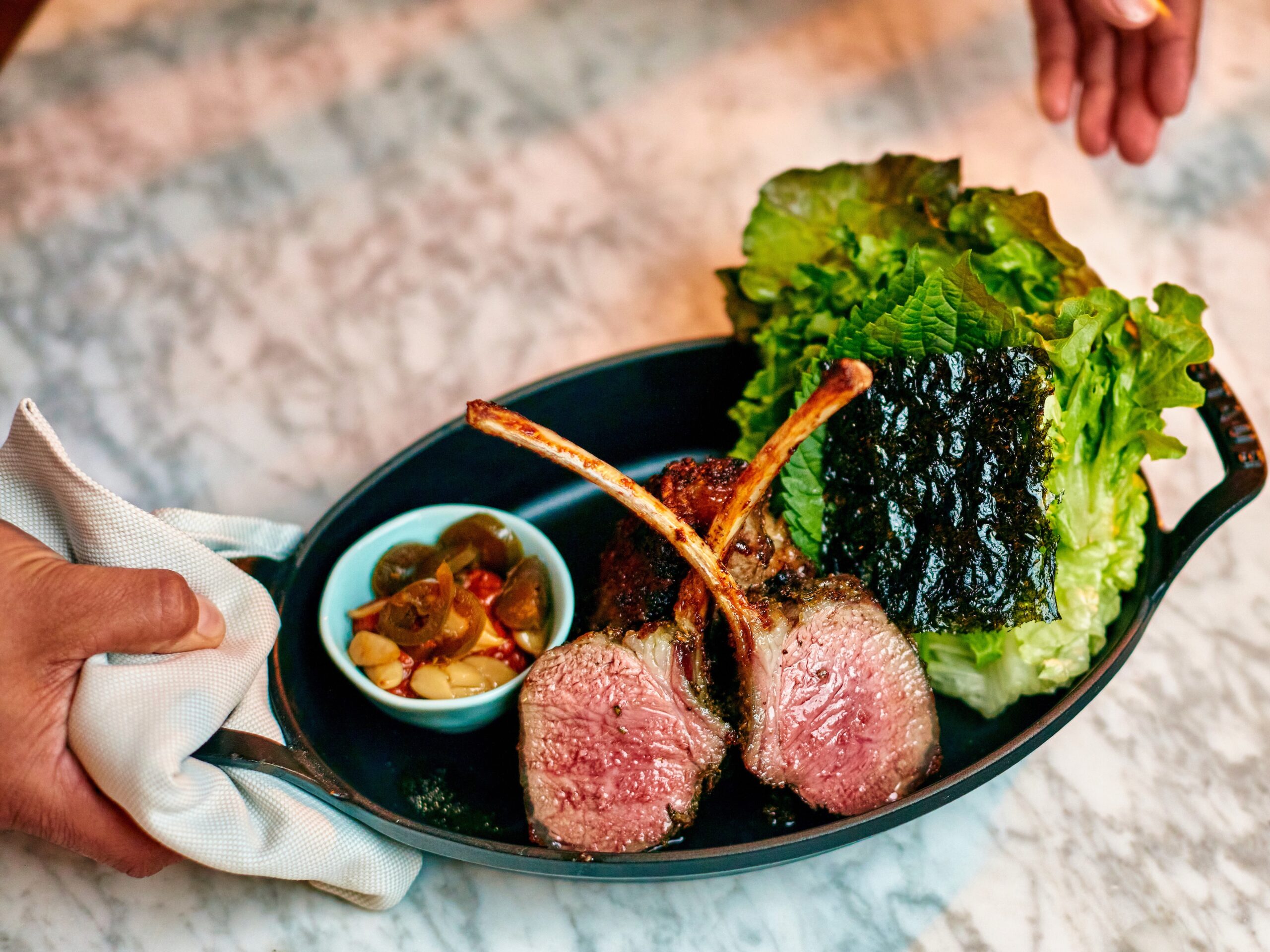 Inspired by Basque fishing villages where open-air grilling is a way of life, Smookler is fascinated by the complicated dance that keeps the fire going. "It's always changing, because is the wood too dry or too wet, too soft wood or too hard? It means the temperature can fluctuate wildly—some days it gets really, really hot, and some days it's not hot enough."
Honing in further on the details, Smookler says the burning embers that fall from the main firebox between the grates are key. They're more controllable than the flame and impart clean flavors instead of blanketing food in smokiness. "If you have a great product like delicate fish or dry-aged beef, you don't want it to taste like smoke," he explains. "We're not trying to mask the flavor. We want to enhance it."
And now that Smookler has mastered the challenging art of the flame, he's found a personal Zen. "The things that we cook, they talk to you and tell you their stories, if you're very observant," he says. "You can see what's happening as they transform, you can feel, smell, and hear, and it becomes a very meditative experience."
Portuguese cuisine from an Italian oven
Not far from Animo, just off downtown Sonoma's main plaza, Manuel Azevedo's LaSalette Restaurant serves Portuguese cuisine in an Italian-made Mugnaini oven adorned in custom brown tiles hand-painted by a Sonoma artist with designs of rabbits, game birds, pigs, and venison. The look, Azevedo explains, reminds him of grandparents cooking over a pot on a wood stove, with sausages hanging to smoke above.
As one of Wine Country's first open-fire concepts, Azevedo had to teach himself how to use the oven. "I learned I had to get this thing piping hot, around 800 to 900 degrees," he says. "It cooks from below and above at the same time, and for seafood, it's amazing."
Azevedo leaves much of the art of the fire to his skilled lead chef, Francisco Flores, who has been with the restaurant for 18 years. It's thrilling to watch Flores work the oven, zipping skillets and platters in and out, rapid-fire basting sea bass in butter and garlic and roasting whole branzino to a perfectly caramelized brown skin. Sous vide octopus, served on a bed of sweet onion puree and fried potatoes, gets a quick sear for superb chew, while the paella-like Arroz á la Valenciana gains a bit of crisp crackle for its mix of linguiça, chicken, shellfish, and saffron rice.
Fire power in Geyserville
Flames also take center stage at rustic Diavola in Geyserville, where a red plastered, wood-burning oven anchors the partially open kitchen. The soot-stained beast is topped by a growling, tusked, wild boar sculpture, and flanked by carved, religious icon figurines in honor of its revered status. An archway above the oven is hung with more than a dozen framed tools of butchery—cleavers, knives, and an antique hacksaw.
Into the oven's gaping maw, chefs feed delicious foods: Glittery silver sardines tumbled with potatoes, peppers, tomato, onions, olives, capers and a splash of sherry vinegar. Rich duck breast, which emerges bronzed and crackly-skinned. Heirloom pumpkin agnolotti draped in brown butter. Neapolitan-style pizzas. And yes, wild boar, used in wintery dishes like housemade chestnut pappardelle with porcini crema and rosemary.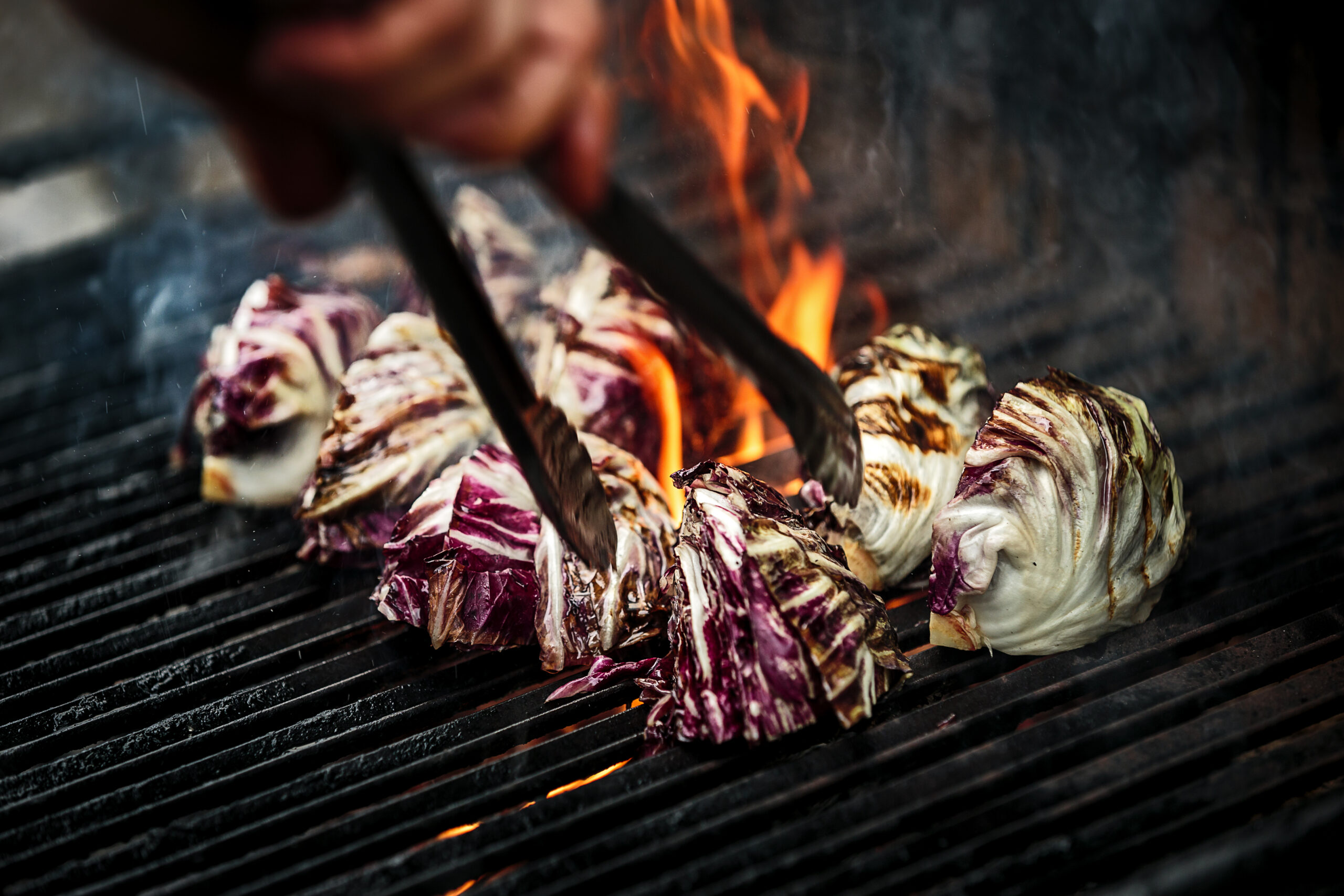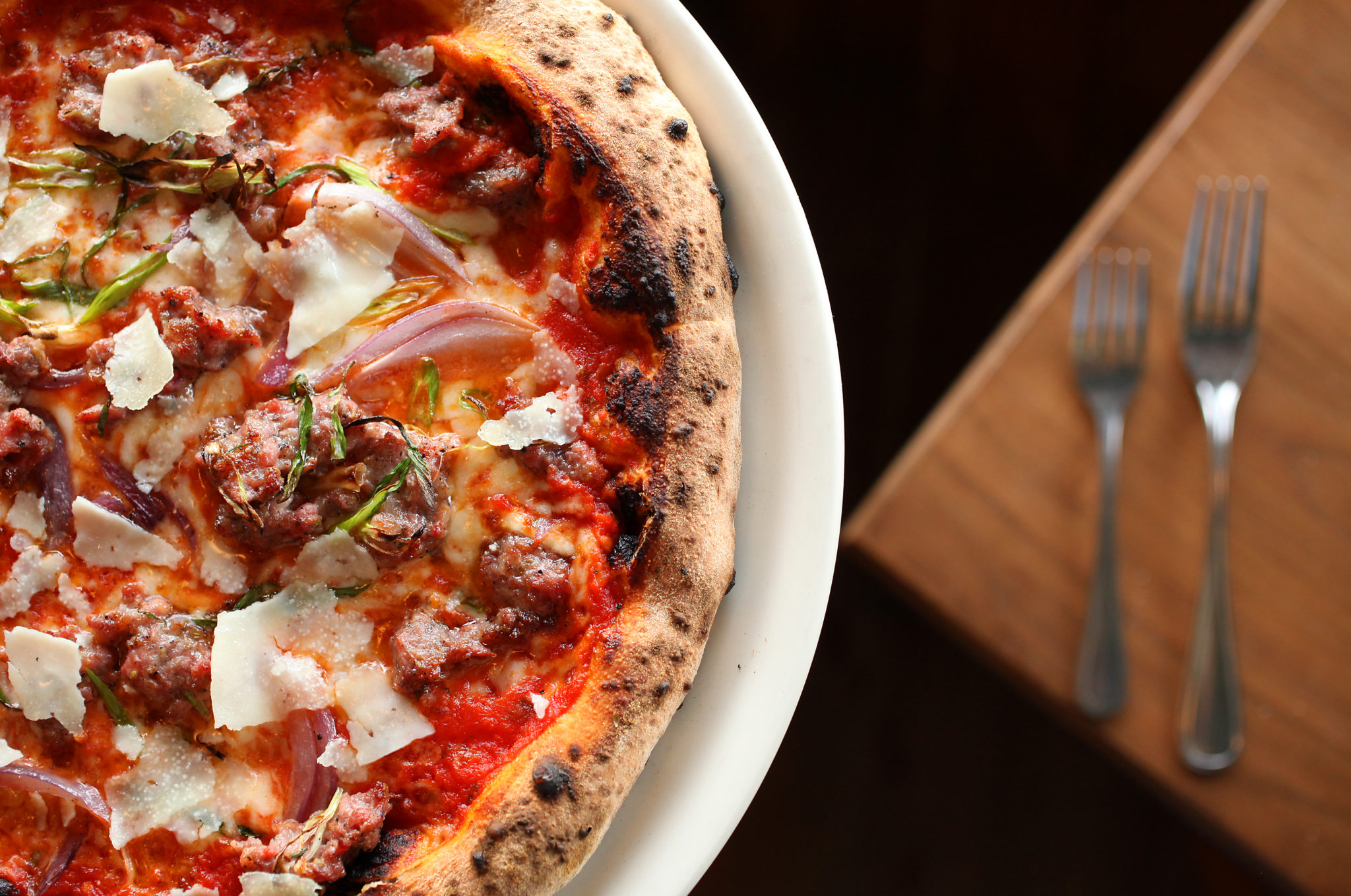 Throughout lunch and dinner service, chef-owner Dino Bugica and his team aim to keep the oven roaring at about 750 degrees. The creature greedily consumes walnut, oak, almond wood—"kind of whatever is available," Bugica says, working hard even as it cools, its glowing coals charring beets, squash, and leeks.
Just don't ever get too confident, he warns. "It's a beast, that thing. I've seen it humble a lot of cooks who think they're really good. It can really set you back, because you can't turn away. You have to always understand what's going on."
More fire power awaits outside, where a patio holds a rust-patina charcoal rotisserie grill, a wood-fired smoker, and an Argentine-style grill fueled by a mix of mesquite charcoal and wood. "My friend built it," he says, placing a loving hand on the Argentine grill, gussied up with a plancha for searing delicacies like scallops. There's also a metal swivel seat that allows the chef to grill sitting down—but the seat often gets too hot for his rear end, Bugica confesses.
Amid more exotic fare, one of Bugica's favorite dishes from the wood oven is humble, housemade mafaldine, a ribbon-shaped pasta. "We do porcini mushrooms, chanterelles, all kinds of cheese and sauce, and bake it bubbly brown. It becomes kind of like lasagna edges, that little crisp edge that everybody loves."
"Really, you can cook everything," Bugica says. "Whatever inspires you each day."
Animo 18976 Sonoma Hwy., Sonoma. On Instagram @animo_restaurant
Diavola Pizzeria & Salumeria 21021 Geyserville Ave., Geyserville. 707-814-0111, diavolapizzeria.com 
LaSalette Restaurant, 452 First St. E., Sonoma. 707-938-1927, lasaletterestaurant.com
More of Sonoma's best live-fire cooking
ROOF 106
The rooftop lounge-restaurant at The Matheson boasts a 3,800-pound, custom-tiled Mugnaini wood-fired oven. Don't miss blistered shishito peppers with Marcona almonds and housemade chorizo or elaborate pizzas with toppings like duck confit.
106 Matheson St., Healdsburg. 707-723-1106, thematheson.com
ROSSO PIZZERIA & WINE BAR
Inspired by the Slow Food movement, the menu celebrates fare fashioned in a brick-and-tile-trimmed Tuscan wood-burning oven. The signature dishes include seasonal oven-roasted Dungeness crab and a crisp, yeasty mushroom pizza with Taleggio and fontina cheese. 53 Montgomery Dr., Santa Rosa. 707-544-3221, rossopizzeria.com
GLEN ELLEN STAR
Chef-owner and French Laundry alum Ari Weiswasser mans a large, custom-built fire-breathing wood oven, wowing the crowds with Brussels sprouts in brown sugar bacon marmalade and an exquisitely moist whole fish draped in tamarind-brown butter sauce.
13648 Arnold Dr., Glen Ellen. 707-343-1384, glenellenstar.com
SWEET T'S RESTAURANT + BAR
A giant wood-fired grill and apple-wood smoker are the backbone of a succulent Southern menu featuring beef brisket, pulled pork, tri-tip, sausages, ribs, and more. 9098 Brooks Rd. S., Windsor. 707-687-5185, sweettssouthern.com
CIBO RUSTICO PIZZERIA
In true Italian style, the wood-burning oven elevates dishes like prosciutto-wrapped asparagus; roasted stuffed zucchini flowers, and pizzas like the Cibo Star, an 8-pointed, star-shaped pizza with marinara, buffalo mozzarella, prosciutto, sausage, basil and Parmesan on a cheese-stuffed crust. 1305 Cleveland Ave., Santa Rosa. 707-623-9906, ciborustico.com
JACKSON'S BAR AND OVEN
Chef Josh Silvers is a pioneer with wood-fired cooking, and his casually sophisticated spot still impresses with staples like wood-fired mussels with chorizo and fennel; lamb-stuffed flatbread and gooey-golden baked ziti studded with roasted mushrooms. 135 Fourth St., Santa Rosa. 707-545-6900, jacksonsbarandoven.com
Subscribe to Our Newsletters!