Tomato season begins as a waiting game. Plants that went into the ground in the spring grow to maturity, with hundreds of starlike flowers and green globes of all sizes. Suddenly, come mid-to late July, there it is: a glint of bright color that in a few days encompasses an entire tomato, and then another and another. Soon, the garden explodes into frenzy of yellow, orange, and red — even purple. And then you taste your first of the summer, plucked from the vine and heavy in your hand, overwhelmingly delicious as you devour it right there in the garden, seeds spurting everywhere.
The tomato is a seasonal creature that will not yield to human attempts to shake it loose from summer. A tomato grown in its own true season has a pleasingly pungent aroma. It yields easily to a sharp knife and inside, the flesh glistens. The taste is rich, sweet and tangy, the texture luscious and silken. People who complain that they can't get tomatoes "like they used to taste" are simply looking in the wrong place. Fortunately, in Sonoma County, the right places are everywhere, in our own backyards and farmers markets. For the next three or four months, tomatoes will be in glorious abundance. And then, the season of longing begins all over again.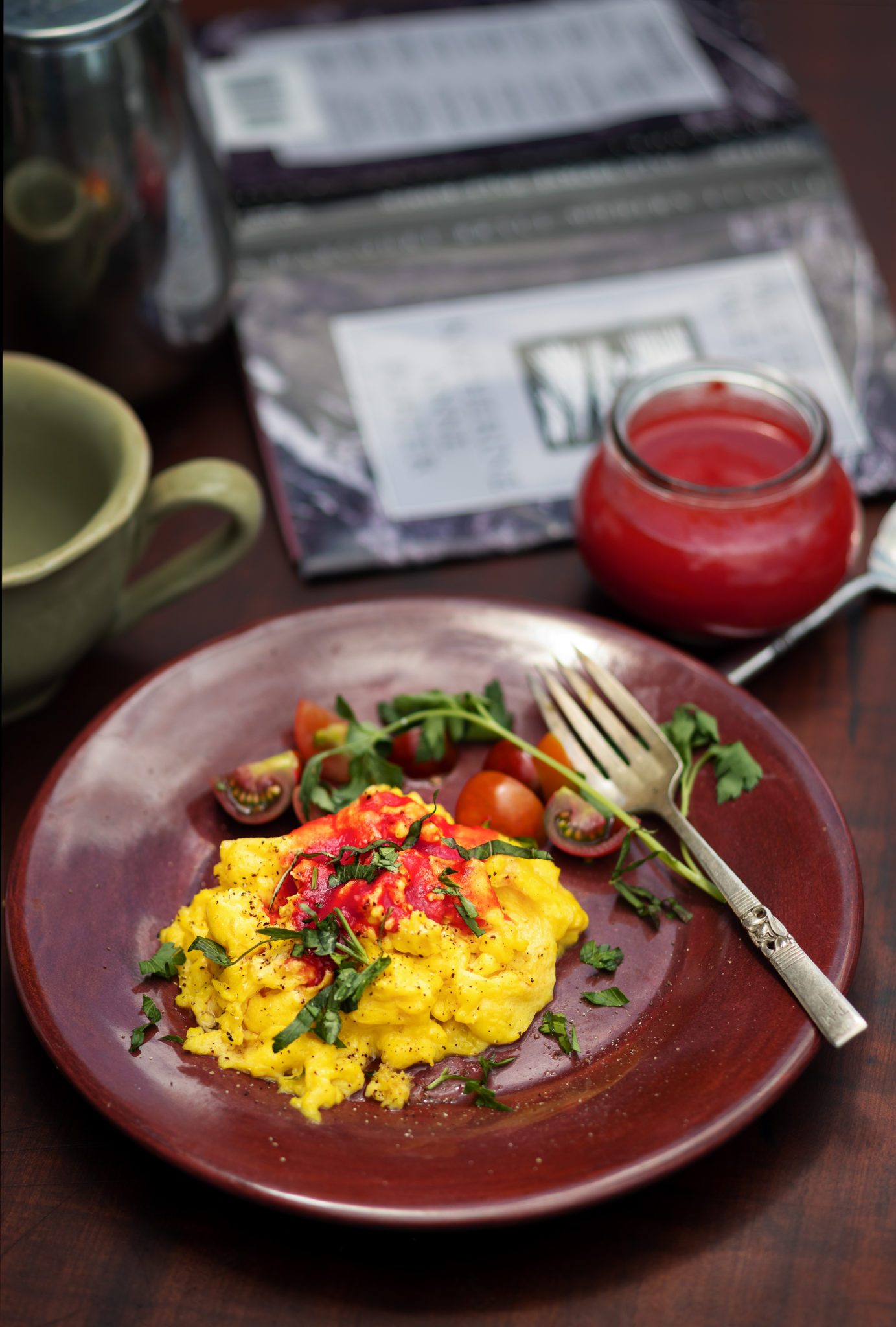 Fermented Cherry Tomatoes
Makes 2 quarts
At peak season, it can be hard to keep up with even one cherry tomato plant. Here's an easy way to preserve cherry tomatoes; the recipe can easily be doubled or tripled to take advantage of the bounty your garden offers.
• 8 cups, approximately, plump cherry tomatoes, preferably mixed colors, rinsed
• 2-4 garlic cloves, trimmed and peeled, optional
• 2 sprigs of basil, cilantro, or thyme, optional
• 6 tablespoons kosher salt
Put the tomatoes into a two-quart glass canning jar. Add the garlic and herb sprigs, if using, tucking them here and there between the tomatoes.
Leave about an inch and a half of head room at the top of the jar.
Put the salt into a large pitcher, add 8 cups of water, and stir until the salt is dissolved.
Pour the water over the tomatoes until it covers them completely.
Set a glass fermentation weight or glass lid on top of the tomatoes to keep them submerged.
Add a silicone fermentation lid and close the jar with canning rings.
Set it in a warm, dark area, such as a pantry or cupboard that has a steady temperature in the high 60s. Check daily and remove the lid now and then to release pressure.
Ferment for 5 days to 10 days, until you like the taste of the tomatoes. The longer the time in the brine, the tangier the taste. Tomatoes that are finished with fermentation can be stored in their brine in the refrigerator for up to a year.
To use, drain off the fermentation liquid and pass the tomatoes through a food mill. If you do not have a food mill, set a medium strainer over a deep bowl. Put a handful of the tomatoes into the strainer and use a heavy wooden spoon to press the flesh through, leaving the skins behind. Discard the skins and continue until all the tomatoes have been strained.
Put the fermented tomato puree into a glass jar and use within a week.
SUGGESTED USES
• Top French fries or oven-roasted potatoes.
• Stir into homemade salsa.
• Spoon over gently scrambled eggs.
• Drizzle over plain whole-milk yogurt. Enjoy with chips or sliced radishes and celery.
• Drizzle swirls over chilled soups, such as cucumber, avocado, vichyssoise, or gazpacho, or over hot soups such as potato, bean, or pasta.
• Spread on a thick slice of toast topped with crème fraîche.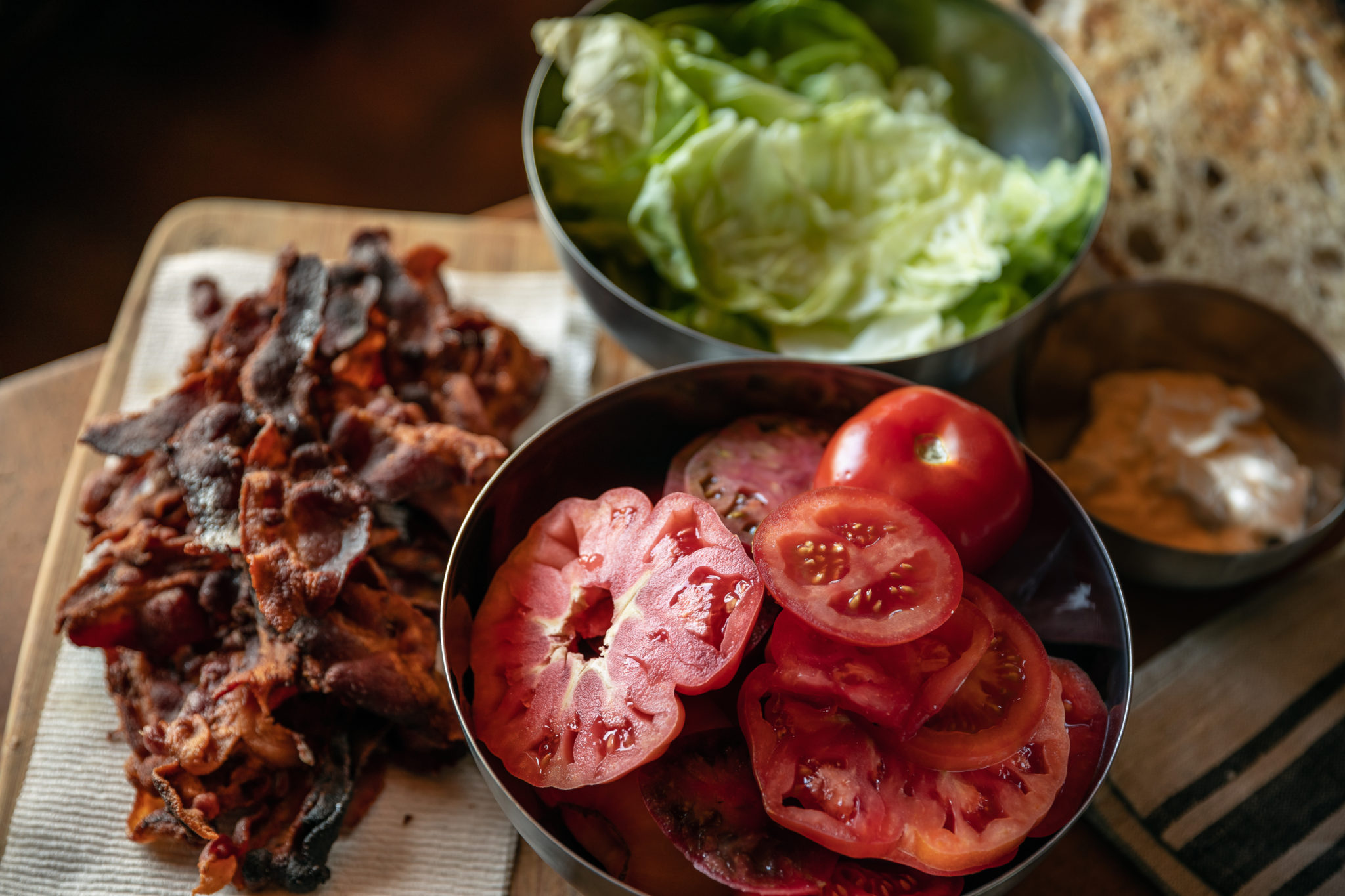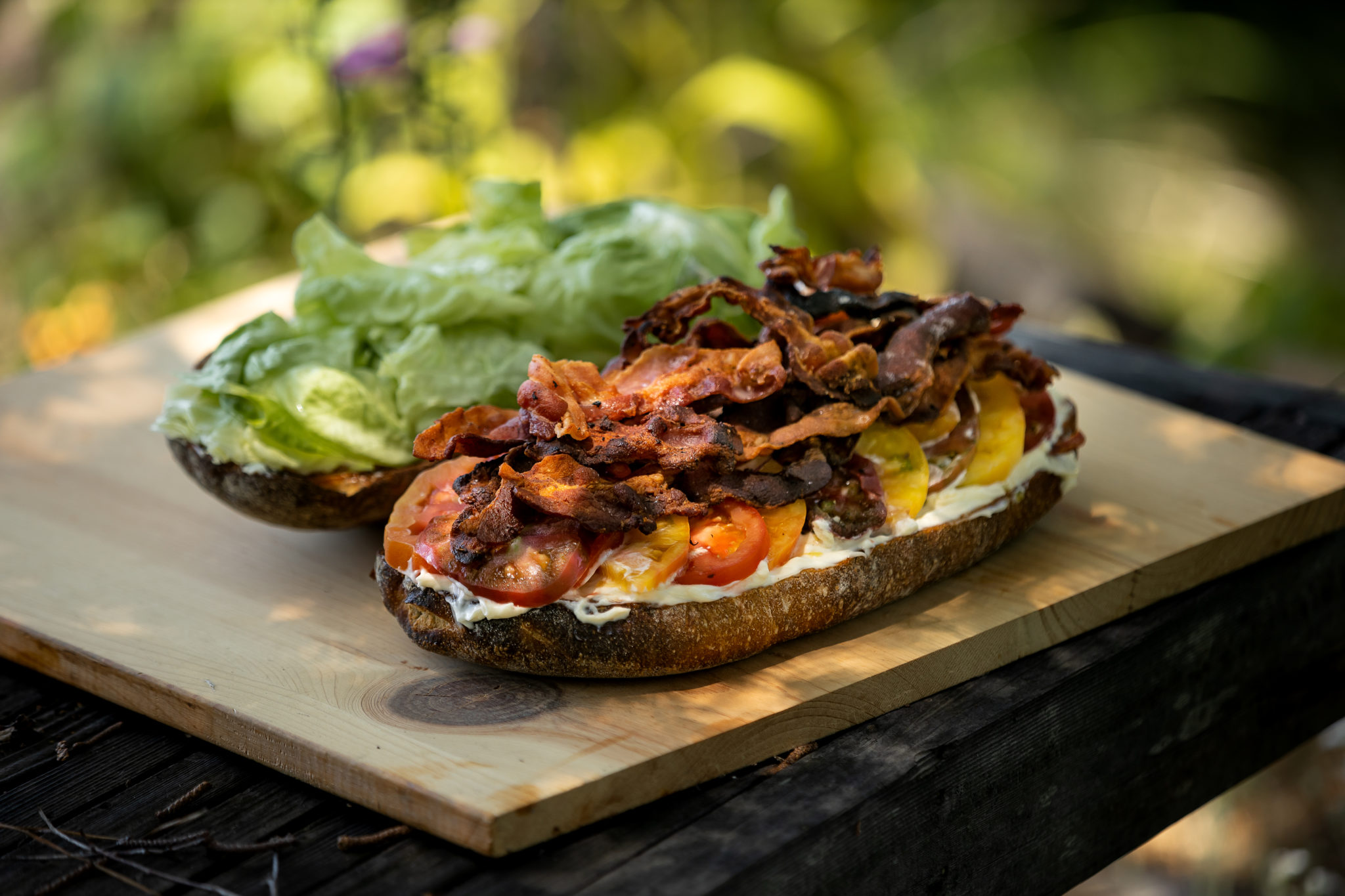 Big Loaf BLT
Serves 5 to 6
As far as rituals go, the BLT is right up there with summer traditions like fireworks and watermelon. This shareable sandwich is everything a BLT should be: gooey, drippy, and sloppy to eat. It has plenty of bacon, too, cooked all-the-way crisp for that essential snap between the teeth.
• 1 pound thinly-sliced bacon
• Loaf of sourdough hearth bread, sliced in half lengthwise
• 3/4 cup mayonnaise
• 5 to 6 ripe beefsteak tomatoes, cored, cut into 1/4-inch-thick crosswise slices
• Kosher salt
• Black pepper in a mill
• 1 head butter lettuce, outer leaves discarded and inner leaves torn into pieces
Preheat the oven to 375 degrees.
Fry the bacon in a heavy skillet until it is very crisp; transfer it to absorbent paper to drain. Set aside.
Set the bread on the middle rack of the oven, heat through, and remove from the oven when the exposed surfaces of the bread are just starting to take on a bit of color. Set the hot bread on a work surface.
Slather the mayonnaise over the cut surfaces of the bread in one swoop; do not rub it in.
Tile the tomatoes on the bottom half of the bread, overlapping them slightly. Season generously with salt and several turns of pepper from the mill.
Pile the bacon on top of the tomatoes and put the lettuce on top of the bacon.
Sprinkle the lettuce lightly with salt.
Set the top half of bread on top of the sandwich and press down gently so that it stays in place.
To enjoy right away, cut into crosswise slices. To serve later, wrap in paper or foil and enjoy within an hour or two.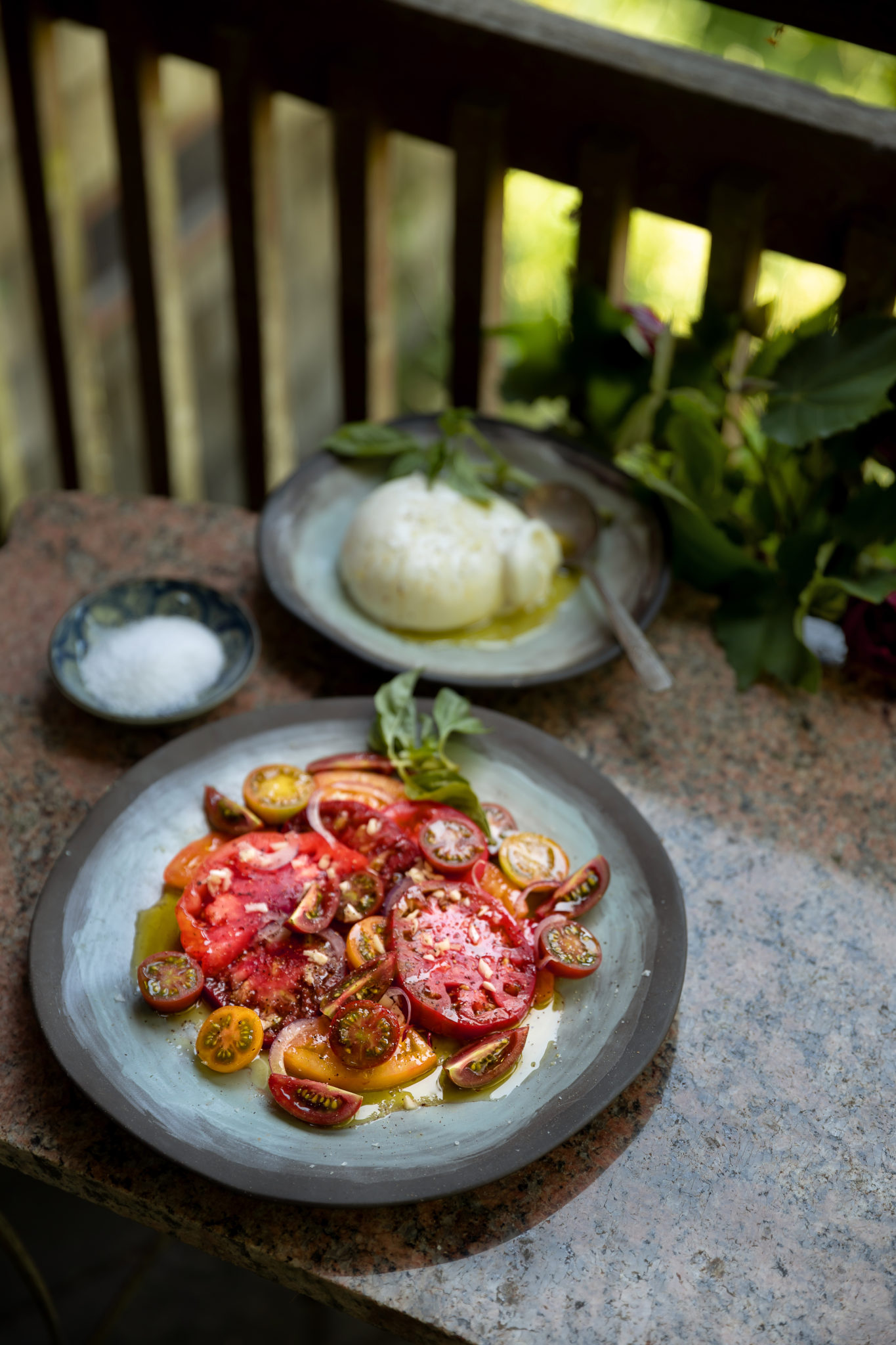 Tomato Salad
Serves 3 to 4
A great tomato salad does not need much more than just-picked tomatoes and a bit of salt, along with whatever additions engage you. The most important element, other than the tomatoes themselves, is how you slice them. They must be cut through their equator, not their poles, which is to say crosswise, not lengthwise.
• 3 or 4 medium tomatoes of various colors, cored
• 8 to 10 cherry tomatoes of various colors and sizes, quartered
• 1 very thin slice of red onion, rings separated
• 2 garlic cloves, crushed and minced
• Extra virgin olive oil
• 2 small basil sprigs
• Kosher salt
• Fresh-ground black pepper
• 1 burrata cheese, preferably Italian, about 8 ounces
Cut a slice off the blossom and stem ends of the large tomatoes; set the ends aside for another use. Cut the tomatoes into ¼-inch-thick rounds; if the tomatoes are particularly large, cut the slices in half.
Arrange the tomatoes on individual serving plates, alternating colors and overlapping them slightly. Scatter the quartered cherry tomatoes on top. Tuck pieces of red onion here and there between the tomatoes, and scatter the garlic on top.
Drizzle with olive oil and add the basil sprigs. Season with salt and pepper.
Set the burrata on a another plate, drizzle with olive oil, and season with salt and pepper.
Enjoy right away, with a big spoonful of burrata on top of each serving.