The last thing the world needs is another chef re-interpreting mac and cheese.
Thankfully, as Butcher Crown Roadhouse's Christofer Gutierrez was pondering how to present pasta in a cheesy Béchamel sauce, a very different inspiration struck. An ode to his mom's affection for butternut squash became the restaurant's ember-roasted plug of a gourd stuffed with goat cheese and spiced pepitas in a pool of sweet carrot puree.
Whether it's your thing or not, Calabaza Rellena ($12.50) knows what it is. With sweet, earthy, spicy, creamy, spicy flavors packed into a single plate, it's an adventure in every forkful. After struggling through the menus of several new restaurants still looking for their lodestar, it was the much-needed inspiration I'd been seeking.
Let's just say this review may have started very differently were it not for that butternut squash, because it set the stage for a seriously impressive meal at the fledgling eatery. Focused on burgers, tacos, and Latin-inspired barbecue, Butcher Crown Roadhouse is a collaboration between owner Pete Schnell and Gutierrez that has barbecued meat and vegetables at its core but takes flavor cues from Mexico, Cuba, South America, Latin America and traditional barbecue joints closer to home.
At the back of the remodeled Nopalito restaurant on Bodega Avenue is a smoker that Gutierrez uses to add flavor to more than just his squash. Standing on the patio, the young chef who cut his teeth at Brewsters in Petaluma checks the apples that have gone into the smoker earlier. They turn soft, pliable and a bit wrinkled in preparation for one of the most comforting desserts I've ever had, brown butter caramel, a fresh funnel cake and vanilla whipped cream with the smoky, soft apple as the star.
The menu changes up, and the much-talked-about Piri Piri chicken has already left the menu (sadly), but Cochinita Pibil Tacos ($11.50), a brisket burger-and-fries dish smothered in cheese and roasted chili salsa are standards. Most of the meats are smoked for 16 to 18 hours concentrating maximum flavor into the fall-off-the-bone meat.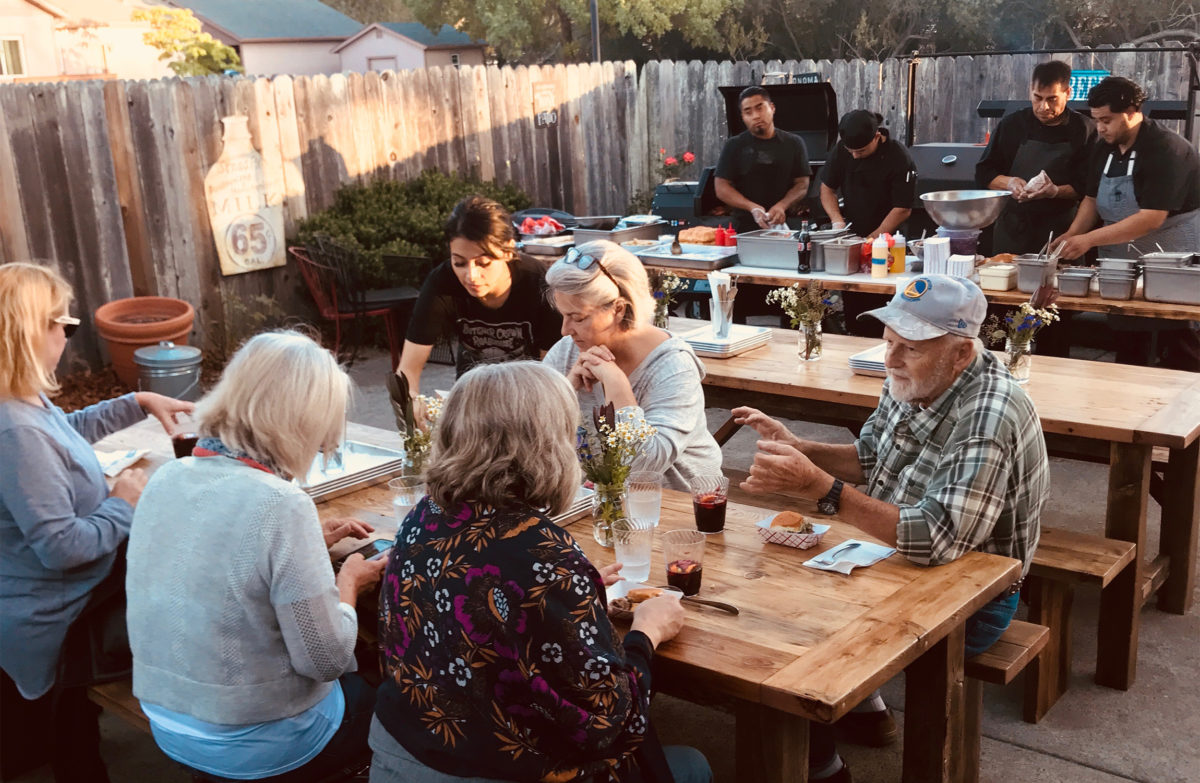 The kitchen uses plenty of local ingredients, smokes in-house and makes fresh tortillas with a combination of flour and corn that bring the best to their slightly irregular shape and perfect thickness.
The restaurant has been transformed into a charming roadhouse with a small beer garden in back for warmer days and nights.
Expect to see new dishes as the seasons and ingredients change, but know that I will never support mac and cheese on the menu because there are too many other dishes for Gutierrez to explore. The kitchen is taking chances on flavors that pay homage to familiar dishes but push past the expected into something utterly delightful. Not every dish perfectly hits the mark — the rice and beans seem a bit of an afterthought — but we're willing to overlook a few missteps for the joy of tasting dishes with a clear point of view.
And for that, I am even more grateful, because honestly, I can't take any more fancy mac and cheese.
Best Bets
Papas Fritas, $11.50: It's literally a hot mess of crispy Kennebec fries, Thistle Meats chorizo, roasted poblano salsa, a truckload of cheddar and jack cheese and cilantro aioli. Think nachos, but with french fries instead as the flavor delivery method instead of chips. There's a sweet tingle from the chorizo and salsa, but creamy aioli and gooey cheese keep anyone with a mouth from being able to stop cramming these into their face until the dish is licked clean.
Calabaza Rellena, $12.50: One of the biggest rages of the past two years was the Rainbow Explosion cake. When cut, it revealed a hollow center filled with rainbow-colored hard candy that rolled out on the floor in handfuls, yay! Cutting into a hollowed out roasted butternut squash (calabeza) gives the same awe-inspiring effect, with warm goat cheese, poblano peppers and spiced pumpkin seeds tumbling from the inside onto a pool of sweet carrot puree and chili oil. Sweet, nutty squash collapses into tart cheese and earthy peppers creating a dish that's a surprise from start to finish. Game changer.
Remolacha, $12: The Steven Tyler of vegetable dishes isn't a looker, but leaves you breathless in its presence. Smoked beets meet sweet chili cream, a splash of chili oil, and tart navel oranges. Hidden in the depths of the bowl are Marcona almonds and roasted poblanos. It hits all the notes, from bright citrus to a smoky bass line.
Brisket Enchiladas with Molé, $16: A weekend-only dish with a history. Slow-braised brisket is rolled into handmade corn and flour tortillas topped with cheese and Gutierrez's pumpkin mole. He's been brewing up this batch, much like a sourdough starter since opening in October. Each week as he uses it up he adds more, giving it an increasingly complex flavor. Our only gripe — we wish there was more. Sauces are clearly a strength on all of the dishes, but this is especially good.
Ember-Roasted Apple, $7.50: Save plenty of room for dessert, because the taste of a smoked apple isn't soon forgotten. A base of brown butter caramel supports a fresh funnel cake, chunks of sweet ember-roasted apple, more caramel and a dollop of sweet vanilla whipped cream. Ever so much better than chocolate lava cakes.
Details: Butcher Crown Roadhouse, 1905 Bodega Ave., Petaluma, 707-559-3735, butchercrown.com. Open Wednesday through Sunday. Dinner 5-9 p.m. Wednesday through Sunday, lunch from 11 a.m. to 3 p.m. Saturday and Sunday.