For most Sonoma County residents, gifts are an integral part of the holiday season. Wish lists are carefully composed months before Christmas, and crossed off by parents and relatives in shopping malls and local stores.
But for some—particularly those who lack reliable housing and a steady income—the act of giving and receiving presents on Christmas Day is not something that can be taken for granted.
A program in the Healdsburg area aims to spread the holiday spirit to all by inviting local residents and organizations to "adopt" families in need. The program, locally known as the "Presents Project," has operated under the auspices of the Rotary Club of Healdsburg for the past 19 years. Participating residents or organizations—"sponsors"—buy gifts for enrolled families. This year, the program will connect 83 sponsors with 87 families; a total of about 400 people.
"Most of the recipients in our program wouldn't have Christmas if it weren't for the people who adopt them," said Beth DeCoss, one of two program co-coordinators. "It's a great way for those in the community who want to give back to have a direct and immediate impact on those in the community who need help."
"Presents Project" volunteers work with a number of community organizations, including the Alliance Medical Center, the Healdsburg Boys and Girls Club and local public schools, to identify families in need. Participating families present the volunteers with information concerning each family member—age, sex and clothing size—and submit a short list of presents each person would like.
The wish lists, stripped of identifying information, are then turned over to eager sponsors just after Thanksgiving. Sponsors are asked to deliver wrapped gifts to the Healdsburg Boys and Girls Club gymnasium on the morning of December 15. Families enrolled in the program later pick up their presents at the same location. (In order to protect the privacy of the families, sponsors are not allowed to attend).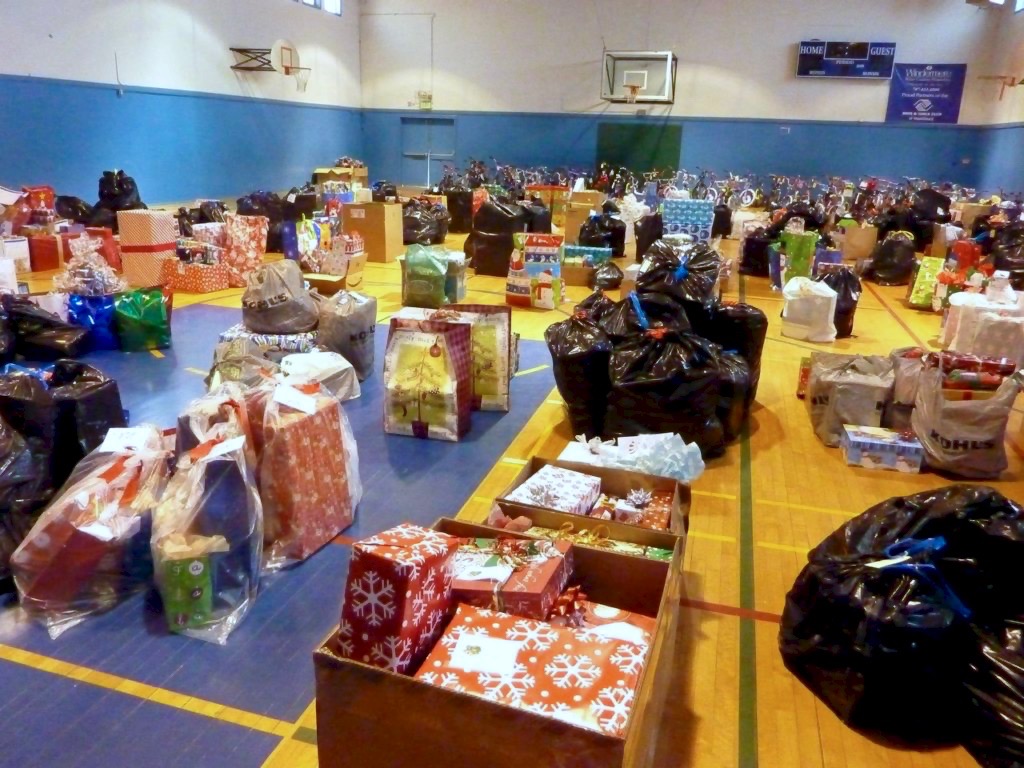 "It's incredibly emotional to be here when the families arrive," said DeCoss. "Many of the kids don't expect presents at Christmas, and they get so excited to see that they're actually getting some."
Other than keeping it anonymous, there are few rules to the program. Organizers put no limit on the amount sponsors should spend, and they are welcome to purchase additional gifts that aren't cited on the lists. Every child who asks for a bike receives one from Rotary—all come with helmets donated by the Healdsburg Police Officers' Association. A local Cub Scout pack sponsors a few families, and the City of Healdsburg and the Healdsburg Police Department get involved, too.
Healdsburg residents Mike and Gail Fairchild have participated in the "Presents Project" every year since 2014. This year, they purchased gifts for a family of three. Items on their shopping list included clothes, comforters, toiletries, and toys.
Mike says the act of shopping for their "adopted" family gets him and his wife into the holiday spirit. Gail agrees, noting that the couple likes to involve their granddaughter in the process.
"Even though our granddaughter doesn't know the people who ultimately receive the presents, she loves the whole experience of getting presents and knowing that somebody, somewhere is going to open them and be pleased," said Gail. "More than anything else, that's what the holiday spirit is all about."
If you would like to donate to the program or sign up as a sponsor next year, please contact Beth DeCoss at 707-433-2721.