In the original "Ghostbusters" movie, Dr. Peter Venkman, the character played by Bill Murray, tells the mayor of New York City that the metropolis is "headed for a disaster of biblical proportions … human sacrifice, dogs and cats living together, mass hysteria."
All because of a bunch of ghosts.
Sonoma is probably safe: Who could be bothered to go running around in circles, screaming, when there's so much good food and wine around?
But that doesn't mean Sonoma doesn't have ghost sightings. Current and former winery sites have reported apparitions from time to time, enough to spawn a mini-industry of "ghost tours" led by "experts."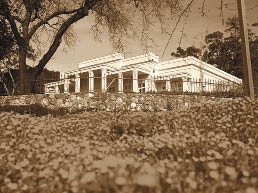 The patron saint of Sonoma haunts is Carla Heine, who wrote a guide on the subject, "Sonoma Ghosts: True Stories of Sonoma's Haunted History," and devised a self-guided tour around town for those looking for ghosts. (A haunted winery is not the same as a ghost winery. The latter is a winery built in the late 1800s and abandoned before or during Prohibition, reduced mostly to rubble over time.)
Sonoma ghostbusters should check out these reportedly haunted places:
Sonoma
Bartholomew Park Winery
Planted to vines in the 1830s and later purchased by Agoston Haraszthy (also the founder of neighboring Buena Vista Winery), Bartholomew Park was many things, including a women's prison, a hospital and a morgue, before becoming the winery it is today.
In the 1940s, journalist Frank Bartholomew purchased Buena Vista. He sold the winery in 1968 but kept most of the vineyards, turning the old hospital into the Hacienda Cellars winery. It became the Sonoma Valley Wine Museum and Bartholomew Park Winery in 1992.
The museum tells the tale of the site's meandering history, which includes a spooky side. Ghosts are said to congregate in the winery's main building and its basement, which was once a morgue. The story goes that remains of one of the incarcerated women were found in the basement walls during a 1970s earthquake retrofit. Heine says there are at least three resident ghosts. Jeff Dwyer, author of the book "Ghost Hunter's Guide to California's Wine Country," wrote: "A short time after the winery opened, employees heard voices singing in the cellar that once housed prisoners. The choir is heard in the afternoon and again late at night. Hymns are the usual choice."
1000 Vineyard Lane, Sonoma, 707-939-3026,
bartpark.com
Sonoma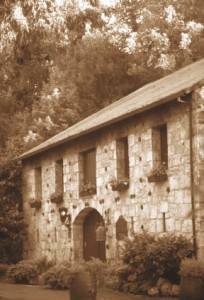 Buena Vista Winery
The recently refurbished and spectacular Buena Vista embraces its past of ghostly activity with vigor, hosting haunted cellar parties in its stone-walled Champagne Cellar.
Agoston Haraszthy, "The Count of Buena Vista," founded the winery in 1857 and planted grapevines from cuttings brought in from Europe. He later moved to Nicaragua, where he is said to have met a grisly demise in the maw of an alligator. Haraszthy's remains were never found; might his ghost have returned to roam here?
18000 Old Winery Road, Sonoma, 800-926-1266, buenavistawinery.com
Kenwood
Chateau St. Jean
In Kenwood, the picturesque, picnic-friendly Chateau St. Jean is known for a wide selection of wines, perhaps none more famous than its red Bordeaux blend, Cinq Cepages.
Also somewhat famous is the property's ghost. Michigan residents Ernest and Maude Goff built a summer home on the site of what is now the winery and vineyards, taking residence in 1920. Their daughter, Camilla, died in her teen years, and St. Jean employees say her spirit looks after the house (now the Chateau, which is used for administrative purposes, with the visitor center and winery building behind it). The Goffs owned the stately home until 1970; Chateau St. Jean winery was born in 1973.
8555 Sonoma Highway, Kenwood, 877-478-5326, chateaustjean.com
Healdsburg
Dry Creek Vineyard
No less than the California Wine Institute has reported this winery's ghost, a Native American man said to be there because the site was once a Pomo reservation. There's also something fishy going in DCV6, also called Bullock House Vineyard, where a guesthouse is reportedly haunted.
"We used the Bullock House to host trade visitors until 10 years ago or so," said Dry Creek Vineyard's director of marketing and communications, Bill Smart. "Several of those guests reported hearing creaking, footsteps and door-slamming at night. I haven't experienced it, but enough people have that I believe there is paranormal activity there."
The winery no longer puts up guests at Bullock House.
3770 Lambert Bridge Road, Healdsburg,
707-433-1000, drycreekvineyard.com
Guerneville
Korbel Champagne Cellars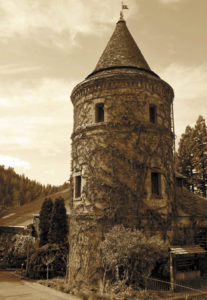 In the 2014 horror film "Altergeist," King's Ransom Winery is portrayed as the most haunted place in North America, the site of murders, suicides, fires and odd sightings. Six paranormal investigators search for evidence of ghosts that have haunted the estate for generations.
Filmed on location at Korbel Champagne Cellars, the movie — "based on true events," according to the movie's website — was produced by Aaron Heck and written and directed by Tedi Sarafian. They said Korbel was their inspiration, as Heck grew up on the property his family has owned since 1954.
Heck, son of Korbel owner and president Gary Heck, tells of a cook taking her own life in the 1880s, in the attic of the home of the founding Korbel brothers. Their Korbel House still stands and is surrounded by gorgeous gardens that attract visitors from far and wide. Groundskeepers have reported strange happenings in and around the house, including orbs of light moving through the redwoods at night.
"The sightings are hearsay," said Margie Healy, Korbel's vice president of communications. "But one night, as I was saying goodbye to our guests by the pool, I saw a light on upstairs in the Korbel House. A colleague who was with me said, 'There is no lighting up there.' Others have told us that things in the house are moved, and that they feel a presence there."
13250 River Road, Guerneville, 707-824-7316, korbel.com
Healdsburg
Madrona Manor
The beautifully manicured grounds of this estate belie a haunted past and a ghost, an older woman dressed in black who some believe to be the manor's original owner. Built in the early 1880s as Madrona Knoll Rancho, the manor had 17 rooms, four bathrooms and seven fireplaces. The Paxton family paid $10,500 for its 240 acres in 1879 and another $12,000 to construct the buildings.
With vineyards already planted on the hillsides of the property, patriarch John Paxton purchased another 40 acres in 1881 to build a winery, but he never saw its completion, as he died aboard a steamer ship on the way to England. His widow, Hannah Paxton, remained at the manor until her death in 1902, at which time one of her sons, Blitz, moved in. The manor remained a private residence until 1981.
In his book, ghost hunter Dwyer claims to have seen Hannah's ghost moving about the house, which is now the Madrona Manor inn with a Michelin-starred restaurant. Room 101 is said to be a common location for apparitional activity, although owners Trudi and Bill Konrad say that's hooey.
1001 Westside Road, Healdsburg, 800-258-4003, madronamanor.com