There's terrific beer at HopMonk Tavern in Sonoma and Sebastopol, and top-notch wines at Kunde Family Winery in Kenwood. There are plush beds at Dry Creek Inn of Healdsburg, and delicious food served at Garden Court Café & Bakery in Glen Ellen. All the things anyone could want for a great time in Wine Country.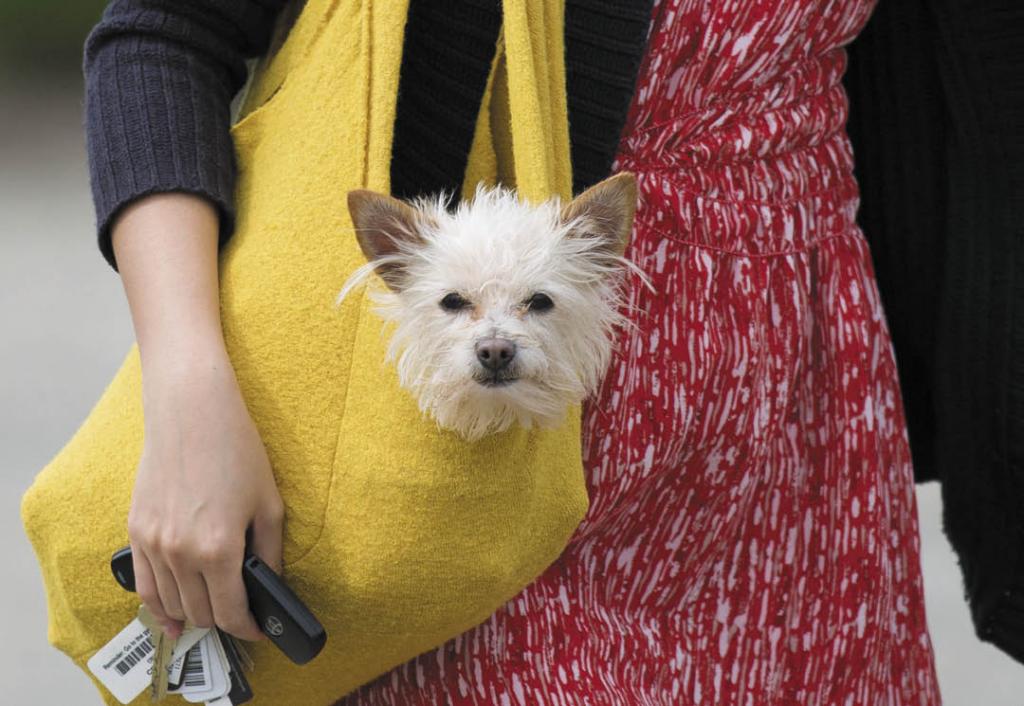 Yet each of these destinations caters to a special kind of visitor: the furry, tail-wagging, wiggling canine kind. Sure, humans are welcome, too, yet no feelings should be hurt if a pup gets a bit more cooing over than its person.
How important are our animal friends? From 2010 to 2015, pet ownership in the United States increased by about 3 percent. Yet during that time, spending on pet items increased nearly 25 percent, to what is expected to be $60.5 billion this year, according to the American Pet Products Association. It should be little surprise, then, that as pets are increasingly being treated as children, their "parents" have become more demanding, expecting establishments to pamper both them and their pooches.
Sonoma businesses get it. It's so easy to bring Fido along for drinks, dinner and hotel stays here that a 2014 Sonoma County Tourism report found that visitors ranked "pet friendly" as one of the top 10 draws of the region.
"The old model where you hire a pet sitter or board your pets every time you go on a trip is outdated," said Aaron Krug, president and general manager at Healdsburg's Dry Creek Inn. "We love spending time with our pets, so why wouldn't we want them with us on vacation? That's especially true in Sonoma, where there are so many walking paths, hiking trails and pet-friendly wineries. The numbers of guests checking in with pets has increased to about 15 to 20 percent."
Add breweries to that list, too. At HopMonk Tavern, owner Dean Biersch gladly welcomes cuddly companions to his beer gardens. While the pubs are better known for their boisterous atmosphere fueled by what he jokes is "live beer and fresh music," the goal is to be family-flexible. "Your well-trained dog is welcome with us," Biersch said, but they must be on a leashes and never allowed on tables.
At Kunde Family Winery, grower Jeff Kunde has seen such a love of dogs among his customers that he leads four-hour, dedicated dog and people hikes on his 1,850-acre estate, on paths winding through vineyards, oak woodlands, native grasslands and chaparral. At the mountain peak, he spreads out a picnic, dog treats and wine, and reminds guests that a portion of their $60 fee is donated to Canine Companions and the Sonoma Humane Society.
"We started with people hikes, and felt it was a great way to get people to taste, touch and smell the vineyards firsthand, and to understand what it takes to operate a sustainable vineyard and winery," said Kunde, who brings his three dogs on the excursions: Labrador retrievers Riley and Marley, and Australian shepherd Cooper. "The extension to a dog hike just seemed a natural progression of the experience."
The next Kunde hike is Oct. 17, though dogs and their handlers are welcome at the winery anytime, to bask in the sun at a pond-side table or on the patio, and share a cheese plate with a slobbery best friend.
Way atop another mountain, soaring 2,000 feet above Alexander Valley in Cloverdale, Tim and Kandy Ward so adore canines that they named their winery after their first dog, a Rottweiler named Bob. Now BobDog Wines is ruled by a McNab shepherd named Cabernet, who joyfully welcomes human guests and fellow fur balls to her gorgeous home. After the dogs complete their meet-and-greet, the Wards lead everyone on a vineyard hike to say hello to the winery's miniature horses and miniature mule.
It can get to be quite the show, Tim Ward said, recalling one couple who brought five dogs along on their camping trip up the coast.
"But Jonathan was one of our most memorable canine visitors," Ward said with a laugh. "A beagle-black Lab mix. What a dapper fellow, with a regal personality, and dressed in this black and white coat, which made him appear to be wearing a tuxedo.
"Jonathan's owner, a luxury condo resident from San Francisco, came up for a tasting in his new Range Rover," Ward added. "This guy's whole life appeared to revolve around Jonathan. Well, you can take the dog out of the country," Ward continued, "but you can't take the country out of the dog. Jonathan found that doggie treasure of horse manure in which to roll and frolic, much to the horror of his owner. Let's just say that Jonathan needed some major cleanup on the crush pad before being allowed back into the SUV."
Many of Sonoma's restaurants were dog-friendly even before California Gov. Jerry Brown officially made it legal on Jan. 1 for eateries to host pooches in outside dining areas. Technically, it was illegal before then, but the law was rarely enforced. Who could turn away a chocolate-eyed puppy?
Some local restaurants are so canine-crazy, though, that they offer dog-specific menus for their discriminating diners. Garden Court Café & Bakery in Glen Ellen sets out cookie plates and water bowls on the patio, making for a nice appetizer while Fido peruses offerings made just for him, such as eggs scrambled with ground beef, garlic and zucchini, and a pizza of biscuit crust smothered in Monterey Jack cheese, ketchup and fresh herbs.
At the Village Inn & Restaurant of Monte Rio, meanwhile, the property is so Fifi-friendly that both the boutique hotel and upscale California-Mediterranean restaurant cater to canines. There's posh dining on the deck overlooking the Russian River, with complimentary treats, water, food bowls and toys available, plus an expansive riverfront lawn to put your pup in playtime paradise.
For even more luxury, the Fairmont Sonoma Mission Inn & Spa in Boyes Hot Springs provides a butler for your dog, delivering custom beds, bowls, food treats and toys, plus room-service dinner if doggie wishes (and he does).
Canine guests at Dry Creek Inn in Healdsburg, too, are sure to be over the moon with their very own Wag Bag, a nifty reusable sack packed with a collapsible pet bowl, a toss-and-chew disc, tennis ball and bone-shaped waste bag dispenser. The hotel has offered the amenity for a year in Healdsburg as well as at its sister property, Sonoma Valley Inn.
With so many fancy outings, a well-dressed dog might need a new collar and leash, or even a comfy pillow basket with air conditioning and heat. Debbie's Pet Boutique locations in Windsor and Healdsburg stock all the covetable stuff, from rhinestones to leather.
"The well-dressed, pampered dog gets more attention when it's out and about," she said. "The owners like that and the dogs love it."
Subscribe to Our Newsletters!