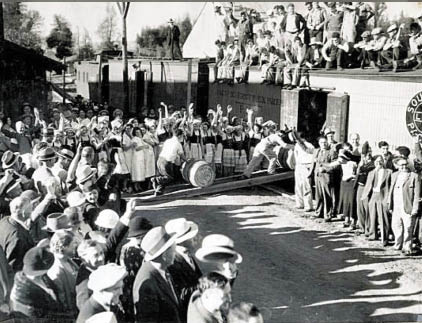 Paul Dolan was the winemaker at Mendocino County's Fetzer Vineyards in its heyday, wrote a manifesto on organic farming, joined his two sons in Dolan Family Vineyards, and is a partner in Truett Hurst winery in Healdsburg.
But his most evocative memories are of his summers as a boy at Villa Buon Irtivo (Home of Good Rest). A grand, old-growth-redwood home, it was built in Asti in 1905 by Dolan's great-grandfather Pietro C. ("P.C.") Rossi, one of the founders of the Italian Swiss Colony, a historically important California wine producer.
Asti is east of Highway 101 between Geyserville and Cloverdale, hugging the Russian River. Under Rossi's leadership, Italian Swiss Colony became a vital springboard for Italian-immigrant-led winemaking.
Dolan, 64, remembers going to the villa as a child from his family's Oakland home, traveling by ferry and then along what used to be a winding Highway 101 to join in multigenerational gatherings of the Rossi clan. He later took his own children to Asti for summer sojourns, creating fresh memories while extending a hand to the past. Dolan is a fourth-generation Rossi on his mother's side, continuing the family legacy of winemaking while passing it along to his sons, Heath and Jason.
"Most of our time at the house was simple activities with family and friends," Paul Dolan recalled. "The most fun was when we were about 13 and would go down to the winery and join a tour, only to slip away from the group looking for any adventure. We'd climb up an old wooden ladder to the top of the old redwood tanks and jump from top to top of the 20- to 24-foot-tall tanks as we spied on the tour. The fun was abruptly ended when they hired a guard, which created a whole new thrill."
The original house still stands, with many of its artifacts and original details intact. The butler's pantry and basement kitchen are snapshots of a bygone era, lovingly preserved for family gatherings. An immense Rumford fireplace anchors the sprawling, spacious living room, which also has an exquisite and rare antique square grand piano.
P.C. Rossi conceived of the home with his large family in mind; he and his wife, Amélie, would have 14 children, though only 10 would live to adulthood. The second-eldest, twins Robert (Bob) and Edmund A. (Ed), would carry on the wine business at Italian Swiss Colony, within walking distance of the grand house.
The twins each eventually had two children of their own, including Ed's daughter, Yvonne, Dolan's mother. The house is now cared for by the four families descended from that third generation.
The Italian Swiss Agricultural Colony was incorporated in San Francisco in 1881 by a handful of men, among them P.C. Rossi, who had arrived in California from Piemonte, Italy, in 1875. A druggist and chemist by education and training, he had also studied winemaking in Italy.
The colony was formed originally to provide employment for Italian and Swiss immigrants lured to California with promises of work and a better life. From the beginning, the agricultural intent was to grow wine grapes, capitalizing on the fact that many of the immigrants had worked in vineyards back home. The location was chosen because the countryside reminded the founders of Northern Italy, so much so that the 1,500-acre parcel was named for Asti, an Italian town. Grape cuttings came from Italy, France, Hungary and Germany.
A stone winery was built in 1887 and P.C. Rossi took charge as winemaker in 1888. The colony established offices and wine vaults in San Francisco, Chicago, New Orleans and New York, to market the wines directly to the trade.
Soon enough, Asti had its own railroad station, post office, school and church, and tracts of homes were built by the laborers for their families. In short order the wines gained worldwide recognition, winning competitions across Europe as early as 1892.
When Rossi was alive, the offices for Italian Swiss Colony were based in San Francisco. He would move his family to Asti for the summer, traveling north to join them on weekends. It was a ritual he followed through the years. His journey would begin with a ferry ride from San Francisco to Tiburon or Sausalito, where he would catch a train on the Northwestern Pacific line, a four-hour trip one way.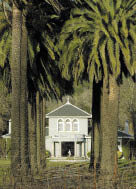 Among Rossi's innovations, he is credited with introducing the use of pure yeast cultures and sulfur dioxide to better stabilize wines. By 1909, he introduced a sparkling wine, Golden State Extra Dry. It, too, won awards and global respect.
"In many ways, he set the California wine industry on the path of the pursuit of quality it is on today," Dolan said.
After Rossi died in a horseback-riding accident in 1911, the twins were tasked with taking on the winemaking at Italian Swiss Colony.
"My grandfather, Edmund, was focused on carrying on the tradition and commitment his father had started," Dolan said. "At 21, he found himself with the responsibility of heading up a family of nine brothers and sisters and supporting a very overwhelmed mother. He was overseeing a large winery operation with little experience and within a few short years he was dealing with Prohibition and the realization and pressure of many employees and families counting on him to hold the business together. He did just that, through a very challenging period."
Italian Swiss Colony was sold in 1942 to National Distillers Corp., which sold it in 1953 to United Vintners. Allied Grape Growers, an association of some 1,300 farmers, took over in 1959. United Vintners eventually morphed into Heublein, which also at the time owned Beaulieu Vineyard and Inglenook in Napa Valley.
The Italian Swiss Colony brand is now owned by Constellation, while the 536-acre Asti land is in the process of changing hands, from Treasury Wine Estates to E. & J. Gallo.
"The Gallos have been such great leaders and contributors to the growth of the California wine industry," Dolan said. "I can't think of a better company and family to carry on the original tradition of quality winemaking started by my great-grandfather."
Pietro Rossi's descendants met at the Asti home for a family reunion in April. Some 200 attended, from babies to third-generation grandparents in their 90s.
"My grandparents saw wine as part of a balanced life," Dolan said. "Balanced in terms of health, shared family time and wine as a contribution to the meal. My dream for the family home in Asti is that it continue to be enjoyed by future generations, and that we remind ourselves of the importance and impact of strong family values."