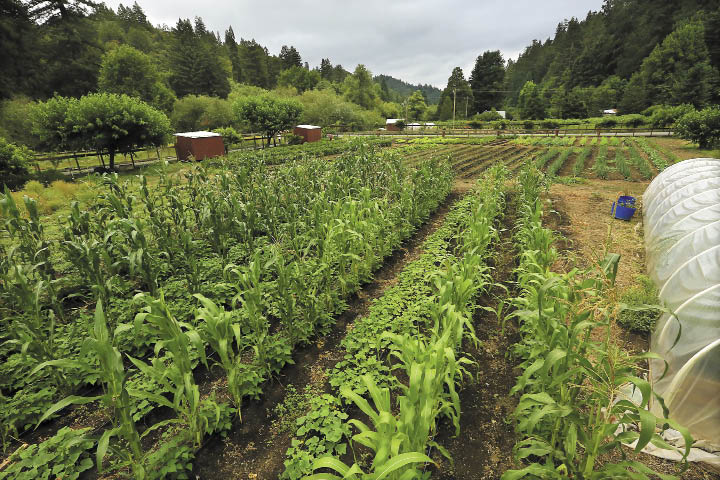 Most diners at Mexican restaurants don't think about whether the tortillas are made from GMO-free corn, or if the rice and beans are grown locally and organically. But Jorge Saldana does. The chef and farmer grows most of the ingredients himself for his Bay Area restaurants at his organic farm next to Guerneville's Armstrong Redwoods State Natural Reserve.
Fed by a natural spring and traversed by Fife Creek, his 130-acre Sabor Mexicano Farm boasts 10 bounteous acres of vegetables, herbs and fruits, plus a small herd of goats and 200 free-range chickens that provide eggs for Saldana's restaurants: Cancun in Berkeley, Tlaloc in San Francisco and the soon-to-open Cinco in The Barlow center in Sebastopol.
"Everything grows here," said Saldana, gesturing toward the fields of peppers, corn, tomatoes and onions ripening in the summer sun. "The forest captures the rain and brings all the nutrients down here to the garden."
The rustic farm, tucked neatly among towering redwoods, also includes the 1890s Colonel Armstrong home and a commercial kitchen where Saldana cooks for schoolkids and adults visiting with Berkeley-based Bay Area Green Tours.
"I've watched (the Saldanas) renovate the house over the last three years," said Marissa LaMagna, executive director of Bay Area Green Tours. "They took the reclaimed redwood from the siding and brought it inside. They've put in so much hard work."
LaMagna, who has dined at Cancun for a dozen years, is also impressed with the third-generation farmer's dedication to his plots.
"I'll see Jorge in Cancun that day, and then I'll see him coming back to the farm and he'll be in the field, pulling onions," she said. "He told me, 'This is where I find peace of mind.'"
Growing food and harvesting it by hand is in Saldana's blood. He grew up in southern Jalisco, Mexico, where his father and grandfather followed sustainable growing practices.
"The soils are very fertile there," he said. "When we were little, we got involved in the farming. … My dad (Pedro) was growing old heirlooms and using no sprays or herbicides."
He farms his own food to control the quality and the flavor, but most importantly, he said, "Farming organically is a good way to contribute to healthy food and to prove that it is possible to eat healthy. I truly believe that bad food is the cause of many health problems that humans are going through today. My philosophy is that good food is medicine and life."
Saldana purchased the Guerneville farm in 2005 and moved his wife and two children there four years ago from San Mateo. They live in a modest cottage perched above the garden.
"The idea was to grow for the restaurants," he said. "I had been in San Francisco for 25 years, and I needed to sink my hands in some soil."
At his Guerneville garden, there is plenty of soil for those hands, plus ample sun and water. However, Saldana found it difficult to ripen all the varieties of peppers he wanted to grow. So he came up with an idea to start the seedlings in containers placed high on the ridgetop during the winter, where they get more sun. He brings them down to the main garden in the spring.
With the help of a drip-irrigation system he designed, Saldana also grows cilantro, lettuce, cucumbers, onions, squash, tomatillos and tomatoes, plus herbs such as epazote, yerba santa and yerba buena (spearmint).
"All these herbs are used in (our) cocktails," he said. "All the drinks have some kind of medicinal herb in them."
Saldana opened his first restaurant 24 years ago in Berkeley, and his second, in the Financial District of San Francisco, 14 years ago. Both serve classic Mexican cuisine enhanced by the farm's organic ingredients.
"We've never used a can or prepackaged food," he said. "We do organic beans and rice, and source good, safe fish from farms."
Sebastopol's Cinco (the word suggests the five fingers of the hand) will specialize in farm-to-table tacos made from tortillas cooked on a comal (a big, flat griddle) and meat or fish seared on a large, round Mongolian grill. Customers will be able to choose their own custom cut of meat, Saldana said, such as filet mignon, New York and ribeye steak. Seafood options will reflect what's fresh, from prawns and squid to halibut.
"Tacos have been here forever," Saldana said. "For some reason, we all go back to the taco."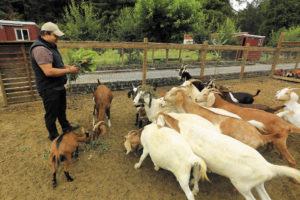 The side dishes at Cinco, expected to open later this fall, will include whole grilled corn, salads and guacamole, plus the indomitable duo of rice and beans. Saldana also grills a healthy chile relleno stuffed with shiitake mushrooms and white corn, serving it on a bed of black beans with salsa crudo.
"That's a chile relleno to die for," he said. "It's our signature vegetarian dish, with everything grown at the farm."
Saldana's wife, Carmina, oversees the six-bedroom Colonel Armstrong home, which can be rented for weddings and retreats. After being remodeled, the home now has multiple decks and patios overlooking the gardens.
Saldana, who produces his own line of Sabor Mexicano tortilla chips and salsas, enjoys giving tours of his farm, hidden amid the famous redwood forests of Guerneville.
"We like to explain why we're doing everything organic," he said. "At the end, we spoil people with an outdoor barbecue made from everything on the farm."
After his success growing peppers, Saldana hopes to launch another farming project soon: an orchard of about 200 avocado trees and 100 citrus trees, planted high on the ridge.