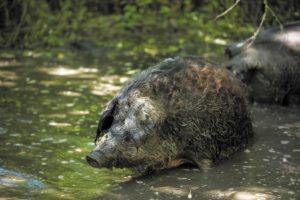 There are two things one immediately notices about Mangalitsa pigs: They're really, really hairy, and they're really, really fat. Even for pigs.
But fat is making a comeback, and in the last few years this ancient Eastern European breed has become the "it" pig of the food world, coveted by chefs and salumists worldwide for its creamy white lard and heavily marbled, beef-like meat.
And being on the menus of restaurants such as Healdsburg's Valette, The French Laundry in Yountville, Meadowood Napa Valley in St. Helena and other luxe dining destinations may be the very thing that saves Mangalitsas from extinction.
To eat them is to love them, according to local farmer Tim Winkler of Winkler Wooly Pigs in Windsor. Because of his passion for these plump porkers, his growing herd is one of the largest and most respected in the country, making Sonoma one of the breed's strongest footholds.
On his small farm — a sort of nursery for toddler and ornery teen pigs — Winkler steps over a low electrified fence, the only thing keeping a few dozen of his prized herd from wandering into trouble. Winkler is one of the few large-scale breeders in the U.S. and the only one in Sonoma.
"They're really smart," he says as a band of youngsters in a muddy field wander toward him, then become preoccupied with tumbling over each other and rooting for bugs. They've just begun growing their signature wooly coat, a thick covering of curly, bristly hair that comes in red, blonde, black and swallow-bellied (black with a white belly). Nearby adolescents weigh in at several hundred pounds and will soon be moved to live oak forests near Forestville and Calistoga to mature. They'll top out at around 350 pounds each after 12 to 18 months, a relatively ripe old age for meat pigs.
Native to the former Austro-Hungarian Empire, these lard pigs were once a delicacy reserved for Roman aristocrats, kings and courts. They've continued to survive because of their preponderance of fat: A single pig could provide valuable nourishment in an age before fast food and grocery stores.
But the triple threat of Communism, factory farming and the diet industry made the desire for these slow-growing, fatty pigs almost nil. By the early 1990s, fewer than 200 Mangalitsas remained in the world and nearly half of them were slated for slaughter.
It was pure chance that the pigs escaped demise. Hungarian geneticist Peter Toth found the pigs in the remote Hungarian countryside, and, with a sense of national pride, decided to try to save the breed. He scoured remote areas to find as much diverse genetic stock as possible and, as the breed made a fragile rebound, introduced chefs to their unctuous meat.
As word got out, the cured hams began being compared to Spain's legendary Ibericos, and demand grew. And grew and grew.
But it wasn't the meat that first turned Winkler onto Mangalitsas. In addition to tasting delicious, the pigs are also vigorous weeders who love water. As an aquascapist (his original and now secondary career), Winkler figured he'd found an inexpensive and effective way of clearing out his clients' overgrown ponds. Securing a few pigs from the first herd brought to the U.S. from Hungary, Winkler set them loose on the ponds and voila, problem solved.
But word was also getting out among chefs and diners, and demand for the meat grew. So did Winkler's fascination with the seemingly contradictory nutritional information about the Mangalitsa's flesh, which has been shown to include high amounts of linoleic acid (an antioxidant), vitamins and minerals, as well as less saturated fat and more unsaturated fat than other pig breeds. Suddenly Winkler had a whole new demand for his herd and Winkler Wooly Pigs became his primary business.
At a recent dinner devoted to the Mangalitsa, Santa Rosa chef Matthew Paille of Epicurean Escape Catering served guests course after course of the pig, from lush charcuterie and chilled dishes of whipped lard (yes lard), to chicharrones and steak-like cuts of loin.
"Mangalitsa is a charcuterie god among chefs," said chef Dustin Valette, who uses the meat and fat in his house-made charcuterie at his namesake restaurant. "When it cures, it retains its silky texture and delicate flavor."
Sonoma's Joshua Schwartz, the resident chef at Del Dotto Vineyards in Napa Valley, is also a fan, and one of Winkler's most loyal customers. Schwartz uses several pigs each month for the winery's tasting menus, special events and burgeoning salumi program.
But the only way high-end clients would keep ordering Winkler's super-premium pigs (about double the price per pound of factory-farmed pork, which sells for $3 a pound) was to raise the animals on good food and open pastures, in social herds, and allow each to reach adulthood.
Fed a diet that eschews waste carbohydrates (like tortillas and bread) that are common hog feed, Winkler spends up to $10,000 a month on a special mix of high-quality proteins and grains for his 400-pig herd — the second largest in the U.S. Perhaps more importantly, he maintains a living genetic repository for the breed that will help ensure its continued growth.
To grow and diversify his herd, Winkler needed a direct line to the Hungarian exporters. Hungary isn't a European Union country, so it wasn't an easy task. Regulations, quarantines and other international laws just weren't in the pig farmer's favor.
Over a recent breakfast at the Naked Pig Cafe in Santa Rosa, Mangalitsa enthusiast Wilhelm Kohl and the breed's unofficial ambassador and chief cheerleader, Barbara Meyer zu Altenschildesche, breathlessly advocated for their hairy porcine friends.
They're on a whirlwind tour to meet with pig farmers like Winkler, and chefs who want to bring more of the animals into the States. Demand far outstrips supply.
"I would like to see them in every state and American pork become more flavorful again. I'm also a safety net in case something happens," Kohl said, pointing to the nearly complete genetic roster of Mangalitsa that now reside in the U.S., should disease ravage European pigs.
The yin to Kohl's business-like yang, zu Altenschildesche is a bubbly blonde known to her 2,500 Facebook fans as "the lady who wears the ball gown" because she's often photographed wearing a gown and heels while taking care of her hand-raised herd of Mangalitsas.
To say she lives and breathes for these pigs is an understatement, and she tears up when she talks about the necessity of slaughtering the animals. "You can only maintain a food animal by eating it," she said. "To withhold love for them is sad, and I try to give them the best while they are alive."
Zu Altenschildesche and Kohl, inspired by their Sonoma stop, will send more genetic stock to increase Winkler's herd. They also captured the interest of other Bay Area chefs who want the pigs on their menus.
So the herd grows in the heart of Sonoma, one delicious Mangalitsa at a time.