The country is going mad for hard cider, traditionally made from apples that have been fermented and aged, sometimes in oak, much like a wine.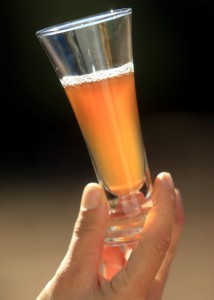 An American mainstay since Colonial times, cider lost much of its fan base during and after Prohibition. But now it's roaring back, with consumption up 50 percent in the last decade, according to the Beverage Trade Network (statistics show cider drinkers to be overwhelmingly young and female).
In Sonoma, the charge is being led by artisans eager to replant and rediscover the heirloom apple varieties once grown in abundance for cider — apples that tend to be tarter than the ones we like to eat.
Versatile and relatively low in alcohol and price, ciders make for a fun new way to test theories on pairing drinks with food. Here are two local cider producers to know.
Devoto Orchards Cider
Jolie Devoto-Wade of Devoto Gardens & Orchards is a second-generation farmer whose family has grown more than 55 varieties of organic, dry-farmed apples just west of Sebastopol for close to 40 years. With her husband, Hunter Wade, she oversees 15 acres of apples among a few other crops, including flowers and Pinot Noir grapes.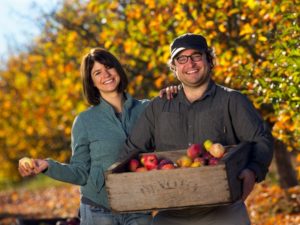 A few years ago, the couple decided to return to the family farm after studying cider-making in the north of Spain. They soon launched a line of hard ciders made from organic Gravensteins. The first, Save the Gravenstein, was produced from 15 tons of organic apples with the goal of ramping up production substantially year to year, all in an effort to, as the name says, save more Gravenstein trees from being replaced by other crops, including vineyards.
At 6.9-percent alcohol, Save the Gravenstein ($12.99 a bottle) is a food-friendly cider that's also enjoyable on its own. The most recently released vintage, from apples harvested in August 2013, has 5 percent Akane, Burgundy, Hubbardston Nonesuch, Pink Blush and Pink Pearl apples added to the Gravensteins. It's a fine partner for sharp cheeses and seafood.
Devoto Orchards' Backyard ($12.99 a bottle), released in October 2013, is made from Gravensteins grown in neighbors' backyards, a project in partnership with Slow Food Russian River. Sales proceeds benefit the nonprofit group.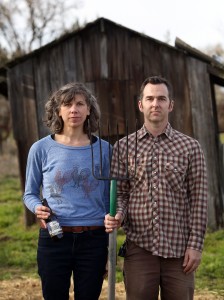 Tilted Shed Ciderworks
Another husband-and-wife operation, Tilted Shed gets many of its specialty apple varieties from Devoto and is planting its own trees on a 5-acre property near Forestville.
Scott Heath and Ellen Cavalli first experimented with making cider in New Mexico, but their journey eventually led them here, where they knew they could "elevate the apple to greatness," as Cavalli said.
They have approximately 2 acres planted to heirloom cider varieties, including the traditional Muscat de Bernay, a bittersweet variety native to Normandy, France, and the slightly sweeter Roxbury Russet, bred in America as far back as the 1700s. Cavalli and Heath ferment their ciders to dryness, aiming for a savory, full-bodied style.
They offer a handful of ciders, from Lost Orchard Dry at $10 a bottle (quite tannic and dry) to January Barbecue Smoked at $8.50 a bottle (the apples are wood-smoked before fermentation, meant to accompany smoked meats, seafood and aged cheeses). The 2013 Barbecue Smoked bottling will be released in mid-January.
Tilted Shed also just released a new cider from the 2012 harvest, Barred Rock Barrel-Aged Cider, a plush, dry, savory winter warmer made from late-season heirloom apples ($9 for 375 ml). Aged in Kentucky bourbon barrels, Barred Rock offers notes of amaretto, vanilla and toasted marshmallow.
Neither Tilted Shed (tiltedshed.com) nor Devoto Orchards (devotocider.com) have tasting rooms; visit their websites to learn where to try and buy their ciders.