As executive director of the Sonoma Valley Museum of Art, Kate Eilertsen aims to change the way people think about museums.
"The word 'museum' makes people yawn," she said. Now, downtown Sonoma's museum is trying new things to add a little kick.
For four years, the museum offered "Mix" cocktail nights in a successful effort to attract singles and younger adults.
"A lot of them joined the museum as members," Eilertsen said.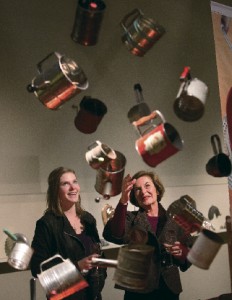 To keep the program fresh, Eilertsen, her staff and board of directors hit the pause button until they could find something new that would re-energize it.
The museum also ran its own coffee shop for a while. Eiltersen converted office and storage space into two classrooms for talks, workshops and hands-on, artistic fun.
"We have the 'Wet Room' now, where you can spill paint on the floor and not worry about it," she said.
The museum regularly invites art lovers to meet and tour local artists' studios.
The museum's choice of exhibits also reflects the search for something new. Showings in the recent past have featured creative puzzles by local artists, and art work (as well as words) by San Francisco poet Lawrence Ferlinghetti.
During an exhibit of vintage kitchen implements collected by local food writer Kathleen Thompson Hill, the museum screened films with food themes, including "Julie & Julia" and "Big Night."
"We have tried to do a wide variety of shows," Eilertsen said. "I believe that art is not just a pretty picture hanging on a wall. It's about creativity."
Since it opened its doors in 1999, the museum has staged more than 70 exhibitions attracting more than 130,000 visitors.
The current exhibit, "Site and Senses," runs through March 2 and spotlights the designs of San Francisco architects Joshua Aidlin and David Darling. The exhibit emphasizes smell, touch and sound, as well as sight, Eilertsen explained, and includes a wall of charred wood and a gravel path.
"Museums everywhere are looking for ways to become more interactive," she said.
This spring, the museum will present its annual salute to relatively unknown local artists in the "Discovered: Exceptional Artists of Sonoma County" exhibit, running from mid-March to late April. This year, the program also will include appearances by young local performers mentored by the Transcendence Theatre Company, a troupe of actors and singers with Broadway and national touring company experience, based at Jack London State Historic Park.
The museum is open Wednesday through Sunday, from 11 a.m. to 5 p.m. Admission is $5 for adults and free to those 18 and under; Wednesdays are free to all.
Sonoma Valley Museum of Art, 551 Broadway, Sonoma, 707-939-7862, svma.org