The craving for natural and organic that has fed the farm-to-table movement is spilling over to personal care, with many spas now offering "farm to spa" treatments that sound good enough to devour. And like discriminating chefs seeking new flavor combinations with hyperlocal ingredients, area apothecaries are experimenting with luscious mixtures of home-grown herbs, flowers and fruits to create natural, plant-based products that are incorporated into massages, facials, wraps and other treatments used in the region's top spas.
The Spa Hotel Healdsburg touts a Farm to Spa Collection Menu with seemingly delectable selections such as the Lavender and Peppermint Massage using Matanzas Creek Winery lavender, and Wine and Honey Wraps using Quivira Vineyards & Winery's Sauvignon Blanc and honey from Beekind.
It's a natural extension of the hotel's Dry Creek Kitchen, whose chefs forage the Healdsburg farmers market for produce. Spa manager Dawn Stephens also shops the market for mint, cucumber, lemons and other edibles to season the refreshing spa water.
"We're so lucky to be in this wonderful and abundant area," she said. "And it's easy and fun to play with locally produced scents and ingredients."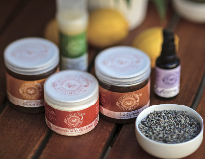 Meyer lemons are among the spa's signature ingredients. For winter, what could be more comforting than to be wrapped in a warm blanket like a baby, fresh from a massage with lemon oil and sage body milk?
As with restaurants, spa menus can also change with the seasons.
"When the apples are happening, we do an Apple of the Eye with every single treatment we have," said Loma Alexander, who co-manages the spa at Forestville's Farmhouse Inn. Apples from inn owner Catherine Bartolomei's nearby farm are grated and steeped with chamomile teabags for soothing the eyes.
Honey from the farm is incorporated into the Warming Ginger Honey Massage, along with locally gathered flowers and fruit, to make velvety creams and "farm to spa table" skin masks.
"It gives people a sense of place when they come to visit," Alexander said, "and allows them to learn a little bit about our locale."
Local can mean Bay Area, Wine Country, Sonoma County or even a spa's own garden. The Farmhouse spa harvests geranium leaves from the garden for use as a natural exfoliant in some treatments.
The grounds at MacArthur Place Hotel & Spa in Sonoma provide bounty for the inn's Garden Spa.
The Peppermint Reflexology begins with a foot soak in bath salts with rosemary and peppermint from the garden. Rose petals are sprinkled in tubs and dusted on tables.
"All our treatments," said Garden Spa director Tiffany Delayly, "are based around plants, flowers or herbs."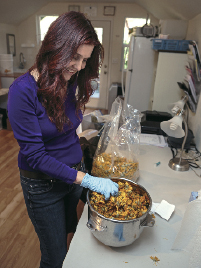 Many spas source from local makers, among them Sequoia Beauty in Petaluma and Michele's Apothecary. At her 17-acre farm in Bennett Valley in eastern Santa Rosa, Michele Steinert mixes up more than 50 products, from calendula petals to lemon verbena, comfrey to catnip.
Using a small copper still, she distills her own hydrosols, which are perfumed waters. Organic shea butter and sunflower oil are key ingredients, as well as sugar, a natural exfoliant.
Steinert makes custom products for the Hotel Healdsburg spa and for Raindance, the spa at The Lodge at Sonoma Renaissance Resort & Spa. Many of her ingredients come from the Sonoma County Herb Exchange and local farms. She also regularly sniffs her way among the 800 rose bushes at The Lodge, plucking the best for bath salts and body polishes.
"I choose the most fragrant and the most colorful," she said. But the whole vast and varied Sonoma landscape, from Sebastopol to Sonoma Valley, she explained, is "rich with inspiration."
Hotel Healdsburg's Stephens said guests peruse the spa menu with the same hunger they might approach a restaurant menu.
"What chefs are doing is gathering and featuring the best elements in our surroundings," she said. "I feel like we could be on par with the best of them, not in the kitchen but in the spa."
Subscribe to Our Newsletters!