There are no ballfields or jungle gyms at Sonoma Garden Park, tucked away on a residential street seven blocks from the Sonoma Plaza. Instead, it's all about edibles and education.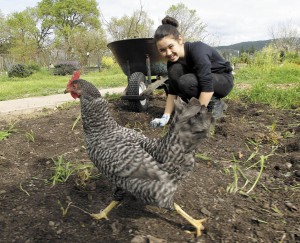 The 5-acre park, open to the public, is a project of the Sonoma Ecology Center and offers an up-close look at food in its uncooked form. There are beehives, chickens and greenhouses, overseen by a ceramic cow named Veggie Burger. Paths lined with flowers, trees and demonstration gardens make for pleasant strolls for kids and adults alike. A seasonal Saturday Harvest Market (9 a.m. to 1 p.m.) sells a wide range of organic produce grown in the park.
Green thumbs and those who want to grow one are invited to the garden's Nursery Workdays, where volunteers of all ages get their hands dirty working with plants and soil. The drop-in workdays are held every other Thursday through the summer (July 9 and 23, Aug. 13 and 27), 9 a.m. to 2 p.m. The nursery provides native plants for restoration projects in and around the Sonoma Valley, and vegetable starts for the crops at Sonoma Garden Park.
Note: The park also hosts private parties and a summer science camp for children. Each spring, it rents community plots to those wishing to grow their own food and flowers.
Editor's Note: Travel, dining and wine tasting can be complicated right now. Use our inspirational ideas to plan ahead for your next outing, be it this week or next year. If you visit restaurants, wineries, and other businesses during the pandemic, remember to call ahead, make reservations, wear a mask and social distance.