Let's face it. Vegan isn't really a thing anymore.
Instead, we're all looking toward more "plant-based" foods as a healthy alternative to the meat obsession of the last 10 years. We're looking for foods that fit into the myriad dietary restrictions/lifestyle choices we're making for both our bodies and the planet. We're looking for delicious, natural food that we don't have to regret in 10 minutes or 10 years.
So, it makes sense that Jerri Hastey's Seed On The Go food truck, which is entirely vegan, is one of the most popular mobile eateries in Sonoma County.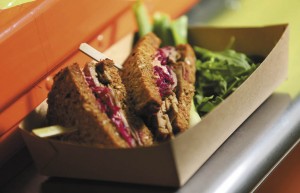 "Plant-based food has gone mainstream," she said on a recent Saturday morning, serving pecan waffles at the Santa Rosa Community Farmers' Market.
In fact, her meat- and dairy-free mobile menu has gotten the attention of Ellen Degeneres and People magazine, who are huge fans.
Of course, it doesn't hurt that Hastey's biggest promoter is her daughter, actress Jessica Chastain.
Hastey said that it was Chastain who turned her on to a vegan diet years ago, helping her shed 60 pounds in six months. "I feel good. That's my motivation for making this food. It gives me energy," she said.
The food truck menu includes comforting dishes like colcannon soup, mac and cheese, a vegan take on the sloppy joe, butter pecan waffles and her signature Chia Tapioca Parfait — a parfait you won't soon forget. Made with cashew-almond cream and chia seeds layered between strawberries and mangos, its a refreshing treat that keeps fans coming back.
"I love to play with food. These are my grandma's recipes with the same old down-to-earth flavors," she said. Without all the guilt.