As a wine and travel writer, I used to spend several days a week tasting wine at wineries (tough gig, I know). Now, in the time of coronavirus, I still taste wine but I do it from my couch. Over the past few weeks, I've participated in roughly a dozen virtual tasting experiences —some more fun and unique than others. One of my favorites so far is the Sip & Savor Through Sonoma tasting with Gary Farrell Vineyards & Winery. Taking place via Zoom, this interactive experience transported me to the Healdsburg winery with a tour, tasting, and food pairing. Here's what happened.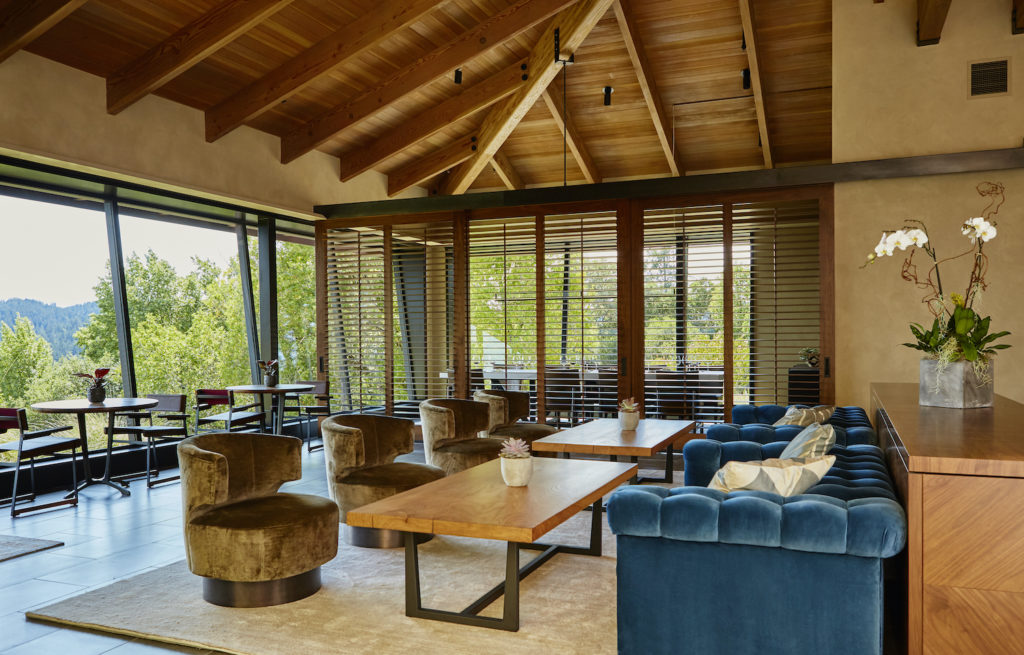 The Tour
Gary Farrell Vineyards & Winery is located in a fairly quiet stretch of Westside Road just south of Healdsburg. The winery specializes in Pinot Noir and Chardonnay from the Russian River Valley and, as a Russian River Pinot enthusiast, I've counted it among my favorite wineries for a long time. 
Gary Farrell's virtual experience begins with a tour of the winery's cellar and barrel room. Our host, estate Sommelier & Wine Educator Kevin Patterson, used his camera to walk me and a few fellow writers through this area of the winery while speaking about different winemaking practices. Just like a normal tour, we were encouraged to ask questions along the way.
Next, Patterson showed us around the Salon, the sleek and intimate hospitality center the winery completed in 2017, and teased us with the panoramic view from the estate terrace. Since I'd been there before, it brought back happy memories from a few years prior.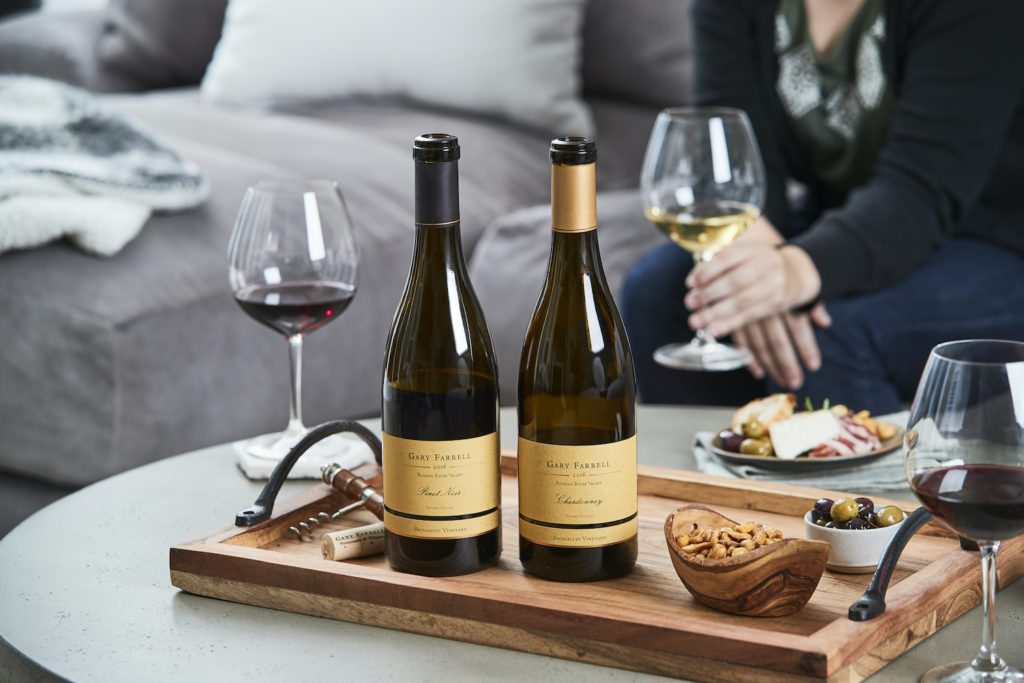 The Tasting
The tasting portion of the experience included two wines: the 2017 Olivet Lane Chardonnay and the 2015 Gap's Crown Pinot Noir. The Gary Farrell team shared their screen with us for each wine and played an educational video about the vineyard, featuring winemaker Theresa Heredia and the respective vineyard owners.
The Russian River Valley is expansive and has several microclimates—best described as neighborhoods—each imparting unique characteristics on the wines (different flavors, aromas, textures, etc.). Both of the wines we tasted are single-vineyard designates, giving true expression of the place, or neighborhood, in which they were grown.
The elegant and balanced Olivet Lane Chardonnay is sourced from a vineyard planted in 1975—those are pretty old vines by California standards. This wine represents the Santa Rosa Plain, a sloping bench land that's sandwiched between a warm and cool microclimate. Meanwhile, the Gap's Crown Pinot Noir comes from the cool and windy Petaluma Gap, which is known for producing full-bodied, rich, and structured wines. At five years old, this Pinot clearly had a lot of life left in it and the potential to age well.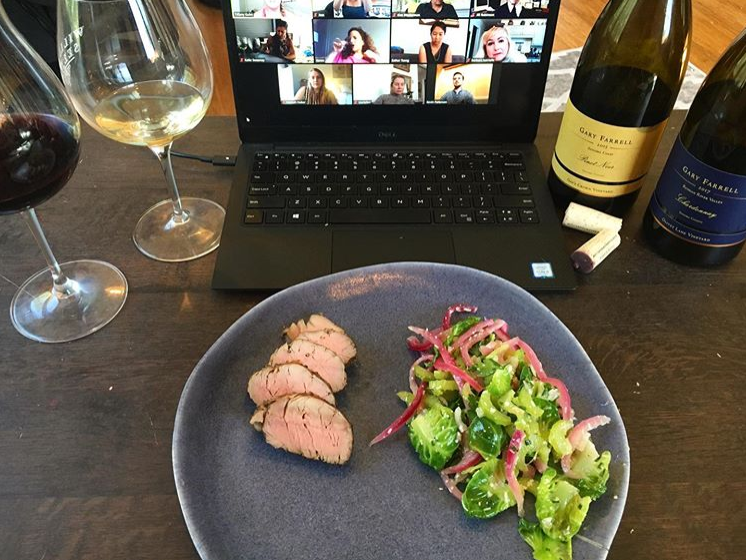 The Food Pairing
The tasting kit I received included three recipe cards, curated by celebrity chef Charlie Palmer. Featuring selections from past Pigs & Pinot events — Palmer's annual food and wine extravaganza — the dishes included coffee-brined pork tenderloin and a Brussel sprouts and celery salad with pickled onions. 
Making the food pairings was optional but, with the tasting scheduled on a Saturday afternoon and with not much else to do these days, my husband and I decided it would be fun to put our cooking skills to the test. This did require some planning ahead — the brine, for example, had to be made the night before. I was a little nervous preparing recipes from one of the top chefs in Wine Country, but they were surprisingly easy to follow. The winery also provided a helpful video of Palmer preparing the meal. 
As it turned out, I was the only participant on this media-only wine tasting that had prepared the food pairings — I think most other participants regretted this once they saw my plate and heard my enthusiastic reviews of the flavorful dishes.
As for how the food went with the wine, the Pinot complemented the pork tenderloin perfectly and, while Brussel sprouts are notoriously difficult to pair with wine, the salad also worked with the Pinot and didn't add any additional bitterness. With my belly full and mind happy, it was a Saturday well spent at home. 
Sip & Savor Through Sonoma can be booked as a standalone experience with Gary Farrell Vineyards and Winery but was created in partnership with Sonoma's Three Sticks Wines, enabling guests to virtually visit two wineries, much like they would on a typical visit to Wine Country. Hosted from their historic 1842 Adobe, the Three Sticks experience also includes a tour, tasting of two wines, and food pairings from chef Armando Navarro of El Dorado Kitchen. The cost is $250 or $125 for one winery.