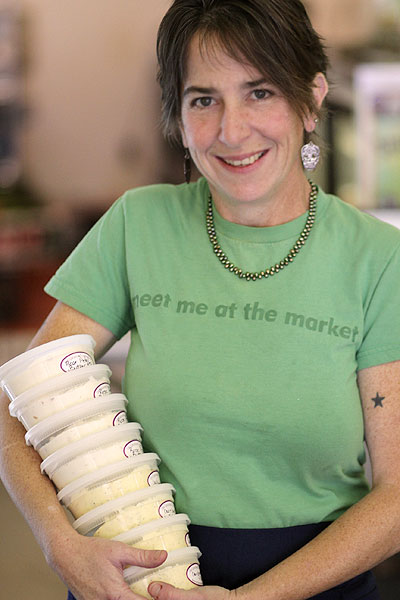 Sheana Davis is a catering institution an nationally-respected cheesemaker who's part of the fabric of the town of Sonoma. Suffice to say, she was farm-to-table before farm-to-table was cool.
Her eclectic shop and cafe, Epicurean Connection (now at 122 West Napa Street) brings together some of the best artisan cheeses and specialty foods (jams, sauces, olive oils) and fresh pastas that only she can suss out. Her close relationship with the Zingerman's crew and frequent trips to New Orleans and San Francisco only add to her cache of food knowledge.
There's always room at the family table for her slow cooked pulled pork sandwiches on fresh Dutch Crunch rolls (the best I've had in ages), homemade soups, cheese plates and daily baguette specials.
Don't forget to pick up a container of her Delice de la Vallee, a tasty soft cheese made with triple cream cow and goat milk and her newly-released Creme de Fromage.
Each February, she hosts the Annual Sonoma Valley Cheese Conference
Epicurean Connection, 122 W. Napa St., Sonoma
Subscribe to Our Newsletters!