This year, Catelli's is celebrating its 80th anniversary. Founded by Santi and Virginia Catelli in 1936, the restaurant is now run by third-generation, sister and brother team Dominica and Nicholas Catelli. Catelli's offers a flavorful mix of unpretentious family favorites and modern twists on classic dishes – including Dominica's "Blended Burger."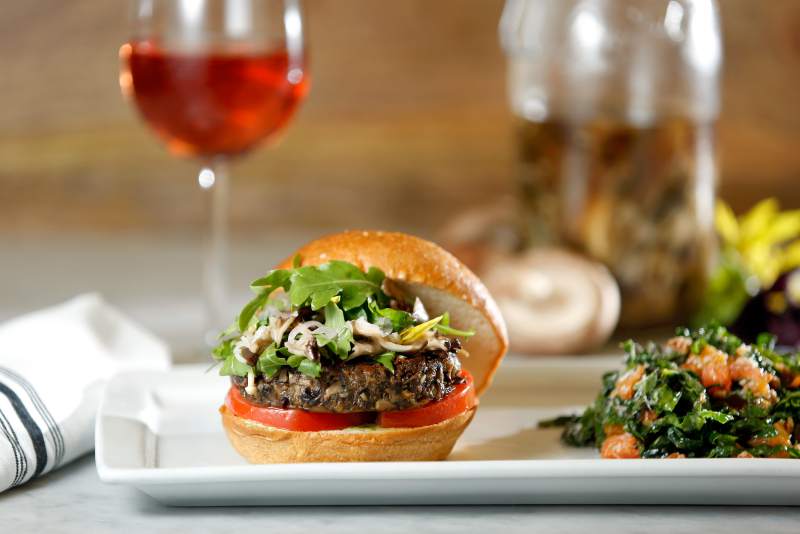 The Chef
Dominica Catelli has always been passionate about healthy, nutritious food, and she's got the resume to prove it.
Her food gigs have ranged from opening chef at the The Ravens vegetarian restaurant in Mendocino to food stylist and personal chef for Oprah Winfrey. She even wrote a family-friendly cookbook, "Mom-a-licious," aimed at feeding kids easy, healthy fare like lentil soup and butternut squash penne.
"Eight years ago, when I wrote the cookbook, it was hard to get ingredients like quinoa and kale," she said. "But now they are trendy. You can get all those things at Target and Wal-Mart."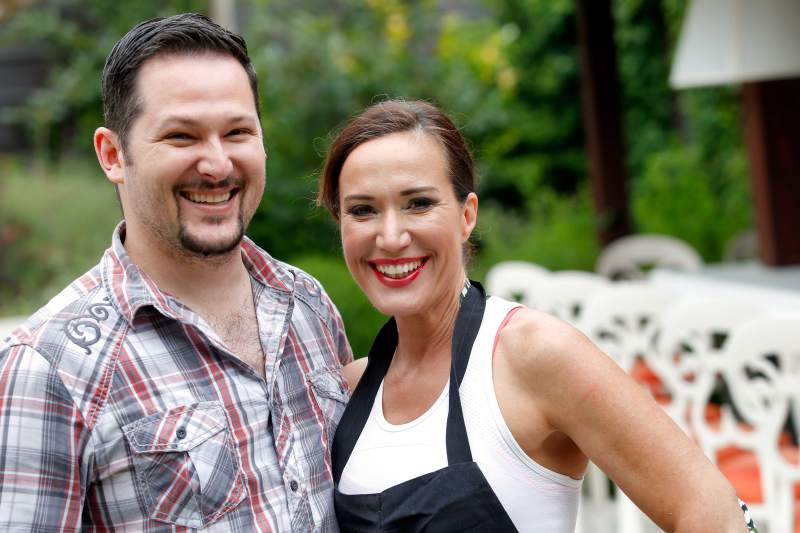 When she and her brother, Nicholas, reopened the landmark Catelli's restaurant in Geyserville six years ago, Catelli made sure to add lots of tasty, vegetarian food to the menu. When she was asked to join the James Beard Foundation's initiative last year to blend mushrooms into burgers, Catelli met the challenge — and went above and beyond — with real relish.
"We got the call to come up with a 25 percent mushroom burger, and I came up with a 50/50 blend," she said. "I already had a mushroom melt on the menu that was 100 percent mushrooms."
As part of the project, about 250 chefs across the country came up with a blended burger, then served it at their restaurants so diners could cast their votes for their favorites. Catelli called hers "The Ultimate Burger 2.0" and made it from a combination of shiitake, cremini and dried porcini mushrooms.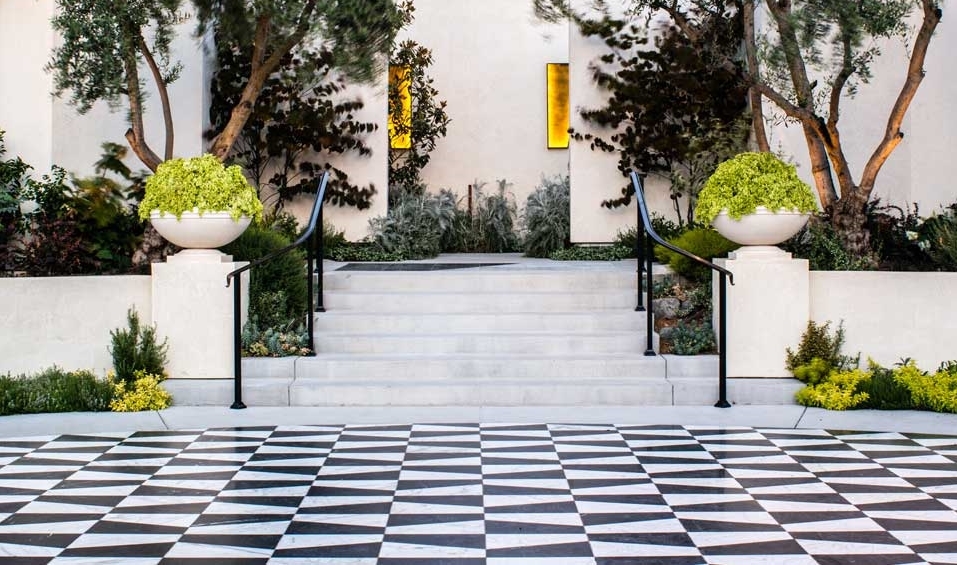 This year, Catelli is among more than 400 restaurant chefs taking part in the growing competition, and she's come up with a new and improved version. "The Kings Burger" offers the same, tasty patty as last year, gilded with arugula and Spicy House-Pickled Enoki and Maitake mushrooms.
"I love the tang of the pickled mushrooms and the pepper of the arugula," she said. "We do a quick pickle with Sparrow Lane Golden Balsamic and Apple Cider vinegars, plus dill."
The Blended Burger Project, a brainchild of the Culinary Institute of America's Healthy Menus R&D Collaborative, aims to help Americans embrace burgers that are more sustainable for the planet (it takes much less water to grow mushrooms than to raise beef) but also more nutritious and delicious.
"From a health standpoint, it's better for you," Catelli said of her blended burger. "Even people who are not crazy about mushrooms still love it because it makes a nice, juicy burger."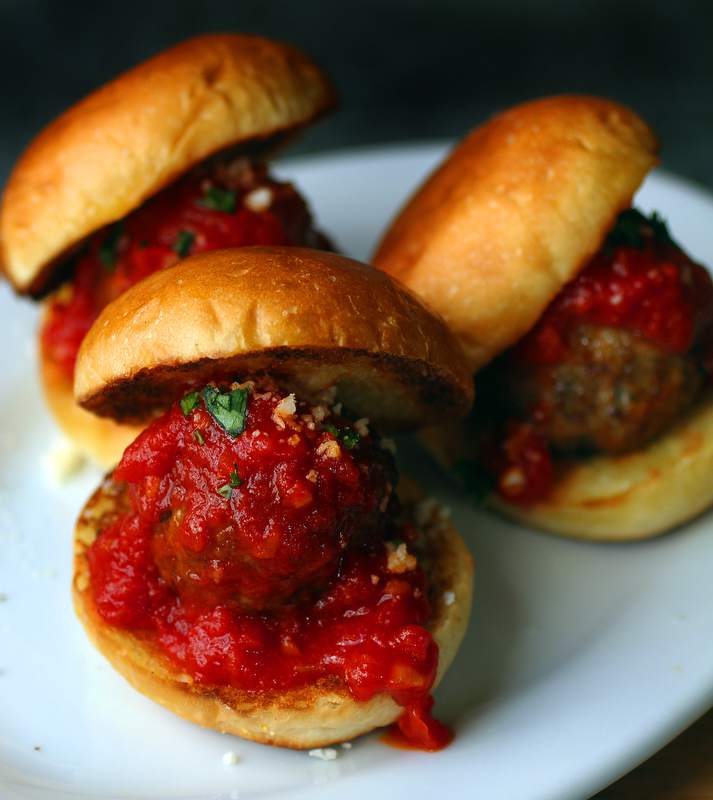 The Burger
To make the burger, Catelli roasts the mushrooms in a 450-degree oven, stems and all, for 5 to 6 minutes, turning them once. Then she throws them in a food processor with garlic, fresh herbs and Parmesan cheese, and lets the mixture cool before massaging it into her house-ground meat.
To form the burgers, she lines a baking ramekin with a plastic bag and presses the mixture into the ramekin, then puts the patties on a sheet pan so they are ready to go. Because they are delicate, it's best to leave them on the sheet pan when they cook, even on the grill.
"It's so much more forgiving than a regular burger to cook," she said. "If you want to do them (directly) on the grill, you could reduce the mixture to a third mushrooms."
To lighten up the patty, you also could replace the beef with chicken, turkey or lean or grass-fed beef. Adventurous cooks may also want to play around with the flavors, using jalapeños and cilantro rather than parsley and thyme.
Cheese lovers could also top the burgers with a slice of sharp cheddar, cambozola or goat cheese after they are cooked. In the summer, Catelli suggests adding a simple slice of ripe tomato.
Also, it's important to source a soft bun as the vehicle for the tender patties.
"You don't want to bite into it and have the burger squish out," she said. "I use the soft bun from Costeaux Bakery."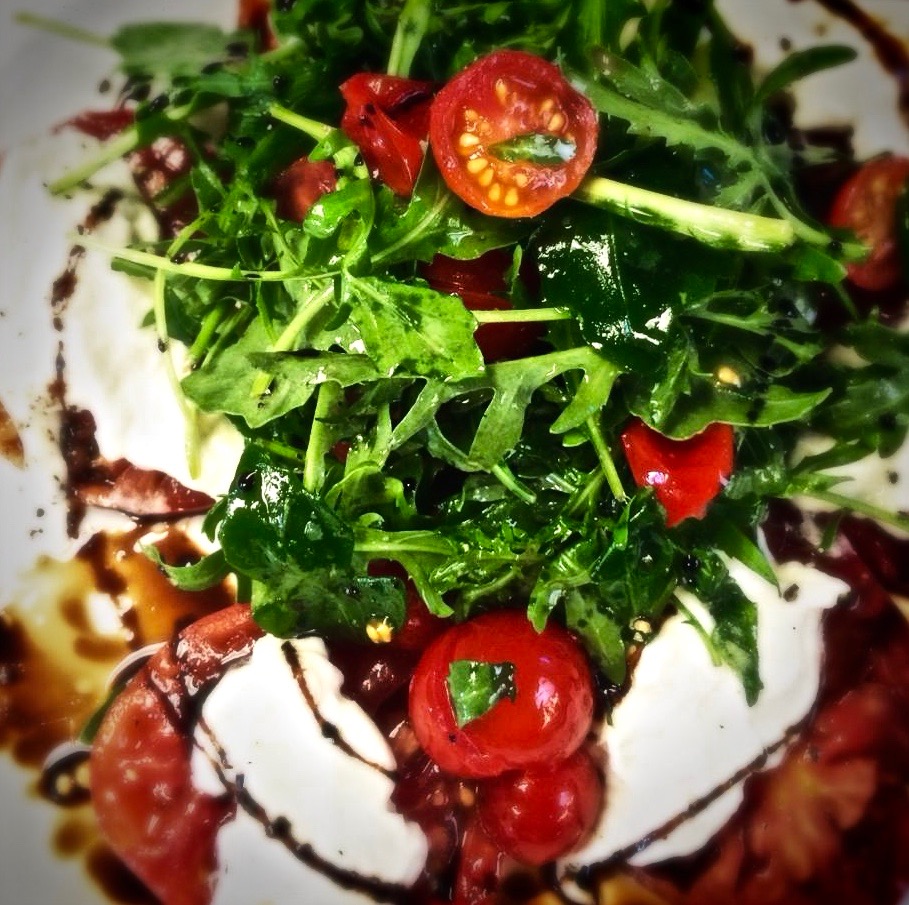 As an appetizer, Catelli suggests a simple salumi and cheese platter, along with some sliced peaches and balsamic vinegar drizzled on top. You could also serve peach slices with burrata cheese, crispy prosciutto and a balsamic reduction.
As a side dish, you can't go wrong with Catelli's Easy Kale Salad, made with thinly sliced kale, oranges, Parmesan, crushed croutons, nuts and a dressing of fresh lemon juice and extra-virgin olive oil.
"The day before, get everything ready for the salad," she said. "Then put it all together about an hour before serving."
And for a sweet finale, pick up some fresh strawberries from a roadside farmstand and slice them on top of her savory and sweet Strawberry and Thyme Shortcake, with a dollop of whipped cream.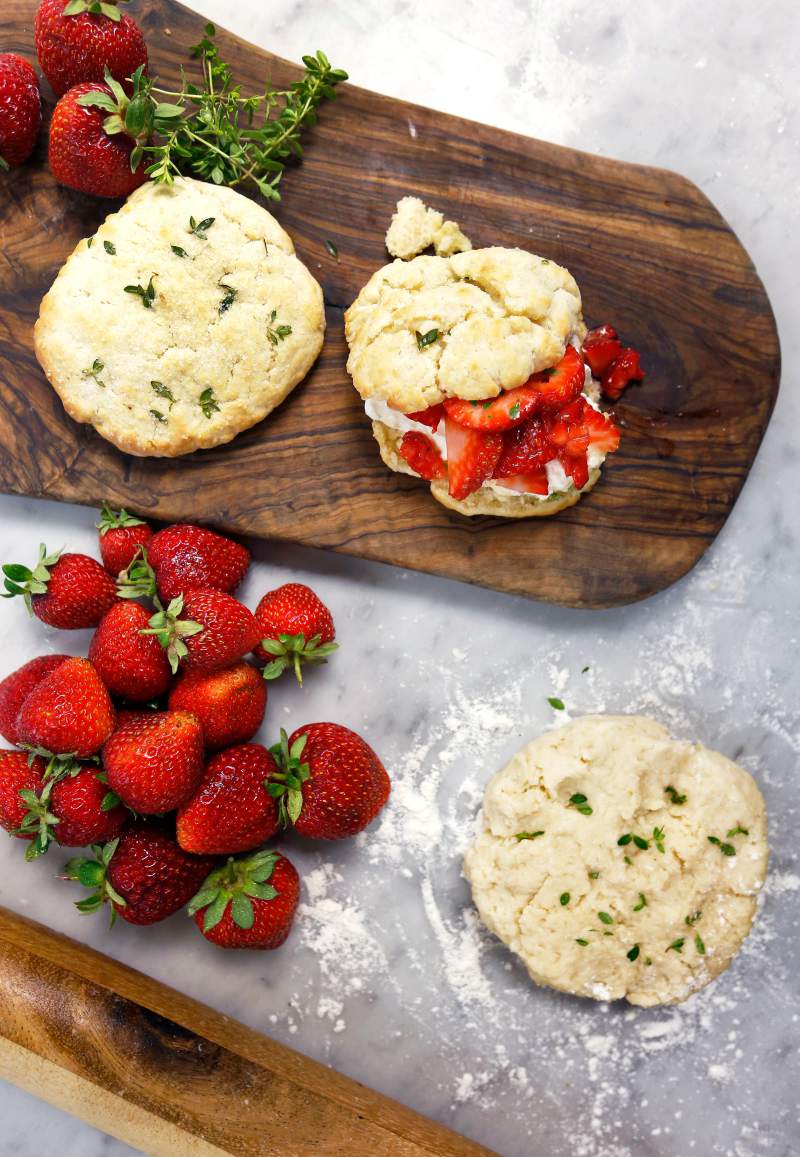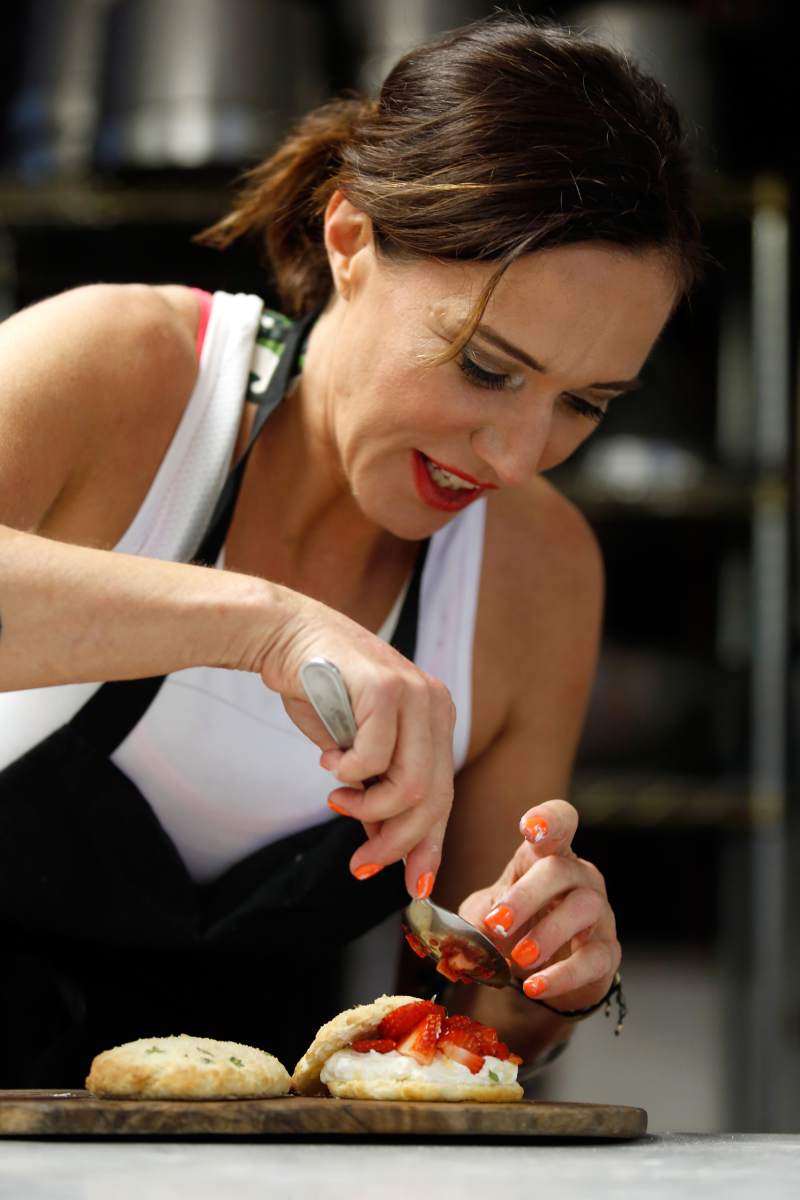 The Restaurant
This year, Catelli's is celebrating its 80th anniversary. Domenica's grandparents, Santi and Virginia Catelli, opened the restaurant back in 1936, in what is now the middle of three rooms. It was originally called The Rex, then became Catelli's The Rex.
The restaurant boasts lots of historic decor and photos, plus an expansive back patio for al fresco dining. Catelli's brother and business partner, Nicholas, and his wife, Anna, both work there; her husband, Michael Yosowitz, does the books; her dad, Richard, helps pick up supplies as needed, and her mom, Antoinette, creates the flower arrangements.
"It's a blessing being back here," said Catelli, who has worked all over, from Italy to Chicago and Texas. "The people I knew growing up now come here with their kids."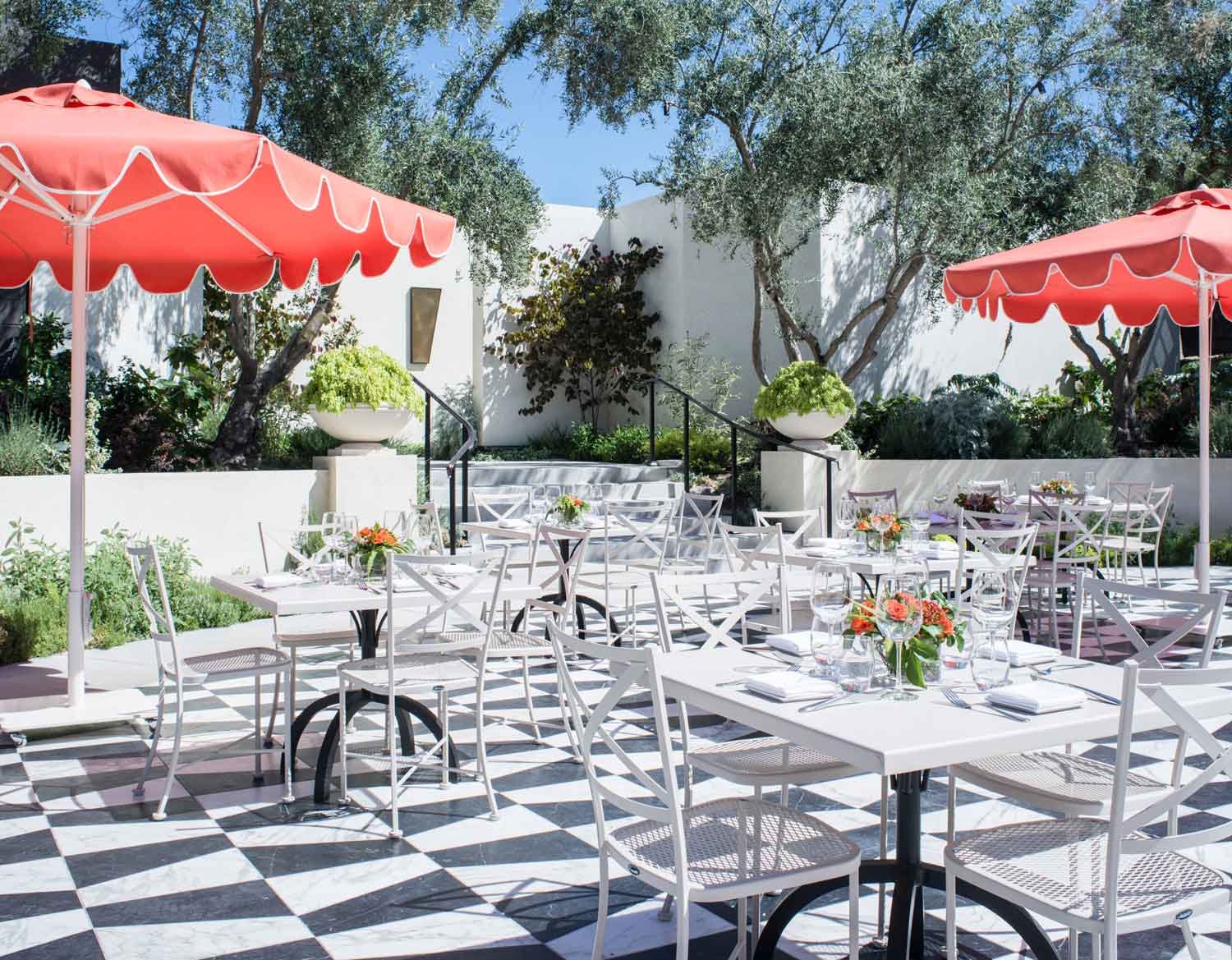 To learn more about the Blended Burger project and to cast your vote through July 31, go to jamesbeard.org/blendedburgerproject. The five chefs with the most votes will win a chance to prepare their burger at the James Beard House in New York City as part of the welcome reception for the foundation's annual food conference in October.
---
DOMINICA CATELLI'S RECIPES
---
Kings Burger
Makes 4 to 6 burgers
1 pound ground, grass-fed beef
1/2 pound cremini mushrooms
1/2 pound shiitake mushrooms
1/3 cup Bragg Liquid Aminos
1/4 ounce dry, porcini mushrooms, rehydrated in hot water, water discarded
2 tablespoons fresh garlic, finely minced
2 tablespoons fresh parsley, minced
2 teaspoons fresh rosemary, minced
2 teaspoons fresh thyme, minced
1/4 cup extra virgin olive oil
1 tablespoon nutritional yeast
1/4 cup grated Parmesan
1 teaspoon ground black pepper
Salt to taste
Preheat oven to 450 degrees (400 in a convection oven.) Place whole mushrooms (stems included) in a large bowl. Pour in the Bragg Liquid Aminos and 1/8 cup of extra virgin olive oil. Coat the mushrooms and lay out on two, large sheet pans lined with parchment paper. Roast in the oven for 3 to 5 minutes. Remove mushrooms and pulse in batches in a food processor with the rehydrated porcinis. Put the batches into a large mixing bowl.
Add the garlic, herbs and remaining ingredients to the mushrooms. Mix together well with ground beef and form into 8-ounce patties.
Place on a sheet pan and cook in a 400-degree oven or grill for five minutes, flipping once. Serve with your favorite condiments, such as garlic aioli, sliced tomato and lettuce.
(This recipe has been adapted for home cooks. You can substitute soy sauce if you don't have Braggs Liquid Aminos).
---
Easy Kale Salad
Serves 10 to 12 as a side dish
2 bunches dinosaur kale, rinsed, dried, de-stemmed and cut into 1/4-inch strips
2-3 lemons, juiced
1/2 cup chopped walnuts (or pecans or almonds)
3/4 cup orange segments
1/2 cup grated Parmesan
3/4 cup crushed croutons (smashed in a plastic bag to bits, not crumbs)
1/4 cup good quality cold pressed virgin olive oil (preferably Dry Creek Olive Oil)
Salt and pepper
Parmesan and crushed croutons, for garnish
Put the prepped kale in a bowl. Squeeze two of the lemons into the bowl with the kale. Add the walnuts, oranges, cheese, crouton bits and olive oil. Toss. Taste for salt and pepper and add the juice of 1/2 to 1 lemon. (Kale that is denser and not as fresh will require more lemon juice.) Top with extra Parmesan and crouton bits and serve.
---
Strawberry and Thyme Shortcake
Makes 8 to 15 servings
1 quart strawberries, halved or quartered (4 cups)
1/4 cup local honey (or agave nectar)
3 cups all-purpose organic flour
1/4 cup sugar
2 tablespoons chopped fresh thyme (optional)
1 tablespoons baking powder
3/4 teaspoon salt
1/2 cup cold, unsalted butter, cut into small pieces
1 3/4 cups heavy cream
1 egg white, lightly beaten
2 tablespoons sugar
Sweetened whipped cream
Preheat oven to 400 degrees. In a large bowl combine strawberries and honey. Let stand, stirring occasionally, while preparing shortcake.
For shortcake: In a food processor, combine flour, 1/4 cup sugar, thyme (if using), baking powder and salt; pulse to mix. (Or whisk together in large bowl.) Add butter to flour mixture and pulse several times. (or cut in butter with a pastry blender or two knives). While pulsing, add cream, pulsing just until dough begins to come together. (Or make a well in the center of flour mixture. Pour cream into well, mix with fork just until dough is evenly moistened.)Turn out dough onto a lightly floured surface. Knead quickly. Roll dough to 1/2-inch thickness and cut with a round pastry cutter or a floured water glass. Transfer dough to a large baking sheet lined with parchment paper. Brush dough with egg white; sprinkle with the 2 tablespoons sugar. Bake 10 to 12 minutes or until light golden.Transfer shortcakes to a wooden board or platter. Cut open and spoon strawberries onto shortcake. Drizzle with juices and top with whipped cream.