The server placed my steak on the table, and offered to pour me more wine. Then, he asked if my dogs were set for water and, teasing, if they preferred ketchup or ranch dressing with their French fries.
Lavishing such attention, the folks at Alioto's Healdsburger don't seem to realize they're working in a former 1950s A&W, flipping hamburgers, hot dogs, chicken sandwiches and the occasional steak, such as my meal that day, a special rib eye sandwich. My two boisterous Rhodesian Ridgebacks were welcome customers on the shaded, sparely landscaped parking lot patio.
And yet, this is no fast food. This is a hamburger stand done Wine Country style. That means quality ingredients, meals made to order, wine and beer plus no corkage fee, and often, higher prices plus at least a 15-minute wait for food to arrive.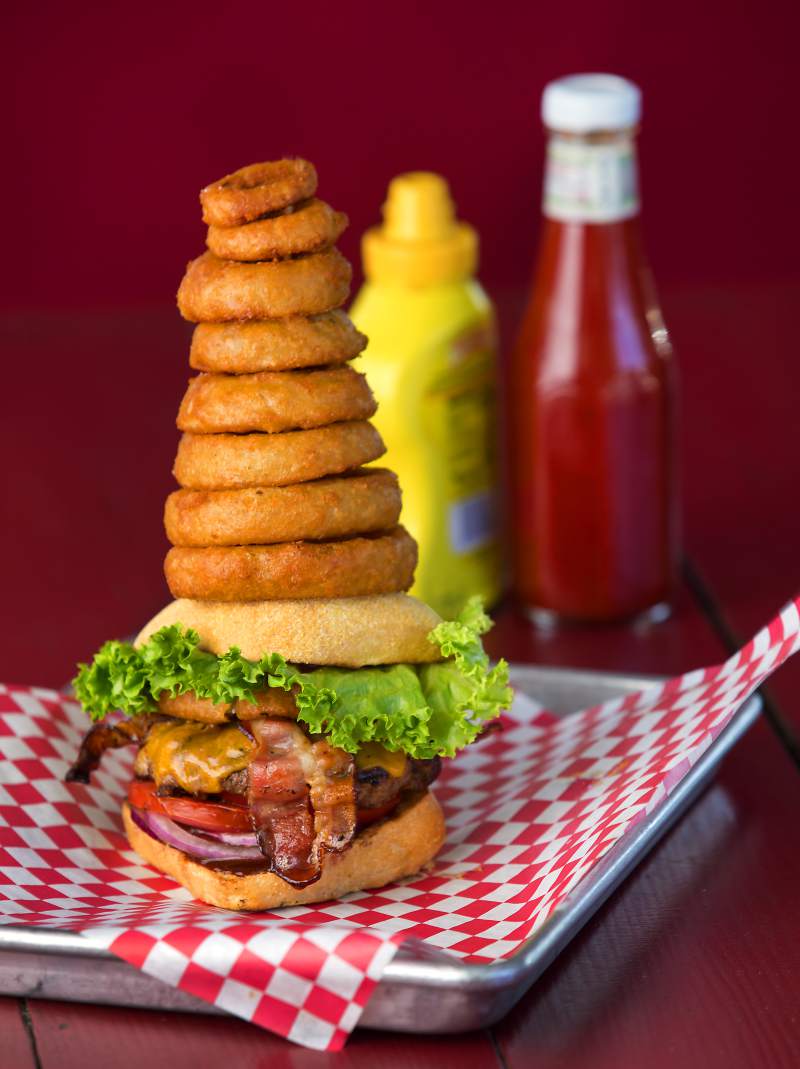 Opened in 2012, the bare bones eatery remains mostly a locals' secret, situated as it is on the side stretch of Healdsburg Avenue that connects Veterans Memorial Beach with the entry to downtown. You'll find it if you're renting a kayak from the neighboring Soar Inflatables/Russian River Adventures, or outfitting your car at Ceja Quality Tires next door.
It hasn't helped that the Memorial Bridge was closed more than a year for extensive reinforcement, diverting the 8,500 or so vehicles that cross daily, until finally reopening in October.
Now, my dogs' eyes are as big as moons, their canine brains mentally willing my cheese steak to leap off my plate into their mouths. It's not a plate, actually, but a tin tray lined in red and white checked paper, with the sandwich folded in more paper.
The wrapper helped keep the tender chopped meat from sliding out and the sautéed mushrooms, lettuce, tomato and red onion from escaping. I added Swiss cheese, which melts into the mayo slicking the crusty, warm ciabatta bun. At $14.95 plus $1.50 for the cheese, the result is much more expensive than fast food, certainly, but it's delicious and comes with onion rings (regularly $4.95).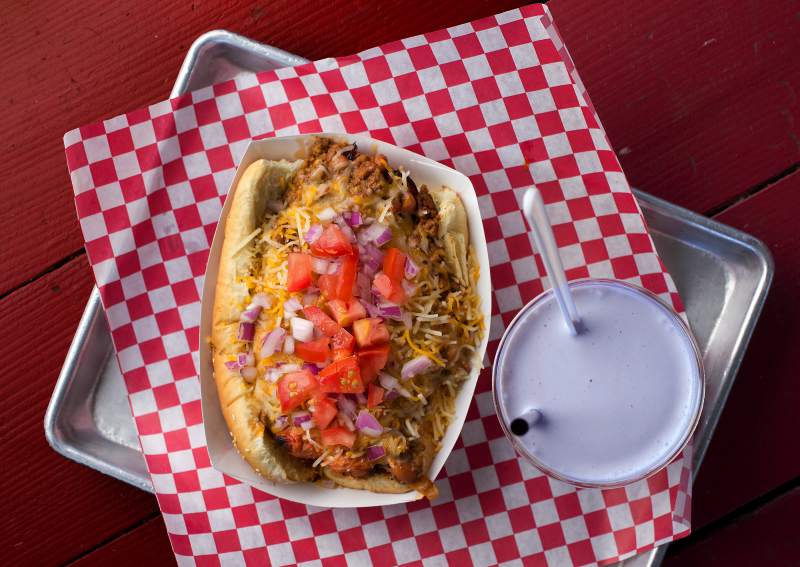 The little touches make a difference. The order taker at the counter in front of the tiny, open kitchen wonders how my dining companion would like her sourdough cheeseburger cooked ($8.50). Would she like the regular beef, or grass-fed (healthier but dry-textured, relatively bland and $2 extra)?
What kind of cheese? Provolone, sure, to go with those sweet grilled onions. And how much sourdough would she like, since the standard bun is really thick? I tell her that I've found it's way too much for the meat, so the server recommends sliced sourdough bread instead.
My friend had arrived a few minutes earlier than me, and the same fellow had asked if she wanted to open a tab so she could sip a drink, a thoughtful thing. Perhaps the niceties are inspired by Healdsburger owner and Geyserville resident David Alioto's earlier career in marketing and management for sports teams like the Giants, Oakland A's and the San Jose Earthquakes.
Each day, the eatery puts together 16 regular menu burgers and some eight to 10 specials, like a hangover burger topped in fried egg, bacon, pepper Jack, Sriracha and mayo paired with a small fry and drink ($13.50).
A turkey cheddar burger is well-seasoned and moist ($7.50); lamb feta ($11.95) is salty-savory. The Mondo Double cheeseburger is a happy heart attack with 14 ounces of meat ($10.50), and the Cowboy is nearly ridiculous, a monster topped in barbecue sauce, bacon, cheddar, lettuce and red onion on ciabatta, all stabbed with a towering pyramid of onion rings.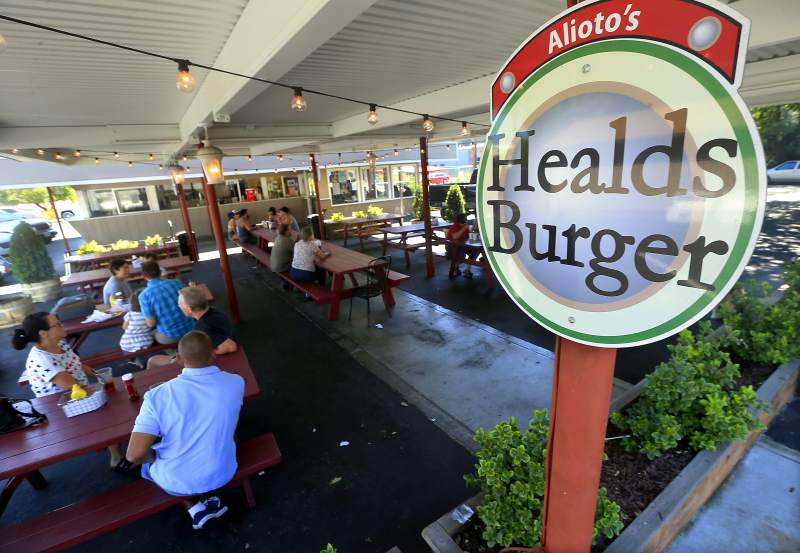 Eat the Cowboy and you won't need another meal soon. It's actually a value, since its $13.50 tab also includes a bottomless fountain drink (normally $2.95).
All beef, 1/4-pound hot dogs are satisfying though pricey ($4.50), split and lined with char marks beneath the ketchup, mustard, mayo, relish, onions and tomatoes. A chili cheese model comes smothered in two kinds of cheese ($6.50), and I ask for freshly minced garlic to make an extra bomb. Nice, especially with a cold bottle of Lagunitas IPA ($4.75).
The onion rings here are fine, not great, encased in crisp, greasy batter. If you like In-n-Out Burger French fries, you'll like these, too, cut from fresh-peeled potatoes we can see resting in the kitchen, with a bit of skin left on and a clean, almost baked flavor ($3/$4.50). A small order is enough for two to three people, or one diner and two dogs.
These aren't the best milkshakes. My chocolate peanut butter is mostly melted (12 oz. $3.95/20 oz. $5.25), though a root beer float is a fine thing ($4.95). Remember that "no corkage fee" thing, too, since the refrigerator is stocked with a whatever's-on-hand choice of sauvignon blanc, chardonnay and zinfandel, and brings no bargain at $7 a cup.
Casual is one thing, meanwhile, but Alioto has got to find a solution to the fly problem. Even sitting inside, I constantly swat away the awful bugs, and it's a real irritant during cooler months, too. Dining outside can sometimes be out of the question on summer days.
Still, this is a great neighborhood hangout. My dining companion, who has lived in Healdsburg for a long time, is amused to learn courtesy of the menu blurb that Healdsburger is the official name for a resident of the town. True? Who knows, but it has a better ring than "Healdsburgite" or "Healdsburgician."
And there's no denying that Alioto brings the local touch. He and his wife, Debby, have just purchased Cloverdale's historic Pick's Drive-In, promising to give that 1923 hamburger restaurant the same updates as their flagship shop.
It's good news for us burger lovers. Just hold the flies, please.
Carey Sweet is a Santa Rosa-based food and restaurant writer. Read her restaurant reviews every other week in Sonoma Life. Contact her at carey@careysweet.com.
Photography by John Burgess.