A little over a decade ago, at a house party in Healdsburg, Sébastien Pochan and Jessica Martin found themselves peering into a neighbor's beautiful backyard. "I'm looking over the fence, wondering who lives here?" remembers Martin. "It was like 'The Secret Garden.'"
The lot was on a third of an acre on Fitch Street, filled with shady olive trees and raised garden beds, and framed at the back by a weathered, rustic barn that looked like it belonged at a winery. At the time, the couple was renting a house on West Dry Creek Road. Pochan was a winemaker at Unti Vineyards, while Martin was making her name as a local artist. And they'd just started a family—their daughter was two weeks old.
Coincidentally, Martin's mother, who lived nearby, stumbled on the same house, a classic 1910 California bungalow, in local real estate listings. A few weeks later they found themselves standing in the magical backyard, marveling at all the possibilities.
"I always knew I would sell this house to artists," the former owner told them. Little did she know, they would turn the backyard into an artist's haven with two creative spaces the couple built from the ground up – a she-shed artist's studio and a he-shed woodworking shop.
"The house itself is not anything special," says Pochan. "I think for us, it was really about the backyard – that's what we're really thankful for."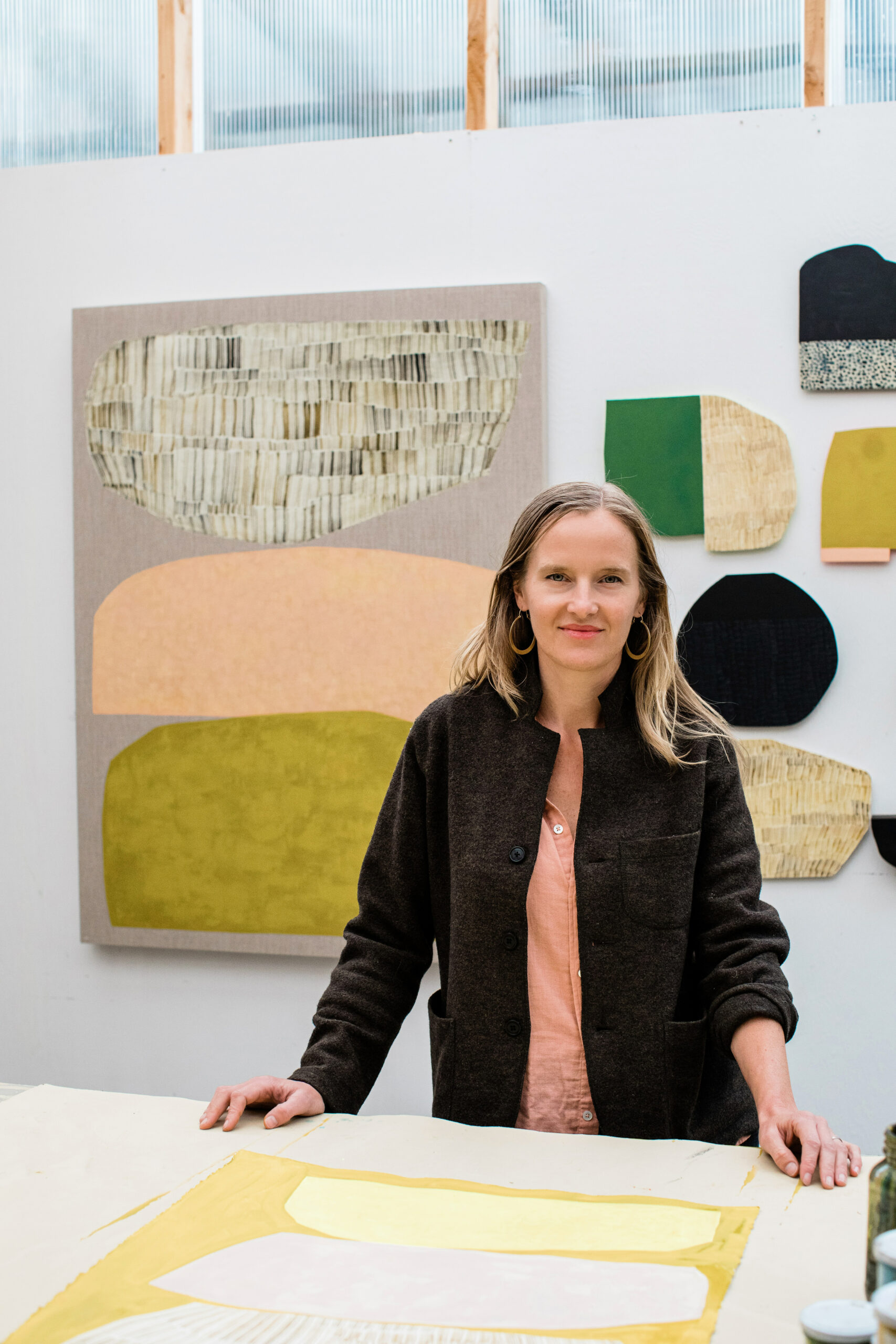 "I always knew I would sell this house to artists," the property's former owner told Pochan and Martin. Their two studios—one for woodworking, one for painting—helped bring the home to life. (Eileen Roche/For Sonoma Magazine)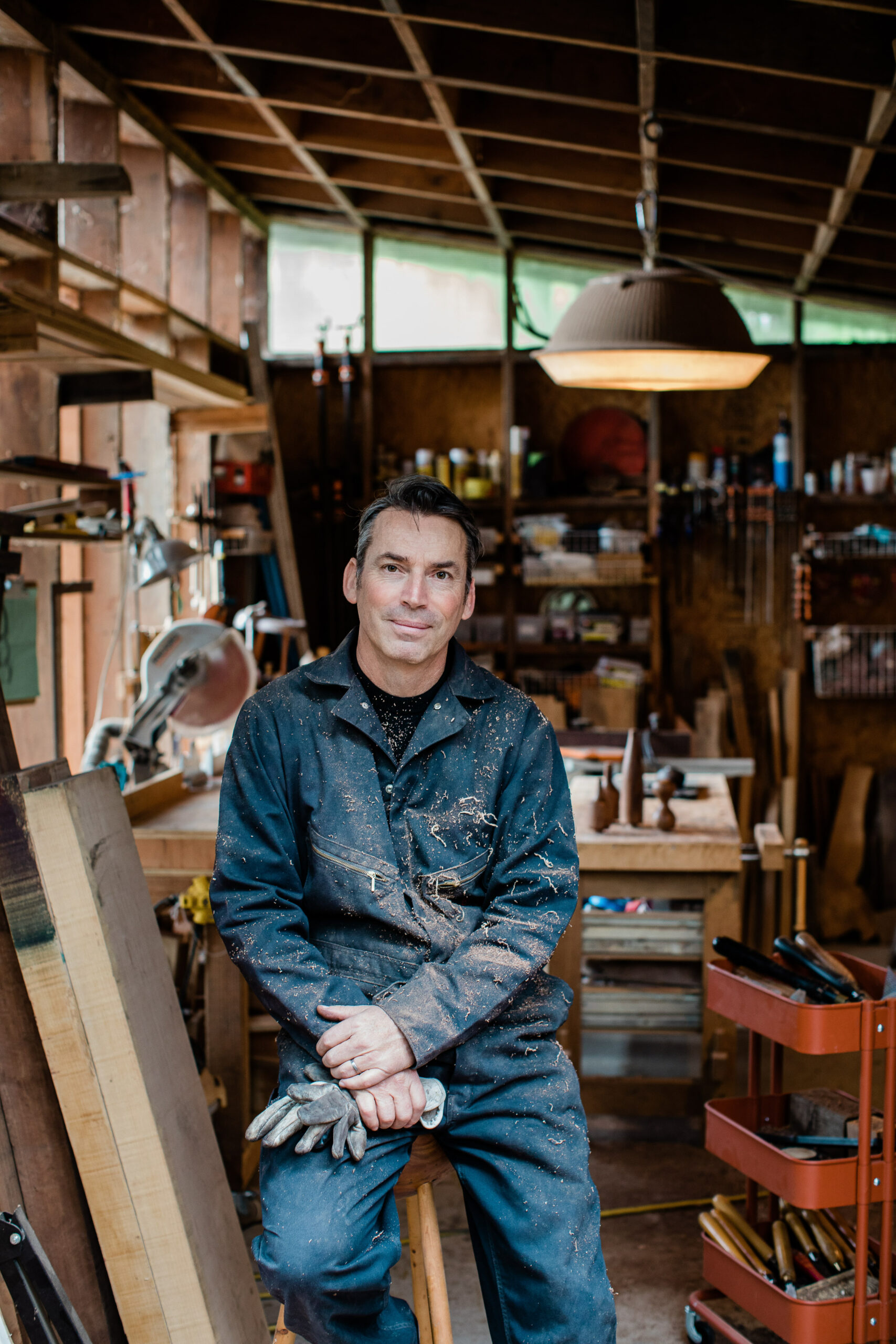 From redwood beams and siding left over from remodeling the barn, Pochan built his backyard woodworking shop. It sits beneath the canopy of a camphor tree, where he created an adjoining tree fort for the couple's two kids, 7-year-old August and 12-year-old Rosalie.
On a recent evening at dusk, he slides open the repurposed barn door to his 12-by-20-foot refuge. "This is the one place where I don't see time go by," says Pochan. Inside, the walls and counters are laden with gouges, chisels, saws, a lathe, and wood blocks and boards of all sizes. The largest wall, on the south side, lets in the last natural light of the day, almost glowing through 4-by-8-foot glass panels given to him by a contractor friend.
Not far from stocks of walnut, redwood, and maple planks, Pochan still has the set of gouges Martin gave him for his birthday in 2002, not long after they met at a party in Alexander Valley. A self-taught woodworker, Pochan started with a wood sculpture of a woman and has gone on to make dozens of pieces of furniture— tables, chairs, benches—many on commission. "At the time, we had hardly any furniture and very little money. I was thinking, 'How hard could it be to make a table?' Little did I know," he says.
Lately, Pochan has been making abstract wood sculptures, which are sold at Gallery Lulo in Healdsburg. "This is where I get my satisfaction. It's like total peace. When it's not a commission, there's no pressure. There's no one behind me, telling me what to do. There's complete freedom."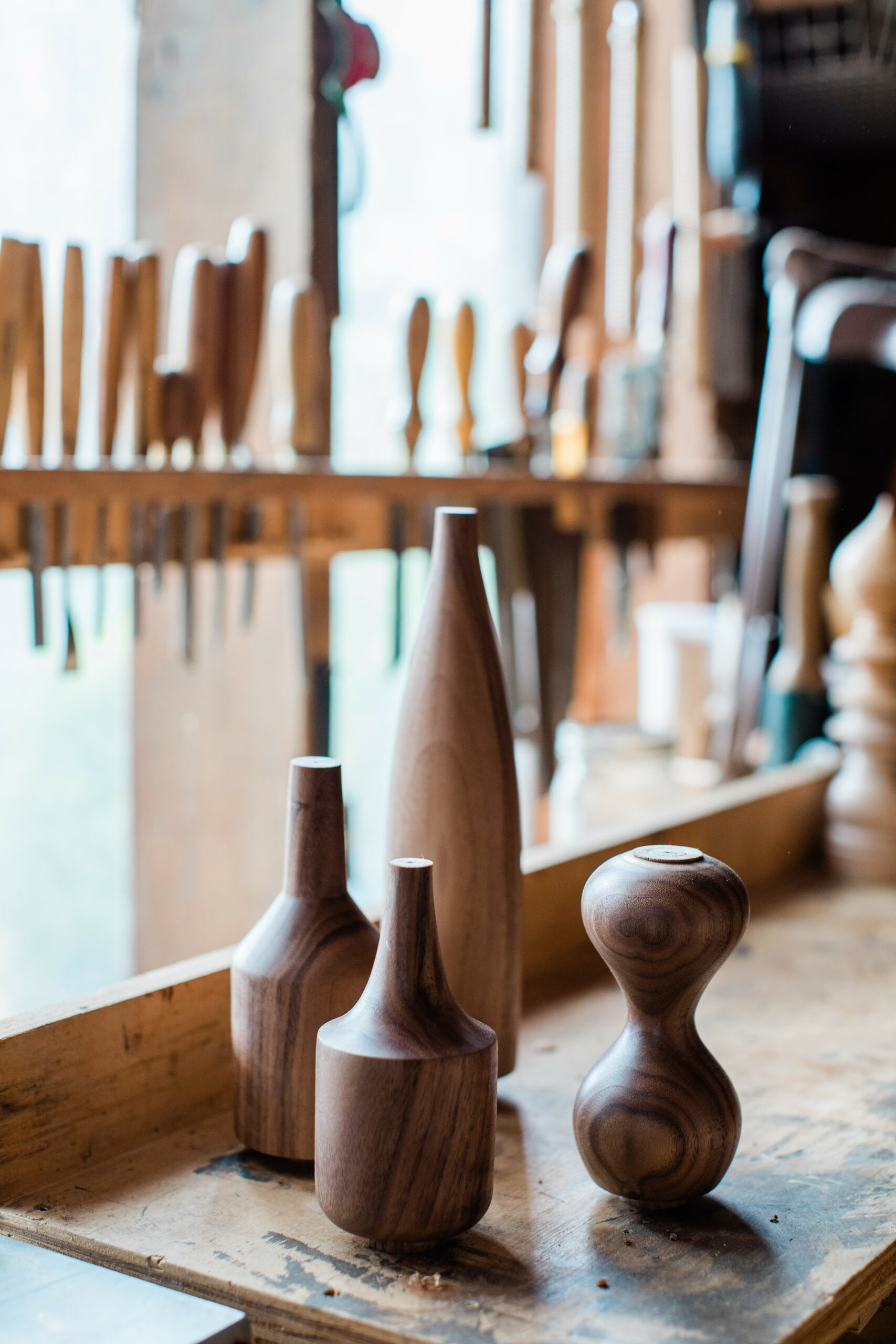 Born in Bordeaux, Pochan moved around a lot as the son of a French military doctor, living in Djibouti, Senegal, Ivory Coast, Germany, and Tahiti. After getting an enology degree in Montpellier, he came to Healdsburg to work at Stonestreet Wines in 1995. He spent the past six years running the wine program at Front Porch Farm and is now working as a consulting winemaker while he grows his own Sébastien wine label.
"There's something about setting out to make something and seeing it progress as you go. In contrast to winemaking, where it takes at least a year to see the results of what you've done—it could be just a matter of hours or weeks for a wood piece to come to life."
Martin's sense of place and design is rooted in her family tree. She grew up in the intentional community of Las Cumbres in the Santa Cruz mountains, living in a one-of-a-kind house her parents built in the late '60s. It was designed around a tree, with a staircase that encircled the trunk, winding up to a loft. After her parents divorced, she lived with her mother in a sleek, minimal house in Los Gatos, built by the developer Joseph Eichler.
When Martin began brainstorming her own studio on an unused plot of ground to the south side of the family's home, she started by researching greenhouses. That's how she found the floor-to-ceiling, translucent polycarbonate siding that now bathes the studio in natural light.
In January 2020, Pochan started building Martin's art studio. "And a few weeks later, we went into lockdown," she says, standing in the middle of her 16-by-16-foot space. Beside her, the tallest wall is hung with a few of her latest paintings from a recent exhibit at nearby Legion Projects. "The timing was very fortuitous, otherwise I wouldn't have been able to work on my art."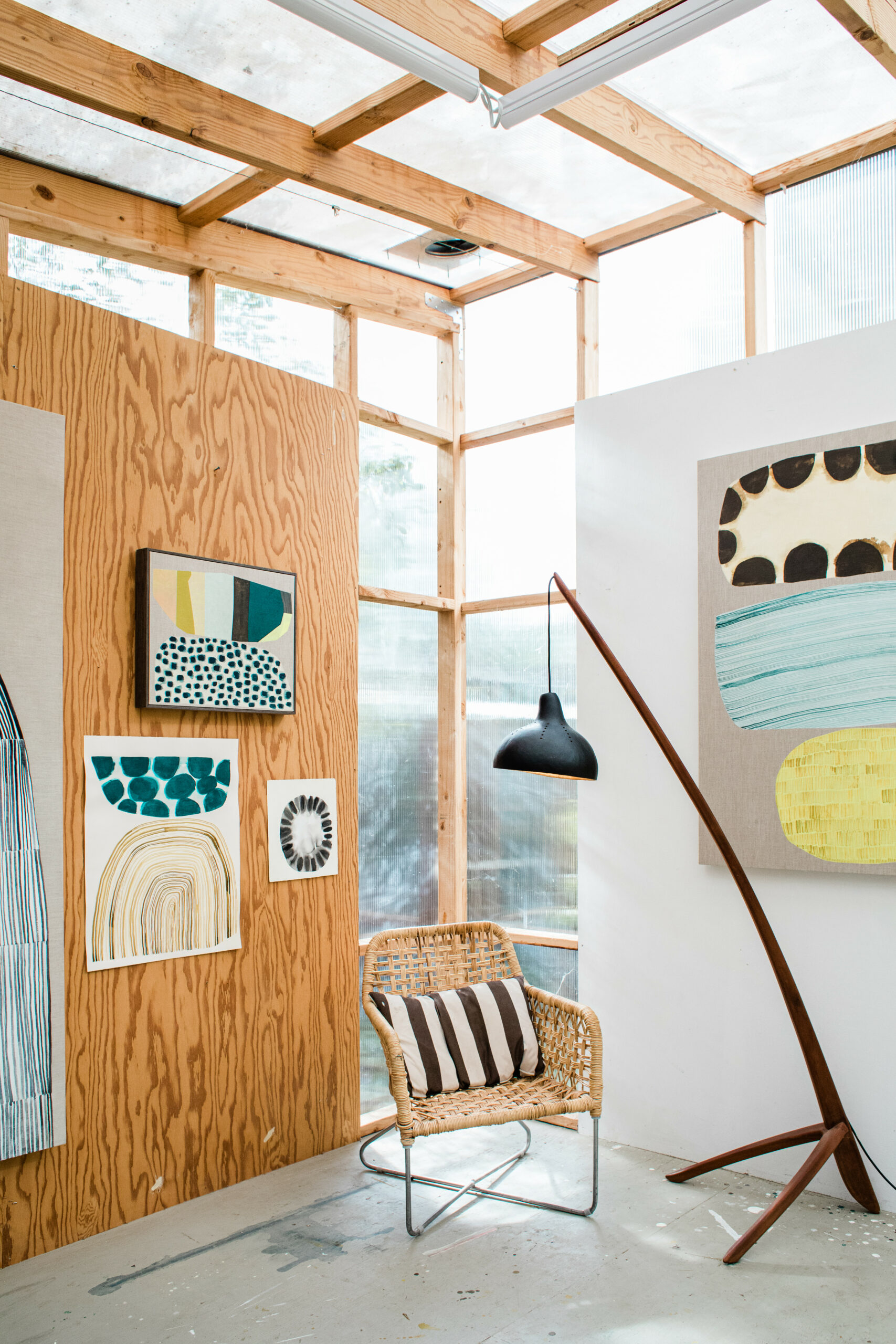 Her work as a painter and sculptor is deeply research-based, exploring relationships with memory, history, and nature—and looking at how creativity weaves through all of those things, she says. She's also very interested in how art shapes and fosters community. Helping to organize civic art projects, she also runs the art program at West Side Elementary School in Healdsburg. In March 2022, Martin and a colleague created Peptoc Hotline, a phone number the public can call to hear sweetly whimsical pre-recorded motivational advice from students at the school. The project went viral, with more than 6 million people calling in for help during the pandemic.
On the back wall of her studio, a poster created by her friend, artist Susan O'Malley, reads, "It will be more beautiful than you can ever imagine." Martin sees it every time she walks into her studio, along with a slender, arched wooden lamp, made by Pochon. "I think it's sacred to have a space of your own, especially if what you're making is a solitary endeavor," she says. "You need to have that kind of focus in a space that is truly your own, and to have the luxury to leave things as they were and then come back the next day and they haven't moved."
She typically creates in fits and bursts, and each time she returns to her studio, she says she feels a reconnection. "These paintings are kind of like my friends. They all have a spirit, so there's a greeting that takes place, like they've all been here waiting for me to come back."