Have you been invited to a dinner party, open house, or family celebration this fall and are stumped for what to bring as a host or hostess gift? I have 10 gift ideas that will make any host or hostess happy you were put on the guest list!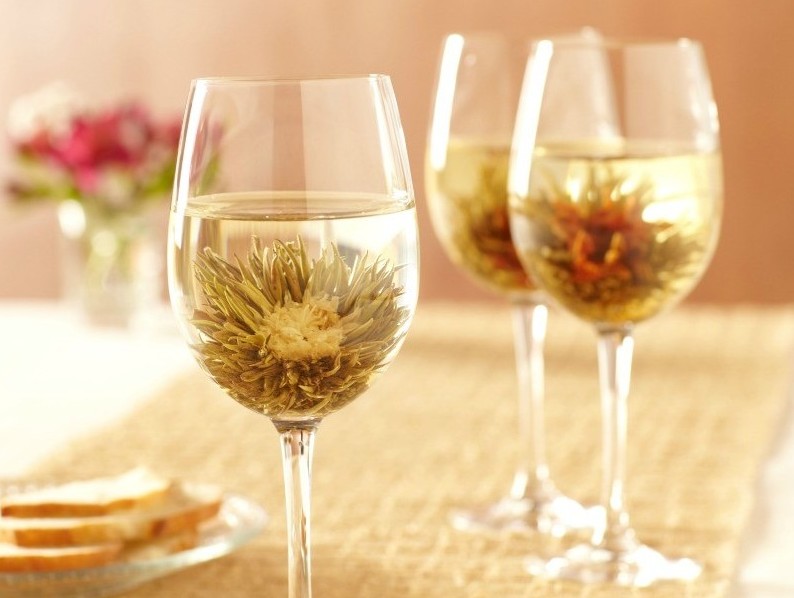 Blooming Teas
Tea lovers will be delighted with this gift: a heat resistant wine glass and three blooming teas, each enclosed in a colorful silk fortune cookie, from The Taste of Tea in Healdsburg. This gift comes wrapped in silk!
Blooming Teas Gift Set, The Taste of Tea, $42.
The Taste of Tea, 109 North Street, Healdsburg, CA 95448, (707) 431-1995, thetasteoftea.com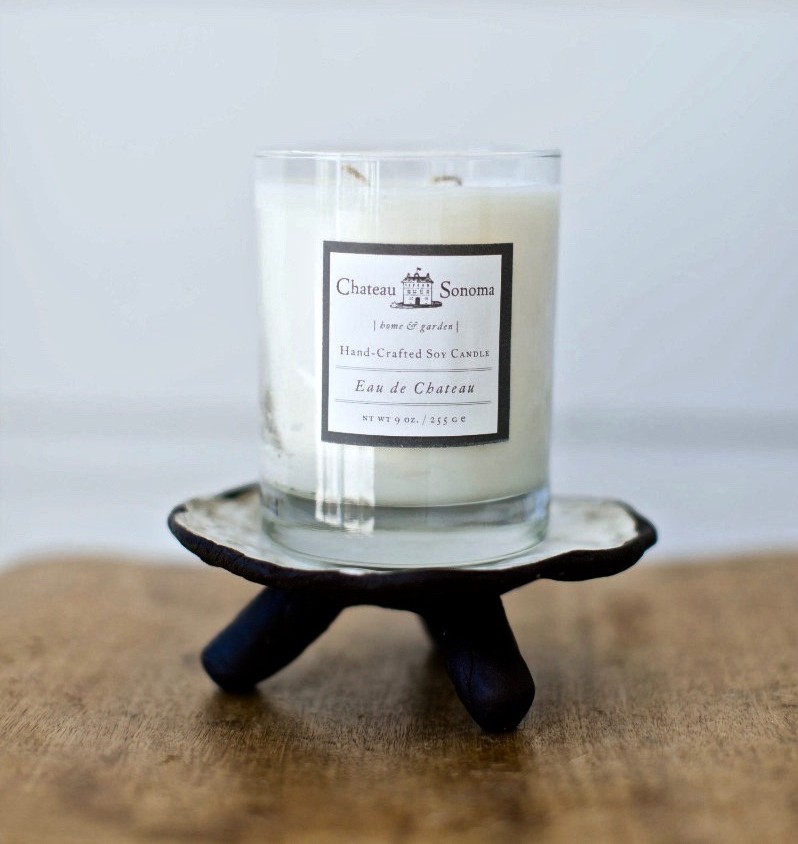 A Hand Crafted Scented Candle
This hand-crafted soy candle from Chateau Sonoma will add ambiance, charm and a lovely scent to your hosts' home. Called "Eau de Chateau", the scent is based on what people experience when they enter the shop, which is located at Cornerstone in Sonoma.
Hand-Crafted Soy Candle in Eau de Chateau Scent, Chateau Sonoma, $36
Chateau Sonoma, 23588 Arnold Dr, Sonoma, CA 95476, (707) 935-8553, chateausonoma.com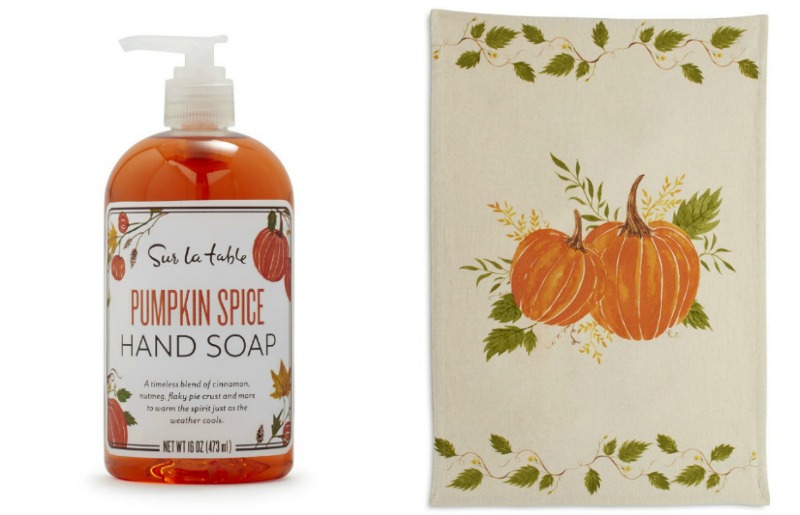 Pumpkin Spice Hand Soap and Autumn Kitchen Towels
Bring the fragrance of autumn into your hosts' kitchen with this Pumpkin Spice natural hand soap with cinnamon and nutmeg scents. Add a pair of these darling cotton-linen blend towels featuring a pumpkin design. Both products are exclusive to Sur la Table and available at their Montgomery Village location.
Pumpkin Spice Hand Soap,  $12.95, Pumpkin Kitchen Towels, $10 each
Sur La Table, 2323 Magowan Dr, Santa Rosa, CA 95405, (707) 566-9820, surlatable.com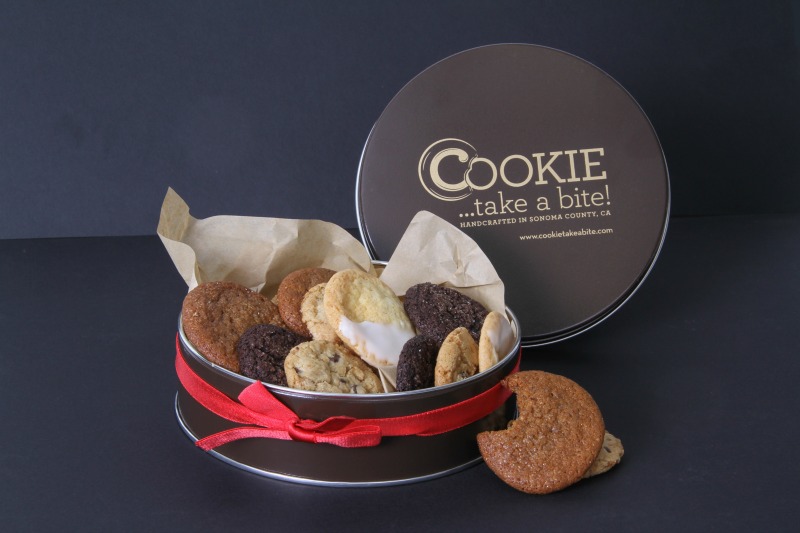 A Tin Full of Cookies
Who doesn't love a delicious cookie? This "Premium Variety Tin," filled with 30 delectable cookies from Cookie…take a bite!, is a sure-to-please gift for your hosts. Cookie…take a bite! is a boutique bakery based in Sonoma County. Their "Premium Variety Tin" includes the bakery's award-winning "Sonoma Trekker" cookie with cashews and cranberries. Sounds like the perfect cookie for fall!
Premium Variety Tin with 30 Cookies, Cookie…take a bite!, $35
Cookie …take a bite! products are available for purchase online, and at Oliver's Market in Cotati and Santa Rosa. You can taste these Sonoma County-made cookies at a variety of local cafés, community markets and movie theaters.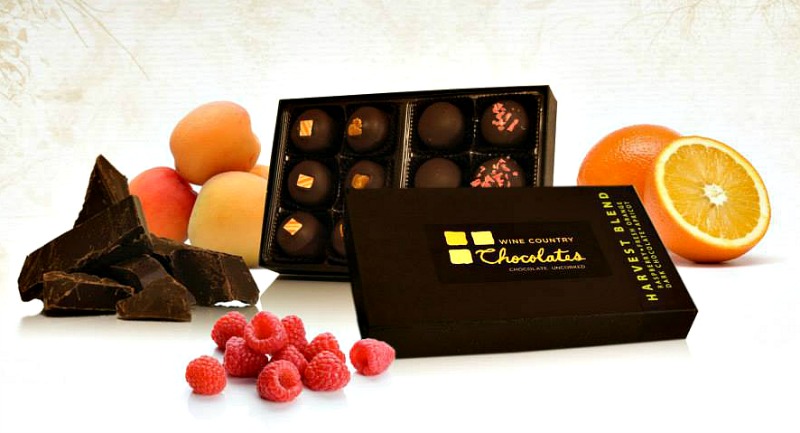 A Box of Chocolate Truffles 
Chocolate lovers may try to bypass the main course and skip right to dessert when this box of fruity Harvest Blend truffles is presented. This assortment of 12 creamy truffles includes raspberry, orange, apricot and dark chocolate flavors. Wine Country Chocolates' Truffles are formed, hand-pressed and carefully covered in a generous amount of dark chocolate, making them irresistibly delicious. Hopefully your hosts will want to share!
Wine Country Chocolates, Harvest Blend, 12-pieces, $23
Wine Country Chocolates, 14301 Arnold Dr, Glen Ellen, CA 95442, (707) 996-1010, winecountrychocolates.com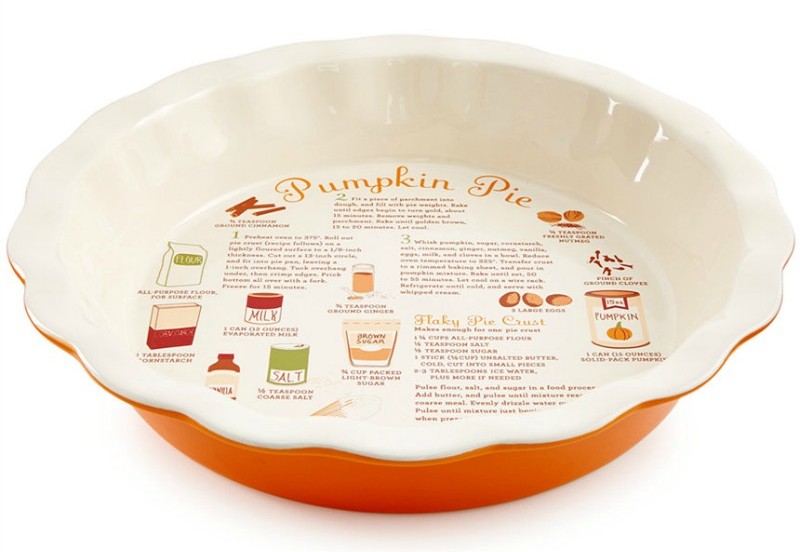 Bring a Pie, Gift the Dish
Bake a pumpkin pie for your hosts in this festive ceramic pie dish from The Martha Stewart Collection at Macy's – and let them keep the dish. Include your own pumpkin pie recipe or use Martha's, which is printed inside the plate!
Martha Stewart Pumpkin Pie Dish, Macy's, $19.99
Macy's Santa Rosa Plaza, 800 Santa Rosa Plaza, Santa Rosa, CA 95401, (707) 523-3333
Macy's Coddingtown Mall, 555 Coddingtown Center, Santa Rosa, CA 95401, (707) 579-3333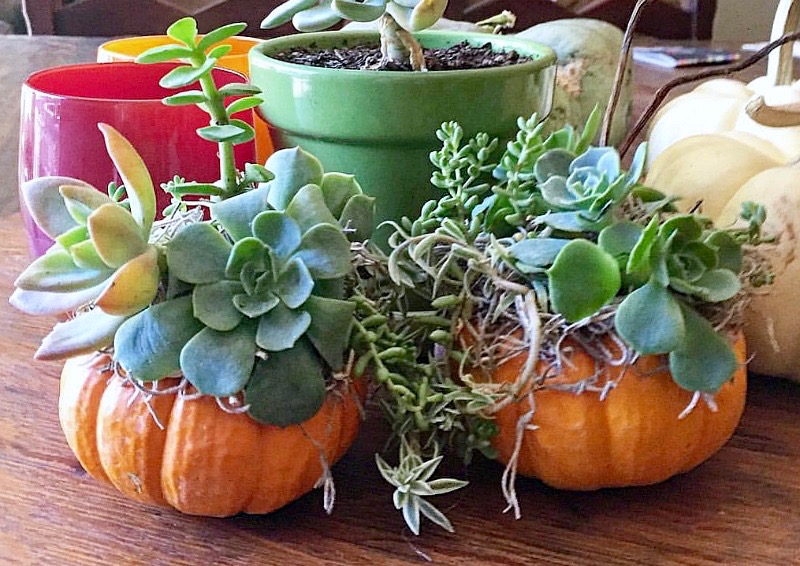 A DIY Succulent Arrangement 
Most of us would agree that a handmade gift can be the most meaningful present. This DIY Pumpkin succulent arrangement is not only a beautiful addition to any fall table but it's fun to make too. Follow the detailed, and easy, instructions for making your own here.
Find Mini Pumpkins at most grocery stores this time of year or visit your favorite Sonoma County pumpkin patch. Buy succulents at Prickett's Nursery (prices vary). Find the other materials at Village Art Supply or Michael's on Santa Rosa Avenue.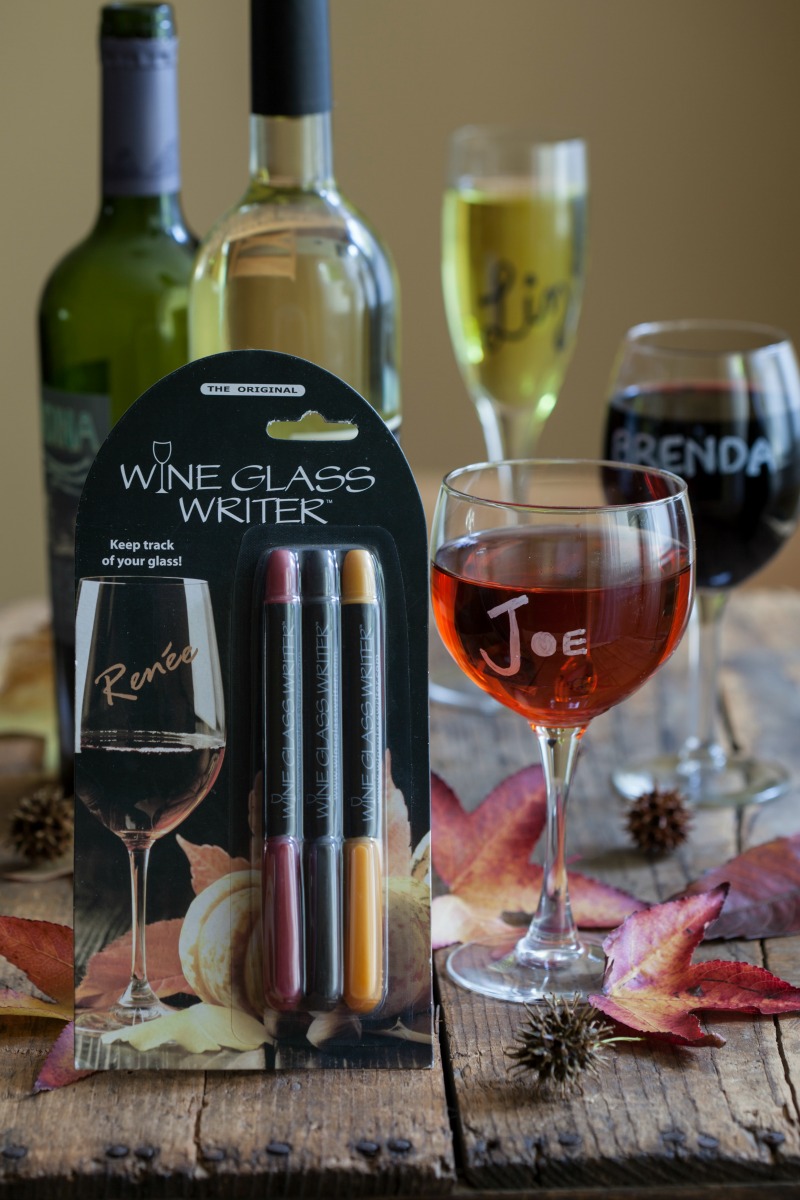 A Bottle of Wine and a Handy Wine Accessory
Heading to a dinner party at the home of your favorite wine lovers? Pick out a great wine for fall – perhaps an earthy Pinot Noir or a jammy Zinfandel – and include a pack of Harvest Colors Wine Glass Writers from Marin County. These handy pens are made with non-toxic ink that stays on for the life of the party, then washes off with soapy water. Your hosts will not only appreciate guests keeping track of their wine glasses, saving wine and time re-washing wine glasses, but they can add more entertainment to your evening. Encourage your fellow guests to get creative with their Wine Glass Writers!
Wine Glass Writer, Harvest Fall Colors, $9.95
A Cookbook
To say that local TV personality and self-proclaimed "Cook-A-Holic" Laurie Figone loves to cook is an understatement. Laurie regularly competes in cooking and recipe competitions for which she has won several national and international awards. Her cookbook is the ideal host or hostess gift for the home cook or aspiring chef and includes 30 of Laurie's most loved recipes.
Cooking With Laurie Figone, $25
Premium Artisan Coffee 
If your hosts are coffee aficionados, they will love sipping on Carta Coffee Merchants 100% Kona coffee. Carta Coffee, based in Kona, has its roots in Sonoma County. Founder Scott Burr purchased a coffee farm last year after spending two decades in Sonoma County as a wine expert and consultant. Scott has applied the knowledge and skills he gained from his career in the wine industry to Kona coffee growing and roasting. He sustainably produces handcrafted 100% Kona Coffee that is sold online, right from the farm, lowering the cost of this premium, small batch coffee.
Carta Coffee Merchants, $22- $47