"Lavender month" in Sonoma County is lavishly celebrated with festivals, fairs and lavender infused dishes and drinks. Local lavender lover Sofia Englund lists the best ways to enjoy the fragrance and the flower, in June and throughout the year.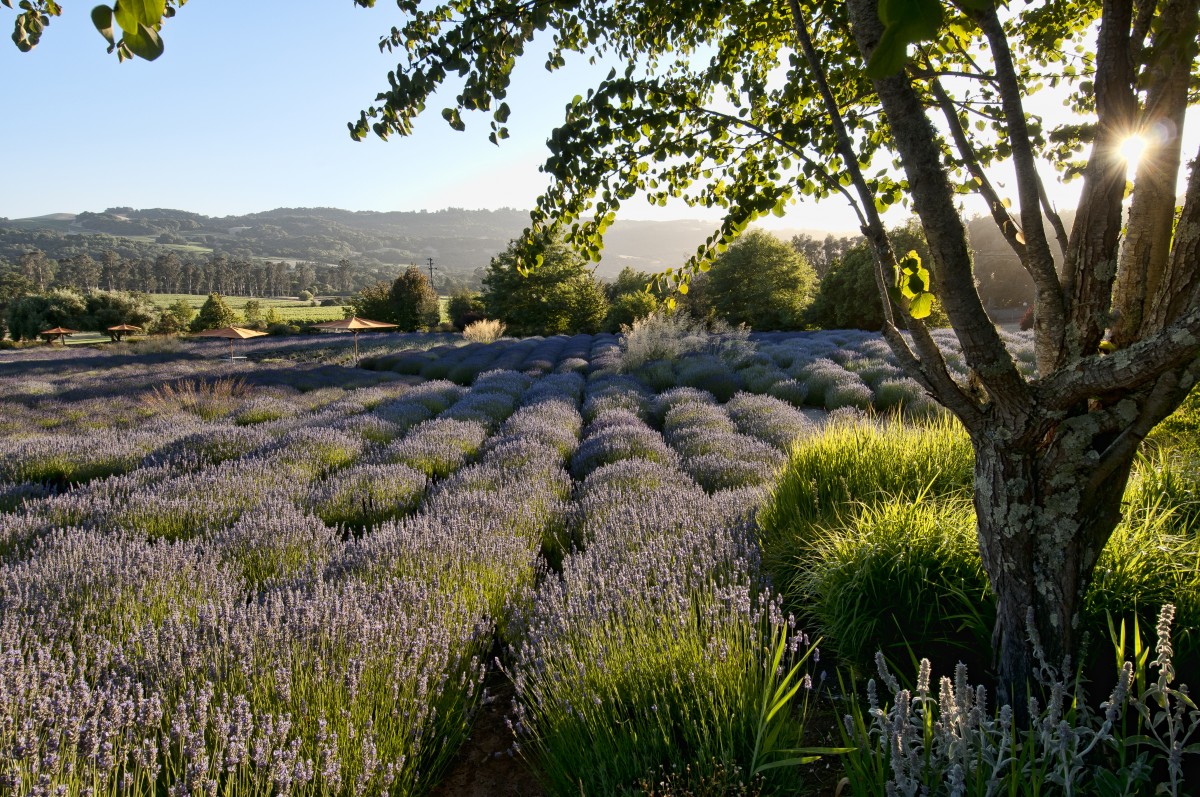 My longtime love affair with lavender began innocently in a Provence field: I have a much-cherished childhood memory of running free through an ocean of violet and blue, gently caressing the lavender leaves and buds with my fingertips. In Stockholm, I came of age luxuriating in the deep aromas of lavender scented soaps and the soothing qualities of lavender essential oils. Now in my new home in Sonoma County, it is those smells, those sensations — the memory of that earlier affair — that come rushing back to me as I experience Sonoma County's lavender in full bloom.
Over the past twenty-five years, Sonoma County has become a mecca for lavender lovers. In June, people visiting Sonoma from across the nation and around the world come to view waves of lavender undulating in the wind, the soothingly seductive perfumes wafting in the breeze to the hum of bees shifting busily among the blossoms.
If perchance you missed this June's festivities, put away blue worries: here's a list of ways to enjoy local lavender throughout the year — in fields, at home or in a restaurant.
LAVENDER FARMS & FESTIVALS 
Matanzas Creek Winery in Bennett Valley has been a haven for lavender lovers since 1991. Unlike most local lavender farms, the winery allows visitors to view the fields unannounced. At Matanzas Creek, lavender enthusiasts sip Sauvignon Blanc on a terrace overlooking fields of lilac and amethyst, punctuated with sunflowers and offset by golden foothills.
Matanzas lavender fields are farmed organically by master gardener Joel Garcia. After the lavender reaches full bloom it is cut, bundled and hung to barn dry. When ready, the blossoms are removed for use in culinary, bath, body and home products sold at the winery's lavender market.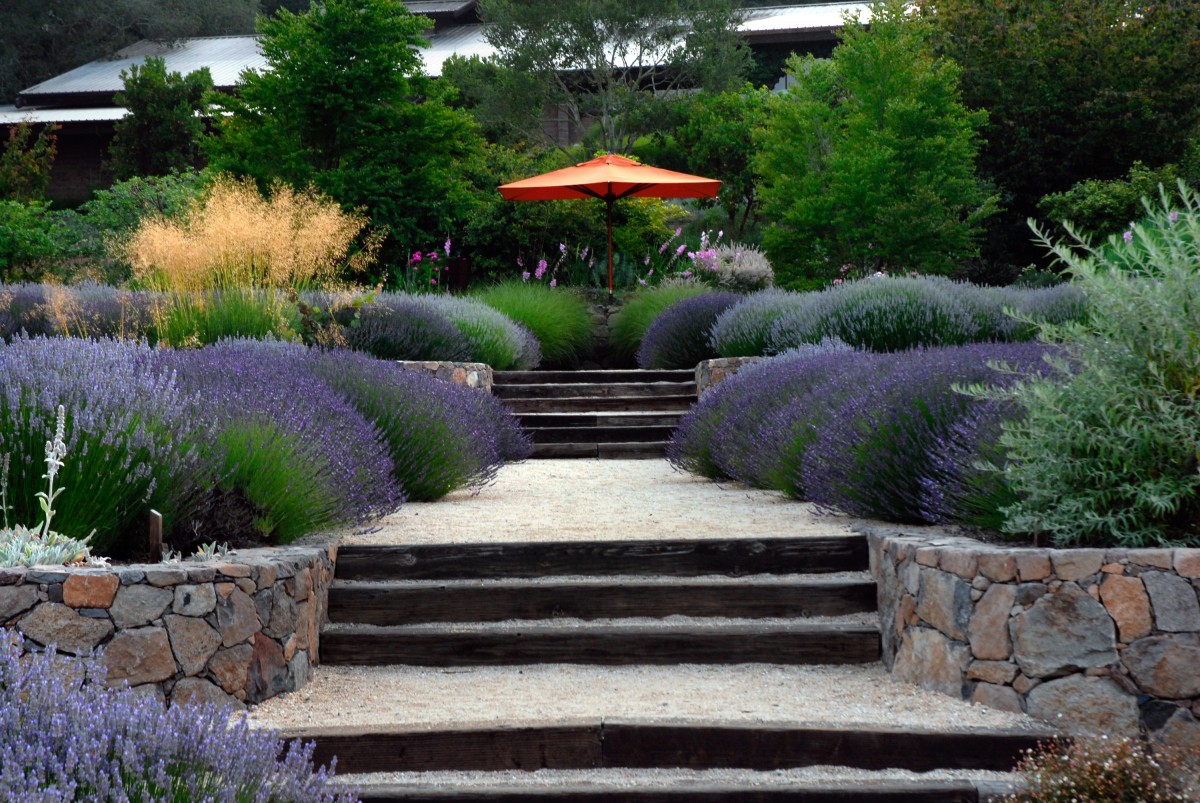 Lavender Bee Farm in Petaluma, run by Jo Ann and Richard Wallenstein, is host to over 5,000 lavender plants and multiple beehives. The farm is "chem-free" (no pesticides or chemical fertilizers) and open to visitors by appointment. The farm produces and sells an array of lavender products with delicious and healing qualities: lavender buds for migraines, culinary lavender for creative cooks, lavender eye masks for sleep aid and stress relief and, naturally, lavender honey. The Lavender Bee Farm website has a very useful "customer care" section, which includes lavender recipes and home remedies.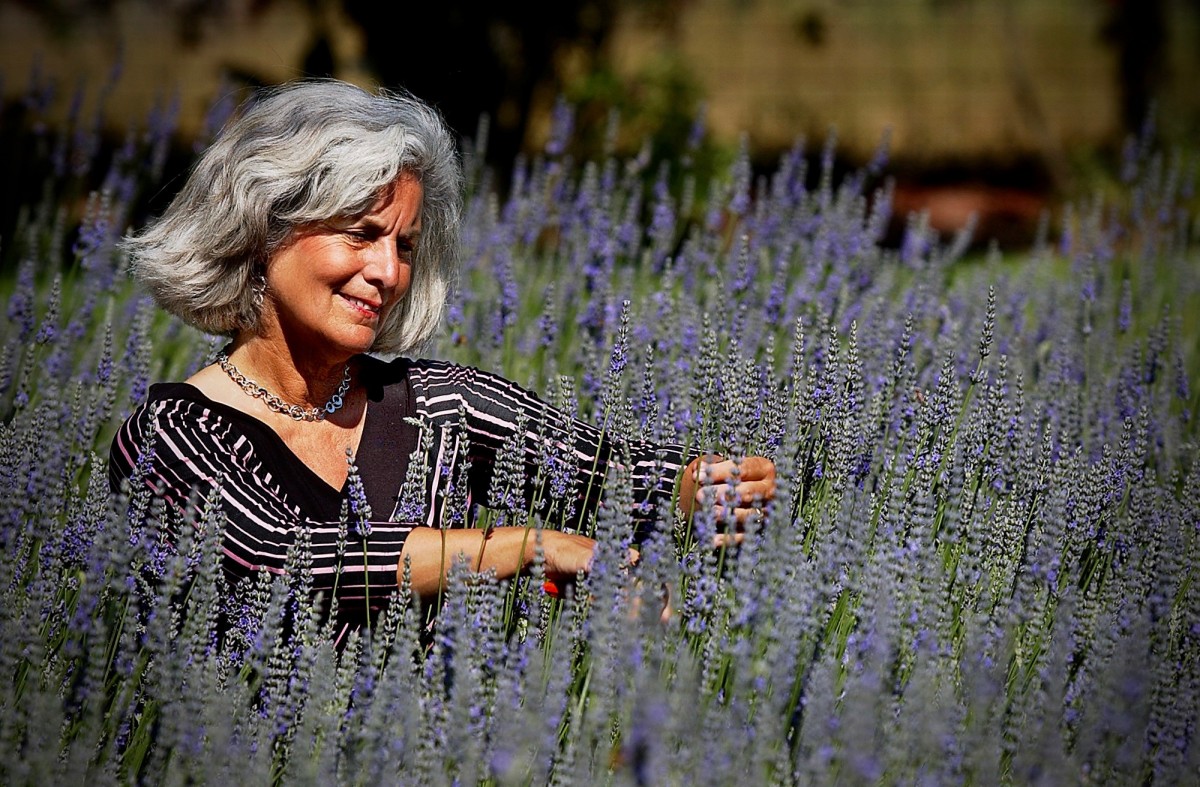 Lynn's Lavender & Lotsmore in Sebastopol hosts an annual lavender harvest and luncheon on July 2, 2016. Lynn Rossman and husband Mike tend lavender fields located on their Tanuda Ridge Vineyards, The estate includes three acres of pinot noir grapes, sold to local winemakers, and two acres of lavender planted in 2004. After harvest, Lynn and Mike dry the lavender and then process it into a series of products, including body balm, scrubs, body and linen mists.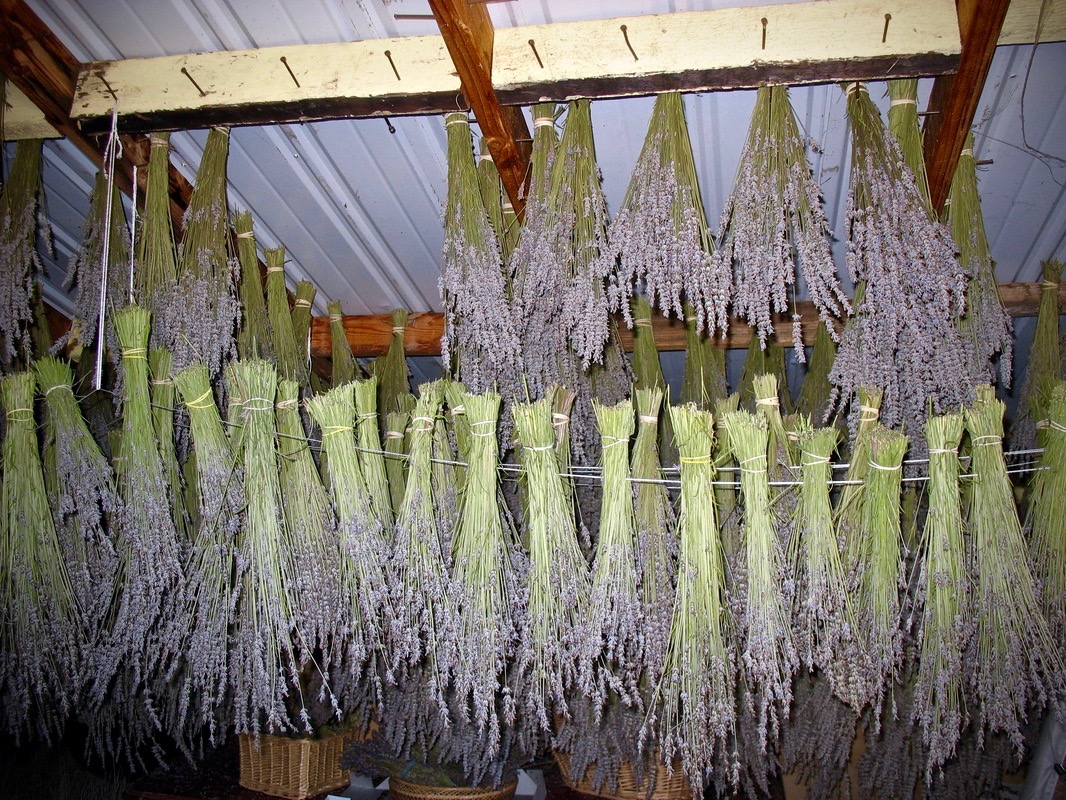 Sonoma Lavender in Kenwood is one of the larger lavender farms in Sonoma County — 7,000 plants on 5 acres.  It is open to visitors during a yearly two-weekend festival. As many as 5,000 people attend the event, which features food and wine booths, crafts and lectures on growing and harvesting blossoms.
Founded by Rebecca Rosenberg, Sonoma Lavender remains a family run business — the lavender fields are located only a few steps from the Rosenberg front door. The family grows three varieties of lavender: English Lavender with a sweet flowery aroma (used for bath products and lotions), Provence Lavender and Lavender Grosso; French cultivars with a more herb-like fragrance (used for sachets and pillows).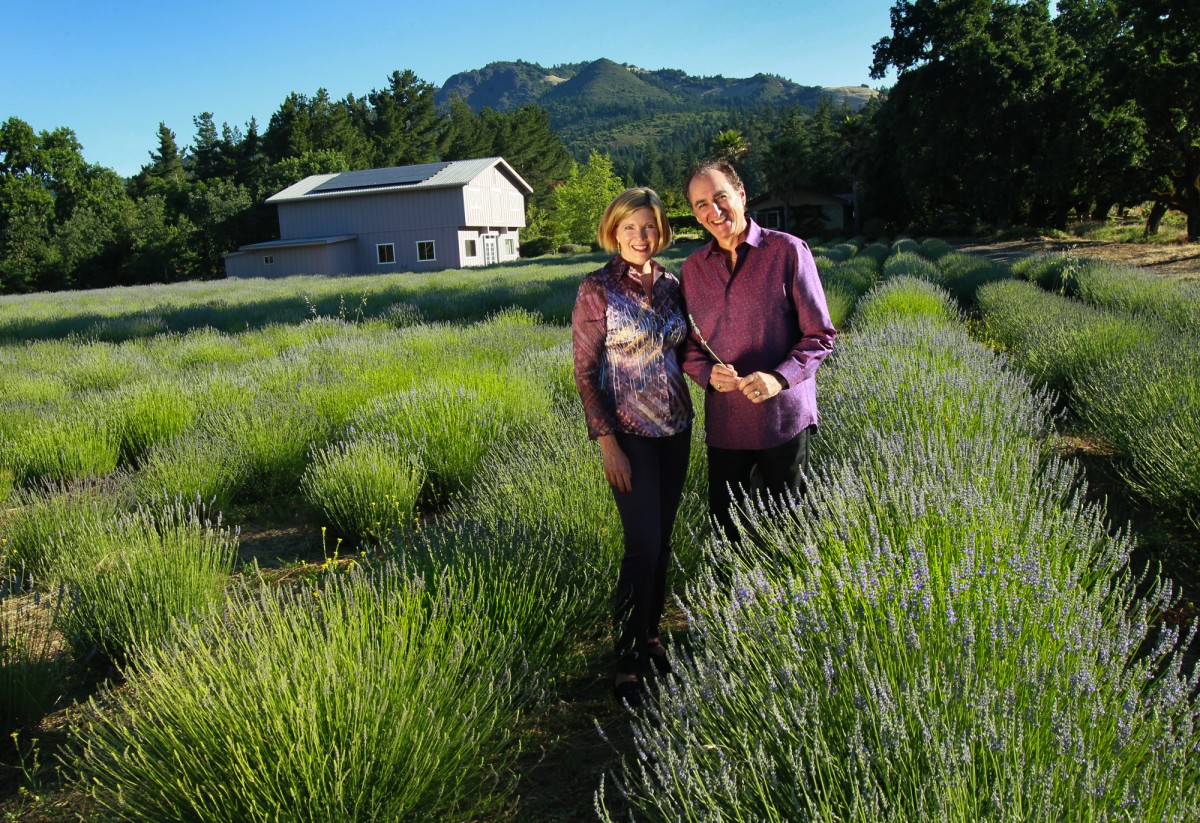 LAVENDER DISHES & DRINKS
At The Girl & The Fig in Sonoma, Sondra Bernstein creates rustic meals inspired by the French countryside. Lavender is a culinary staple and makes an appearance in the restaurant's crème brûlée as well as the seasoning salt. The Girl & The Fig features an antique bar with French aperitifs, an award-winning Rhone Alone, and an unusual — and wonderful — lavender twist on a classic mojito.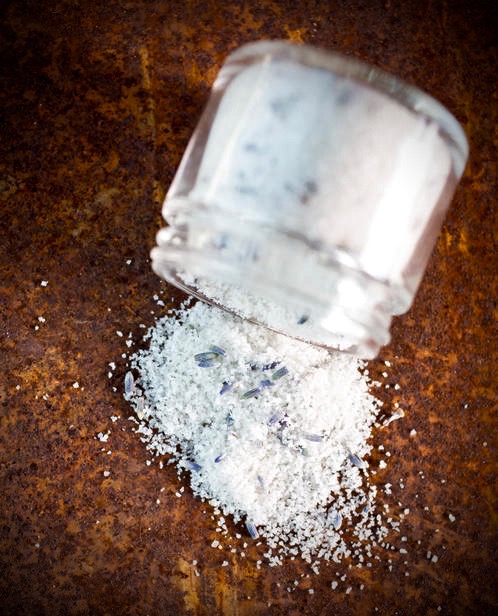 The Girl & The Fig "Earth Mother" Sondra Bernstein's Lovely Lavender Recipes…
Lavender Crème Brûlée
Serves 6
2 ¼ cups heavy cream
¾ cup whole milk
3 to 4 sprigs fresh lavender or 1½ tablespoons dried culinary lavender, plus additional for garnish
8 large egg yolks
½ cup sugar plus about 4 tablespoons sugar
2 tablespoons wildflower honey
Preheat the oven to 350°F.
Place the cream and milk in a saucepan and add the lavender. Bring to a boil and turn off the heat. Let the lavender steep for about 15 minutes or until the milk has a lavender flavor. (For a stronger flavor, allow the lavender to steep longer.)
Meanwhile, beat the egg yolks, ½ cup sugar, and honey until smooth. Whisk it into the lavender-cream mixture. Strain though a fine-mesh sieve and skim off any foam. Refrigerate for at least 4 hours or overnight.
Pour the mixture into 6 ramekins or brûlée dishes. Set the ramekins in a baking pan and add enough hot water to reach halfway up the sides of the ramekins. Cover the baking pan with foil and bake for 40 minutes or until set. (The custards are done when they stop jiggling.) Remove the baking pan from the oven and allow the ramekins to cool in the water bath for 5 minutes. Refrigerate, covered, for at least three hours or overnight.
Before serving, sprinkle the tops of the ramekins with a few teaspoons of sugar and caramelize with a small torch or under a broiler set on high.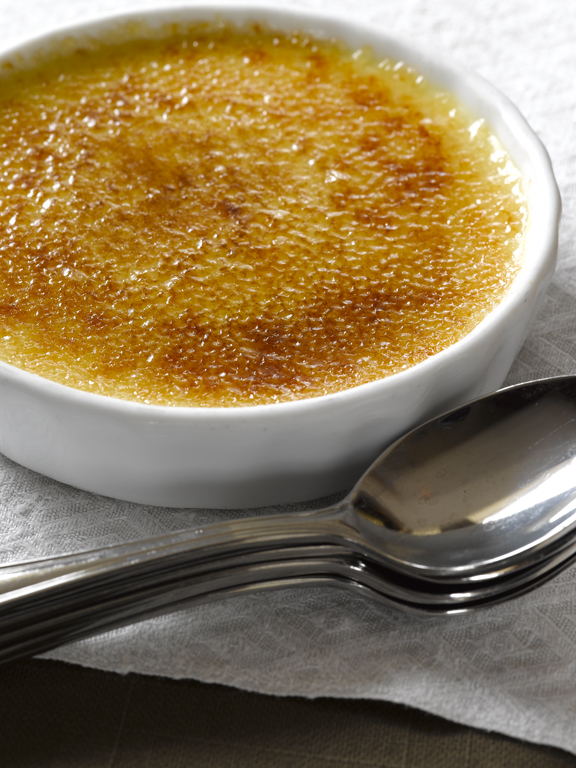 Goat Cheese & Lavender-Honey Toasts
Makes about 50 nibbles
½ cup honey
1 tablespoon culinary lavender (save a pinch for garnish)
1 cup fresh goat cheese
¼ cup heavy cream
Place the honey and lavender in a medium saucepot over medium heat. Let the lavender steep in the honey until you have reached the desired intensity. Strain the lavender and set aside.
Place the goat cheese and cream in a mixer fitted with a whisk attachment. Add the lavender honey to taste (about 5 tablespoons). Whisk until the mixture is light.
Place the goat cheese mixture on a toasted baguette or cracker of your choice. Drizzle with the honey and garnish with the reserved lavender.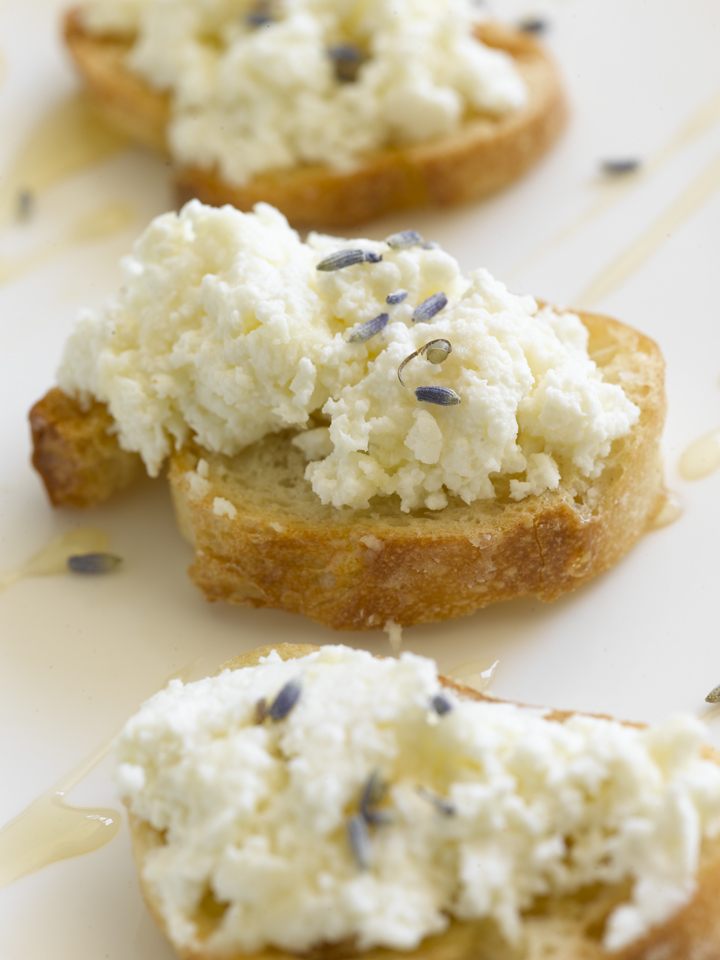 Lavender Mojito
Makes 2 cocktails
4 ounces light rum
16–20 fresh mint leaves
Juice of 2 limes
2 ounces Lavender Simple Syrup
Club Soda
Lavender sugar rim or lavender sprigs, for garnish
Muddle the mint leaves in the bottom of a pint glass. Add the rum, lime juice, and lavender simple syrup and muddle a bit more. Add the ice, stir, and top with a splash of Club Soda. Garnish with a lime wedge, mint leaves or a lavender sprig.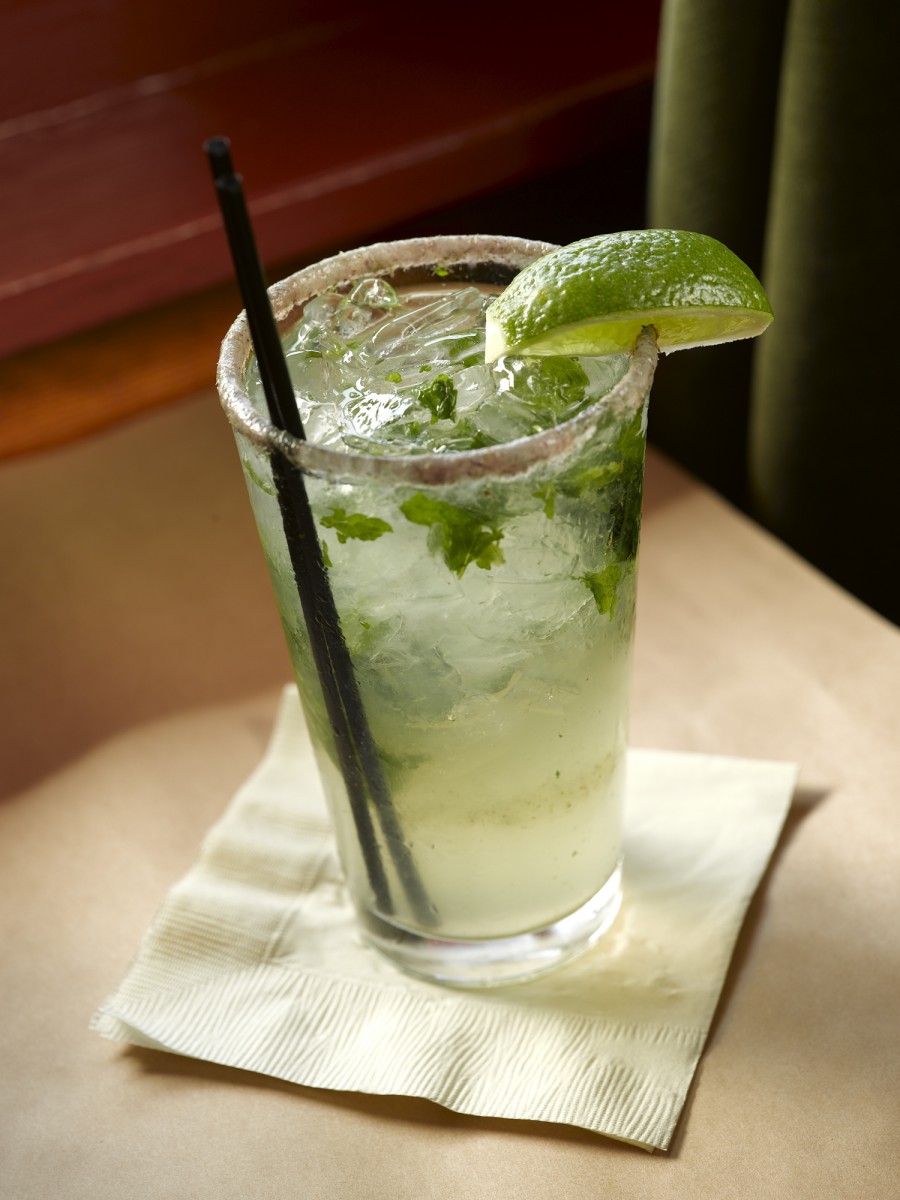 Lavender Simple Syrup
1 cup sugar
3 tablespoons culinary lavender
In a saucepot, bring 1 cup of water, sugar, and lavender to a boil. simmer until the sugar has completely dissolved. Turn off the heat and let sit until cool. strain the mixture through a fine mesh strainer and discard the lavender. Store the lavender simple syrup in the refrigerator for up to 1 month.
Note: Adjust the amount of lavender and the steeping time based on the strength of the lavender and your personal taste.
Lavender Sugar
½ cup superfine sugar
¼ cup culinary lavender
Place lavender and sugar in a coffee grinder and grind to a fine dust.
Local Lavender Ice Cream Dreams…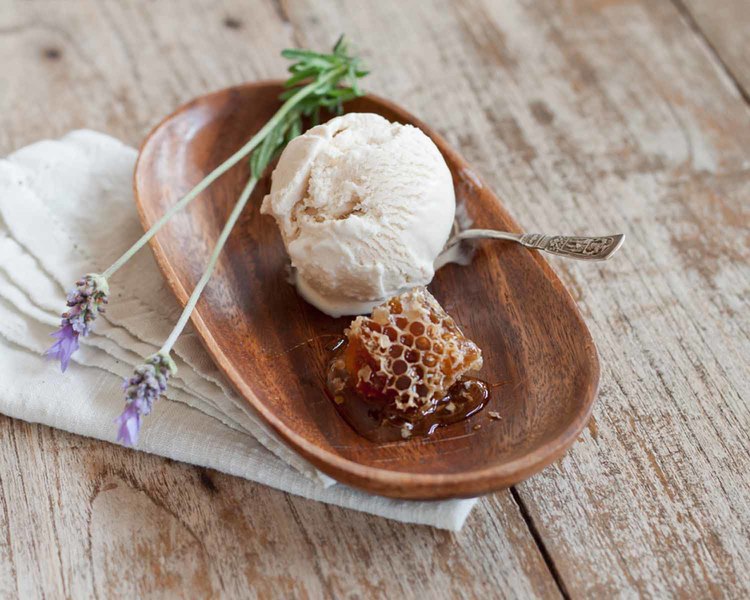 Lavender Honeycomb at Nimble & Finns
Locals and visitors alike line up for some of the best ice cream in Sonoma County at Nimble & Finns in Guerneville, including this artisan lavender dream.
Lavender Fig Ice Cream at Sweet Scoops
This homemade ice cream spot on the Sonoma town square always offers 22 flavors – including lavender.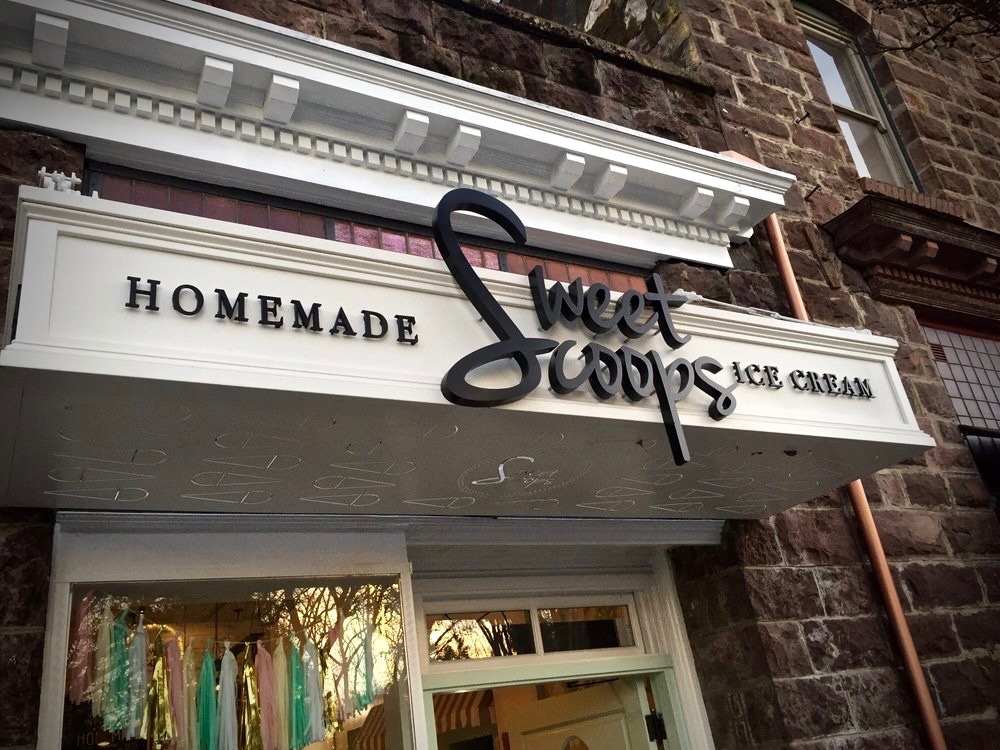 LOCAL LAVENDER BEAUTY PRODUCTS & TREATMENTS 
Three Sister's Apothecary/Soap Cauldron "French Lavender Body Butter"
While always loyal to lavender, I have been known to stray on occasion in my skincare choices. But in French Lavender Body Butter, I found my perfect match. I first encountered this fragrant skin delicacy at the Sebastopol apple fair, and since that star-crossed day my delicate Swedish skin and the butter have been inseparable. This family owned business is based at the Barlow in Sebastopol.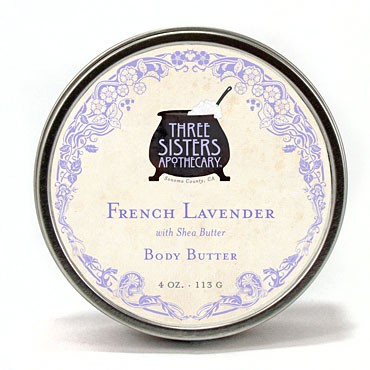 Perk's Pollinators Cocoa & Lavender Hand Balm 
Perk's Pollinators in Petaluma — run by Paty Perkins — pairs their beeswax with natural, organic and locally sourced ingredients to make healing balms, creams, scrubs and oils. This hand balm combines cocoa, mango seed butters, beeswax and lavender essential oils. The lavender provides balancing and calming properties while the beeswax adds antiseptic qualities.

Michele's Apothecary "Provence Lavender & Sugar Body Scrub"
This gently exfoliating and nourishing scrub is made with lavender grown on Sebastopol native aromatherapist Michele Steinert's organic farm. The lavender is blended with organic sugar and lavender essential oil.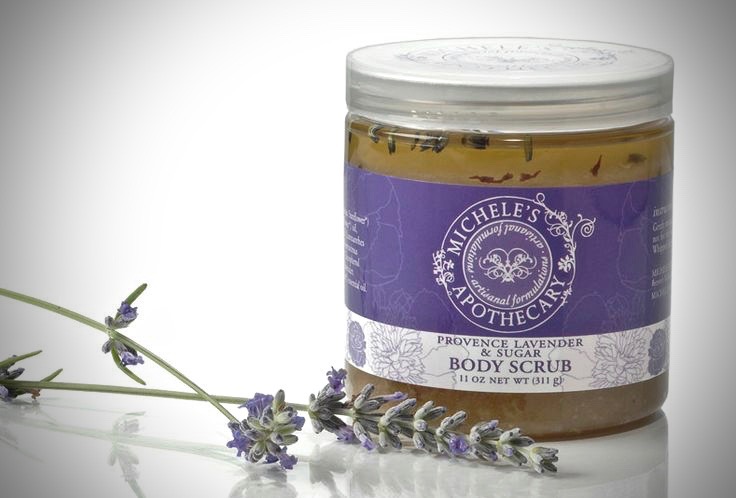 Lavender Peppermint Massage at Hotel Healdsburg Spa
Forget about farm-to-table, it's time for some farm-to-spa! The spa at Hotel Healdsburg offers a special collection of massages, wraps, scrubs and facials that features products crafted from Sonoma County farms – including this restorative lavender peppermint massage. Warm compresses of healing Himalayan salt and local herbs are placed along "meridian lines" to detoxify and balance the body. Then various massage techniques are used to soothe tight muscles while rich lavender body butter from Matanzas Creek Estate Lavender Garden leaves skin hydrated and nourished.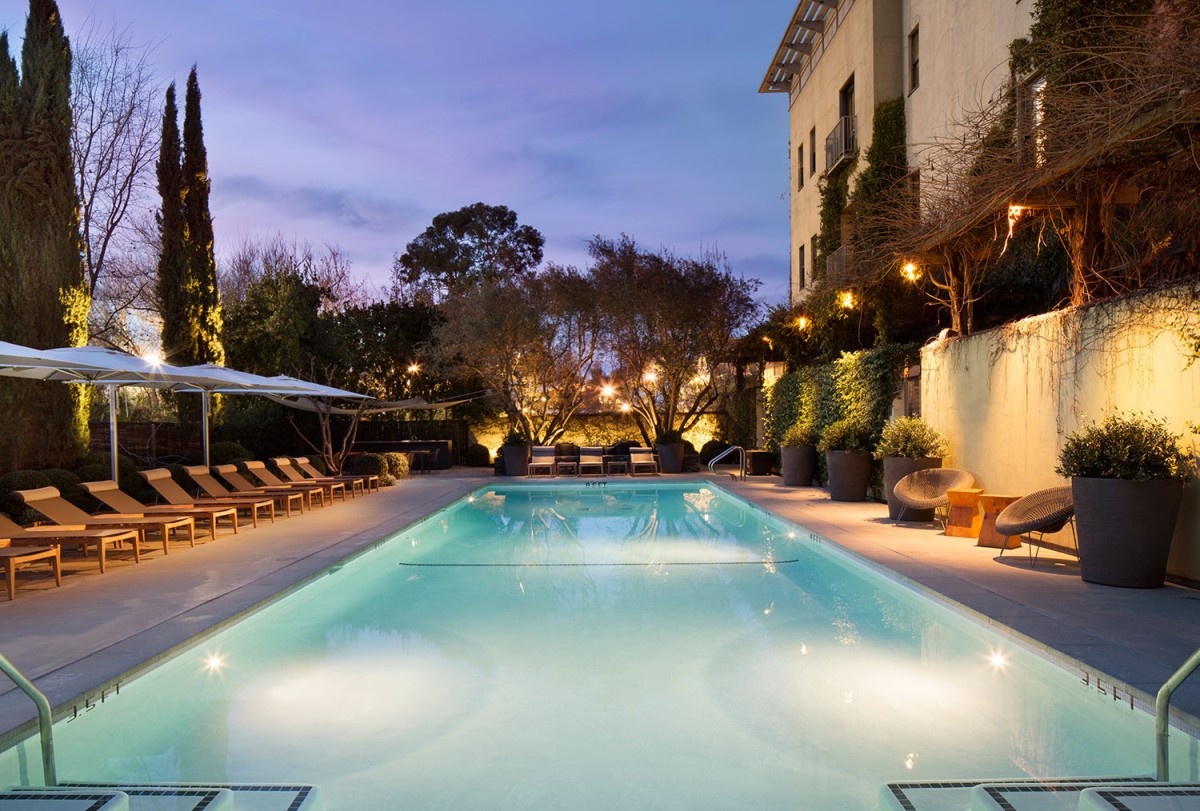 Looking for more things to do in Sonoma County? Click here