The thing about parks with great views is that hikers often have to endure a heart-pounding climb to reach those heights.
But Sonoma's newest gem of a park, North Sonoma Mountain Regional Park and Open Space Preserve, is different. Sure, you'll huff and puff on the main trail inside the 820-acre park near Glen Ellen, yet there are options for those less inclined to exert themselves.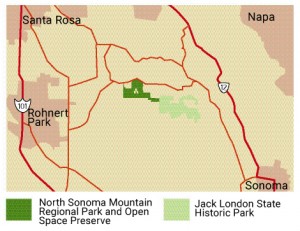 The elevation gain on the 4.5-mile main trail has numerous switchbacks through deciduous forests and across grasslands. About 2 miles in, the vista opens up to a breathtaking view of northern Sonoma Valley, the Santa Rosa Plain and several prominent landmarks, including Sugarloaf Ridge State Park, Hood Mountain and Mount St. Helena.
The preserve, located about 3 miles up Sonoma Mountain Road from Bennett Valley Road, abuts Jack London State Historic Park in Glen Ellen, offering hikers, runners and equestrians unfettered access to both outdoor settings. Together, the conjoined parks have roughly 25 miles of trails, making it easy to get lost for the day.
Not looking for that kind of adventure? In addition to the preserve's main trail, there's a wheelchair-accessible vista point above the park entrance. The Umbrella Tree Trail, which is three-quarters of a mile long and leads to a lone bay tree and picnic spot with views of Santa Rosa and Bennett Valley, is another option. There also are several creekside tables in the redwood grove at the Ridge Trail footbridge.