By now, Christopher Long is used to people's reactions when they see him. "Wow!" they exclaim, both women and men. "So sleek and handsome! So smooth! Delicious!"
Long sports a meticulously groomed beard, a fashionable ivy-style cap and a banker's vest over his button-down shirt. But the admiration isn't for him, it's for his custom teardrop trailer, outfitted in gleaming wood and copper, with a full bar, kegs, beer taps and an espresso machine.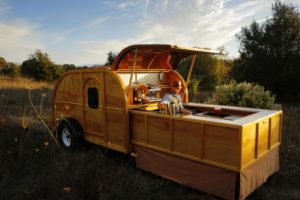 With the debut of his Libations Unlimited last year, the former mixologist at Healdsburg's Spoonbar has become the life of many parties, parking his 6-by-10-foot trailer wherever a host with $2,500 to $18,000-plus would like.
"There have been a few tight places for sure," Long said. "I've wheeled it through vineyards, gardens and fields, and once I had to back it up a narrow incline onto a small concrete slab and then rotate it 180 degrees for a pool party."
His farm-to-glass cocktails are made with mostly Sonoma ingredients, plus herbs and edible flowers grown organically in Long's garden in Forestville. When the bar is extended out of its trailer shell, it adds another 7 feet, giving him ample room to shake and stir to-order drinks, as well as serve high-end batch cocktails for larger groups.
In warm weather, Long likes to serve Rosemary's Blueberry, a bright, beautiful quaff of blueberry vodka, raspberry eau de vie, ruby red grapefruit juice, lemon juice and rosemary bergamot simple syrup, garnished with Sonoma blueberries and rosemary blossoms.
In December, Long handled party libations for 800 employees of Levi Strauss & Co. in San Francisco. He's already booked for many private events across Wine Country this summer. "It's the ultimate tailgater," Long said.