Sonoma has a thing for fermented beverages. There's wine, of course, and the region has become a destination for craft-beer fanatics. Will kombucha production be Sonoma's next claim to fermentation fame?
Made by adding a symbiotic colony of bacteria and yeast to sweetened tea — often yerba mate — kombucha has a light effervescence and a pleasant sweet-tart flavor. It's also known for its healthy probiotic benefits.
Revive Drinks began brewing kombucha in Windsor in 2010, selling its beverages at local farmers markets. The company has since outgrown its digs, and will move later this year to a 30,000-square-foot facility in Petaluma that will allow for increased production and wider distribution.
"We had one requirement for moving, and that was that we stay in Sonoma County," Revive founder Sean J. Lovett said. "That's just a huge part of who we are. Petaluma is a great, hard-working town with a bootstrapping kind of feel. I guess you could say we relate to that."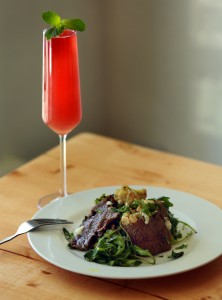 Petaluma will welcome a second kombucha producer this summer when Native Kitchen & Kombucha Bar launches its brewing operation. "We plan to brew for ourselves, and then be in market only to other on-premise (restaurant) sites," said brewer Joseph Dravis, who co-owns Native with his wife, Jasmine.
After spending nearly three years experimenting with test batches, Dravis said he's close to nailing down his ideal brew: lightly sweet and with a healthy amount of acidity.
In the meantime, Native will continue serving other California kombuchas on draft and mixed into creative cocktails, alcoholic and virgin, such as the Cherry Bomb (kombucha, Maurin Quina cherry liqueur and muddled ginger with a cayenne-sugar rim) and Thai Tonic (kombucha, muddled kafir lime, ginger and evaporated lemongrass).
Subscribe to Our Newsletters!