It's finally here: Sonoma Magazine's expert guide to the finest Sonoma County wines.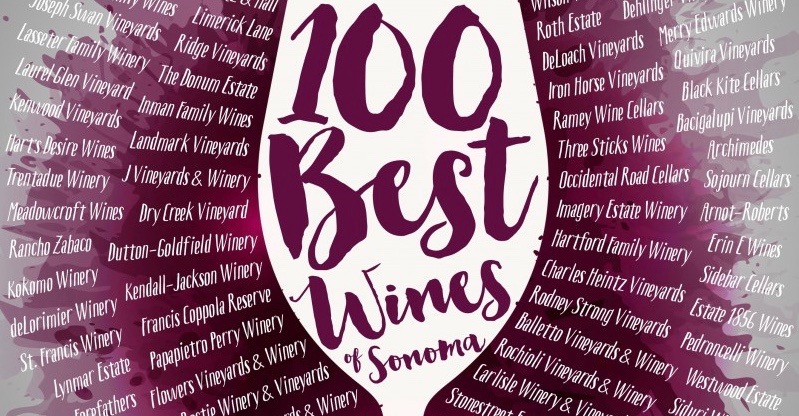 Our yearly roundup of Sonoma's finest has a decidedly Burgundian slant, with 39 of the Top 100 made from Chardonnay or Pinot Noir grapes.
It's no wonder: The two varieties made famous in France's Burgundy region thrive here, too, in growing areas such as Carneros, Russian River Valley and the Sonoma Coast. Cooling marine breezes and fog from the Pacific Ocean and San Pablo Bay create an ideal environment for growing Chardonnay and Pinot Noir, producing wines with plenty of ripe fruit aromas and flavors, and bright, mouthwatering acidity that makes them particularly refreshing and food-friendly. Even rival Napa Valley has figured out that Sonoma is the place for these grapes, with dozens of wineries there purchasing fruit, and in some cases vineyards, here, making Sonoma "cool" in a whole other way.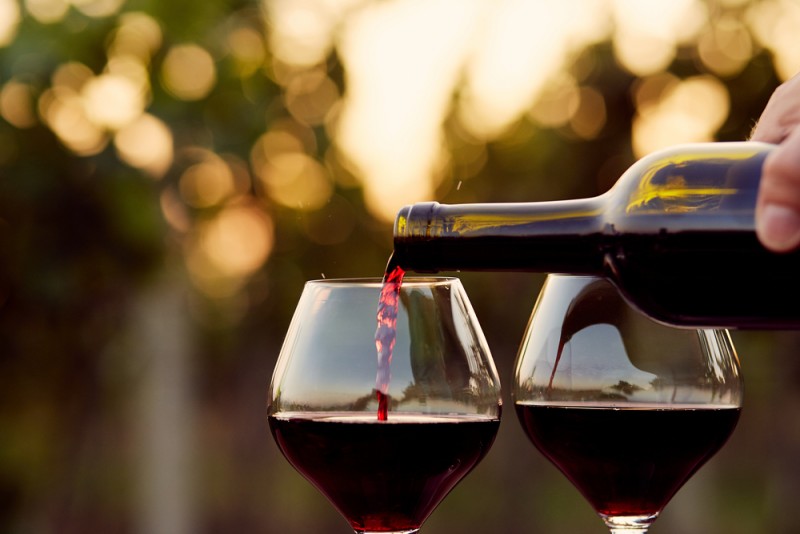 Yet the Top 100 also shows off Sonoma's winemaking and viticultural diversity. Sparkling wines, Sauvignon Blanc, rosé, Cabernet Sauvignon, Merlot, Rhone-style reds and whites, and of course, old-vine Zinfandel, all are strongly represented on the list.
A word must be said about retail pricing and availability. Sonoma has become such a winemaking powerhouse that its best bottles are relatively expensive — particularly Chardonnay, Pinot Noir and Cabernet Sauvignon. Demand, production volume and buzz largely drive wineries' pricing decisions: The more difficult a wine is to find, and the more high scores important critics award it, the more aficionados want to have it — and will pay whatever it takes. As well, prices paid for grapes by those without their own vineyards continue to soar, mirroring Napa. Winemakers must pay the going rates, and price their wines accordingly.
Still, there are many less-expensive wines in the Top 100, and a handful of outright bargains, most from long-established wineries with wide distribution. Dry Creek Vineyard, Kenwood Vineyards, Pedroncelli Winery and Rodney Strong Vineyards are among those offering terrific bang for the buck.
SO HERE IT IS, OUR TOP 100 LIST:
Sparkling
GLORIA FERRER CAVES & VINEYARDS
2004 Carneros Cuvee Late Disgorged Brut, $75
A 97-point-scorer at the 2016 North Coast Wine Challenge, it's yeasty and complex, with bright citrus, yellow stone fruit and green-apple character, finishing dry and mouthwatering. Deep and delicious, it won the Best of Show Sparkling award at the 2016 NCWC. (LM)
GLORIA FERRER CAVES & VINEYARDS
2007 Royal Cuvee Carneros Brut, $37
First served to Spain's King Juan Carlos and Queen Sophia on their visit to California in 1987, this bubbly has brisk fruit and a toasty brioche character that comes from extended aging in the bottle. It has the detailed complexity of Champagne and the brightness of Sonoma fruit. (LM)
INMAN FAMILY WINES
2012 Blanc de Noir Brut Nature Russian River Valley, $68
This 100 percent Pinot Noir sparkler was made in a "brut nature" style (meaning no added sugar). So it's bone-dry and racy, with green apple, citrus, raspberry and baking-spice notes. Scintillating on the palate, it's perfect with oysters on the half shell and rare ahi tuna. (LM)
IRON HORSE VINEYARDS
2012 Rainbow Cuvee Green Valley of Russian River Valley, $65
It's a blanc de noirs, comprised mostly of Pinot Noir, and it's both rich and racy, with berry fruit and notes of citrus and apple, with a brisk finish. The Obama administration has served this focused wine at White House LGBT receptions.(LM)
IRON HORSE VINEYARDS
2011 Brut X Green Valley of Russian River Valley, $50
Super-dry, tightly wound and nervy, it has mouthwatering acidity that suggests service with bivalves, fresh crab and petrale sole. Fans of ripe, fruity sparklers might prefer other Iron Horse wines, such as Wedding Cuvee and Brut Rosé, but this exciting wine is for those who prefer greyhounds over golden retrievers.(LM)
J. VINEYARDS & WINERY
NV Cuvee 20 Russian River Valley, $32
This nonvintage wine sparkles with bright citrus, green apple and Asian pear fruit, with subtle hints of toast and brioche. Made in a slightly sweet style, it's a great breakfast, lunch and aperitif wine, and delicious with lighter desserts, including angel food cake. (LM)
J VINEYARDS & WINERY
2006 Late Disgorged Vintage Brut Russian River Valley, $95
J's Cuvee 20 and Brut Rosé sparklers are tasty and widely available, yet this bottling is far more serious and remarkably complex, and its price reflects that. Aromas of brioche, toasted hazelnut and baked pear lead to a crisp palate of Meyer lemon, tangy raspberry and subtle creaminess, the finish unfolding layer after layer. (LM)

Sauvignon Blanc
DRY CREEK VINEYARD
2015 Dry Creek Valley Sauvignon Blanc, $18
This bracing wine offers layers of white grapefruit, quince, green melon and pear aromas and flavors, with a subtle tropicality. Firm, focused and with mouthwatering acidity, it's a fine foil for grilled fish and herbed roast chicken. As Sonoma Sauvignon Blanc soars in price, this one is an excellent value. (LM)
J. RICKARDS VINEYARDS & WINERY
2015 Croft Vineyard Alexander Valley Sauvignon Blanc, $19
Rich apple, pear and tangy citrus flavors are supported by flinty minerality and touches of vanilla and toast. This wine floods the mouth with flavor, yet remains brisk and refreshing, with an exceedingly long finish. (LM)
QUIVIRA VINEYARDS
2014 Refuge Dry Creek Valley Sauvignon Blanc, $30
Not the average California Sauvignon, it was barrel-aged and spent time in contact with the exhausted yeast cells after fermentation. This added smoky, earthy aromas and rich palate texture. Crisp pineapple, quince and lime flavors linger on the snappy close. (LM)
ROCHIOLI VINEYARDS & WINERY
2015 Russian River Valley Sauvignon Blanc, $30
The winery's foundation wine is lean and racy, with primary white grapefruit aromas and flavors giving way to more subtle notes of green melon and spice. Unlike most Rochioli wines, it's relatively easy to acquire, and rewarding for its bracing, seafood-friendly nature. (LM)
SONOMA-CUTRER VINEYARDS
2015 Winemaker's Reserve Russian River Valley Sauvignon Blanc, $25
NCWC judges awarded 96 points to this energetic, lime-infused wine with accents of grapefruit, lemongrass, guava and sweet English peas. A background vanilla note adds creaminess, achieved by partial fermentation in oak barrels. It's a wine gimlet in the glass. (LM)
TRIONE VINEYARDS & WINERY
2015 River Road Ranch Russian River Valley Sauvignon Blanc, $23
Aromas of lemongrass, green melon and fig lead to a brisk palate of the same, plus white peach and yellow nectarine. There is also a pleasant jalapeño/justcut grass thread running through this medium-rich, refined wine, presented with style and polish. (LM)
Other Whites
ARNOT-ROBERTS
2014 Heinstein Vineyard Old Vine White Wine Sonoma Valley, $34
Sixty-year-old Riesling, Sylvaner and other ancient vines produced this exotically floral, crisp wine with pineapple, lime, quince and wet-stone character. Heinstein, previously called Compagni Portis Vineyard, is on the western flank of Mount Veeder and is remarkable for its unusual varietal mix and vine age. (LM)
BALLETTO VINEYARDS
2014 Russian River Valley Pinot Gris, $19
A mix of stainless-steel and neutral-oak fermentation gives this wine both vibrancy and polish. Made in a richer Alsatian style (as opposed to leaner Italian Pinot Grigio), it delivers lime, white peach and spice personality and mouth-filling texture similar to that of Chardonnay, with juicy vibrancy. (LM)
GUNDLACH BUNDSCHU
2014 Estate Vineyard Sonoma Coast Dry Gewürztraminer, $22
Textbook rose petal, ginger and lychee aromas lead to a juicy palate of pears, apples and citrus. It's a dry wine that gains subtle sweetness from the ripe fruit, making it ideal for pork tenderloin and curries. (LM)
JOSEPH SWAN VINEYARDS
2014 Catie's Corner Russian River Valley Viognier, $26
Rod Berglund continues to make an amazing array of wines showcasing the heart of the Russian River Valley, and working with Catie's Corner Viognier is a happy marriage of winemaker and site. Berglund whole-cluster-pressed the grapes and fermented them in stainless steel. That allows a freshness of acidity and tension on the palate, along with briny lemon zest and floral notes. (VB)
KENWOOD VINEYARDS
2015 Russian River Valley Pinot Gris, $16
There's good value in this crisp, slightly spicy wine with fleshy melon, peach, mango and lime aromas and flavors. The kiss of sweetness is balanced with zesty acidity. (LM)
MEADOWCROFT WINES
2013 Louvau Vineyard Dry Creek Valley Viognier, $28
Vivid aromas of honeysuckle, jasmine and peach lead to a rich, concentrated palate of ripe pear, peach and tropical fruit flavors. It's a big, voluptuous wine with weight and personality. (LM)
Chardonnay
THE DONUM ESTATE
2014 Estate Carneros Chardonnay, $50
Caramel oak brackets the unfolding layers of cinnamon- dusted baked apple, papaya, banana and grilled pineapple. Flashes of racy citrus run throughout. It's a rich wine with loads of flavor, best suited for service with fatty salmon and creamy lobster risotto. (LM)
DUTTON-GOLDFIELD WINERY
2014 Russian River Valley Chardonnay, $50
At once opulent and focused, it has fleshy tropical and green apple fruit, crème brûlée richness and bracing acidity. Full-flavored yet elegant, it packs in a lot of flavor at just 13.8% alcohol. And it's widely available. (LM)
FLOWERS VINEYARDS & WINERY
2013 Camp Meeting Ridge Estate Sonoma Coast Chardonnay, $80
Yes, it's expensive, but for cold-climate Chardonnay fans accustomed to drinking Burgundy, it's a relative bargain. The bracing chill in Cazadero produces a wine with great energy, steely minerality and hints of Meyer lemon, lemon curd and peach. Delicate and subtle now, it has a track record for becoming fuller and richer with time in the bottle. (LM)
GARY FARRELL VINEYARDS & WINERY
2014 Russian River Selection Russian River Valley Chardonnay, $35
Theresa Heredia makes several stunning, single-vineyard Chardonnays at Gary Farrell, yet her blending skill is evidenced by this less-expensive Russian River Valley blend. It's a delicious melange of Meyer lemon, green apple, poached pear, vanilla and crème brûlée, with mouthwatering acidity. (LM)
HARTFORD FAMILY WINERY
2014 Hartford Court Stone Côte Sonoma Coast Chardonnay, $65
Hartford purchased grapes from a vineyard block in the Durell Vineyard near Sonoma for this wine. It's full-bodied yet bright, with honeysuckle, white peach, green apple and clover honey personality. Crunchy acidity makes for a long, refreshing finish. (LM)
JORDAN VINEYARDS & WINERY
2014 Russian River Valley Chardonnay, $32
This citrus- and green-apple-based wine is lean and mouthwatering now, yet has a history of evolving into a richer, broader wine in the cellar. Drink it now with pan-seared halibut and Dungeness crab cakes, but consider holding it a few years for service with roast pork loin and Thanksgiving turkey. (LM)
MACROSTIE WINERY & VINEYARDS
2014 Sangiacomo Vineyard Carneros Chardonnay, $46
Steve MacRostie's roots are in Carneros, though he also makes wines from grapes grown in Russian River Valley and the Sonoma Coast. His long relationship with the Sangiacomo family in Carneros gives him access to top-notch grapes from the ranch. That's demonstrated in this wine, which balances fresh tropical, pear and citrus flavors with nuanced oak character and brisk acidity. The result is an elegant, refined wine. (LM)
MARTINELLI WINERY & VINEYARDS
2013 Bella Vigna Sonoma Coast Chardonnay, $45
While keeping with the potent richness theme of Martinelli wines, this one has plenty of succulent green apple and grapefruit character to make it bright and refreshing. The voluptuously ripe fruit is countered by crackling acidity and a hint of minerality. (LM)
MEDLOCK AMES
2014 Lower Slope Russian River Valley Chardonnay, $40
Vivid aromas of honeysuckle and white blossoms lead to a decadent palate of crème brûlée, citrus and pear. Lively acidity cuts through the caramel-oak richness, and the finish is long and generous. (LM)
OCCIDENTAL ROAD CELLARS
2013 Horseshoe Bend Russian River Valley Chardonnay, $28
This NCWC 96-point wine from a little-known producer comes at an excellent price for its high quality. The wine is rich in ripe pear, crisp Gravenstein apple, and spicy oak character. Hurray for the little guys. (LM)
PATZ & HALL
2014 Sonoma Coast Chardonnay, $40
Produced from several vineyards, including the prestigious Gap's Grown Vineyard near Penngrove, it's one of Patz & Hall's subtlest Chardonnays, with a keen balance of richness, plump fruit, minerality and snappy acidity. It offers ripe pear, pineapple, Meyer lemon, cinnamon toast and marzipan goodness. Elegance in a glass. (LM)
RAMEY WINE CELLARS
2013 Russian River Valley Chardonnay, $40
David Ramey sources grapes from a handful of Russian River Valley vineyards for this wine, blending them into a sumptuous, mouth-filling drink with green apple, pear and citrus fruit meshing with vanilla oak and spice. It's boldly flavored yet remarkably vibrant and energetic. (LM)
ROTH ESTATE
2014 Sonoma Coast Chardonnay, $28
It knocked the socks off NCWC judges, who awarded it 96 points for its inviting tropical fruit and Granny Smith apple aromas that lead to hints of creamy vanilla, golden apple and grilled pineapple. It finishes crisp and refreshing, with a minerally note. (LM)
THREE STICKS WINES
2014 One Sky Sonoma Mountain Chardonnay, $50
Winemaker Bob Cabral packed some punch into this wine, giving it full French oak treatment so that it features heady aromas and flavors of butterscotch, hazelnut, crème brûlée and baked bread. The midpalate and finish unfold with lively citrus, lemon curd and yellow-peach flavors, with enough fresh acidity to balance the oak influence. (LM)

Rosé
BALLETO VINEYARDS
2014 Russian River Valley Rosé of Pinot Noir, $19
Fresh strawberry and red-plum aromas and flavors dominate this exuberantly fruity wine, which gets a tangy kick from tangerine and grapefruit. It finishes soft and juicy, making it a fine lunch and pre-dinner sipper. (LM)
LASSETER FAMILY WINERY
2015 Enjoué Sonoma Valley, $28
This rosé is packed with lively Bing cherry and raspberry personality. A blend of Syrah, Grenache and Mourvedre, is has deep coral color, enough richness to stand up to pork and lighter beef dishes, and finishes long and mouthwatering, with a kick of baking spice. (LM)
KOKOMO WINERY
2015 Pauline's Vineyard Dry Creek Valley Grenache Rosé, $24
A Best of Class winner in previous NCWC tastings, it remains a winner, although the acclaim has made it a bit more difficult to find. Vivacious red cherry, watermelon and raspberry flavors ride a wave of brisk acidity, with ruby grapefruit and lime on the long finish. (LM)
LYNMAR ESTATE
2015 Estate Russian River Valley Rosé of Pinot Noir, $25
The color of a fresh-cut watermelon, it delivers mouthwatering watermelon, strawberry, pineapple and tangerine flavors in a slightly richer style than most, yet not at all heavy. Great with salmon. (LM)
SIDEBAR CELLARS
2015 Russian River Valley Rosé, $21
A project of Ramey Wine Cellars, Sidebar is an affordable option for tasting David Ramey's wine-making talents. This rosé is 100 percent Syrah, from old vines growing in the Russian River Valley.Crisp and refreshing, it sports juicy strawberry and berry flavors accented by a thread of citrus. (LM)
Pinot Noir
BACIGALUPI VINEYARDS
2014 Russian River Valley Pinot Noir, $65
The Bacigalupi family's Goddard and Frost Ranch vineyards provided the grapes for this unfined, unfiltered and utterly refreshing wine with vivid cherry, strawberry, spice and vanilla tones. (LM)
BALLETTO VINEYARDS
2014 Winery Block Russian River Valley Pinot Noir, $42
NCWC judges awarded it 96 points for is superb balance, juicy Bing cherry and black raspberry flavors and spicy oak. Generous and mouth-filling, the wine has plush texture and a long, fruity finish. (LM)
BENOVIA WINERY
2013 Cohn Vineyard Pinot Noir, $70
The vineyard produced just 1 ton per acre of grapes, yet the fruit was intense and concentrated, giving the wine its rich red-fruit flavors that are balanced by minerally acidity and supple texture. (LM)
BLACK KITE CELLARS
2013 Gap's Crown Vineyard Sonoma Coast Pinot Noir, $55
Winemaker Jeff Gaffner produced a signature Gap's Crown Pinot: super-savory with loam, forest floor, sarsaparilla and smoke aromas. Brisk acidity frames the juicy, mouth-filling black cherry, blueberry and boysenberry fruit. Mouthwatering. (LM)
CHARLES HEINTZ VINEYARDS & WINERY
2013 Swan Selection Sonoma Coast Pinot Noir, $48
NCWC judges gave this smooth, supple wine 96 points and praised its intense cherry and dried-cranberry fruit, vanilla and spicy oak notes, and long, polished finish. (LM)
DELOACH VINEYARDS
2013 Swicegood Vineyard Green Valley of Russian River Valley Pinot Noir, $55
Utterly silky and delicious, it gushes with juicy darkcherry and red-berry fruit tinged with savory hints of beetroot, tobacco leaf and toasted hazelnut. The tannins are velvety, the finish lush and long. (LM)
THE DONUM ESTATE
2013 Estate Russian River Valley Pinot Noir, $65
This sumptuous, generous wine has wonderfully rich dark berry and black currant fruit balanced by bright acidity. Hints of anise, blackberry pie (with crust) and lavender add to the seductive mix. (LM)
ERIN E WINES
2013 Sonoma Stage Vineyard Sonoma Coast Pinot Noir, $37
Erin Eileen Bush is the woman behind this new, tiny-production brand. She hit the ground running with this wine, which earned 97 points at NCWC. It has richness and depth, with a cherry pie a la mode character (juicy cherry, vanilla and cinnamon-dusted crust). The finish lasts forever. (LM)
FRANCIS COPPOLA RESERVE
2014 Dutton Ranch Russian River Valley Pinot Noir, $38
NCWC judges' love affair with Pinot Noir continued with this 97-pointer from winemaker Corey Beck. Made in a riper style, it's an intense wine with full body and length, luscious blackberry and dark cherry fruit, and hints of Asian spice, toast and vanilla for complexity. (LM)
GARY FARRELL VINEYARDS & WINERY
2014 Hallberg Vineyard Dijon Clones Pinot Noir Russian River Valley, $60
This plump, luscious wine is made from Pinot Noir clones 667 and 777 grown on the Hallberg ranch. It sports intense dark cherry and briary raspberry fruit, balanced by suave tannins and a refreshing finish. (LM)
HARTFORD FAMILY WINERY
2014 Hartford Court Russian River Valley Pinot Noir, $40
Grapes from the estate and a small amount of purchased fruit combine in this deep-fruited, concentrated wine with earthy, dark-cherry aromas and flavors, silky texture and palate-whisking acidity. (LM)
JOSEPH SWAN VINEYARDS
2013 Trenton Estate Vineyard Russian River Valley Pinot Noir, $69
Delicate and focused, it has briary red raspberry and cherry fruit, subtle wood spice and a snappy finish. A classy wine best served with mushroom-sauced pasta and pork belly. (LM)
KOKOMO WINERY
2014 Peters Vineyard Winemaker's Reserve Sonoma Coast Pinot Noir, $48
This four-clone blend is voluptuous and dense, with loads of black cherry and plum fruit. Black tea — a common characteristic in cool-climate Pinot Noir — adds a savory note to this supple wine's brisk finish. (LM)
LANDMARK VINEYARDS
2014 Detour Sonoma Coast Pinot Noir, $35
This wine showcases the dark-fruit profile of Pinot Noir. Black cherry and raspberry flavors are enhanced by notes of truffle, lavender and cola. The tannins are structured yet supple, suggesting a long life in the cellar. (LM)
LYNMAR ESTATE
2014 Russian River Valley Pinot Noir, $45
Three vineyards, including the estate Quail Hill Vineyard, contributed to this succulent, layered wine packed with red cherry and cranberry fruit, framed by spicy oak. It's soft, sumptuous and polished. (LM)
MACPHAIL WINE
2013 The Flyer Russian River Valley Pinot Noir, $49
James MacPhail's devotion to Pinot Noir shows in this fleshy wine with heady aromas and flavors of black cherry, black raspberry and cola. A subtle shading of toasty oak and vanilla enhances the mouth-feel and carries through on the long finish. (LM)
MERRY EDWARDS WINERY
2013 Meredith Estate Russian River Valley Pinot Noir, $60
Edwards' first owned vineyard produced a compact, well-structured wine with myriad notes of black cherry, wild berry, Asian spice, cola and toffee. It finishes both silky and firm, and is a great match for grilled duck breast. (LM)
PAPAPIETRO PERRY WINERY
2013 Russian River Valley Pinot Noir, $53
Bright, tangy and checking in at a moderate 13.5 percent alcohol, this pretty, elegant wine favors red fruits over black and boasts hints of fresh herbs and black tea for a slightly savory profile. Saliva-inducing acidity leaves a lingering finish and invites another sip. (LM)
PEDRONCELLI WINERY
2014 Signature Russian River Valley Pinot Noir, $20
Kudos to Pedroncelli for producing a varietally true Pinot Noir at an affordable price. It's not full and rich, as are most Pinots on this list, but rather bright and tangy, with clean cherry and raspberry character, a hint of spice and an underlying earthiness. (LM)
SIDURI WINES
2013 Ewald Vineyard Russian River Valley Pinot Noir, $49
Its effusive floral aroma leads to a nicely balanced, almost delicate, and energetic palate of juicy red cherry, pomegranate and raspberry fruit, with subtle spice from oak aging. Focused on finesse rather than power, it's an elegant wine with huge charm and poise. (LM)
SOJOURN CELLARS
2013 Sangiacomo Vineyard Sonoma Coast Pinot Noir, $50
Best known for the family's Carneros vines, Sangiacomo also has a stunning vineyard at the base of Sonoma Mountain, in the chilly Petaluma Gap region. It's the source for this bracing and layered Pinot, with dark cherry and berry fruit, cola, black tea and woodsy notes. It has the firm structure for service with duck, lamb and even beef dishes. (LM)
SONOMA-CUTRER VINEYARDS
2014 Russian River Valley Pinot Noir, $34
This generous, round and vibrant Pinot Noir is the most available of Sonoma-Cutrer's reds, with dark -cherry and red-plum fruit, forest-floor complexity and caressing tannins. The price is right for high-quality Russian River Valley Pinot Noir. (LM)
SONOMA-CUTRER VINEYARDS
2013 Vine Hill Vineyard Russian River Valley Pinot Noir, $55
This wine scored 95 points from NCWC judges, who praised its rich dark-berry flavors, creamy oak shading and vibrant acidity. It's currently available only to wine club members — though NCWC judges didn't know that at the time of tasting — so contact the winery for purchasing options. (LM)
THREE STICKS WINES
2013 Russian River Valley Pinot Noir, $60
Former Williams Selyem winemaker Bob Cabral, now with Three Sticks in Sonoma, coaxed a 98-point NCWC wine from a handful of vineyards near Sebastopol. It's elegant and vibrant, sporting deep aromas and flavors of cherry, boysenberry, cola, sassafras and spice. Firm tannins make it cellar-worthy. (LM)
WESTWOOD ESTATE
2014 Clone 37 Annadel Gap Vineyard Sonoma Valley Pinot Noir, $54
It scored a chart-breaking 99 points at the NCWC and was chosen 'Best of the Best' — meaning the best wine in the competition. Made in a lush, juicy style, it reduced judges' comments to simply "wow" and "yum." A retaste shows ripe black cherry and darkberry aromas and flavors, silky, seamless texture, and enough acidity to keep the excitement going on the palate. (LM)
Cabernet Sauvignon
ARCHIMEDES
2013 Alexander Valley Cabernet Sauvignon, $85
NCWC judges gave it 95 points for its firm structure, textbook cedar, forest floor and cassis character, and toasty French oak. A flagship wine from Francis Ford Coppola, Archimedes is as serious as Cab gets and should age beautifully for a decade or more. (LM)
CHATEAU ST. JEAN
2013 Cinq Cépages Sonoma County Cabernet Sauvignon, $80
Made from five Bordeaux red varieties led by Cabernet Sauvignon, this is a finely tuned wine with boysenberry, black currant, chocolate and black-tea notes. Supple and delicious now, it will show its complete self with cellaring. (LM)
DRY CREEK VINEYARD
2013 Dry Creek Valley Cabernet Sauvignon, $25
A super-steal for top-notch Cabernet, it could easily pass for a $50-plus wine. Youthful and firmly structured, it has textbook Cab qualities of forest floor, cedar and a pleasant hint of dried herbs, all wrapped around a core of juicy black cherry and plum fruit. (LM)
FOREFATHERS
2013 Lone Tree Vineyard Alexander Valley Cabernet Sauvignon, $69
Smoothly tannic yet structured, it offers succulent black cherry and black currant flavors and unfolding layers of toasty oak, tobacco, herbs, pepper and cedar. It's a great match for rosemary-studded lamb. (LM)
LAUREL GLEN VINEYARD
2013 Counterpoint Sonoma Mountain Cabernet Sauvignon, $40
Laurel Glen's "second" Cabernet Sauvignon (the "regular" is estate-grown) is ready to drink now, with bright, juicy blackberry and red currant fruit and round, supple tannins. Crushed rock, licorice and smoke add interest, and the finish is long and vibrant. (LM)
MEDLOCK AMES
2013 Fifty Tons Bell Mountain Vineyard Alexander Valley Cabernet Sauvignon, $60
Black, bold and brawny describes this youngster, which will mature beautifully with three or more years in the cellar (or enjoy now with rare steak). Black and blue fruit flavors are seasoned with oak spice, cedar, forest floor and tobacco leaf notes. (LM)
MOSSBACK
2013 Chalk Hill Cabernet Sauvignon, $25
This NCWC 95-point wine is medium-bodied and with generous amounts of Petit Verdot and Merlot added for depth and complexity. At its core is rich, ripe cherry and dark berry fruit and barrel spice. (LM)
RODNEY STRONG VINEYARDS
2013 Alexander Valley Cabernet Sauvignon, $20
Longtime Rodney Strong winemaker Ric Sayre can be counted on to produce classic Cabernet Sauvignon at an affordable price. This medium-bodied wine ticks all the boxes, with cassis, dark cherry, cedar and mocha character on a soft, rounded palate, finishing fresh. 95 points, NCWC. (LM)
STONESTREET ESTATE VINEYARDS
2012 Alexander Valley Estate Cabernet Sauvignon, $45
From the hilltops and benchlands of Alexander Valley comes this lovely Cabernet dusted in cedar and a faint rose-petal aroma. Along with a delicate supporting cast of oak and tannin, it offers black cherry, graphite and dried herbs, as well as a powerful concentration on the finish. (VB)
TRENTADUE WINERY
2013 La Storia Alexander Valley Cabernet Sauvignon, $36
Full-bodied and ripe, it earns kudos for its juicy plum and dark cherry flavors and background notes of tobacco and allspice. Rounded tannins complete the picture. (LM)
Other Red Varietals
ESTATE 1856 WINES
2013 Tzabaco Rancho Vineyards Dry Creek Valley Malbec, $36
Brian and Janice Schmidt (she's the winemaker) won gold and achieved 95 points at the NCWC with this brawny, dense wine with blackberry, blueberry and mulberry flavors accented by chocolate, vanilla and baking spice. The tannins are quite firm, suggesting a year or more of bottle age will reward the patient. (LM)
I MILLE
2012 Knights Valley Cabernet Franc, $42
Another Francis Ford Coppola/Corey Beck wine, I Mille earned 95 points from NCWC judges. It's a melange of red cherry, black raspberry, tobacco leaf, dried herbs and clove character, quite ripe, and with toasty, vanillin oak coming through on the finish. (LM)
KENDALL-JACKSON WINERY
2013 Grand Reserve Sonoma County Merlot, $26
Spicy oak frames the plush, juicy red plum and black fruit; the supple, mouth-coating tannins are balanced by palate-whisking acidity. It delivers more than its relatively modest price would suggest. (LM)
KENWOOD VINEYARDS
2013 Jack London Vineyard Sonoma Mountain Merlot, $28
Five percent Cabernet Sauvignon boosts the structure of this wine, which brims with blueberry, cherry and redplum flavors. Nicely oaked, it has vanilla, cola, spice and toast nuances, plus an intriguing mintiness. The tannins are soft, the finish firm and long. (LM)
LAMBERT BRIDGE WINERY
2012 Sonoma County Merlot, $60
Silky and supple, it delivers a mouthful of red and black cherry fruit, accented by spice, cola, tobacco leaf and a very subtle chocolate note on the finish. Sumptuous and satisfying. (LM)
PEDRONCELLI WINERY
2014 Alto Vineyards Dry Creek Valley Sangiovese, $17
This medium-bodied, easy-drinking red is a great weeknight quaffer, with bright cherry, plum, spice and dried-herb aromas and flavors. Its rounded tannins and crisp acidity make it suitable for pizza, meat-sauced pasta and dishes with tomatoes. (LM)
ST. FRANCIS WINERY
2013 Sonoma Valley Merlot, $45
Small amounts of Cabernet Sauvignon and Malbec lend complexity and structure to this medium-bodied Merlot. Plump and plummy, it offers hints of dark chocolate, vanilla, cedar and spice, with rounded tannins and a juicy finish. (LM)
Rhone-Style Reds
DEHLINGER VINEYARDS
2013 Goldridge Russian River Valley Syrah, $45
From one of the few producers to have estate-grown Syrah in the Russian River Valley, this wine is made from vines planted in Goldridge soils and exhibits robust, tangy red fruit and notes of leather, pepper and wild game. Owner/ founder Tom Dehlinger's daughter, Eva, is now the winemaker. (VB)
DUTTON-GOLDFIELD WINERY
2013 Cherry Ridge Vineyard Green Valley of Russian River Valley Syrah, $50
This wine can get lost in the accolades for the winery's superlative Chardonnays and Pinot Noirs, but not here. Boldly flavored in blackberry and blueberry fruit, it's laced with white pepper and subtle bacon fat character, with smooth tannins and nervy acidity. (LM)
FLANAGAN
2013 Bennett Valley Syrah, $50
Smoky and meaty in both aroma and palate, it has deep, ripe plum, wild berry and dark-cherry fruit, a generous shake of black pepper, and iron-like minerality. Smooth tannins and a lush mouthfeel make it drop-dead-delicious.(LM)
J. RICKARDS VINEYARDS & WINERY
2013 Brown Barn Vineyard Alexander Valley Petite Sirah, $32
Grower Jim Rickards and winemaker Blaine Brazil teamed for this textbook Sonoma Petite Sirah — and there is nothing small about it. Big, bold flavors of blackberry, blueberry and dark plum gain even more weight from toasty oak and hints of molasses and mocha. It's a mouthful. (LM)
LASSETER FAMILY WINERY
2013 Chemin de Fer Sonoma Valley Grenache-Syrah-Mourvedre, $56
A longtime proponent of Rhone blends, Lasseter combines 60 percent Grenache, 23 percent Mourvedre and 17 percent Syrah to full-bodied, ripely robust effect, all from estate-grown fruit. Smoky, charred oak and spicy acidity wrap around lush blackberry, cherry and tar character, with plenty of grip on the finish. (VB)
QUIVIRA VINEYARDS
2014 Wine Creek Ranch Dry Creek Valley Grenache, $32
Packed with juicy goodness (vivacious red cherry, red raspberry and strawberry pie) and silky, Pinot Noir-like in texture, it pairs nicely with salmon, duck breast, roast chicken and even mild curry. (LM)
RAMEY WINE CELLARS
2013 Rodgers Creek Vineyard Sonoma Coast Syrah, $65
Waves of black pepper, graphite, leather and smoke unfold on the nose and palate, supporting the rich but not-too-ripe blackberry and dark plum fruit. Oak sits in the background, and vibrant acidity seals the deeply delicious deal. (LM)
Zinfandel
CARLISLE WINERY & VINEYARDS
2014 Saitone Ranch Russian River Valley Zinfandel, $47
The appellation famous for Pinot Noir and Chardonnay packs a powerfully pretty punch when it comes to Zinfandel, too, particularly in winemaker Mike Officer's hands. He coaxes a soft, focused layering of maraschino cherry and cranberry out of the grapes, and there's an underlying richness and hints of white and black pepper. (VB)
DELORIMIER WINERY
2013 Harris Kratka Vineyard Alexander Valley Zinfandel, $38
Aromatic and with well-defined boysenberry and black cherry fruit, it's a deep, concentrated wine along the line of Cabernet Sauvignon, but with Zin's signature black pepper note. Mocha and dark chocolate come from oak aging, and the mellow tannins coat the mouth. (LM)
DRY CREEK VINEYARD
2014 Heritage Vines Sonoma County Zinfandel, $22
Year after year, it over-delivers for the price, with brambly raspberry and ripe cherry fruit, background leafy herbs and black pepper, and a succulent finish.(LM)
HART'S DESIRE WINES
2013 Ponzo Vineyard Russian River Valley Zinfandel, $32
"Beautifully made and spectacular," said NCWC judges, who gave the wine 97 points. Its dark-berry fruit is racy rather than jammy, there's plenty of peppery spice, and the finish is long and mouth-cleansing. (LM)
LIMERICK LANE
2013 Rocky Knoll Russian River Valley Zinfandel, $50
Looked after by the Bilbro brothers, Jake and Scot, Limerick Lane's dry-farmed, rocky outcropping of vines planted initially in 1910 produced this thick, rich and beautifully composed wine. It's full-bodied and balanced, with hints of cherry cordial and white pepper. (VB)
PEZZI KING
2013 Hunny Hill Reserve Dry Creek Valley Zinfandel, $75
Jammy and juicy, it's loaded with sassy personality. A 96-pointer at NCWC, it delivers bold blackberry, cassis and plum fruit and gains complexity from white pepper, dark chocolate, Asian spice and roasted-hazelnut notes. The price, not known to NCWC judges at the time of tasting, is head-turning. (LM)
ORDAZ FAMILY WINES
2013 Montecillo Vineyard Sonoma Valley Zinfandel, $42
Chuy Ordaz grows the grapes and his son, Eppie, makes the wine for this small producer. Old vines in the Montecillo Vineyard produced this full-bodied, zesty Zin, which has a subtle minty note to the maraschino cherry, blackberry and mocha aromas and flavors. (LM)
RANCHO ZABACO
2014 Sonoma Heritage Vines Dry Creek Valley Zinfandel, $15
This is a super-bargain wine, soft, smooth and easy to drink. Jammy raspberry, blackberry and red currant fruit is laced with black pepper and baking spice, balanced by just enough acidity to keep it fresh and vibrant. (LM)
RIDGE VINEYARDS
2014 Lytton Springs Dry Creek Valley, $40
Not labeled as Zinfandel, it's still 74 percent Zin, blended with Petite Sirah, Carignane and Mourvedre. Smoke, earth, leather and briary red fruit mark the aromas; the palate is deep, broad and mouth-filling, with dark cherry and black raspberry fruit, savory elements and a lingering finish. (LM)
WILSON WINERY
2013 Dry Creek Valley Zinfandel, $35
NCWC judges were impressed by the layered flavors and velvety tannins of this wine, awarding it 97 points. Classic Dry Creek Valley Zin character of white and black pepper seasons the plump blackberry and black raspberry flavors, and the finish is juicy and long. (LM)
Other Reds
BENZIGER FAMILY WINERY
2013 Joaquin's Inferno Sonoma Mountain, $70
This certified Biodynamic wine is named for Joaquin Corona, former winemaker Mike Benziger's "grape whisperer." It's an unusual Zinfandel-Petite Sirah-Grenache blend that packs a wallop, with an almost black color, dense black and blue fruit, strong bramble personality and loads of spice. Hello, smoky ribs and wild game. (LM)
2013 Tusca Brava Pine Mountain-Cloverdale Peak, $50
Winemaker Joe Benziger's take on a Super Tuscan wine — one that combines traditional Italian Sangiovese grapes with Bordeaux varieties such as Cabernet Sauvignon and Merlot — scored 97 points at NCWC, with judges praising its red-fruit flavors, plush texture and affinity with Italian cuisine. (LM)
RODNEY STRONG VINEYARDS
2013 Symmetry Meritage Red Wine Alexander Valley, $55
A blend of Cabernet Sauvignon, Petit Verdot, Cabernet Franc, Malbec and Merlot, it exhibits earthy, loamy aromas and fresh flavors of plum, black cherry, raspberry and cassis. Vanillin oak softens the firm tannins, making for a balanced, delicious wine that will likely improve with cellaring. (LM)

Methodology
Sonoma wine critics Virginie Boone and Linda Murphy selected the Top 100 Wines from their extensive tastings and winery visits throughout 2016, and considered 95-point-and-higher scorers at The Press Democrat 2016 North Coast Wine Challenge (which Boone and Murphy helped judge).
Boone is a frequent contributor to Sonoma magazine, and the Sonoma and Napa critic for Wine Enthusiast magazine. She is a former Press Democrat wine writer, and contributes the LikeWine feature for Sonoma magazine. Murphy, Sonoma magazine's managing editor, was the founding editor of the San Francisco Chronicle's wine section, contributes to Decanter magazine and Food & Wine magazine's annual wine guide, and is a wine consultant for Air New Zealand.
Only wines produced from Sonoma County grapes, by wineries located in the county, were eligible for the Top 100. Diversity in price, varietal and geography were important factors in determining the list. Sonoma magazine could have easily come up with a Top 300, so high is the quality of the local vino.
All Top 100 Wines were released in 2016, although some may no longer be in the marketplace. If you have difficulty finding a wine, contact the winery's tasting room for availability. Also consider purchasing a newer vintage of the wine, as the 2013, 2014 and 2015 harvests were spectacular throughout Sonoma.
Note: Initials after each wine description are for reviewers Virginie Boone (VB) and Linda Murphy (LM).
Wines produced in Sonoma County, from Sonoma County grapes, are legally required to include "Sonoma County" on their labels.
For brevity, "Sonoma County" has been omitted from the wine names.