Counter Culture: Grab a stool at one of these spots and you'll feel right at home.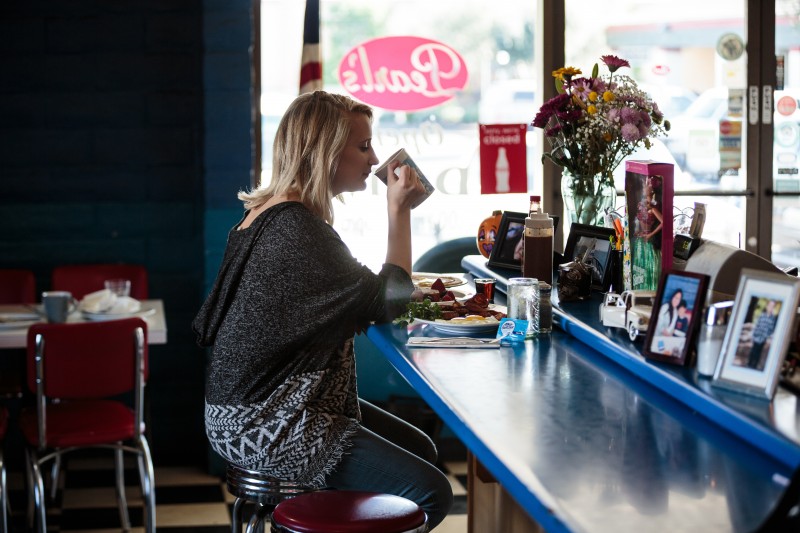 Hunkering down over a meal at the counter of a mom-and-pop joint has long been the stuff of movies. Who hasn't watched that small-town scene, where the stranger arrives and walks into a diner, and the heads of the patrons — regulars, all — swivel to check out the new guy?
Soon enough, the new guy is enjoying a cuppa at the counter too, welcomed by the friendly crowd of Mayberry, USA.
These days, counters tend to be more like bars, diners more like gastropubs, and mom and pop more likely celebrity chefs basking in the aura of their suddenly chic farm-to-table lifestyle. As for strangers? In our Wine Country cities bustling with tourists, we've got a constant flow of new faces.
Yet this region still boasts a charming small-town mentality. We're all villagers together, ready to offer a seat (artisanal latte optional) to a newcomer. Perhaps it's this embracing culture, but many Sonoma County restaurants center around counters, bars and, in a more modern twist, order-at-the-counter service where food is shared at communal tables.
Since farm-to-table thrives in these parts, even at lower-key places like burger joints, you can also count on the grub being really good. Read on for some of our favorites — places where you'll feel like a regular after just one visit, and where a seat at the counter lets you connect directly with the good folks making your food.
LOCAL GEMS
Ricardo's Bar & Grill – Santa Rosa
Longtimers will remember this space in the Annadel Shopping Center as John Barleycorn's. In 2011, current owner Rick Miron took over and made great improvements.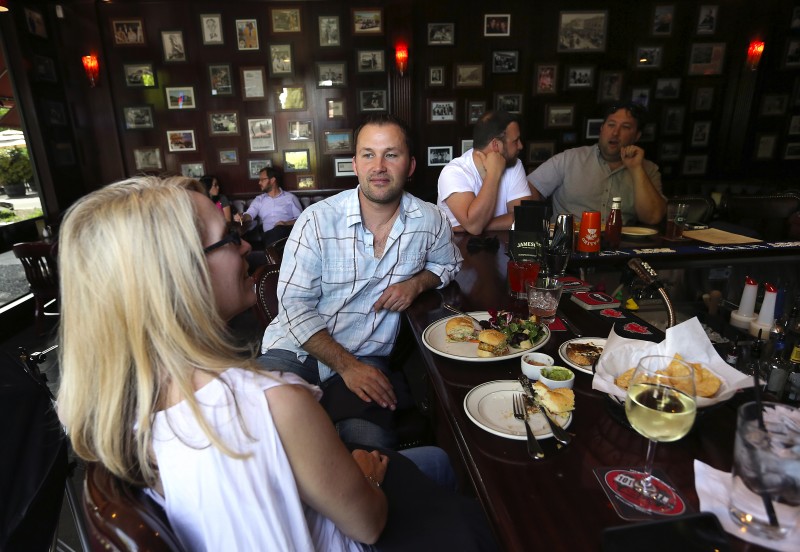 You'd never know it from the outside, but enter and you'll discover a warm, embracing time machine — a dark-lit lounge where you can cozy up to the bar and swap stories with fellow fans of classic cocktails, cold beers and comfort food favorites like prime rib French dip piled high on a Basque Boulangerie roll with a side of crispy French fries ($15.50).
You'll immediately feel "inner circle," sitting back in a tall nailhead chair as you gaze at the elaborately carved wood bar back. The handful of red, tufted leather booths keep the long, narrow space intimate, and nobody minds if you lean over them a bit to study the dark wood walls lined to the ceiling with historic photos of the Santa Rosa area.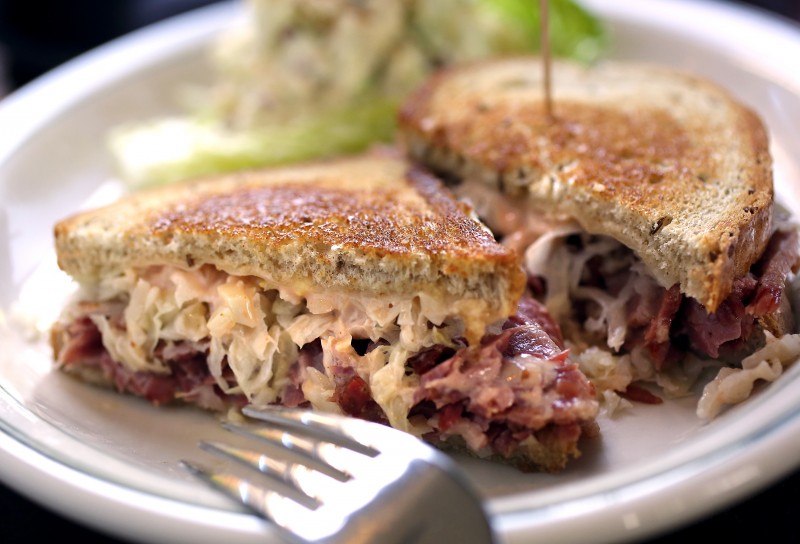 To eat, there's fried chicken — bringing a half-bird with fries and housemade gravy for a bargain $17.50 — fish and chips ($16.50) and an overstuffed club sandwich ($14).
Daily specials strike a nostalgic chord, like Monday's meatloaf with three-cheese mac and veggies ($16.50), and Tuesday's beef stroganoff ($16.50), all served with coffee or tea.
To drink, sip cocktails made with locally crafted Prohibition Spirits, quaff Sonoma County wines, or savor a loaded Bloody Mary complete with bacon, olives, pickles, pearl onion, bay leaf and pepperoncini.
2700 Yulupa Avenue, Santa Rosa, 707-545-7696, ricardosbarandgrill.com
There's belly dancing the first Monday of the month, trivia night every third Thursday, and live music most nights. What better recipe for crowd bonding could there be? You order at the counter, then grab one of the closely set tables, and a server brings the food.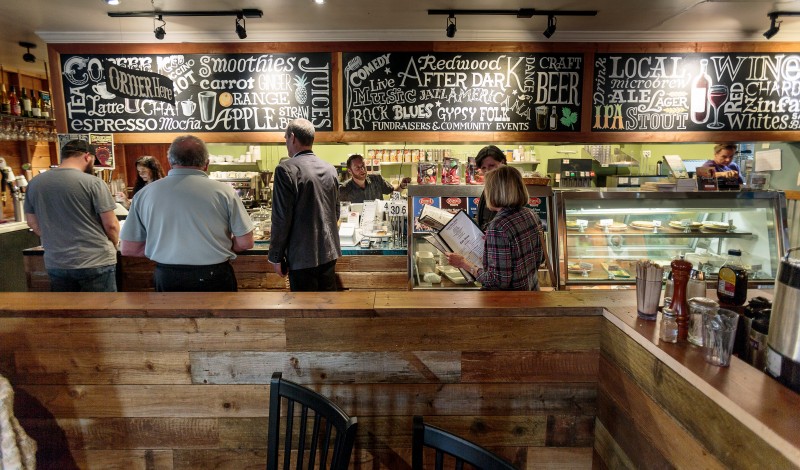 Breakfast and brunch are served all day, like homemade corned beef hash ($10.95), or seven kinds of eggs Benedict, including a Bodega version plump with crab cakes ($13.25).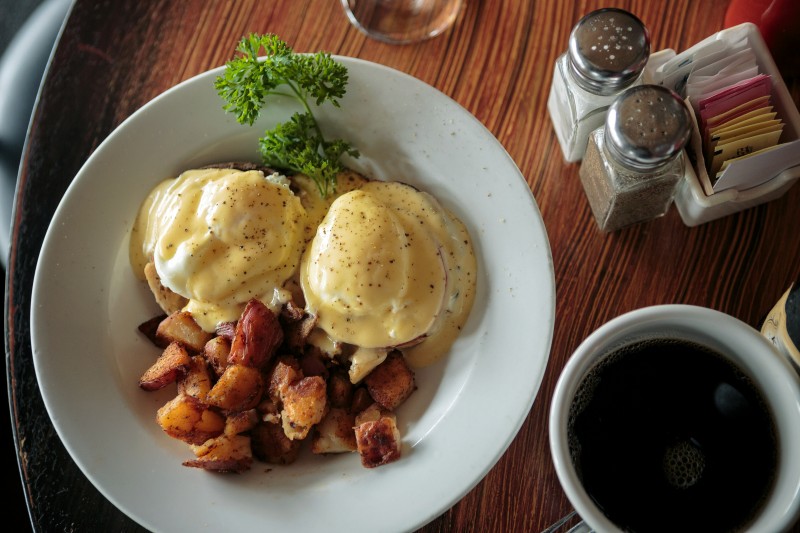 In a contemporary touch, the "Triad Body Building Menu" offers items like a Tsunami omelet built from four egg whites, four ounces of turkey, mushrooms, spinach and almond cheese ($11.95) and a Chocobutter Muscle Bomb protein shake ($6.50). Lunch and dinner classics feature linguine and clams ($14.75), a mango snapper wrap kicked up with spicy ginger slaw and jasmine rice ($13.25), and the bomb: a meatloaf burger ($10.95).
8240 Old Redwood Highway, Cotati, 707-795-7868, redwoodcafe.com
Mel's Fish & Chips – Santa Rosa
Since 1989, this tiny family-run spot has packed folks in for perfectly fried fish draped in crisp, light batter. Most guests take their meals to go, since the space truly is miniature, with a bright blue, fish-mural-painted order counter and just a few barstools facing out toward the parking lot.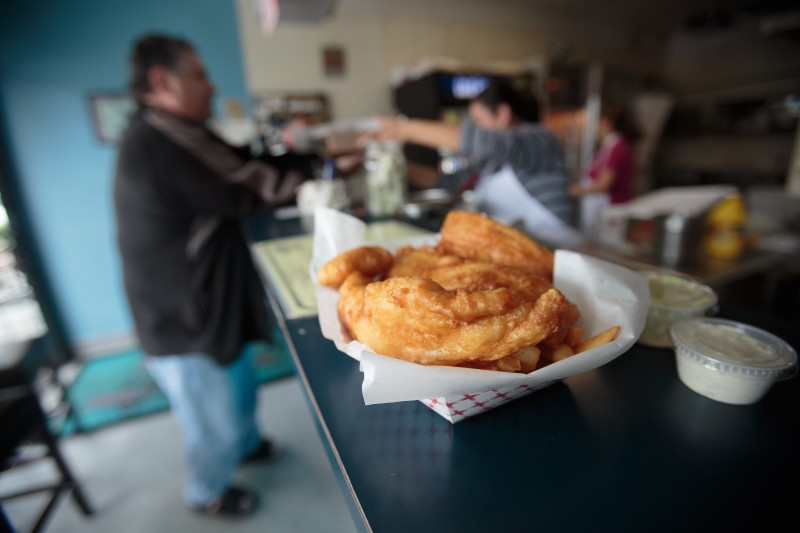 Still, it's more fun to snag a seat and watch the world go by as you dig into hefty combos like the #2: batter-fried Alaskan cod fillet with four fried calamari rings, two fried prawns, fluffy-crisp steak fries, coleslaw and homemade cocktail and tartar sauces ($9.99).
Locals know to come on Fridays for the clam chowder special
($3.99), or wait for winter, when there's a "special" every day of the week.
1016 Hopper Avenue, Santa Rosa,  707-578-1954, visit on Facebook.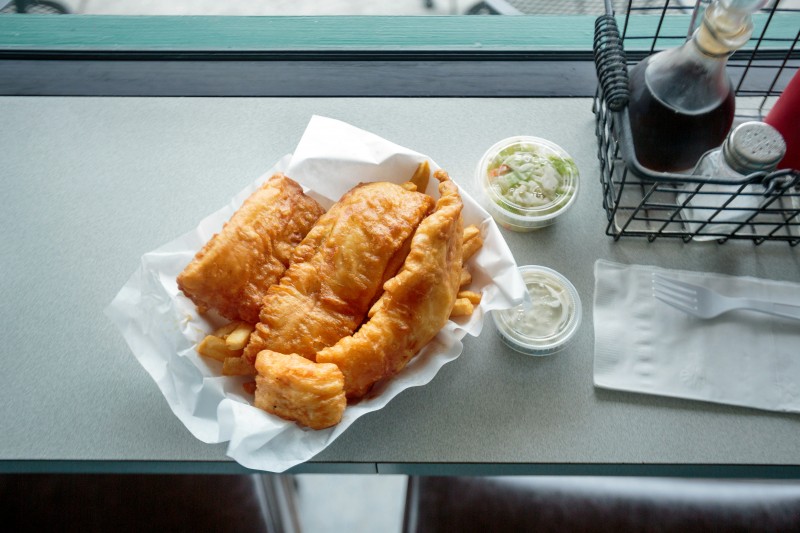 CLASSIC DINERS 
The owners, the Atallah family, definitely know their customers at this diner just a half-mile from Santa Rosa Junior College. With service from 6 a.m. to midnight daily, plus all-day breakfast, it's all about big portions of comfort food at reasonable prices, no matter when you wake up.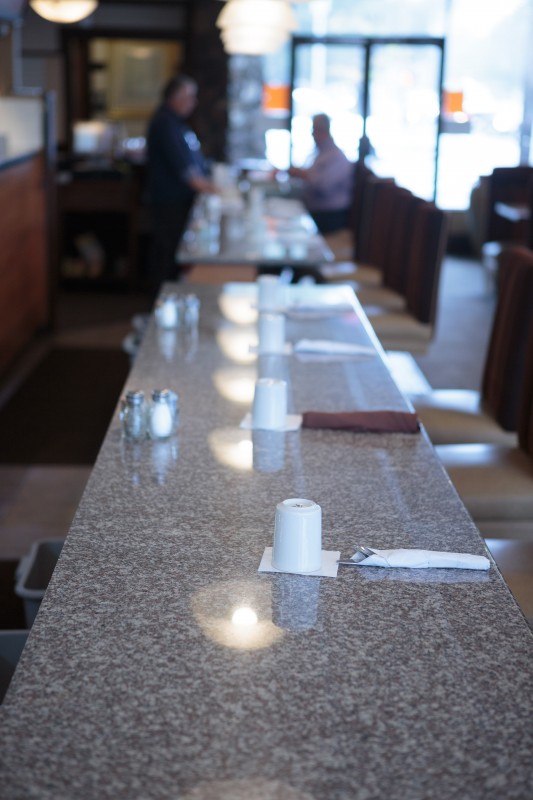 Growling bellies fill up on staples like chicken fried steak smothered in gravy ($11.25), a flame broiled sourdough burger with fries and all the fixings ($12.25), and a hot corned beef sandwich ($11.25). Chicken Marsala is a downright feast, meanwhile, bringing a double breast sautéed with fresh mushrooms, garlic butter and Marsala wine, served with vegetables, choice of potato, garlic bread, green salad or a bowl of the soup of the day ($17.25).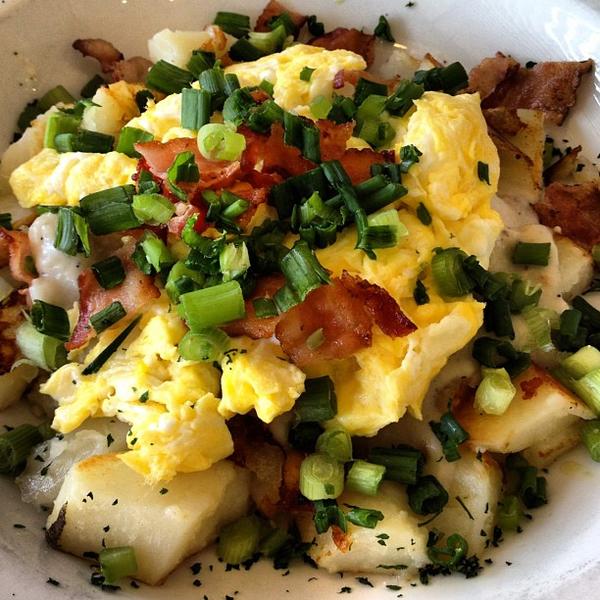 Set in a former Sambo's, the classic spot invites you to dine at the counter overlooking the open kitchen, with a spiffierthan- expected interior that's minimalist chic with lots of wood trim, cocoa fabric furniture and — well, OK — hanging ferns for that throwback feel.
456 College Avenue, Santa Rosa, 707-578-1003, visit on Facebook.
The look is all-American '50s, with the royal blue counter framed in red and white tile and set with fire engine red and chrome bar stools.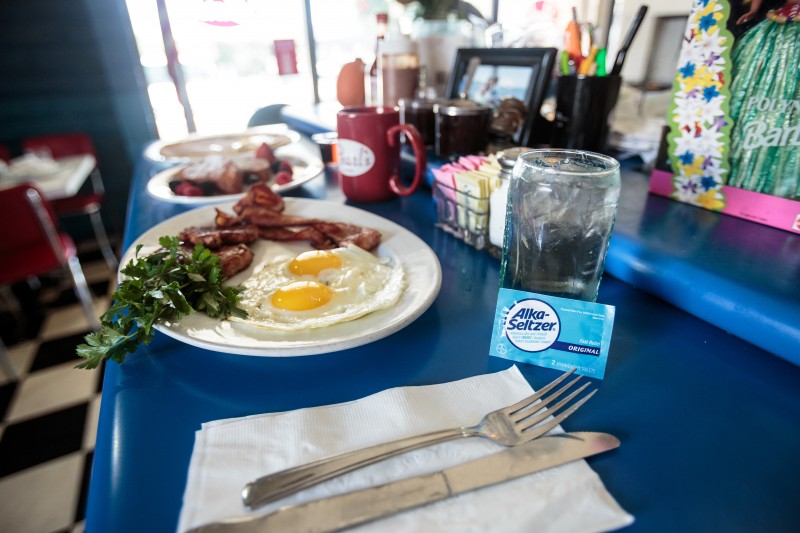 Food leans to the greasier side of life, but meats come from Niman Ranch, produce is local, and a bonus: Breakfast is served all day. Isaac's 2×2 sums up the adventure nicely, as a signature meal of two eggs, two pancakes, two French toast slices, two strips of bacon, two sausage links and two Alka-Seltzers ($13.95).
There's a third-pound patty melt drowned in Swiss cheese and Russian dressing ($10.95), messy chili fries piled in cheese and onions ($5.45), and what's not love about a big slice of freshbaked apple pie ($5.25)?
561 5th Street West, Sonoma, 707-996-1783, visit on Facebook.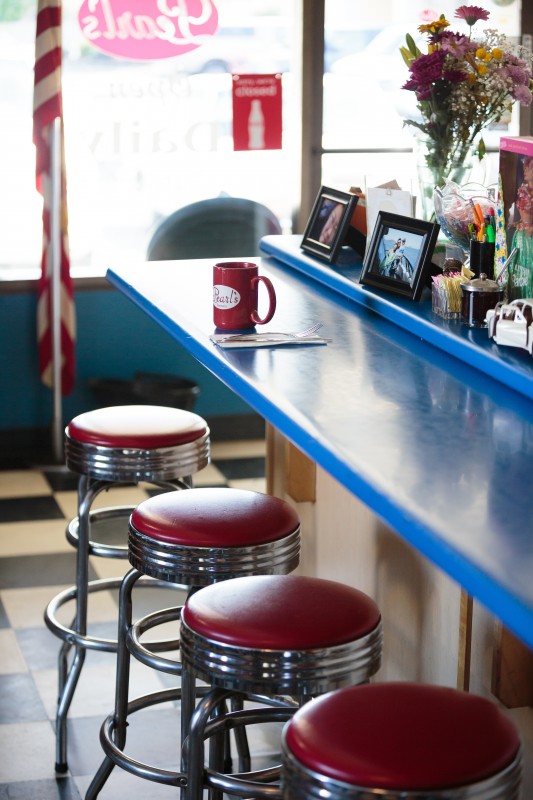 The name "joint" is the first clue that this is the real deal. That, and the old-timers usually congregating at the counter over chicken 'n' waffles ($12), a half-pound burger ($10) or a fried bologna or Spam sandwich on white bread ($10).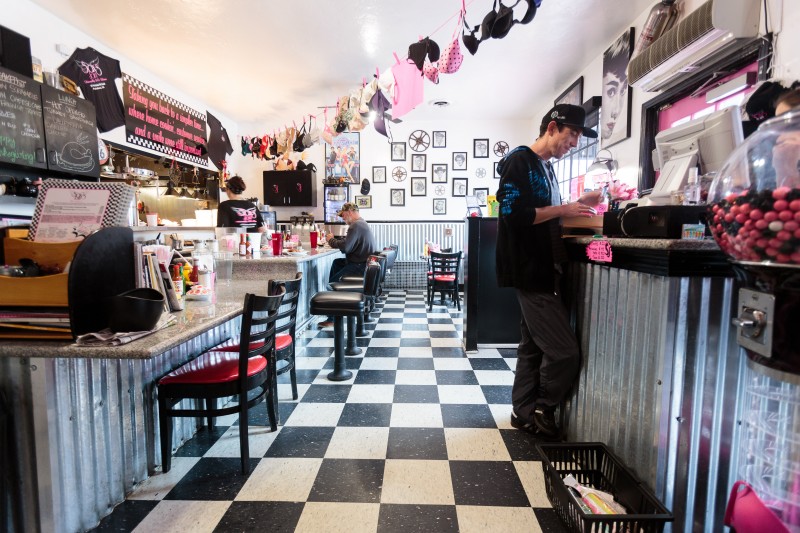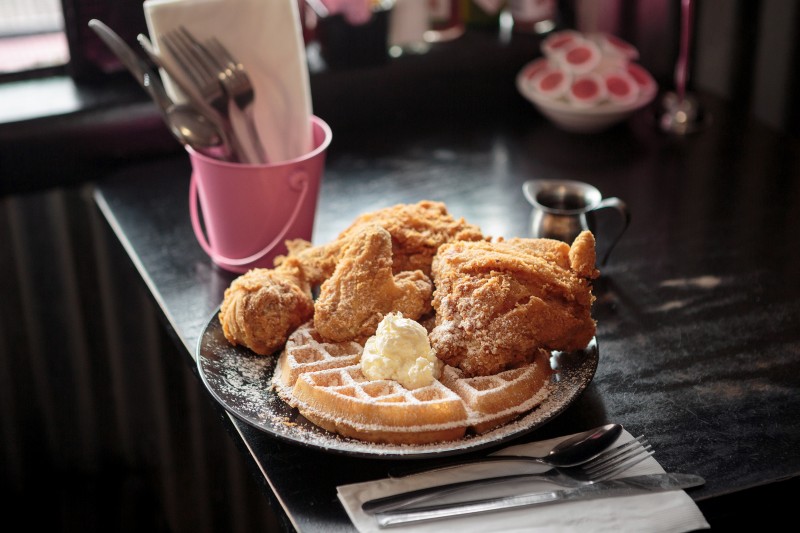 In true diner style, there's kitsch, like a "Beware Pickpockets and Loose Women" sign next to the kitchen passthrough, and black-and-white checkered floors. It's about community, here, too. This past fall, the ceilings fluttered with bras hung from a clothesline as a breast cancer fundraiser.
317 Petaluma Boulevard South, Petaluma, 707-559-3021, saxsjoint.com.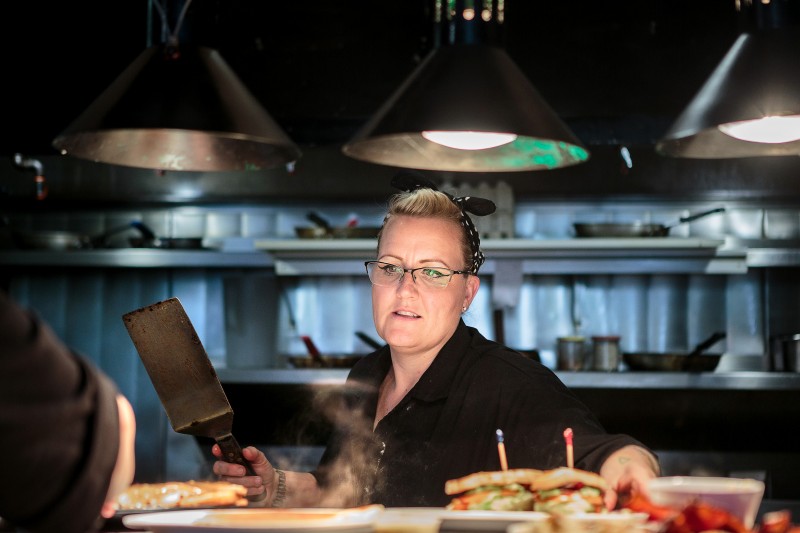 QUIRKY SCENES
This has to be one of the most unusual eateries anywhere. By day, the place operates as Pat's, a traditional American spot that's been family owned and operated since 1945.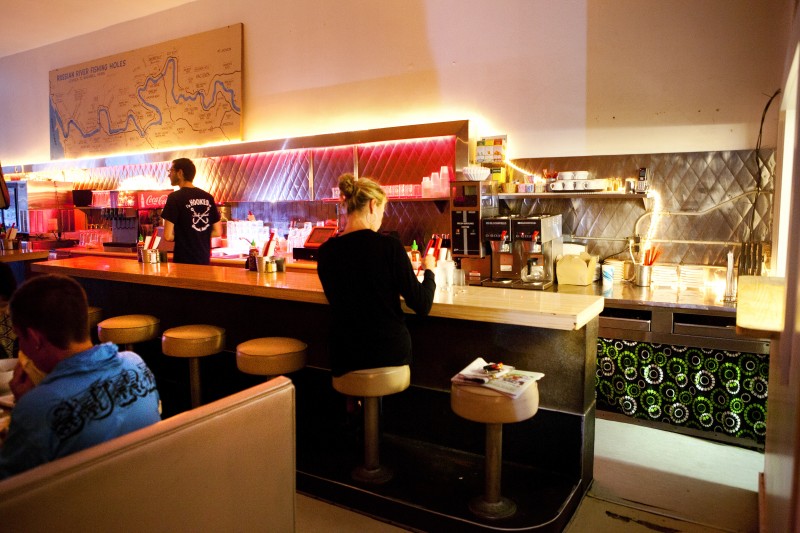 By night, another owner, David Blomster, moves in with a permanent pop-up slinging Korean-American food. Whatever you call it, the result is crazy-popular, beloved for signatures like Korean Fried Crack, which is crispy battered chicken dressed with soy, chiles and ginger alongside vanilla slaw and buttered white bread ($15).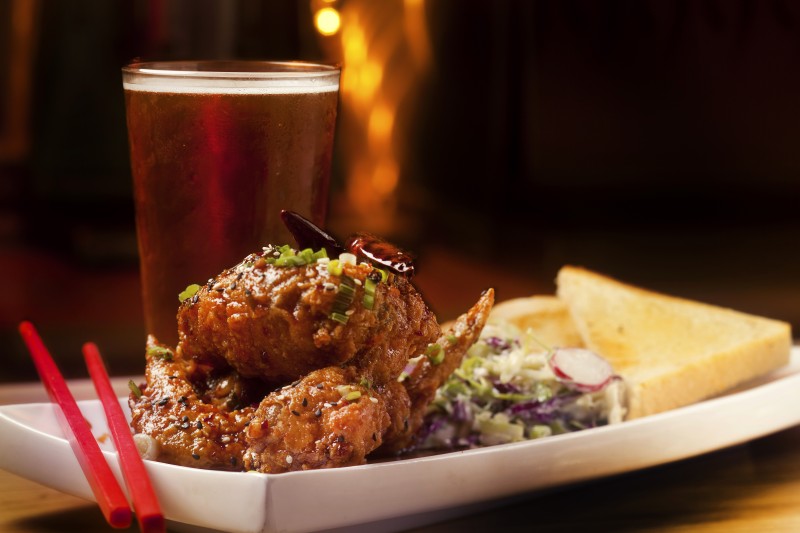 The best seats are at the counter overlooking the display of individual-serving cereal boxes and ketchup bottles, and the constantly changing menu always tempts with intriguing bites like braised chrysanthemum leaves dressed with hot chiles, maitake mushrooms and black bean sauce ($10), or a PB& J fried in pancake batter with vanilla ice cream and Pop Rocks ($5). It's a diner, so there's a burger, though it's a grass-fed cheeseburger with fried pickles, seaweed and Seoul fries (sprinkled with garlic, Korean chile, green onions, sesame seeds and seaweed) for dunking in kimchee aioli ($5).
16236 Main Street, Guerneville, 707-869-9904, dickblomsters.com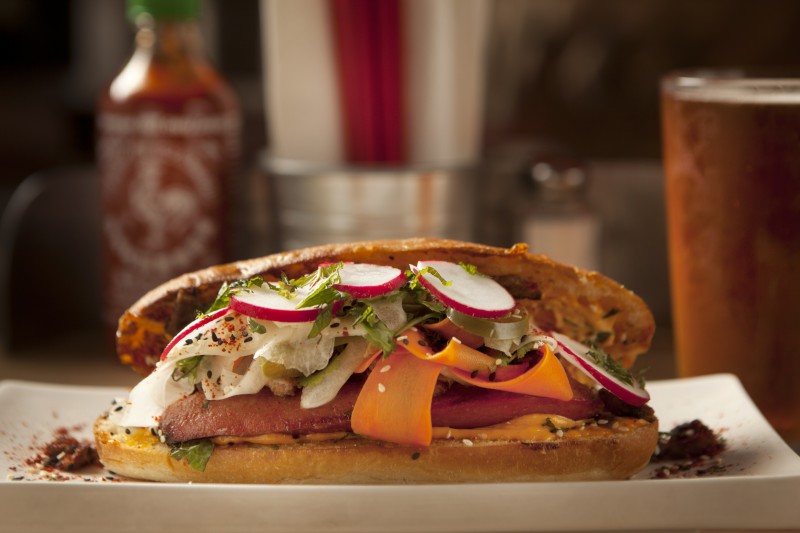 THE NEWBIES
Ginochio's Kitchen – Bodega Bay
Making its debut last August, this little waterfront cafe is the work of the Ginochio family, better known for their Bodega Bay barbecue catering business. You place your order at a small counter cut into a bright red wall, then wait at your polished tree-trunk table for classic tastes like the Toad in Hole of two fried eggs centered in toasted buttery bread slices ($8) — tear the bread, dip it in the egg yolk, and … heaven.
Later in the day, the spot gets busy with folks coming in for Grandma Ginochio's lasagna ($10), a grass-fed Tomales Bay Stemple Creek cheeseburger ($10), and pulled pork sandwiches topped in coleslaw and homemade barbecue sauce on a brioche bun ($10).
1410 Bay Flat Road, Bodega Bay, 707-377-4359, ginochioskitchen.com
Handline Coastal California – Sebastopol
This stylish new spot, set in a former Foster's Freeze space, is the creation of Lowell Sheldon and Natalie Goble, of Peter Lowell's restaurant just a mile away. Like Peter Lowell's, the emphasis is on "hyper local" ingredients primarily from the west county, including Goble's family farm, Two Belly Acres in Sebastopol.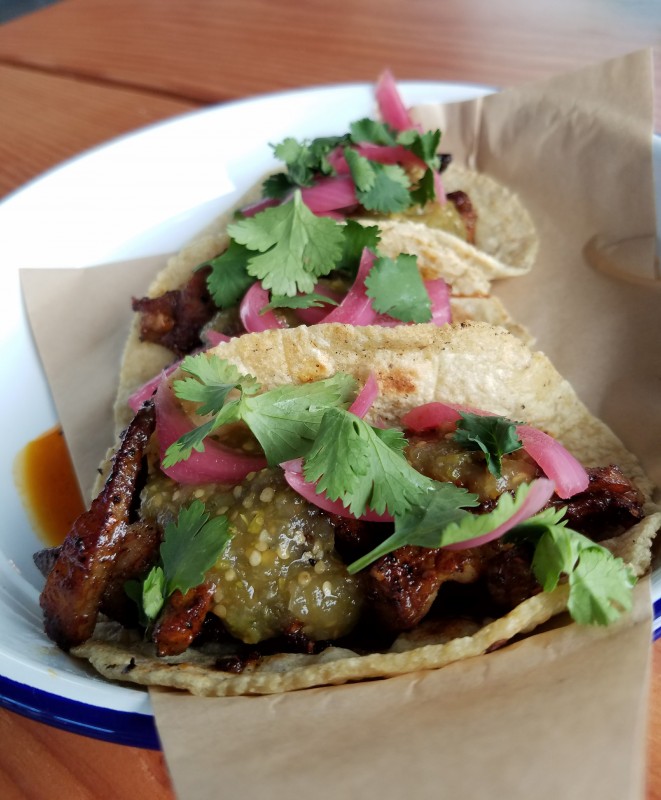 Seafood is the star, ordered at the counter and delivered to your long wood table, and it's some of the best anywhere. Some dishes are casual, like fish tacos overstuffed with fluffy batter-fried rockfish, lime slaw, avocado, radish and chipotle aioli ($13), while some dishes are fancy, like Fisherman's Stew brimming with daily catch, cove mussels, clams and Monterey calamari ($17), scooped up with warm corn tortillas handmade from scratch daily.
The crew kept the original Foster's Freeze soft serve machine, so a meal isn't complete without a crisp cone towering in chocolate, vanilla or mixed-swirl Straus organic ice cream ($4.50).
935 Gravenstein Highway South, Sebastopol, 707-827-3744, handline.com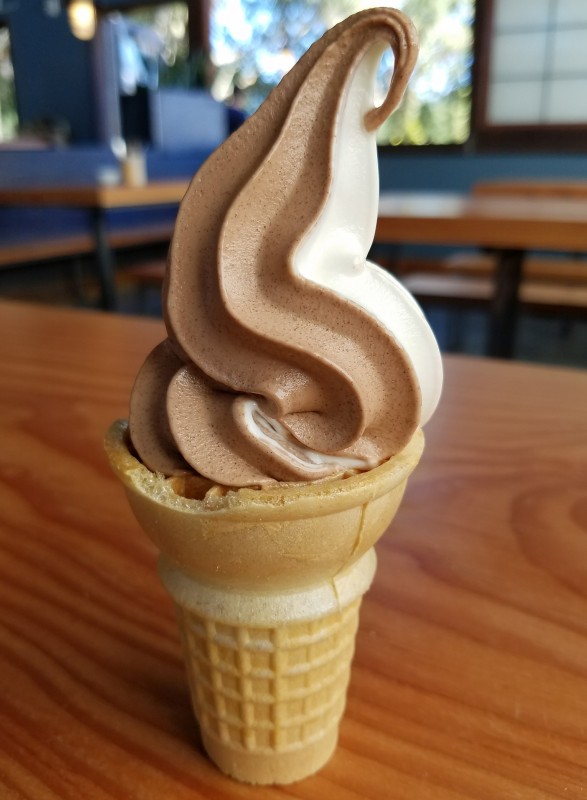 ARTSY
Criminal Baking Co. & The Undercover Noshery – Santa Rosa
This quaint hole-in-the-wall is cute as all get-out, with curtains hanging in the kitchen window that overlooks shelves of fresh baked mu_ns, scones and cupcakes. Walls are decorated with antique breadboards, while the ceiling glitters with a spaceship daisy petal sort of chandelier.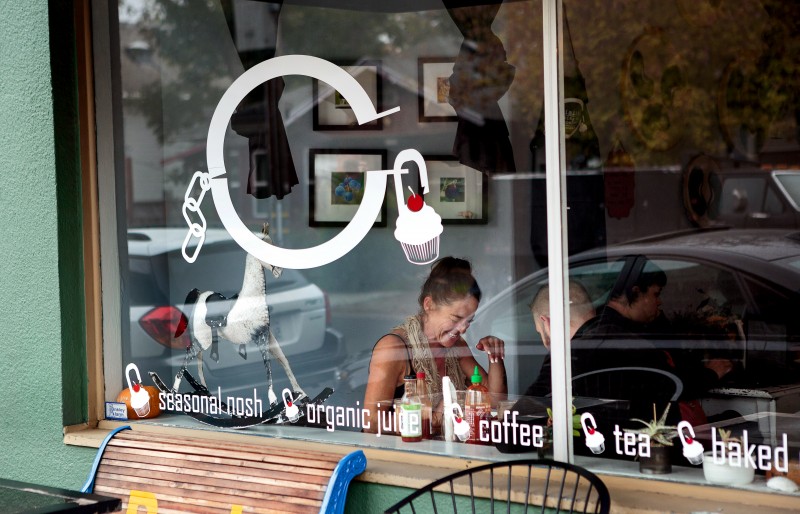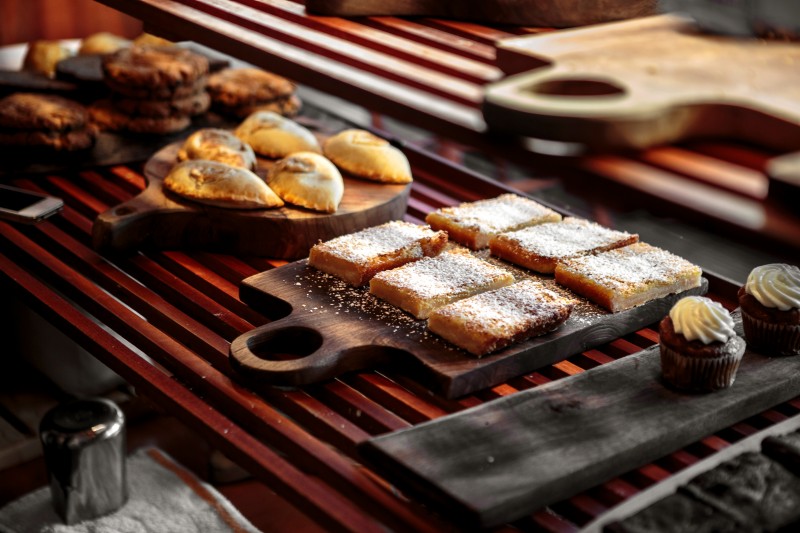 The breakfast and lunch menu changes frequently, based on the whims of owner Dawn Zaft, but you can be sure of one thing as you step up to order at the counter. You're in for yummy eats like open-faced sandwiches on housemade focaccia, crepes, frittatas and fluy quiche. The signature dish is the "recovery home fries": red potatoes baked with two free-range eggs and pepper Jack, all mounded in tomato, avocado, sour cream and bacon ($12).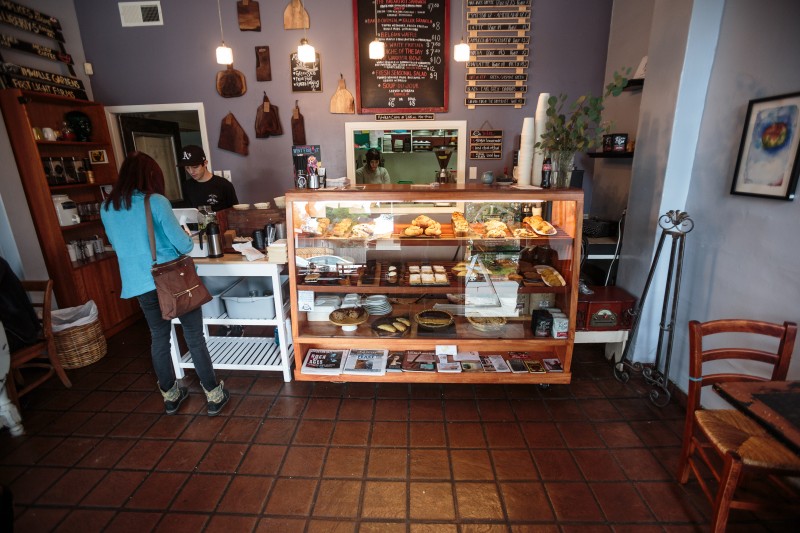 Just be sure to save room for pastries and desserts like blackberry-apple mini pies and mini cakes in a rainbow of flavors.
463 Sebastopol Avenue, Santa Rosa, 707-888-3546, criminalbaking.com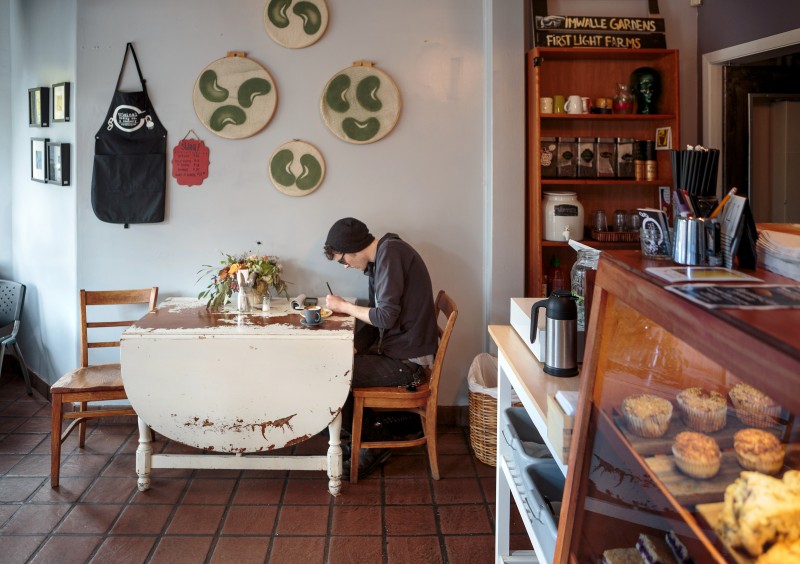 This 54-seat retreat is often packed, with people lining up for a precious table or the catbird seats at the polished wood bar set with fresh flowers. It's so cozy in here, amid brick walls hung with antique mirrors, eclectic art, vintage signs and a colorful umbrella hung from the ceiling. (Why? Just because.)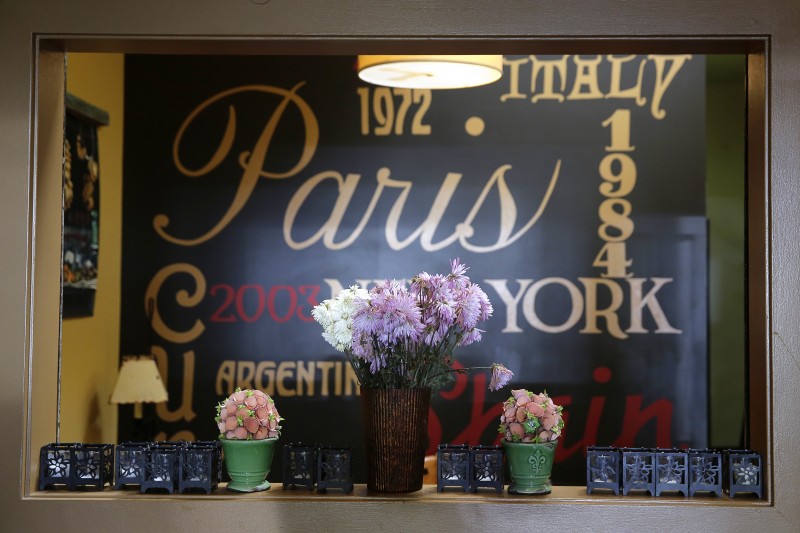 Chef German Bacho gives us reason to come back often, too, with a changing array of seasonal breakfast and lunch items plus a weekly Friday night supper with live music.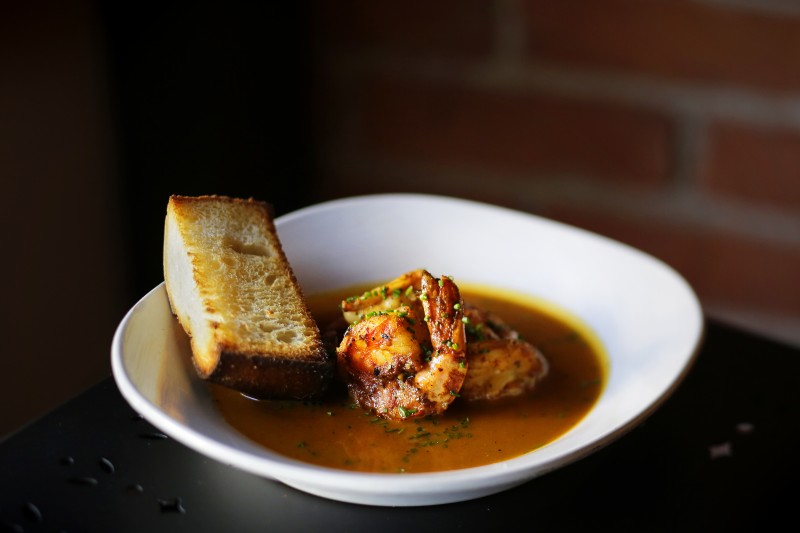 A "Sebastobowl" is a healthy heap of two eggs atop garlicky wilted chard and roasted tomatoes, with a scattering of toasted hemp ($11). Braised pork shoulder is very likely not healthy at all, but it's too delicious for us to care, mantled in soft, steamy garlic greens, Rancho Gordo yellow eye beans and Parmigiano-Reggiano cheese ($13).
162 North Main Street, Sebastopol, 707-861-3825, gypsy-cafe.com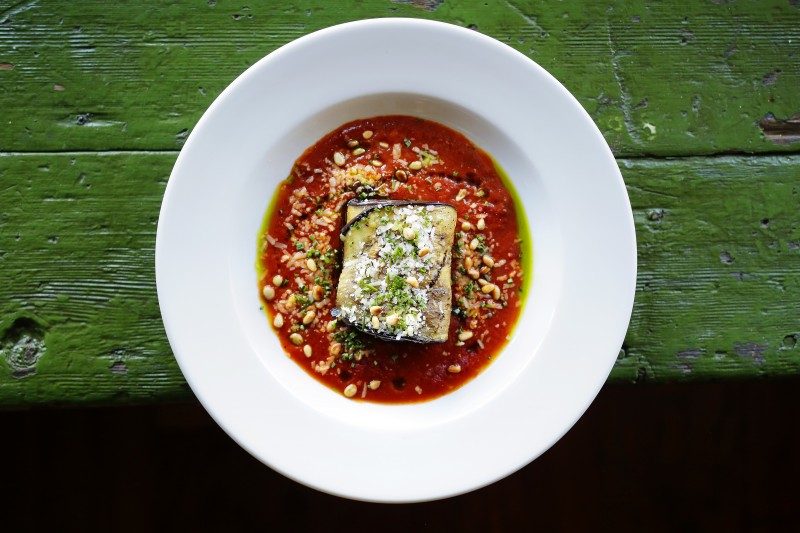 In late fall, bistro owners Miriam Donaldson and Josh Norwitt expanded service in this 36-seat space, now offering daily brunch. And a great cheer went up in the community for this hardworking couple and their very long slogan: "We work our butts of indoors and out to raise our own beef, bake our own bread, make our own jam, cozy up to local farmers and ranchers, and generally do all the things we can to put great food on your plate."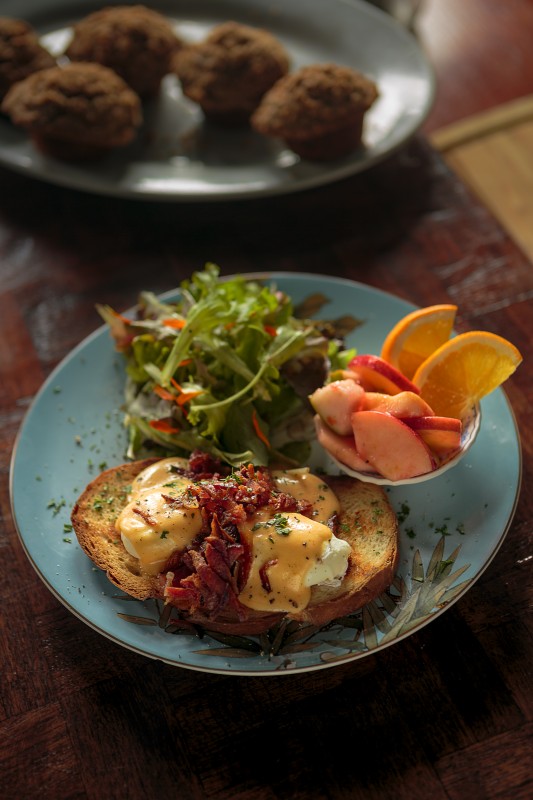 Set in a long-ago cottage, the mood is pure groovy, with mismatched drapes in the windows, a tiny dining counter for six, schoolhouse-style chairs at the wood tables, and vinyl records playing.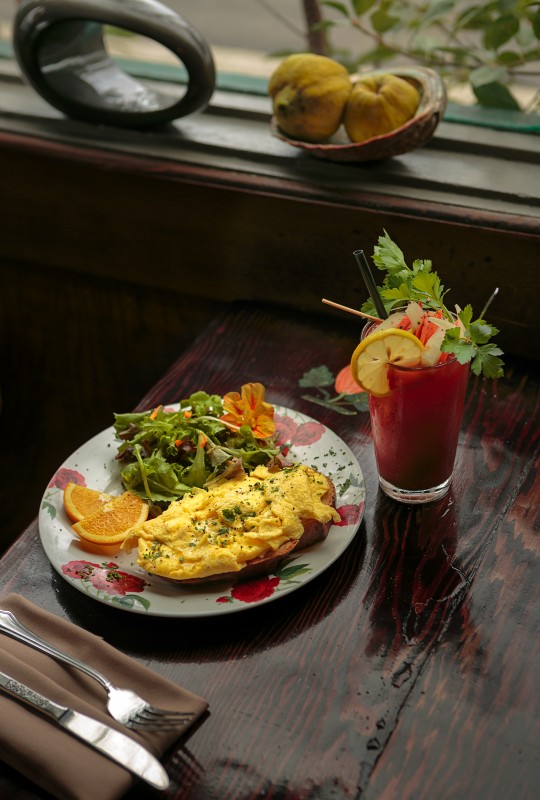 But all eyes are on the food. Delectable recipes include the Hot Mess — polenta dotted with house-madeˆpickles,ˆroasted mushrooms, wilted kale, fermented hot sauce and a fried egg — ($12), or homemade duck eggs fettuccine tossed with sautéed mushrooms, ricotta, tomato, zucchini, peas,ˆgarlic, Parmesan, herbs and breadcrumbs ($15).
841 Petaluma Boulevard North, Petaluma, 707-763-2663, wishbonepetaluma.com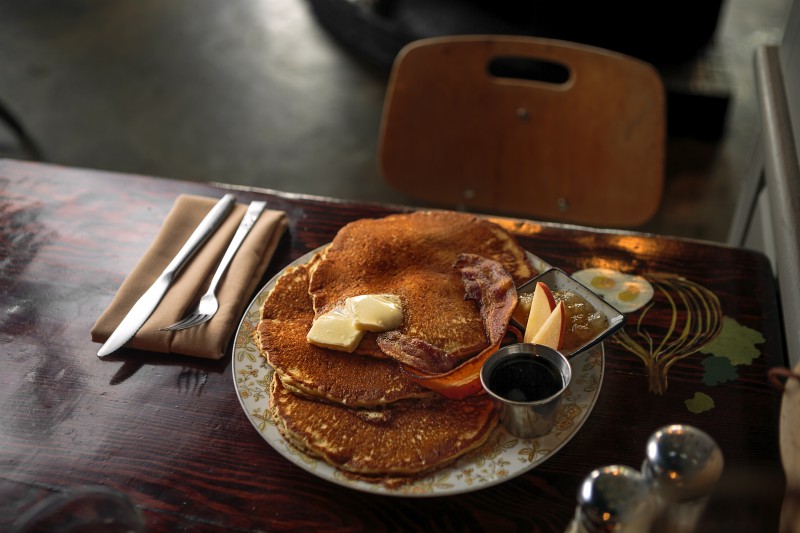 HIP HANGOUTS
Seats at the counter are so coveted at this izakaya that there are two — count 'em, two — areas to claim. At the front counter, you can dig into yakitori and killer craft cocktails, while the back of the building offers ramen, donburi and pristine fish dishes.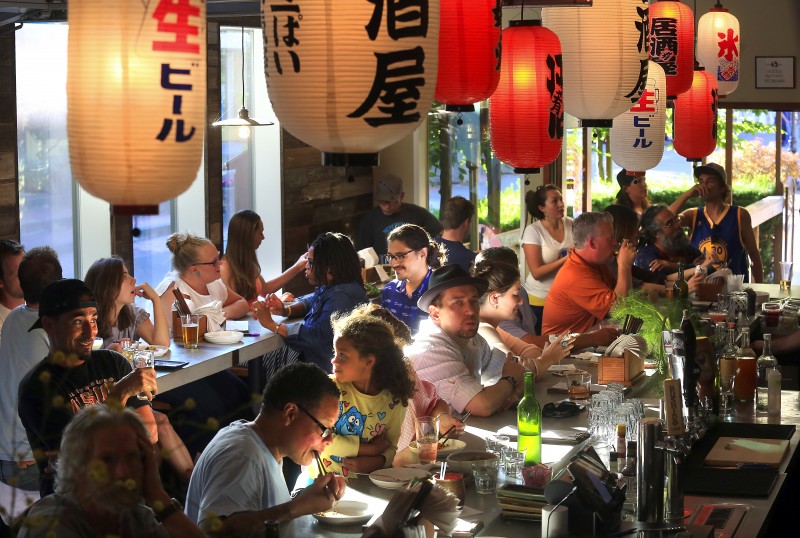 Either way, this is fantastic fare, from chef-owners Matthew Williams and Moishe Hahn-Schuman. You can watch the team in action if you camp at the back counter, and savor the perfume of shoyu ramen broth rich with notes of kombu, garlic and ginger amid the silky emulsified fats from whole chicken, pork neck and smoked hocks.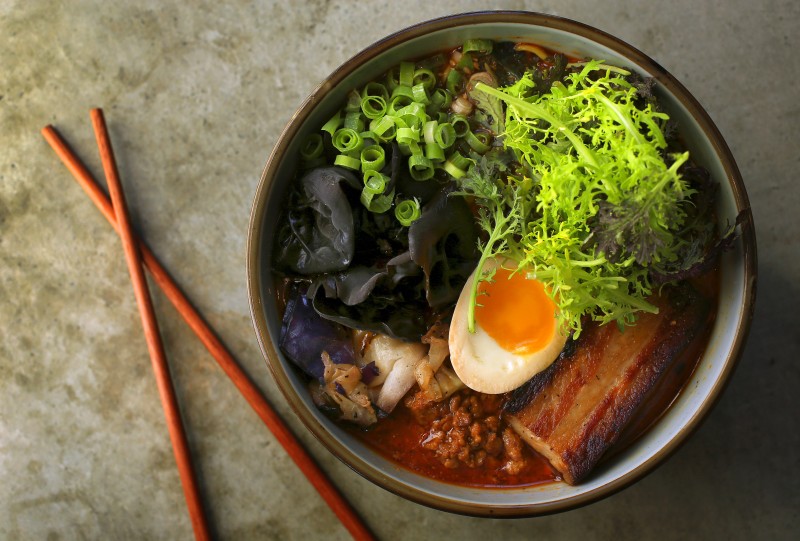 But better than sni€ng is eating the soup, generous with slippery homemade noodles laced around soft curls of wakame (seaweed), meaty wood ear mushroom, shaved leek, tender menma bits (fermented bamboo shoots), a halved six-minute egg cooked to perfect runny custard yolk, and a crown of pork belly chashu.
6948 Sebastopol Avenue, Sebastopol, 707-827-3609, ramengaijin.com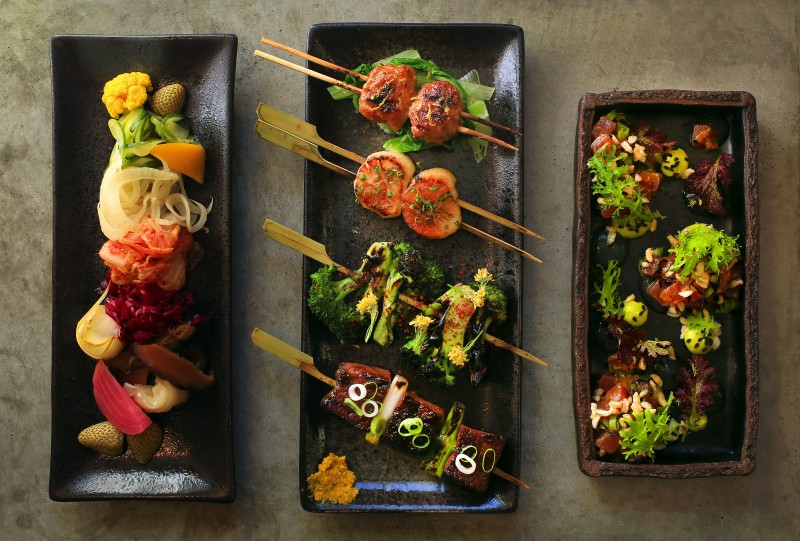 Bravas Bar de Tapas – Healdsburg
The seats at the tin-capped bar fill up quickly, and multiple small plates mean things get crowded pretty fast. But it's worth some jostling for superb crispy patates bravas (potato chunks) dipped in spicy tomato sauce and aioli ($8), and a fried duck egg sprinkled in spicy chorizo cracklings and mopped up with crostini ($7).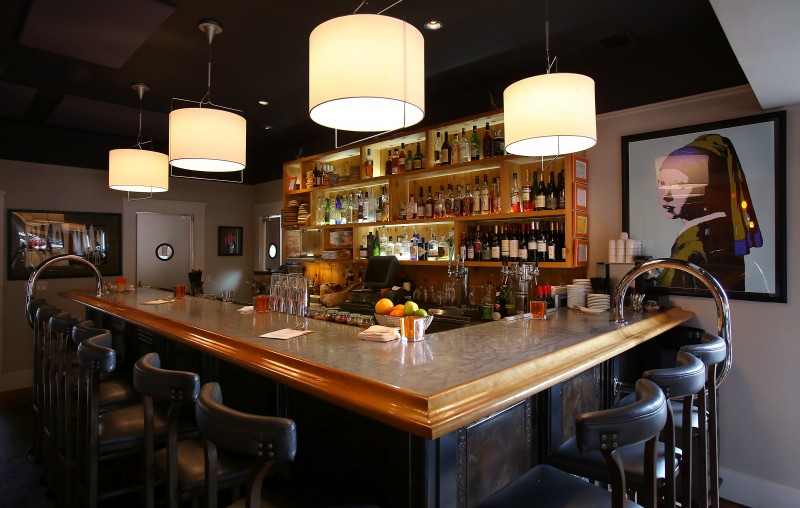 Owners Terri and Mark Stark run a virtual empire of North Bay restaurants, but this is certainly the most interesting, boasting its tapas theme including a ham and cheese bar, plus a lounge serving specialty Spanish Sherries. So expand your horizons, and dig into delicious curiosities like crispy pig ears dipped in anchovy vinaigrette ($10) — the cartilage tastes like pork-flavored fruit chews.
420 Center Street, Healdsburg, 707-433-7700, barbravas.com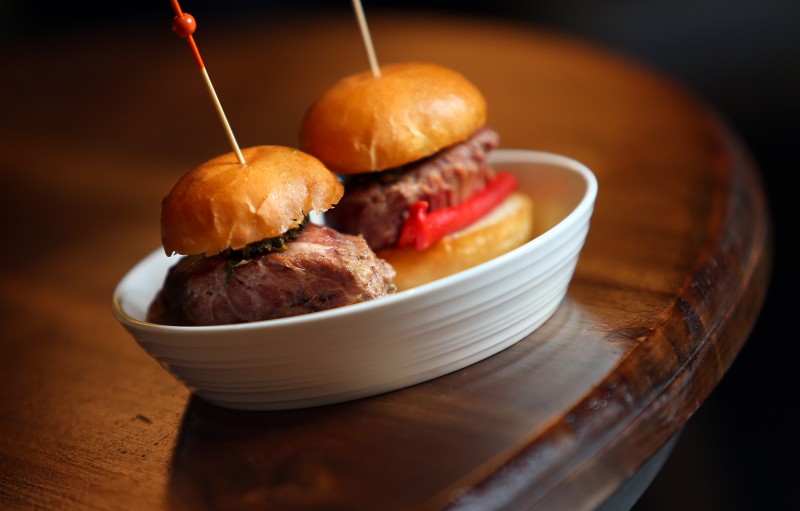 QUINTESSENTIAL SONOMA
This family-owned cafe, with its espresso and wine bar, charms with a lush garden anchored by an outdoor counter made out of wine barrels — just the spot to escape to after you place your order at the bustling counter inside.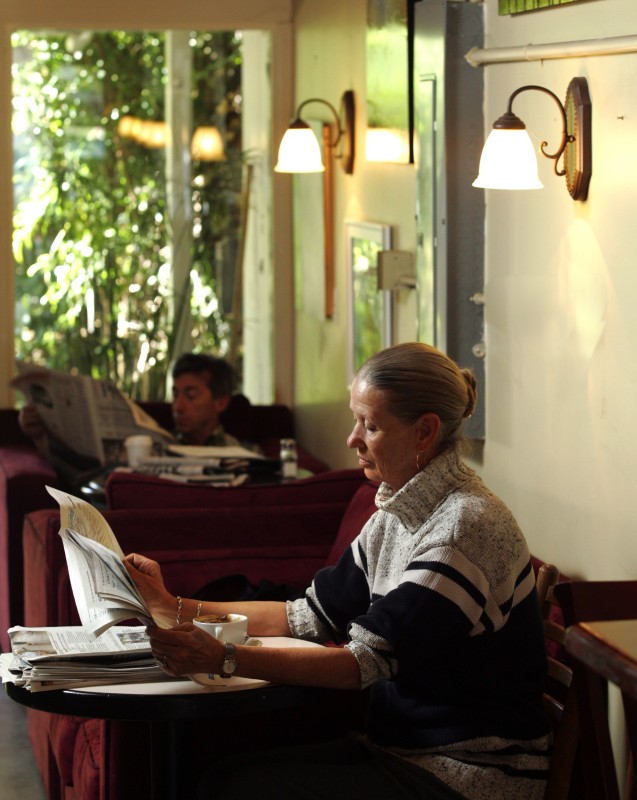 There's a fun story to the space, too, since it is California Historic Landmark No. 501, as military Captain Salvador Vallejo's old home built in 1836 on the Sonoma Plaza.
The staff is proud to say that the milk here comes from Sonoma County pasture cows, and eggs from a farm less than 5 miles away — but you'll be able to tell the fresh difference anyway, from your first bite of shiitake omelet with roasted Brussels sprouts, Swiss cheese and local olive oil ($16). There is a ravishing Reuben as well, the corned beef layered with Sonoma Brinery sauerkraut, Swiss cheese, Russian dressing and housemade pickles on pumpernickel rye ($14).
421 1st Street West, Sonoma, 707-996-6645, sonomasunflower.com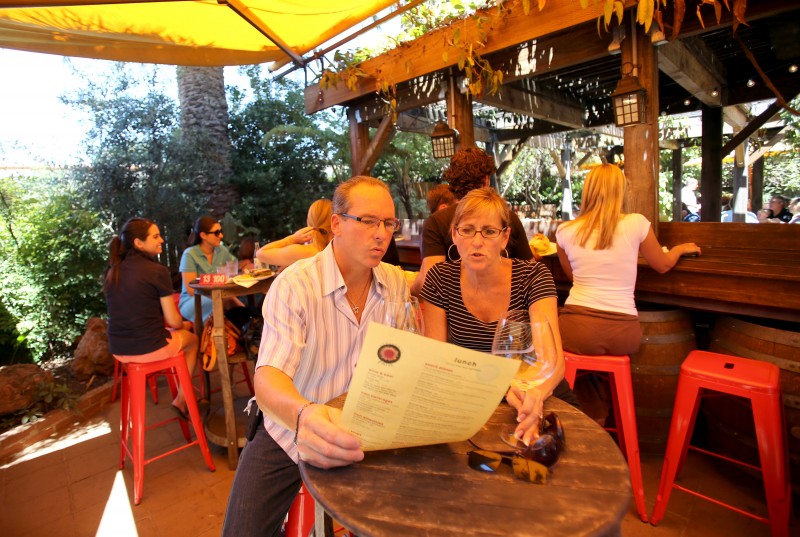 Cafe Citti Italian Trattoria – Kenwood
From the outside, it looks like a cottage, and from the inside, it's … a cottage, set with a fireplace and white tablecloth-draped tables, even though you order at the counter. Locals like to keep it their own secret, but in fact share the wealth with increasing numbers of tourists swarming on their way to nearby wineries.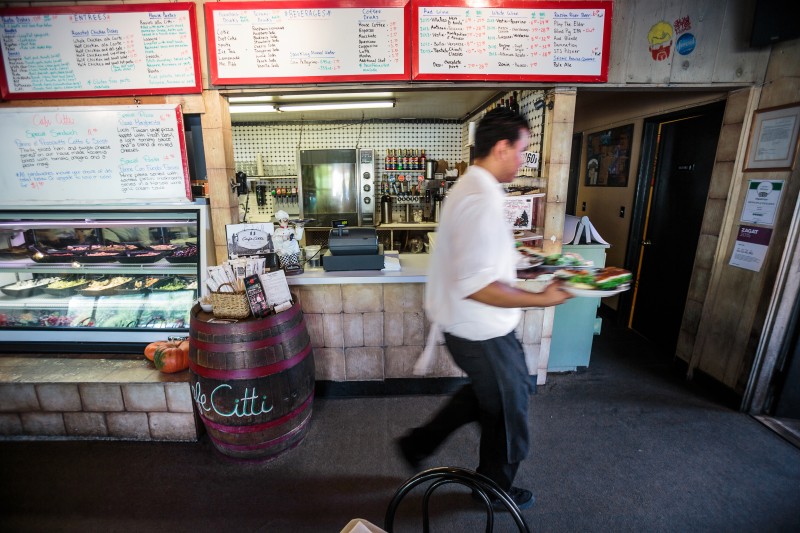 That's because Luca and Linda Citti, the Italian owners, keep recipes as delicious and true as at a much fancier restaurant.
Lunches bring overstuffed sandwiches such as prosciutto di Parma and housemade mozzarella on focaccia ($12.25) served with sides like cheese tortellini pasta salad (even better with drizzles of local olive oil from the cruets on the tables). Dinner dresses things up even more, with savory statements like housemade ravioli stuffed with pork, Swiss chard and fresh herbs in silky tomato basil cream sauce ($15.50), or crisp-skin rotisserie chicken fragrant with garlic, rosemary and sage served alongside Caesar salad ($11.75).
9049 Sonoma Highway, Kenwood, (707) 833-2690, cafecitti.com