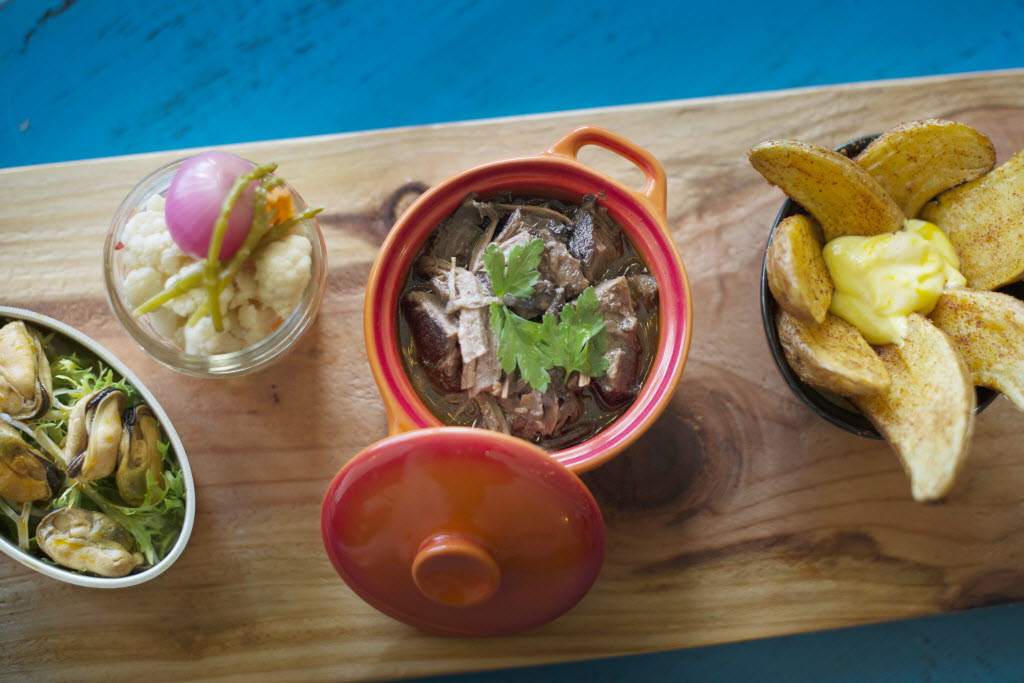 At chef Manuel Azevedo's Tasca Tasca in Sonoma, the menu is true to Portugal's tapas tradition.
The green and grape-purple walls are now bright white. Most of the tabletops are re-purposed Port and Madeira wine boxes, others are painted Mediterranean blue. A recently installed wood bar seats nine. The glowing Sousa's Restaurant sign above the upgraded kitchen lets locals know the space that was once the Epicurean Connection gourmet food shop off the Sonoma Plaza is now something entirely different, and entirely Portugal.
Portuguese Mac & Cheese at Tasca Tasca Portuguese Tapas Restaurant & Wine Bar in Sonoma.

It's Tasca Tasca, Manuel Azevedo's just-opened interpretation of a Portuguese tavern, with savory and sweet bites served with Portuguese wines, beer and cocktails.

Recreating a tasca (pronounced toshka) from his native Azorean island of São Jorge, he offers 40-some appetizer-sized servings of traditional Portuguese dishes, delivered on butcher-block platters laden with tins, crocks and ramekins filled with goodness.

Drop in for a Sagres beer or refreshing glass of vinho verde wine, and stay for the Azorean mac and cheese, goat stew with fingerling potatoes, linguica (pork sausage), caldo verde (Portugal's national soup) and fried potatoes with piri piri pepper seasoning.

Tasca Tasca fronts West Napa Street, just off the Sonoma plaza.

Patrons of Azevedo's LaSalette Restaurant in Sonoma, and Café Lucia in Healdsburg, which he owns with his sister, Lucia Azevedo Fincher, know not to be afraid of Portuguese cuisine. To the uninitiated, though, it can seem to be all sardines and salt cod, and di‹cult-to-pronounce names.

Yet, Portuguese cuisine is similar to that of Italy and Spain, based on seafood, pork, beef, charcuterie, vegetables and glorious cheeses. Tasca Tasca offers an opportunity to taste authentic food for a minimal investment: most items are $5, and orders of five and seven items are discounted.

The kitchen crew serving up a variety of tapas on small wooden boards at Tasca Tasca Portuguese Tapas Restaurant & Wine Bar in Sonoma.

The menu translates each item from Portuguese to English. It includes bacalhau (salt cod cakes) and sardine paté, of course, but also pleasantly salty lomo embuchado — pieces of cured and dried pork loin. Mussels top a salad dressed with a tangy sa•ron vinaigrette. The crunchy kale salad with anchovy dressing is not at all fishy, instead bright and lemony.

The fava bean soup is served cold, smoked duck gets a glaze of Moscatel wine, and the braised octopus comes with "villain's sauce," made of shallots, garlic, vinegar, oil and hot sauce. Queijo do São Jorge is a creamy cheese imported from Azevedo's home island and served with quince marmalade.

Steak tartare with marinated vegetables, left and a kale salad in an anchovy dressing at Tasca Tasca.

LaSalette has been a success since it opened in 1998, and Café Lucia followed in late 2012, with Azevedo the executive chef at both locations and Lucia managing her namesake eatery. Each is a fine-dining restaurant, but Tasca Tasca is the casual place Azevedo has longed for, one he hopes will be a neighborhood hangout and a destination for visitors.

"I've wanted to do this for 10 or 12 years, to have a place as comfortable as a pair of shoes, but with service that's Sunday shoes," he said. "When Sheana Davis moved the Epicurean Connection from this space last year, it was the perfect spot for me. Small enough that I could a ord the lease and on the plaza."

He equates the Tasca Tasca concept to that of Chinese dim sum: "With two or three little bites with lots of flavor."

Chef and owner Manuel Azevedo at Tasca Tasca Portuguese Tapas Restaurant & Wine Bar in Sonoma.

Azevedo's parents, Raimundo and LaSalette Azevedo, came to California in 1968 from Santo Antão Topo on São Jorge. Raimundo sold two oxen and a milk cow to finance the trip, "to achieve the American dream," his son said. Azevedo was 2 when he arrived in Sonoma, along with younger brother Luis. Sister Lucia and youngest brother William were born in Sonoma. Manny learned to cook from his mother when he was young, and returns to Portugal every other year to cook, source ingredients and find inspiration.

The walls of Tasca Tasca Portuguese Tapas Restaurant & Wine Bar in Sonoma are decorated with large photos of Manuel Azevedo's family when they lived in Azores, an autonomous island region of Portugal.

At "TT," as Azevedo refers to Tasca Tasca, he honors his parents with blown-up prints of them and their relatives on São Jorge. He salvaged the Sousa's Restaurant sign from a well-known Azorean restaurant in San Jose before it closed a year ago.

Huge wheels of São Jorge cheese and antique milk cans represent his father's career as a dairyman. A wide-screen TV plays European soccer, beckoning fans to belly up to the bar; at 11 p.m., the channel switches to bloodless bullfights. A large rooster sculpture in a high corner of the room watches over diners and imbibers.

"Every Portuguese restaurant has to have a rooster," he said. "It symbolizes honesty and integrity."

The nine-seat bar at Tasca Tasca draws a crowd ready to savor the tavern's large selection of Ports, or a speciality cocktail such as Soju vodka mixed with Tawny Port and orange bitters and served with an orange twist.

Servers wear gingham shirts and jeans. Flatware and large toothpicks for spearing lupini beans and marinated olives are stored in tin cans placed on tables. Wines, including an impressive collection of Port, are all from Portugal and poured into tumblers, not stemware. Cocktails are served in frosted saucers, poured at the table or bar from glass bottles. Olympiabeer is served, because it's what Raimundo drank, but there is also is a selection of local and other American beers, and Portugal's Sagres.

Open daily from noon to midnight, TT welcomes folks leaving the Sebastiani Theatre after an evening movie or performance, and those knocking off work at nearby restaurants and hotels.

"Until now, there hasn't been a place in Sonoma for workers in the industry to stop in for a beer and a snack," Azevedo said. "And I want people to walk in and think that this restaurant has been open for years. I want it to feel like Portugal, so that immigrants and the descendants of immigrants feel at home here."

Cobblestone road ice cream and passion fruit mousse with mango.

122 W. Napa St., Sonoma, 707-996-8272, tascatasca.com

Photography by Erik Castro.