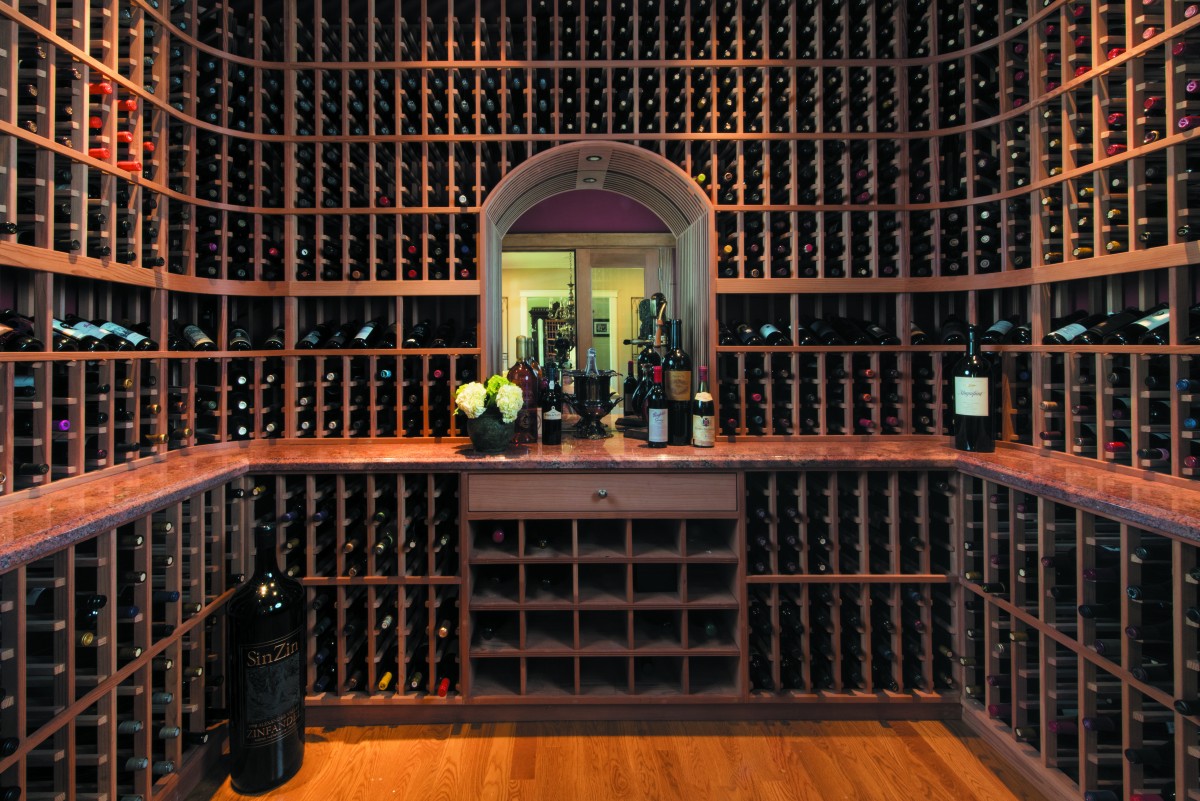 It all starts with a splurge on a few fabulous bottles during a day of winery-hopping. Hit the Sonoma wine trail again and add a couple more bottles to your stash. At some point, shoving cases under the bed no longer cuts it, and it's time to find a more practical home for your wine.
So a Collection Grows
Conrad Trinks came to this realization in 2002. He began collecting wine in the mid-1990s, storing his bounty in a wine refrigerator. When it reached its 250-bottle capacity, he switched to a 500-bottle version. Trinks upgraded again in 2002, when he renovated his Sonoma farmhouse.
"I thought it would be kind of cool to have a wine room," he said, so he sacrificed part of the kitchen and family room to create a home for his growing collection. The resulting alcove, designed by Artistic Wine Cellars in San Rafael, holds 1,500 bottles in a space the size of a large closet. Now part of the dining room, the cellar is set behind French doors that offer an enticing glimpse at the wines inside.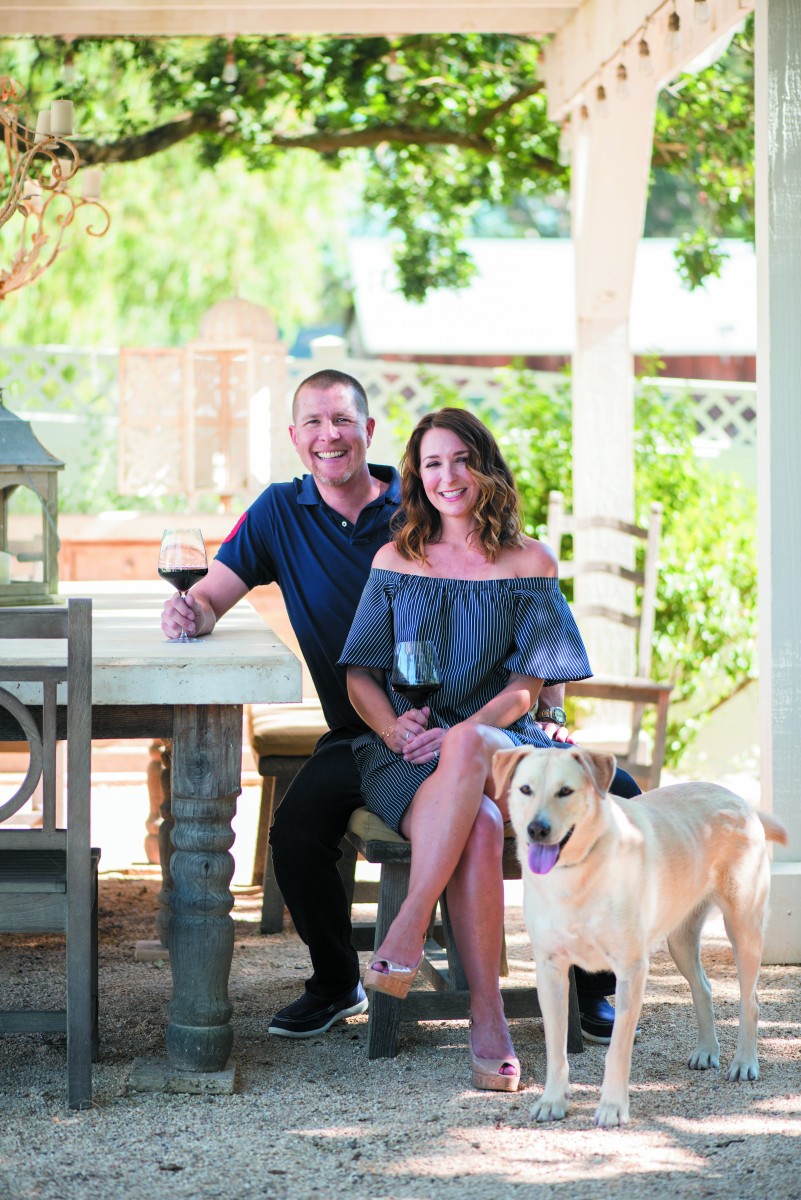 The walls, floors and ceiling are insulated, and the room is kept at a constant 58 degrees — important when a Sonoma summer and early fall days can bring 100-plus-degree temperatures that "cook" unprotected wine. Bottles are stored on unstained redwood racks, which include extra-large spaces for Champagne and large-format bottles such as magnums and jeroboams. The room's compact, walk-in design makes it easy to see and access the wines.
Patrick Wallen, owner of Artistic Wine Cellars, said such wine rooms are not only functional, they're stylish.
"Over the last three or four years, we've seen a lot more requests to put stains or finishes on racks," he said. "We're also seeing more modern designs. People are looking for alternatives to conventional wood racks, such as metal and Plexiglas. They want something different from what their neighbor has."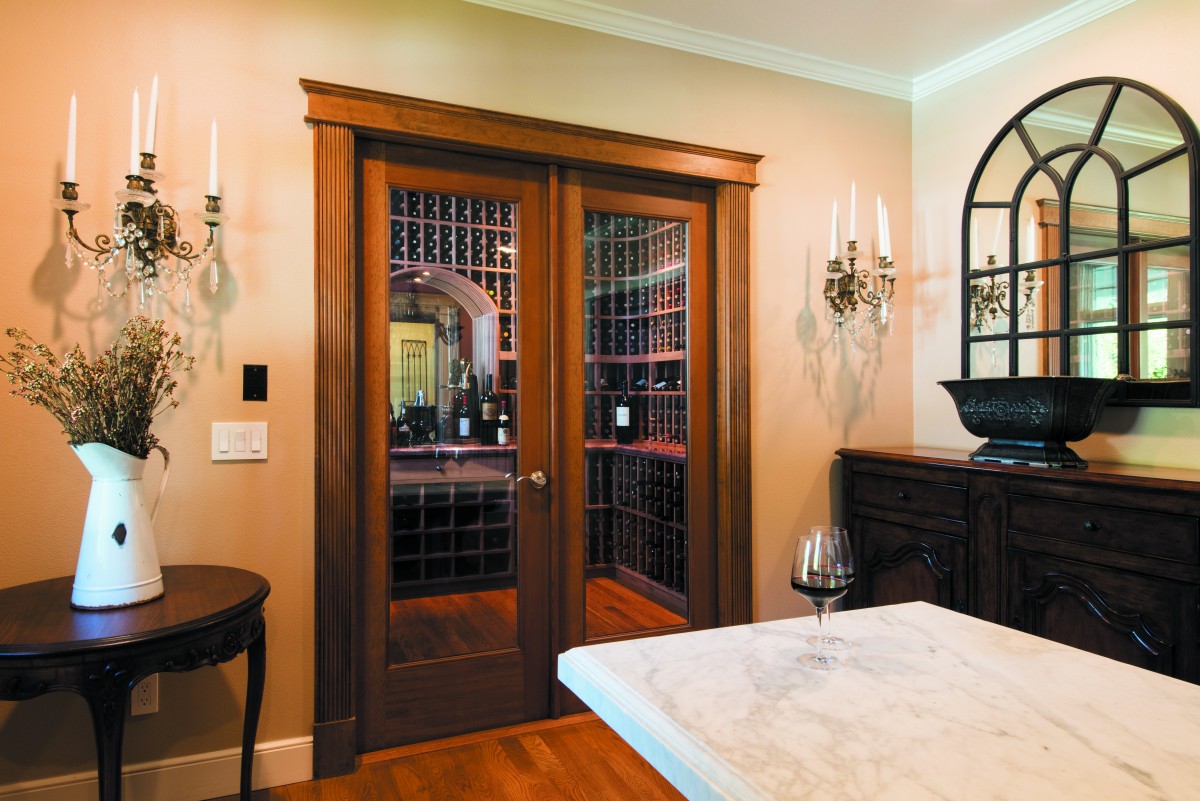 Custom cellars don't come cheap: They range from $10,000 for a simple closet conversion with temperature and humidity control, to more than triple that amount for a room with redwood racks and granite countertops.
Trinks, owner of the Oxbow Investments real estate company, lives with his wife, Jennifer, on 2.5 acres in Sonoma. The house is decorated in a French farmhouse style, with a color palette that includes warm taupe, gray and cream tones.
With about 800 bottles currently in storage, there's room to grow. "It's not completely maxed out, but it's still enough to keep us busy for a while," Conrad said.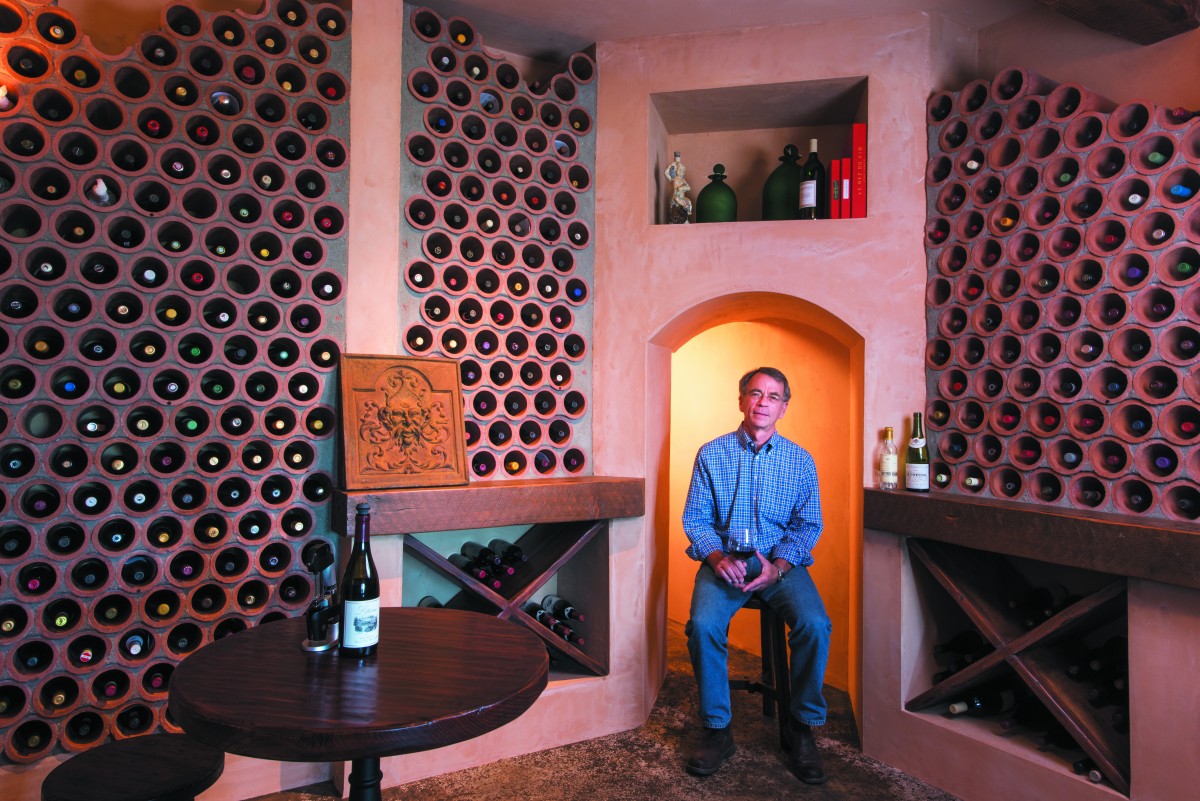 A Creative Clay Cellar
Robert "Bud" Hausen and his wife, Linda, live in a Tuscan-style home on a Sebastopol hilltop. The surrounding vineyards provide a picturesque view from their basement-level wine cellar, carved into the hillside.
When the Hausens built the house in 2009, they knew they didn't want wood wine storage racks. Instead, their bottles are nestled in individual terra cotta-colored clay sewer tiles, cut into 11-inch lengths and mortared together.
"The tiles are just the right diameter for wine bottles, plus they keep the wine a couple degrees cooler than the rest of the cellar," Bud Hausen said. The cooling factor is important, because the cellar is not temperature-controlled; outdoor insulation around the entry door and foam board in the walls are enough protection.
"The temperature is 66 to 68 degrees, but I don't mind it being a little warmer than most cellars. I'm too old to wait for wine to age," Hausen, 65, joked. "If it ages a little bit faster, that's fine with me."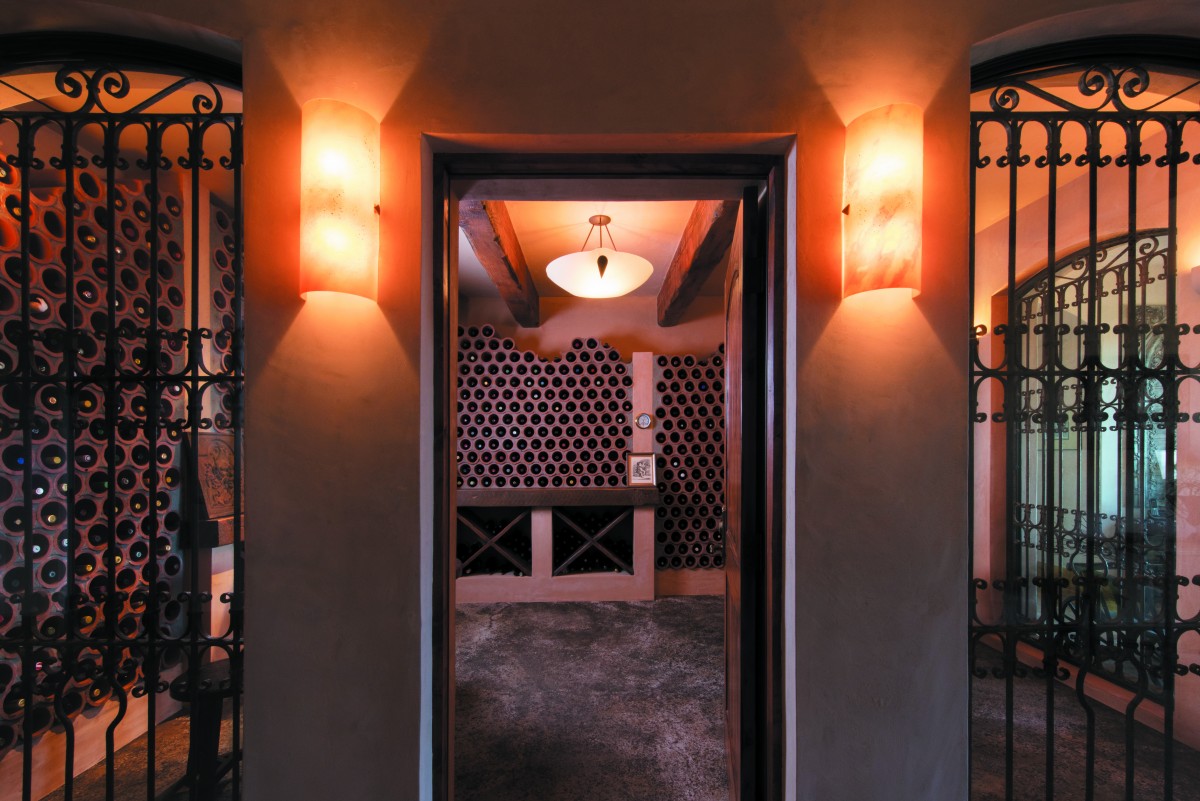 The only snag in building the cellar, Linda Hausen said, was convincing the contractor to leave the tops of the racks uneven.
"I wanted it to look like old wine cellars I've seen pictures of in France and Italy, where the racks have gotten half-broken over time," she explained. "I would spend quite a bit of time placing the tiles exactly as I wanted them, and then the next morning and the mason would have them placed so they were all straight across."
Eventually, he got the message. "He shook his head a lot," she said, "but he did a beautiful job."
The rest of the cellar design was inspired by items she picked up at local antique shops, including the cross-hatched wooden mantel pieces and the wrought-iron gates that now line the cellar windows. Their contractor made tables from chunks of reclaimed wood.
The cellar holds 750 bottles, with overflow space underneath the stairs. When the Hausens first moved to Sebastopol in 2005, their collection was approximately 200 bottles. That number increased, along with Bud's interest in wine, and now the cellar is nearly full.
CellarTracker software allows the Hausens to view their inventory, add tasting notes and read the notes of others. It also helps them keep track of where each bottle is located, by section and row.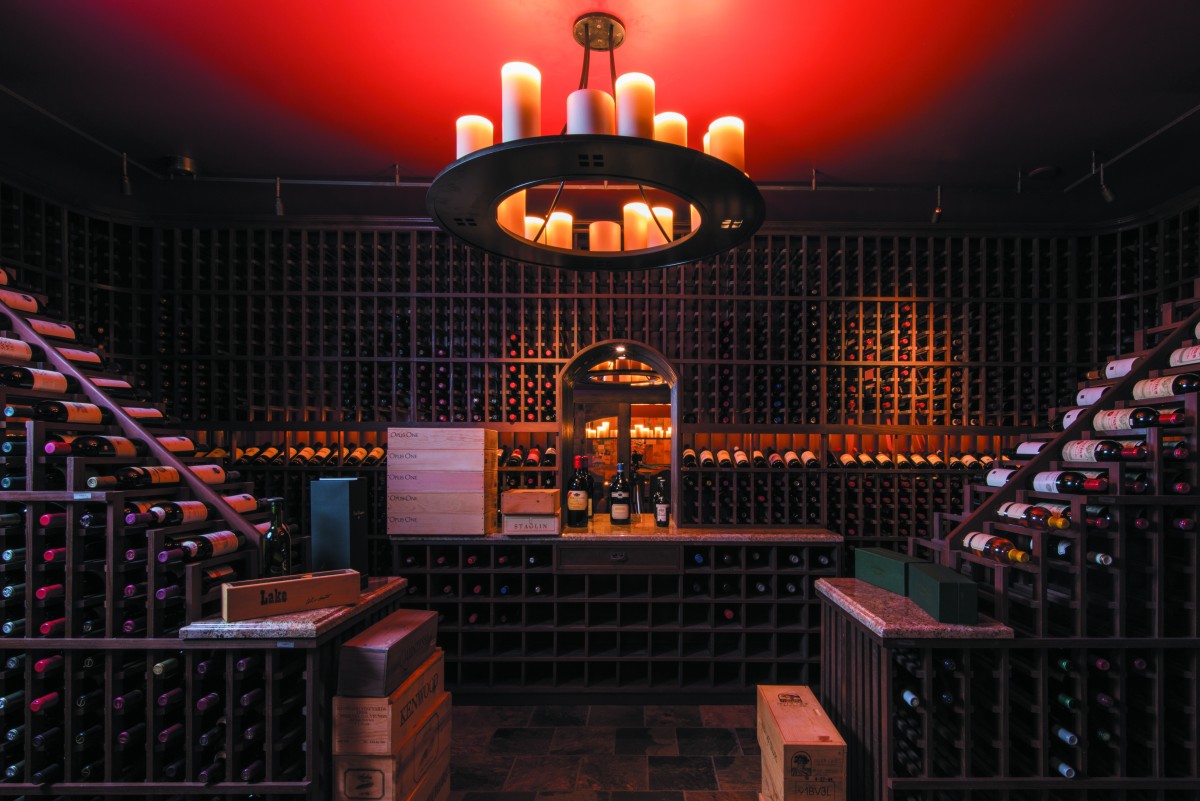 A Grand Entrance
Robert Mount doesn't recall exactly when he became interested in wine, but once he began collecting it, he went all-in.
"I had a friend who told me I should collect Silver Oak Cabernet Sauvignon, and one thing led to another," Mount said.
"Another" now totals 2,500 wines in his 4,000-bottle cellar.
Wallen of Artistic Wine Cellars installed it in 2006, a few years after Mount and his wife, Madi, purchased their Mediterranean-style home in Santa Rosa, set on a spectacular hillside property covering nearly 10 acres.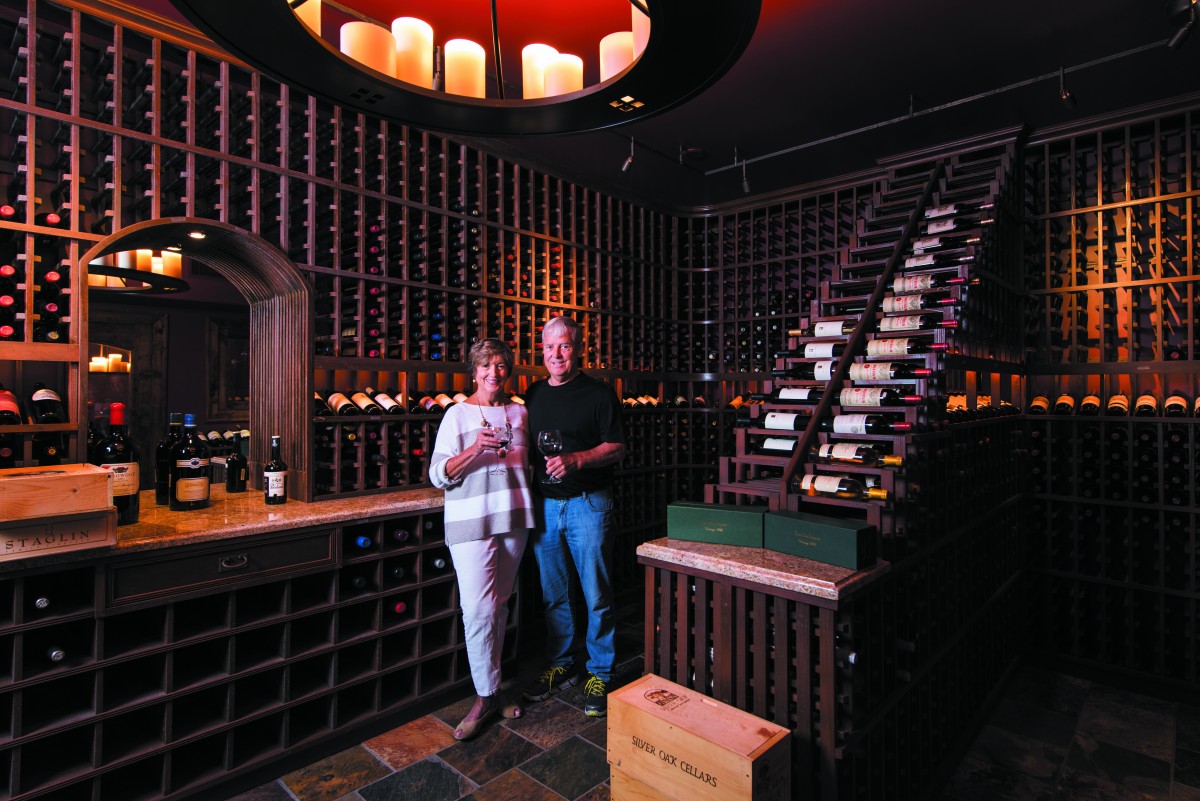 The cellar entrance is outside the house, just steps from the kitchen deck. An arched wooden door, framed by multicolored stone, leads to a tasting area separated by glass doors from the cellar.
Inside, bottles rest on racks made of stained redwood. The cellar temperature is kept at an ideal 55 degrees, while the tasting area is a more comfortable 68 degrees. The cellar is humidity-controlled and equipped with non-UV lighting to protect the wine from premature aging.
Mount, retired founder of Redwood Toxicology Laboratory in Santa Rosa, tracks his collection with Vinfolio software, which tells him the location of each bottle, the current market value and when it's ready to drink.
Photography by Rebecca Chotkowski.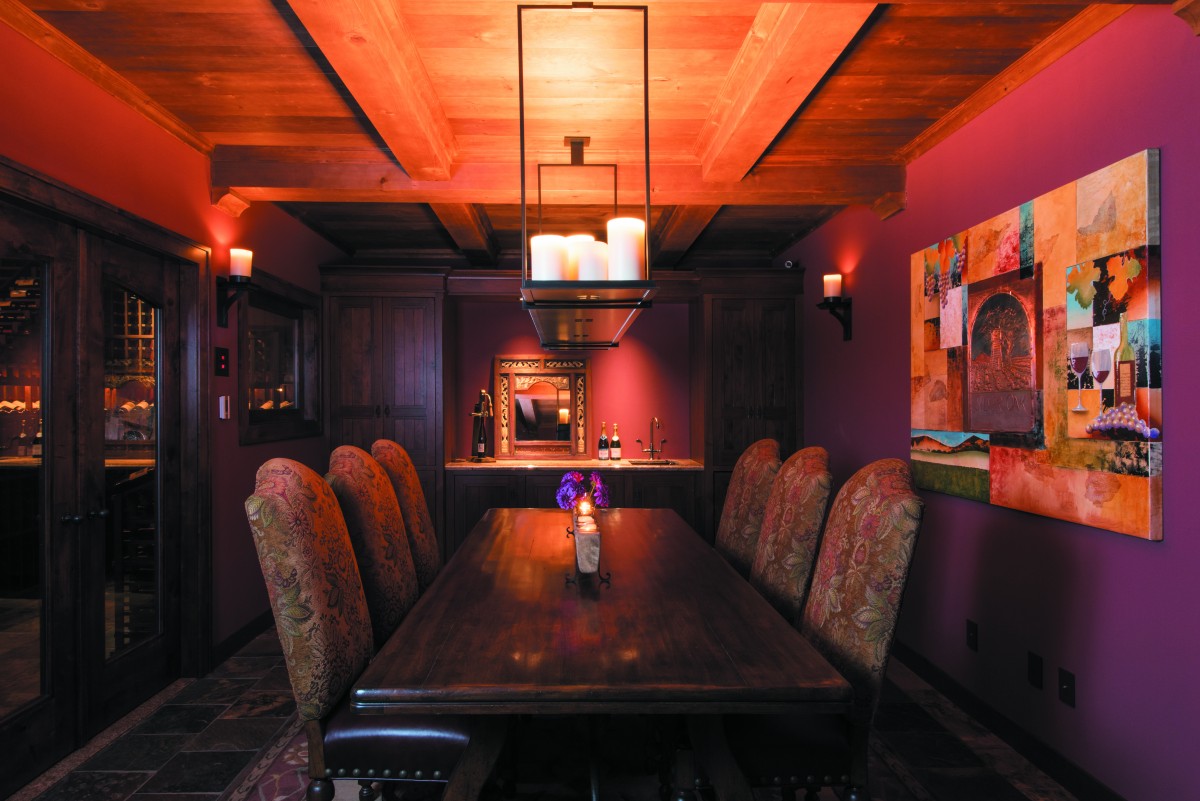 Wine Storage Solutions for the Rest of Us
Can't afford a $10,000-and-up wine room? Richard Peden, owner of Albion Millworks in Kenwood, and Patrick Wallen of Artistic Wine Cellars in San Rafael, offered this information:
The cooling unit is usually the priciest component of a storage area, accounting for as much as 75 percent of the cost.
For the simplest budget, allow for approximately $7 per bottle for cabinetry.
If a room is naturally and consistently cool, forgo the cooler and wall preparation.
Consider a wine refrigerator or self-contained wine cabinet as a collection starter.
In a pinch, place freestanding racks in the coolest place in the house, away from light and vibration. Wines degrade quickly with heat, light and motion.
---