Dining Editor Heather Irwin hoists a fork each week at the latest restaurant openings throughout Sonoma County — from hidden ice cream shops to Michelin-starred dining rooms — for her longtime online food column, BiteClub. As Wine Country's farming and tourism seasons reach their zenith, she's picked out a handful of spots to check out before winter approaches.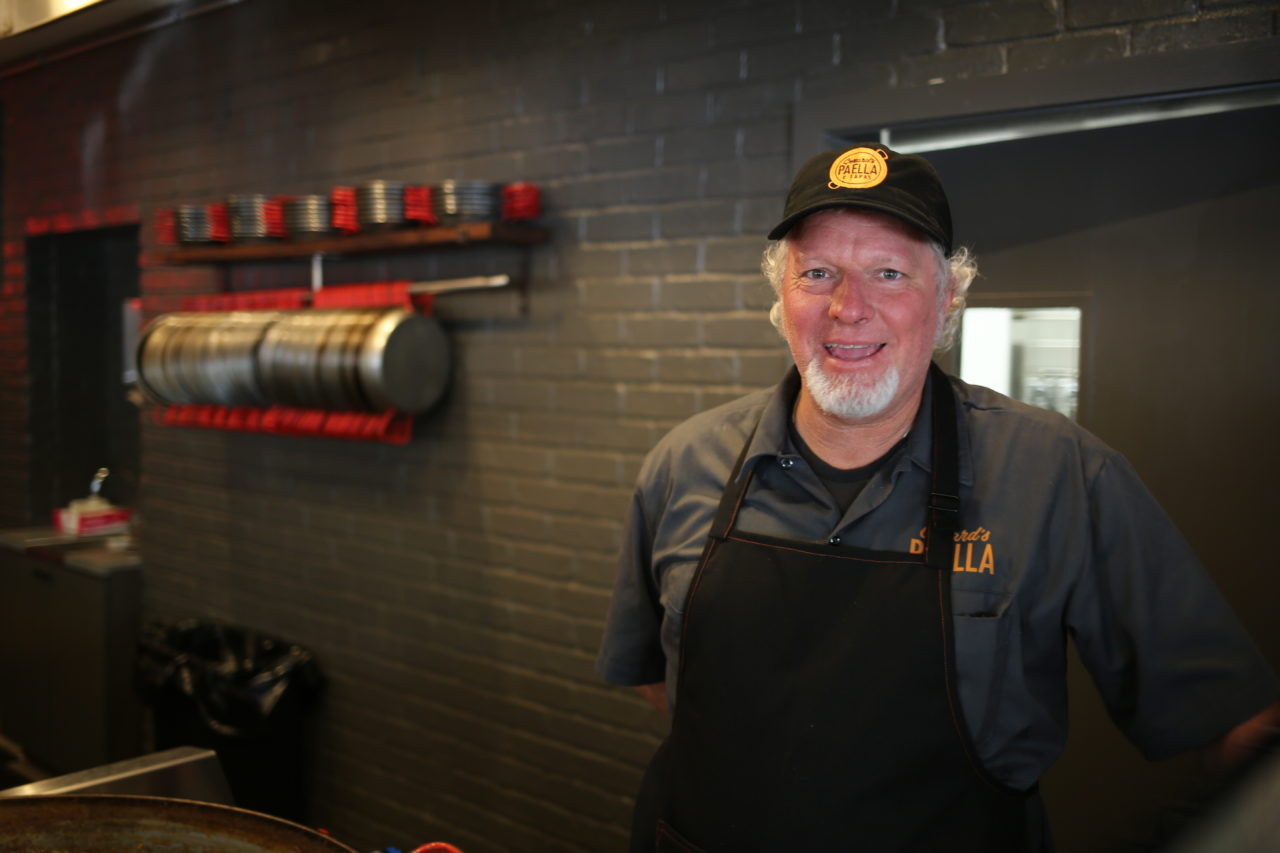 Gerard's Paella y Tapas, Santa Rosa: A local master shares his art.
With a mop top of curly white hair and a grin that rarely leaves his face, restaurateur Gerard Nebesky is the kind of guy who invites you to his longtime camp at Burning Man after knowing you for 15 minutes — and really means it.
The owner of Gerard's Paella Y Tapas, which recently opened in downtown Santa Rosa, routinely dives for abalone and other local seafood for his Spanish rice dishes and learned to make paella on a backcountry ski trip. In 2008, he bested Iron Chef Bobby Flay in a paella smackdown in San Francisco. If you've ever been to a big Wine Country event, you've probably seen him hovered over hot 4-foot pans of rice and vegetables and shaking hands with pretty much everyone who stops by to say hello.
To say he's something of a celebrity adventurer is putting it mildly, even before he reveals that he's tight with former "Saturday Night Live" cast member Rachel Dratch (he catered her birthday party) and, with more glee than ego, that actor Jason Schwartzman will portray him in the upcoming Netflix movie "Wine Country." The Napa-based "dark comedy" directed by Amy Poehler recently wrapped in Napa Valley and stars Tina Fey, Maya Rudolph, Ana Gasteyer, and a host of other SNL folks.
"I'm the 'Annoying Paella Guy,'" he says, holding up a caricature drawing of the cast — with himself in the corner as the Paella Guy. Meanwhile, pans of paella bubble away on his home burners, getting the perfect crispy crunch on the bottom of the pan. Those small paella pans, however, are pipsqueaks compared to the 10-foot pans he's used at major events like the Maker Faire in New York City. "I can serve 1,200 with one of those," he said.
Inside the restaurant, the menu is divided into "pintxo" (little bites often eaten with long wooden picks) and tapas (heartier small bites) along with paella, salads, "bocadillos" (baguette sandwiches), and desserts. It's best to order at least a few smaller dishes to share, our favorites being paella croquettes with Manchego cheese, or goat cheese-stuffed piquillo peppers (both $5) along with sweet-spicy fried potatoes (Papas Bravas, $8).
If you get one thing at Gerard's, get the El Pescador paella ($14) — assuming you dig shellfish. Filled with clams, mussels, prawns, and squid, the beauty of this dish is the "arroz negro," or black rice, created with cuttlefish ink. It's a classic, and the ink gives a slightly briny taste to the rice, complementing the fresh seafood. A few dabs of aioli add richness and a hint of sweet, along with green peas for color and additional sweetness. We kind of can't get enough of this dish.
El Valedon ($15), also known as the #flayslayer, is the winning Food Network paella and features a mix of seafood and marinated chicken with sweet peppers and garbanzo beans. Think of it as more of a crowd-pleaser with a variety of ingredients rather than a single point of view.
Don't miss the special cocktails, like the housemade sangria, a lemon and lager shandy and our favorite, white port, tonic, and lime — truly a little bit of sunshine in a glass.
With this brick and mortar restaurant, Nebesky is finding a new audience for his charm and his paella. Having redesigned the former Persona Pizza in downtown Santa Rosa (also previously the longtime Arrigoni's) into a welcoming spot with a cool sunroom, bright and open dining area, and open kitchen, the madeto- order paella is as much spectacle as meal.
Open Sunday through Thursday 11 a.m. – 9 p.m., Friday and Saturday 11 a.m. – 10 p.m. No reservations. 701 Fourth St., Santa Rosa 707-708-8686 gerardspaella.com.
Click through the gallery above for more hot restaurants in Sonoma.