Long before there was a single plate of food, a single handmade pottery bowl or even a single orderly row of Japanese carrots growing at their Healdsburg farm, Kyle and Katina Connaughton had an exacting vision of what it would look like to eat the seasons.
Not just a broad approach of eating foods native to winter, spring, summer and fall, but separating the seasons into 72 distinct microseasons, each only five days long, that could showcase food at the precise moment of perfection. Inspired by an ancient Japanese farming technique called shichijuuni koo, which factors in everything from the sun and moon to precipitation, wind and tides, it requires the farmer to be constantly in touch with nature.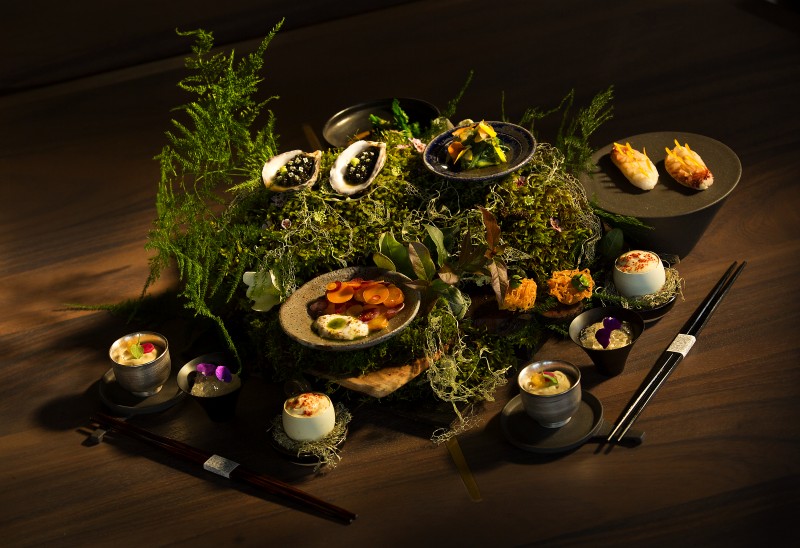 "These [small time periods] mark subtle changes in nature," says Katina, who is the restaurant's chief farmer, and wife to executive chef Kyle. "Being mindful and present, we can observe these environmental nuances and work in harmony with nature rather than outsmart or control it."
In December, the culinary visionaries quietly opened the restaurant, which has been hailed as one of the most important new eateries in the country.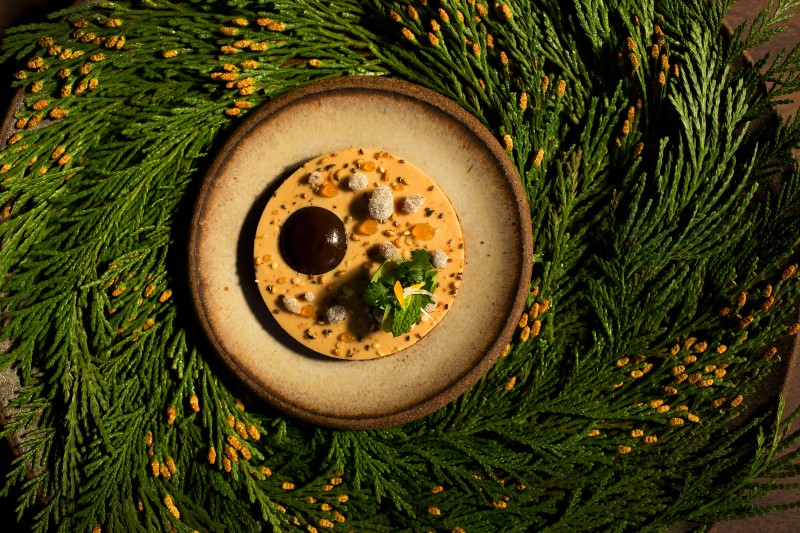 Expectations have been dauntingly high, and in January a distraction emerged in the form of a claim by contractors that the restaurant's investors had held back payment for nearly $400,000 in final construction costs. But the Connaughtons are doing their best to live up to their carefully curated trowel-to-table vision — which is why after nearly two years of planning, construction and menu testing, it's little surprise to walk into the completed restaurant and find if not perfection, something awfully close.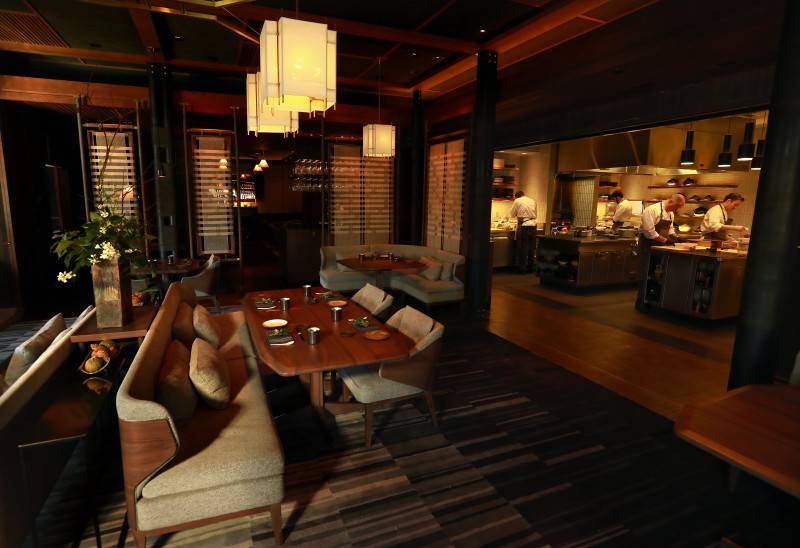 A Zen-like tone is set from the moment diners enter. The restaurant's spare exterior in the recently constructed building, which sits on a central corner in Healdsburg that was formerly home to the city's post office, opens to a small, silent vestibule. Framed at the far end is a peek into the kitchen, also nearly silent, where white-jacketed chefs are hunched over plates creating edible still lifes with kitchen tweezers and flicks of moss, edible flowers and seaweed. There are just a handful of tables, the most fascinating of which is a theater table where guests sit side by side with an unobstructed view of the open kitchen where Connaughton and his staff work at two massive islands.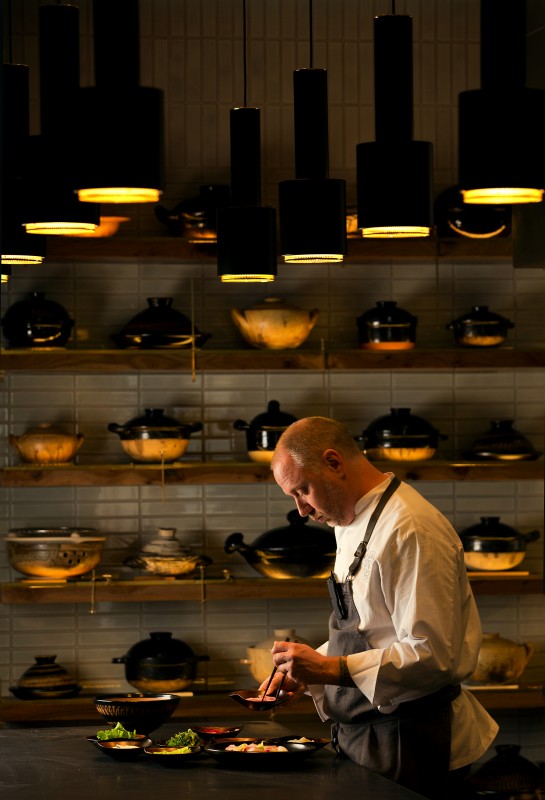 New York-based culinary firm AvroKO is behind the restaurant's design. The firm has been responsible for a number of high-profile restaurant designs in Napa, San Francisco, New York, Las Vegas and Hong Kong. Expect lots of fine details, including signature brass accents and tiles, and a minimalist look that echoes Connaughton's culinary style.
The 52-seat restaurant defies simple labels like "farmto- table" or "Japanese" or "Wine Country" or "modernist," though it encompasses all of those things. Instead, the menu is a reflection of Kyle and Katina's life experiences, ranging from Kyle's time at restaurants like Spago Beverly Hills, three-Michelin-starred Michel Bras in Hokkaido, Japan, and Hesten Blumenthal's Fat Duck Restaurant in the U.K. (which was named "Best Restaurant in the World" during his tenure there), and Katina's experiences as a farmer in Japan and Sonoma County. Kyle Connaughton describes the approach simply as omentashi, or the Japanese art of heightened hospitality and anticipation of a guest's every need.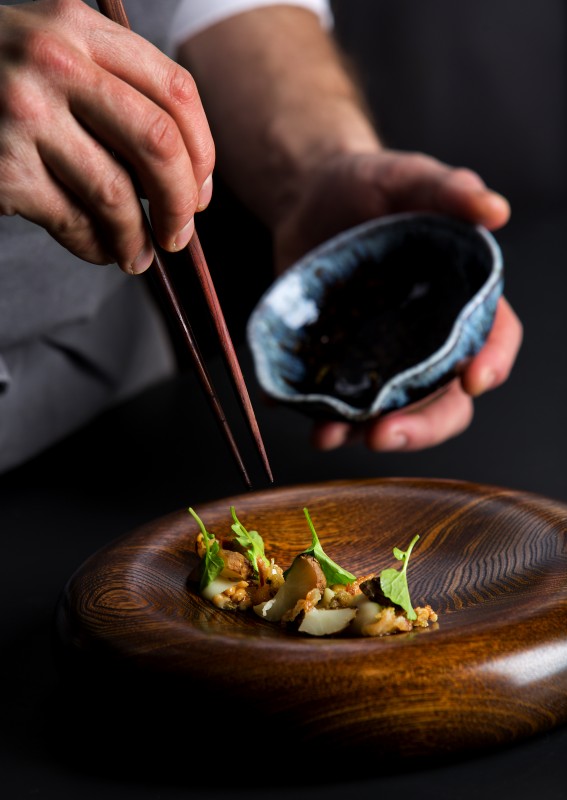 The first course on our recent visit — which began with a cocktail in the rooftop garden and a tour of the complex's luxury inn — was a sort of edible forest adventure, where wood and moss hid a tiny shelled whelk, a bite of pheasant wrapped in a fig leaf, Miyagi oysters and a nibble of Dungeness crab with ponzu. It was followed by a single blue egg nestled in more moss, with smoke sabayon, after which came umeboshi plums and beets, red jewels on a gently scalloped plate.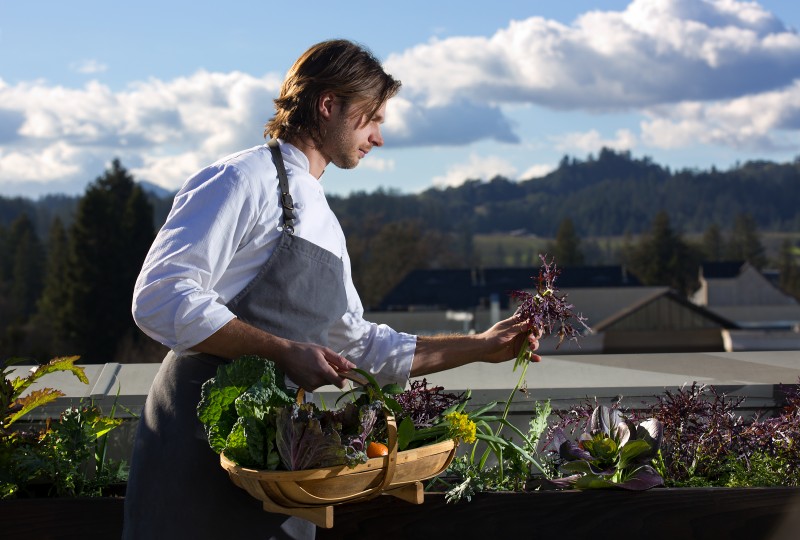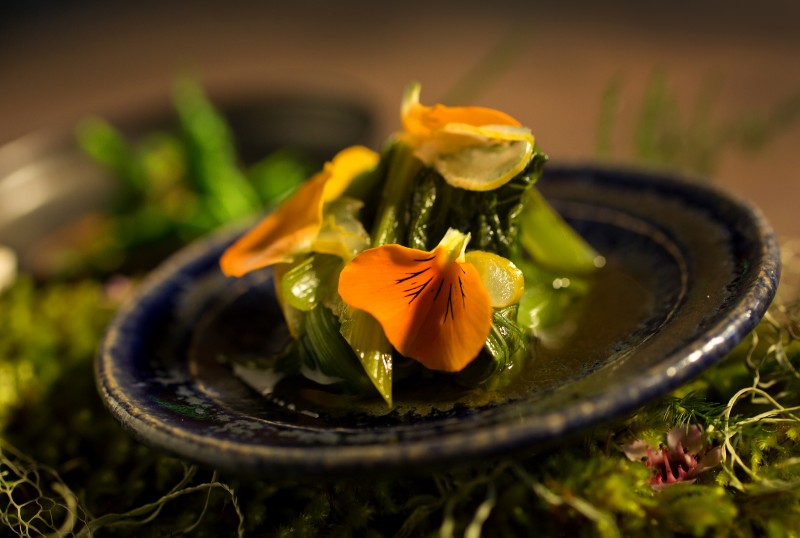 The courses continued for hours (and hours): A donut-shaped wooden plate with Mangalitsa pork jowl and watercress puree, abalone in onion sauce with foam, foie gras on a bed of persimmon leaves, fermented local farro in a matsutake mushroom broth, and guinea hen roulade in pumpkin puree. Each course is a simple bite or two served on handcrafted Japanese dishes made of wood, clay and metal. Chef Kyle's obsession with donabe (Japanese serving pottery), hand-wrought steel knives and artful serviceware add to continuity of the kaiseki experience — the artful presentation of beautiful food and flavors in Japanese haute dining.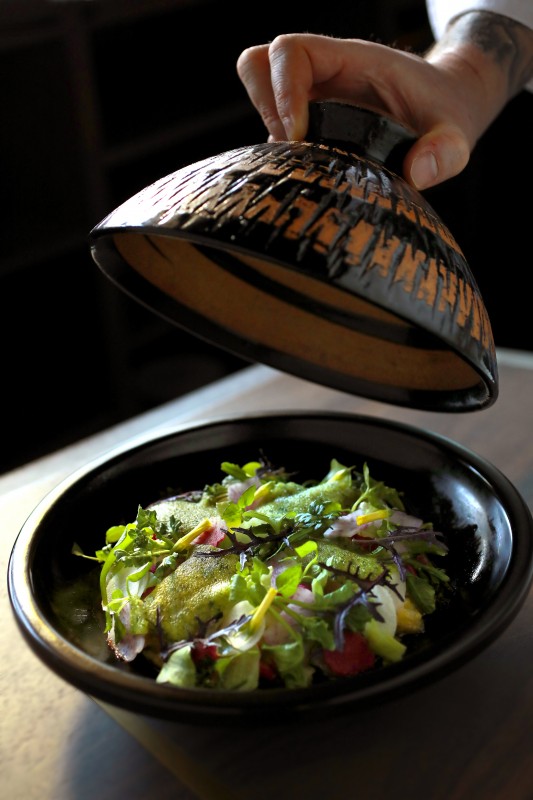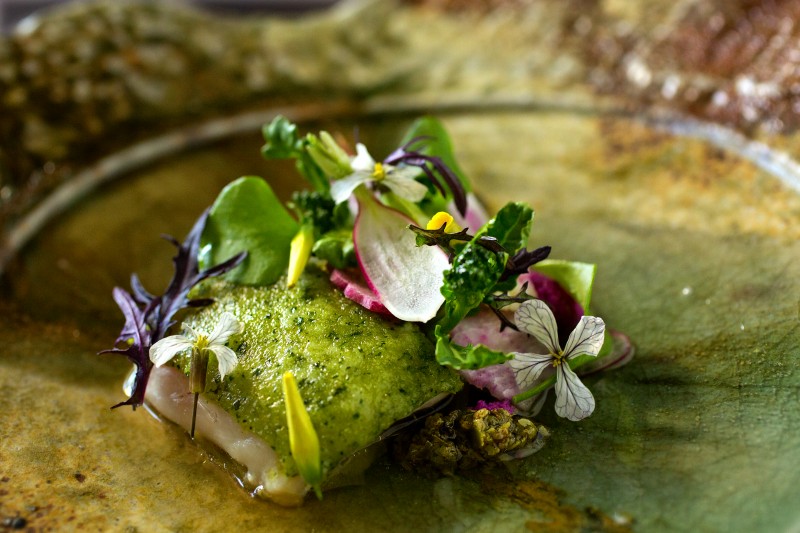 A multicourse dessert menu included frozen fromage blanc with quince reduction and puffed amarynth and an "apple" made of chocolate, filled with cream and Gravenstein apple sorbet. Both were almost too beautiful to eat. Almost.
Single Thread offers both wine pairings and a nonalcoholic pairing experience that includes white tea, cucumber soda with lemon and mint, turmeric shrub with smoked salt and grenadine, nonalcoholic "gin" and lime, and a matsutake mushroom and lemon verbena tea. The 37-page wine list from head sommelier Evan Hufford includes hundreds of Old and New World wines and sakes, many from California and Sonoma County. At the high end: Stunning large-format bottles, like the Alain Hudelot-Noëllat Romanée-St.-Vivant Grand Cru for $9,500, and other rarefied bottles ranging from several hundred to several thousand dollars. By-the-glass offerings range from $10-$50.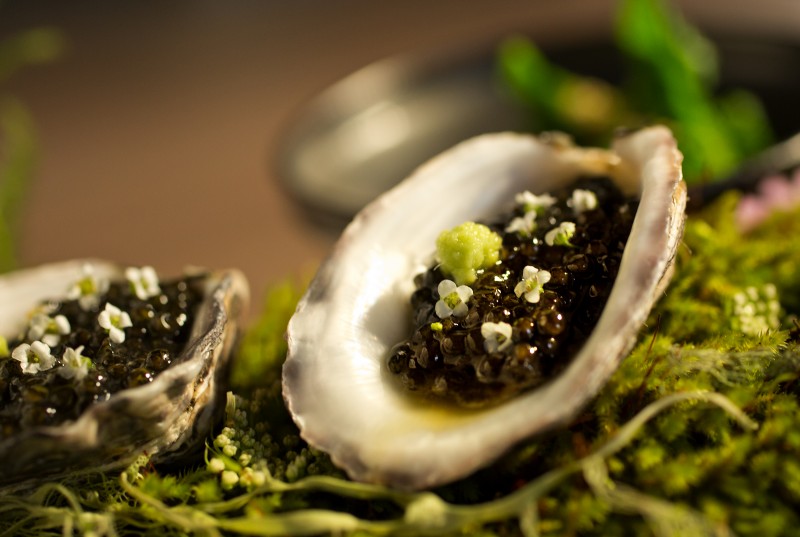 With a $295 price tag per person not including beverages or wine, the Single Thread experience is for those looking to spend some serious cash on a restaurant that has yet to be given a Michelin star. But to put it in context, consider a few other haute experiences around Wine Country. Chef Christopher Kostow's 10-course tasting menu at the three-Michelin-starred Meadowood is $330 (excluding wine) or $500 for a "counter menu" inside the kitchen. Thomas Keller's three-starred French Laundry charges $310 without tax, tip or drinks. San Francisco's Saison, which has the distinction of being the most expensive restaurant in the region and has also garnered three stars, is $398 ($498 for special holidays) without tax, tip or drinks. Douglas Keane's Healdsburg-based Cyrus, which closed in 2012, was more than $800 for two people, but that did include wine pairing and a caviar course.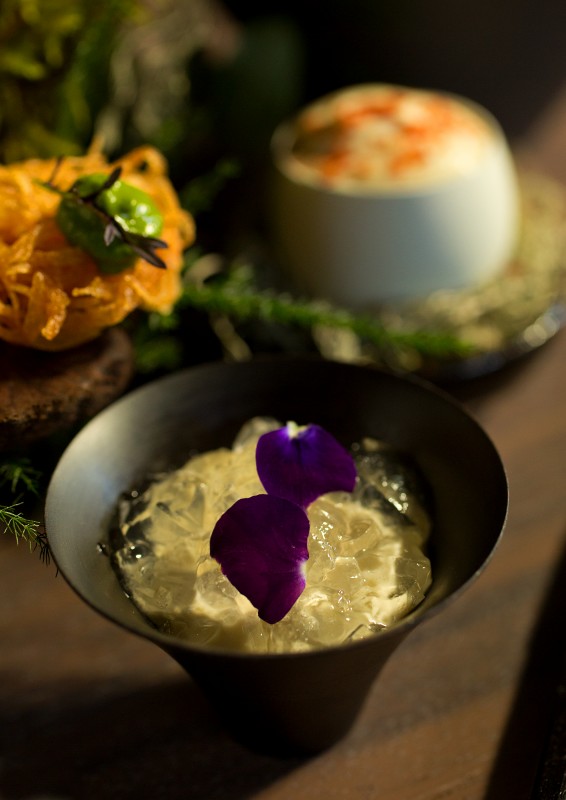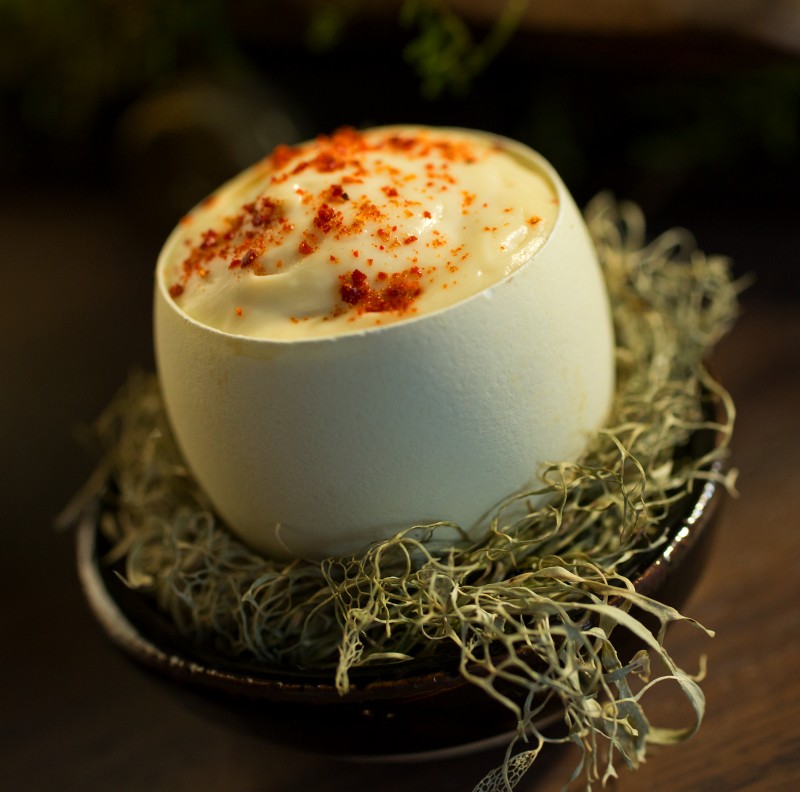 Meals like those at Meadowood, French Laundry and what Connaughton hopes his restaurant will become are personalized experiences using precious ingredients (abalone, Mangalitsa pig, foie gras) as well as highly labor-intensive sauces and preparations. Food is served as art, with two or three chefs attending to each plate. For a food connoisseur it's a once-in-a-lifetime experience off‰ering as much beauty and joy as, say, driving a beautiful car or buying a well-crafted suit or dress.
Though in public he's quietly reflective and not prone to chest-beating, Connaughton is no rookie in the high-pressure, review-driven world of haute dining. His résumé includes some of the most important restaurants in the world and he is cofounder of the culinary research group Pilot R& D, a pioneering company focused on food science. Recently he finished a book on cooking with donabe, ancient Japanese clay cooking pots.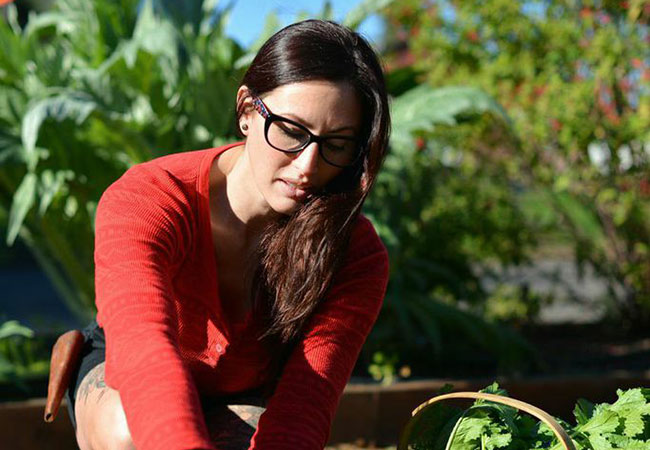 For her part, Katina presides over the 5-acre Single Thread Farm, which is tucked away in Alexander Valley. Carved out of fallow land on winemaker Pete Seghesio's San Lorenzo vineyard property, the farm took months just to prepare for planting. Visitors travel past a flock of laying hens and green grapevines before they spot Katina's greenhouse and neatly plowed rows.
This is the heart of the restaurant, where the seasons, the microclimates and the terroir drive everything. It's all hands on deck, with family members, chefs and anyone else who can handle a shovel, a set of clippers or a bale of hay pressed into service. A tangled orchard borders the farm, with fruit and olive trees Katina hopes to rehabilitate. This isn't gentleman farming, but hard, sweaty, dirt-under-your-fingernails work that has helped Katina get an intimate feel for what will grow there, and how to best utilize the space.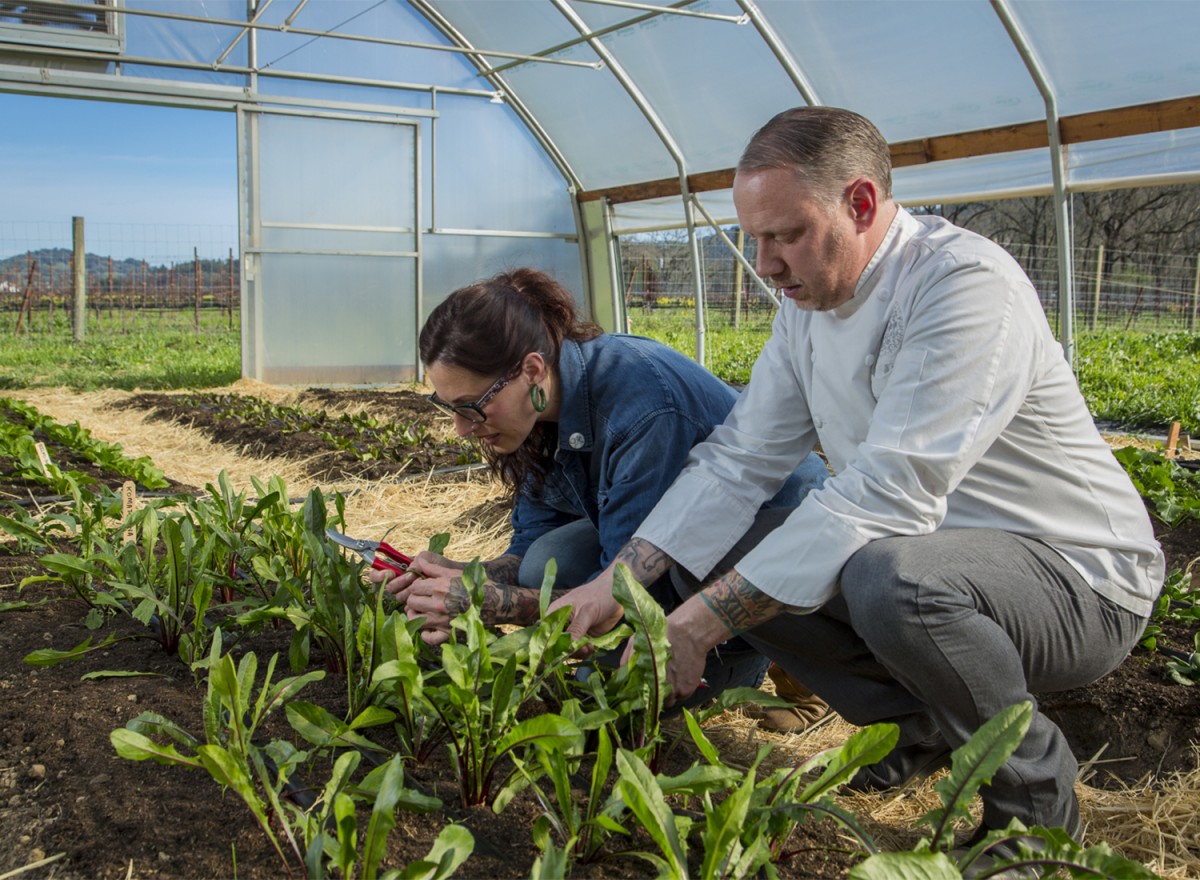 Natives of Los Angeles, the Connaughtons were high school sweethearts and have spent more than 20 years traveling the world, planning for a someday restaurant like Single Thread.
They moved to Sonoma County from the U.K. in 2011, and say they felt at home almost instantly. The location seemed a good fit for the restaurant they envisioned as a guest experience that's an extension of their family, rather than a rigid, uptight encounter.
The Connaughtons and their staff have spent more than 18 months working on every detail, and will continue to hone the bespoke experience to a fine sheen. Doing that in the limelight creates a heavy yoke of expectation. But Single Thread seems well on its way to becoming a culinary jewel in the crown of the Sonoma County dining scene, showcasing the unique bounty of our county — from the farm to each of Single Thread's beautiful plates.