When Bergamot Alley owners Kevin Wardell and Sarah Johnson purchased a digital projector in 2012, they had no plans for Monday Movie Nights. They just wanted to watch the 2012 Euros, the heated European soccer tournament between national teams that grips the continent every four years.
This was after they had the nerve to open a Healdsburg boutique wine bar that eschews California wines for Old World bottlings from Italy, France and Spain; it fit with their European sensibilities. Wardell and Johnson inspired a great turnout of soccer fans coming in not only for the wine and goals, but also craft beers from all over the Northwest. But after the tournament, they were left with a projector and nothing to screen.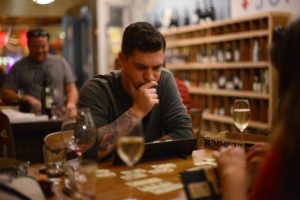 "So we thought, why not show movies on Mondays when there's nothing else to do?" said Wardell, a New England transplant who paid his dues as sommelier at restaurants in San Francisco. "A lot of people on Yelp will liken it to going over to someone's house or their living room or den and just hanging out, as opposed to going to a bar."
Part of the appeal is not just what's on screen or what's in the bottle, but the comfy recycled decor. The bar is built out of 15-foot mahogany boards removed from a truck bed in Geyserville, topped with folded zinc. The bar stools are made of student desks. The wine cellar, affectionately called the porn room, is where the rare bottles age.
As word got out about the movies, the Coen brothers' cult hit "The Big Lebowski" inspired one of the biggest nights at Bergamot Alley, luring fans dressed in bathrobes like Jeff Bridges' "The Dude" character. March featured a tribute to late actor Philip Seymour Hoffman.
But by far, Wardell said, the most packed the place has been was for the "Star Wars" trilogy. "And I'm talking the original cuts and not the re-edited versions," he explained. "You have no idea how hard those were to find."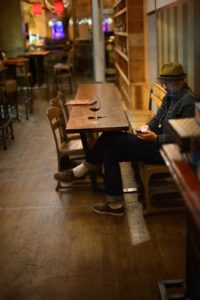 Even if a movie starts to drag a little, there's always the globe-trotting wine list that Wardell keeps in constant rotation.
"At first, there was a pretty stern eyebrow-raise when people heard we didn't serve California wines," he said. "But hearts were won pretty quickly, especially when they understood the idea is to celebrate the differences."
The name of the bar comes from the fragrant Mediterranean orange often cited as a descriptor for one of Wardell's favorite wines: Lacrima di Moro d'Alba. His first sip was in the Marche region on the east coast of Italy.
"That was the one place I went back to year after year after year when I was visiting Italy and it just blew my mind," he said. "It put me on the path to realizing there's so much to learn about wine and I just followed it from there."
Beyond Monday Movie Nights, the 'Mot is home to bluegrass music on Sundays. In February, it staged Super Bowl Bingo and Valentine's Day doubled as disco night.
"Every single project is about us coming up with ludicrous ideas together," Wardell said. "We're just trying to have a little fun."