This time of year brings the changing of the guard at the farm. Spring crops such as fava beans and sweat peas, and late-winter holdouts like kale, chard and leeks, are coming out, and the hot-season tomatoes and peppers are taking hold.
It's fresh-grown, local produce, the likes of which doesn't often make it to the table in needy households. When Petaluma Bounty formed in 2006, the need was obvious: Low-income residents weren't eating healthy produce.
But the solution was a Catch-22.
"Most low-income folks can't afford locally grown produce," program director Suzi Grady explained. "And most small farmers would be considered low-income. That's neither of their faults. It's the system's problem and it requires community solutions."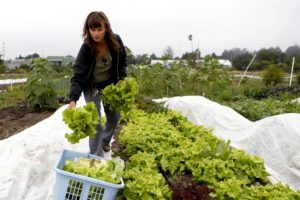 With funding from the Hub of Petaluma Foundation, Petaluma Bounty created a box food club, delivering fresh fruits and vegetables to qualifying low-income families. Backed by volunteers, it planted community gardens around town, and the Bounty Hunters gleaning program was formed to harvest backyard produce that would otherwise be left to rot.
A thriving farm is planted on a 3-acre plot on Petaluma Boulevard North near the police station, where volunteers and families learn to cultivate and harvest.
Most of the produce is diverted to a partnership with the Petaluma Health Center's PLAY (Petaluma Loves Active Youth) program.
In exchange for food boxes, low-income families commit to eight weeks — with both children and parents required to participate — at the farm and health center. They learn about nutrition and setting dietary goals, how to follow recipes and cook healthier meals together. At the farm, they'll reconnect with their food source and learn to harvest their own produce.
"We start to explore what it means to support your local food economy and what it means when you buy food from a farmstand or local farmers market and how much of that food stays in the community, as opposed to buying it from someplace where it was grown far away," Grady said.
Petaluma Bounty also receives donations from growers who have leftover produce from farmers markets. Connected to a network of local pantries and nonprofits, Petaluma Bounty "helped harvest, recover and redistribute" more than 100,000 pounds of food last year, Grady said. With 1 pound equaling approximately two servings, that amounted to 200,000 servings to families in need.
"It's all tied to how much the community contributes," Grady said. "And it continues to evolve, from the new ideas and thoughts, to the volunteers willing to come out to the farm and do the weeding and the harvesting."
The farm's annual plant sale on May 3 (9 a.m. to 1 p.m.) will offer than 3,000 plants for sale.
"Most of the varieties are heirloom, so gardeners can save their own seed," Grady said. "But we will have a few garden favorites, including Early Girl tomatoes and Sungolds." Also look for gardening workshops and a kid's corner with hands-on garden activities.