Interior design trend predictions for 2021 have one thing in common: they highlight the mixing of old and new as a way to achieve a fresh look as we continue to spend more time at home. Straight-from-the-showroom style is giving way to styling with vintage and antique items, blended with newer elements to create a collected and balanced look. Concerns about manufacturing's impact on the planet are also driving this trend: fast fashion is out, while well-made artisan and sustainable style is in.
Petaluma ceramicist Forrest Lesch-Middelton of FLM Ceramics employs a creative process that checks many of the boxes of this new—yet old—design trend. He extrudes tiles and hand-throws tea pots, bowls and plates and covers these in intricate designs using his own screen-printing technique, called Volumetric Image Transfer. This technique allows him to transfer screen printed pattern and imagery onto the surface of each object while they are still wet. He shapes the vessels from the inside only on the wheel, in order to not disturb the pattern. The result is contemporary fine art decor that references Old World style.
Lesch-Middelton likes to work with clay for its sustainable qualities.
"Clay is unbeatable as a material," he said. "It's the most readily available material on earth. You play with it in its plastic state, decorate and fire it, and it turns to stone."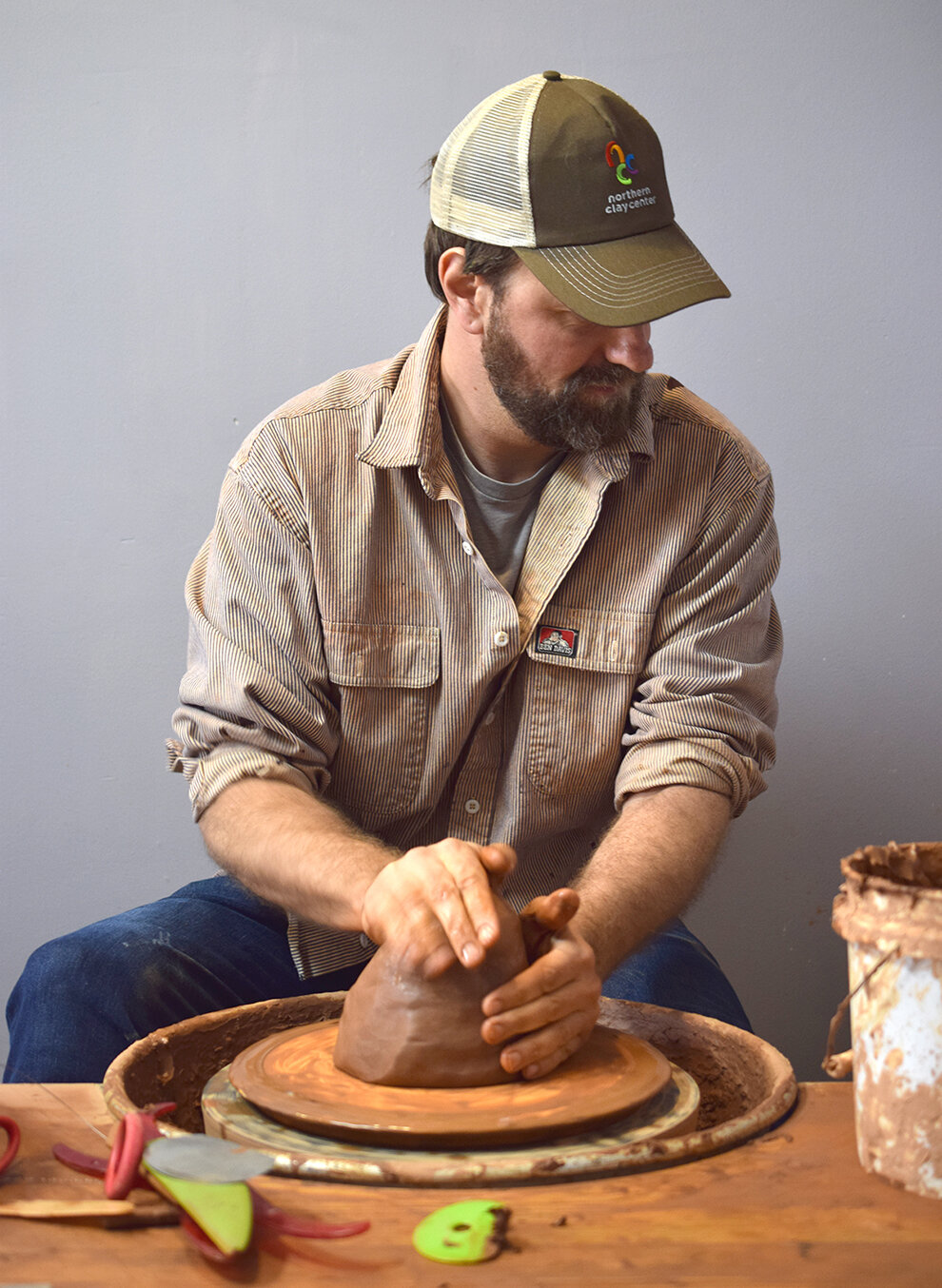 The Petaluma ceramist is inspired by 12th-17th century Turkish and Persian patterns and designs and the syncretism in art and crafts brought about by trade along the Silk Road, a network of trade routes that connected Asia, Northern Africa, the Middle East and Europe. Using modern techniques, he creates functional ceramics and tile that reference this period, as well as Islamic architecture and history and "modern themes of globalism."
"It speaks to history," said Lesch-Middelton about his particular style. The New York Times wrote in 2013 that his ceramics "look like the products of an ancient civilization whose people proudly insisted on being buried with their dishware."
While drawing inspiration from the past, there's also a futuristic strain in Lesch-Middelton's work. For example, he uses a flat sheet of metal, or a Chladni plate, covered with sand to create patterns for his tiles from sound waves.
The Chladni plate or technique was invented in the late 18th century by German physicist and musician Ernst Chladni to visualize the effects of vibrations on mechanical surfaces. Lesch-Middelton adds an avant-garde element by using a signal generator that generates sine, square and triangle sound waves through a wave driver (a special type of speaker) to create geometric configurations in the sand.
Lesch-Middelton collaborates with his partner Beth Schaible and an apprentice to create the tiles. Schaible, a letterpress printer, lends her calligraphy to some of the pieces. The trio works out of their community studio, Petaluma Pottery, and collaborates with interior designers to get their tiles into people's home. They also sell directly to customers via the FLM Ceramics website. Their tiles have been used by customers on floors, stairs and fireplaces and as backsplashes. Projects have ranged in size from a row of just 10 tiles over an antique sink at a Texas boutique hotel to covering the floors of eight rooms in a local home.
Filling large orders definitely requires discipline — as each tile is made by hand — but Lesch-Middelton knows it comes with the territory of being a dedicated artist in this particular line of work. And even the repetitive process of creating one tile after the next can yield new inspiration and a new way of looking at the creative process.
"Sometimes your best discoveries come on your 10,000th tile," he said.
Lesch-Middelton's sees "discovery" as an integral part of any creative endeavor. From the curiosity and wonder of the beginner through the process of learning by doing to the effort of constantly refining one's craft, discovery is a process the artist needs to remain open to, he says.
"Eventually, if we are lucky, we make it through all of this to a place beyond trying, learning and doing— to a place of being. Soetsu Yanagi (a Japanese art critic and philosopher) refers to this place as a space where objects are 'born, not made.' It's a place where sometimes, on your 10,000th tile, you may be open enough to see beyond what your hands made and be affected anew. Our best work comes from that place, and maybe every once in a while I am lucky enough to glimpse and create the product of that place."