There aren't many places in the world where winter road-trip options include snow, coast and a cosmopolitan city. But here we are, in the epicenter of optimal destinations, each one marked by equal parts physical beauty, smart sophistication and vibrant food scene. Take a break during Sonoma's traditional quiet time and recharge in a new setting.
Marin Coast
Less than an hour's drive from Santa Rosa, the coastline along Marin's Point Reyes National Seashore is among the most beautiful in the world, dotted with beaches that are accessible, and some less so. The hillsides in wintertime are brilliantly verdant, and there are many warm, cozy corners in which to curl up against the storms. Dramatic trails and beaches are perfect places to feel nature's moods.
The coastal region's bounty of food and drink is as impressive as its beauty. The Point Reyes area sustains cows, sheep and goats for milk and cheese, grass-fed beef, fish and oysters, and several farmers markets' worth of cool-climate produce. Coastal Marin is also viticulturally viable, with small plots of mostly Pinot Noir and Chardonnay vines. Point Reyes makes an ideal setting for a multiday or overnight stay organized around the one-road towns of Olema and Point Reyes Station, and the outcrops of Inverness and Marshall, set along Tomales Bay.
Where to Go: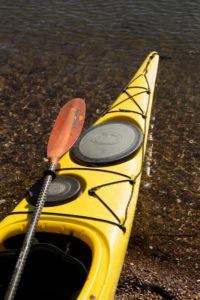 Blue Waters Kayaking
Tomales Bay is ideal for kayaking, offering several places to launch, including at Nick's Cove (officially known as the Miller County Park Boat Launch). Fifteen miles long, the bay offers plenty of room to paddle without having to tackle rough, open ocean. Blue Waters rents kayaks and standup paddleboards, and leads morning, sunset and full-moon paddle tours launching from Marshall and Inverness. Rentals start at $50, tours at $65.
60 Fourth St., Suite C, Point Reyes Station, 415-669-2600, bwkayak.com
Osteria Stellina
Located on the main drag in Point Reyes Station, Osteria Stellina serves gourmet Italian dishes with a Marin twist; freshly harvested ingredients include Drake's Bay oysters, Bellwether Farms ricotta, Marshall Farm honey and Stellina farm baby lettuce. The zuppa del giorno (soup of the day) is a wintertime staple; so are the grilled cheese sandwiches on sourdough. Mains in winter focus on comforting Niman Ranch osso buco, braised chicken and Rossotti Ranch braised goat. The wine list reflects the best of Italy and Northern California.
11285 Highway 1, Point Reyes Station, 415-663-9988, osteriastellina.com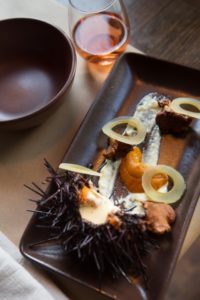 Sir and Star at The Olema
Within The Olema Inn, this restaurant represents the rebirth of Margaret Grade and chef Daniel DeLong, who for many years were the force behind Manka's restaurant in Inverness before it burned down. They continue to operate Manka's as a lodge. Anyone who had the exquisite experience of dining at Manka's will find renewed hope here, where the inspiration for farm-fresh and foraged food continues as brilliantly as ever. Dinner only, Wednesday through Sunday, 5 p.m. to 9 p.m., with Saturday nights focused on a leisurely meal of small courses. Reservations encouraged.
10000 Sir Francis Drake Blvd., Olema, 415-663-1034, sirandstar.com
Manka's Inverness Lodge
The lodge, which survived a 2006 fire that claimed Manka's destination restaurant, remains among the most luxurious and quietly private places to stay. Breakfast is included, the well-appointed cabins have fireplaces and hot tubs, and the town of Inverness and the wild beaches of Point Reyes are nearby. Rates start at $215.
30 Callendar Way, Inverness, 415-669-1034, mankas.com
Hog Island Oyster Co.
The Boat, Hog Island's on-site oyster bar, offers shucked oysters, raw and cooked, cheese, bread, beer and wine, with no reservations required. What will require a reservation is a picnic spot of one's own for DIY shucking, complete with table, grill and tools. BYOB is fine, and there are plenty of beverages for sale at The Boat, including Marooned On Hog Island Oyster Stout. Oysters and shellfish are also sold to go.
20215 Highway 1, Marshall, 415-663-9218, hogislandoysters.com
Marin Sun Farms Butcher Shop and Restaurant
This sustainable meat purveyor, which sells at farmers' markets throughout the Bay Area, is a great place to have a meal or purchase meat, eggs and charcuterie, and beef and chicken stocks. The menu is, of course, meat-obsessed, offering steaks, chops and burgers, including a goat burger with Laura Chenel Chèvre cheese. Open Thursday through Monday for lunch and sometimes dinner.
10905 Highway 1, Point Reyes Station, 415-663-1800, marinsunfarms.com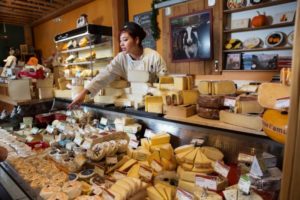 Cowgirl Creamery at Tomales Bay Foods
World-famous Cowgirl Creamery originally made all of its cheeses in this restored hay barn. Now it's a shop for all things delicious, including, of course, the best selection of cheeses in town, from America and abroad. Local breads, sandwiches, salads and a rare collection of local wines complete the picture.
80 Fourth St., Point Reyes Station, 415-663-9335, cowgirlcreamery.com
Nick's Cove
A waterside place to stay and eat, Nick's is a series of cottages on stilts on Tomales Bay and below the road. There's a cozy gourmet restaurant, oyster bar and watering hole within walking distance that's reason alone to make the drive. With the same sustainable mentality that marks so much of Marin, Nick's food is in keeping with the natural surroundings, the menu stocked with crab mac and cheese, crab cakes, crab Louis, crab risotto, clam chowder and plenty of oysters. Lodging rates start at just above $200 and are a better deal in winter, especially midweek.
23240 Highway 1, Marshall, 415-663-1033, nickscove.com
San Francisco
To be so close to such an urbane, food-oriented city is a blessing in Sonoma, and San Francisco can feel more like a part of our extended backyard than a separate place of its own. There is a defined thoroughfare between the two in terms of ingredients and frame of mind. Chefs, bartenders and wine buyers love having the connection to Sonoma, and Sonoma to them.
Whether it's cozying up to a romantic Manhattan in a dark, timeless bar, hanging onto an F-line streetcar in the dark of a winter's evening, or foraying into the shops and eateries that contribute to the national conversation on what constitutes inventive, a trip to the city is sure to open all the senses and remind that what is grown and harvested in Sonoma adds substantially to the fabric of a world-class, much-loved city.
Where to Go:
Dandelion Chocolate
Dandelion is San Francisco's newest artisan chocolate maker, continuing a lineage that runs through Ghirardelli, Guittard and Recchiuti. From its hipster-detailed Mission District outpost, it makes the bars in full view of visitors, from melting to wrapping, with plenty of the finished product for sale, plus roasted cocoa beans and decadent baked goods.
740 Valencia St., San Francisco, 415-349-0942, dandelionchocolate.com
Bi-Rite Market and Bi-Rite Creamery & Bakeshop
One of the early pioneers of artisan food supplies, Bi-Rite in the Mission District is a cool place to browse and find picnic items and other goods to take home. It's so devoted to new discoveries that the store also organizes farm tours (it operates its own organic farms in Sonoma, Placerville and San Francisco), classes and tastings. Committed to creating community as much as nourishing through food, Bi-Rite maintains a second San Francisco store (550 Divisadero, 415-551-7900) and two Creamery & Bakeshops, near both of its markets.
3639 18th St., San Francisco, 415-241-9760, biritemarket.com; 3692 18th St., San Francisco, 415-626-5600, biritecreamery.com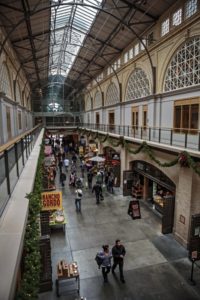 Ferry Building Marketplace
This Embarcadero emporium offers all one could possibly want to eat, with outposts such as Hog Island Oyster Co., Cowgirl Creamery, McEvoy Ranch Olive Oil and Gott's Roadside. It's also a place to discover new wines at the Ferry Plaza Wine Merchant, where food can be brought in to enjoy alongside a rotating selection of wines by the glass or bottle; vintner nights are frequent.
One Ferry Building, San Francisco, 415-983-8030, ferrybuildingmarketplace.com
Mandarin Oriental Hotel
Offering modern elegance in the heart of the Financial District, an easy walk to Chinatown, North Beach and the Embarcadero, the Mandarin Oriental boasts luxurious rooms with views of the bay or bridges. It's also a must-stop for gin lovers; the gin and tonic-obsessed Bar at Brasserie S & P is a slice of heaven for the cocktail-erati. Rates start at $395.
222 Sansome St., San Francisco, 415-276-9888, mandarinoriental.com/sanfrancisco
SPQR
The second restaurant of the team that launched A16, SPQR in the Fillmore is sure to steal your heart if it hasn't already; the Italian-inspired food is rendered in poetically perfect ways. Chef Matthew Accarrino deserves every accolade bestowed and many more. Do everything possible to order the smoked fettuccine with sea urchin, smoked bacon and soft quail egg, paired with something adventurous from owner Shelley Lindgren's Italian wine list.
1911 Fillmore St., San Francisco, 415-771-7779, spqrsf.com
Tartine Bakery & Café
Another stalwart of the city's rigorous attention to artisan detail, Tartine crafts outstanding bread and baked goods. Co-owner and baker Chad Robertson is a hero to many. Fresh-baked bread is available daily after 4:30 p.m., in time for dinner or overnight wrapping for the next day's best-ever toast. The on-site café serves pastries, hot-pressed sandwiches and quiche, along with Four Barrel coffee and Niman Ranch meats. Lines out the door are routine.
600 Guerrero St., San Francisco, 415-487-2600, tartinebakery.com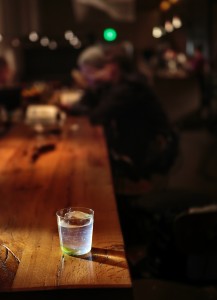 Bar Agricole
South of Market, near the Slim's nightclub owned by musician and Napa Valley vintner Boz Scaggs, Bar Agricole does food and booze equally well, with an emphasis on classic cocktails with an artisan twist. This means a drink like Ti Punch is made from rhum agricole, a species of rum made from fresh-pressed sugarcane instead of molasses, and meant to reflect the sugarcane's terroir, much as wine shows its provenance.
355 11th St., San Francisco, 415-355-9400, baragricole.com
House of Air
Indulge your inner aerialist at this giant warehouse at the Presidio's Chrissy Field, devoted to getting airborne via trampoline. Come just to bounce, or for workout classes, coaching sessions on how to master Olympic-level tuck jumps and pikes, better maneuver on skis and snowboards, or simply to release workweek tension through a game of trampoline dodgeball. Sessions start at $13.
926 Mason St., San Francisco, 415-345-9675, houseofair.com
Lake Tahoe
The ski slopes around Lake Tahoe are such an irresistible draw for Bay Area residents that they'll happily sit in traffic for hours, slog on chains and tempt the fates of road closures, just to get in a day or two of snowboarding or skiing. But that's not the only reason so many love Tahoe. It's also because the year-round resort knows a thing or two about living the good life, offering adrenaline junkies a chance to slow down and refuel around a meal.
Where to Go: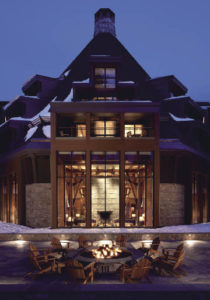 The Ritz-Carlton, Lake Tahoe
Yes, it's fancy and over-the-top luxurious, but the Ritz-Carlton in North Lake Tahoe also has as ace up its sleeve: Manzanita. The destination restaurant has a chef's table for up to eight guests, who experience a "mountain-inspired California cuisine" tasting menu that's crazy-good. In addition to a spa, hiking trails, fishing, children's programs and championship golf, a new Backyard Bar & BBQ is being built. Rates start at $369.
13031 Ritz-Carlton Highlands Court, Truckee, 530-562-3000, ritzcarlton.com/en/properties/laketahoe
The Pour House
To stock up on fine wines, look no farther than this retail shop packed with bottles from the Old World and New, including Pinot Noirs from Saintsbury and Flowers, and selections from the nearby Sierra Foothills, such as the Donkey & Goat Five Thirteen Red Wine Blend from El Dorado. The store also carries collectibles it categorizes as "You Wish!" comprised of library wines such as the 1997 Opus One Cabernet blend. Best of all, the shop does daily tastings of two reds and two whites and will help with parties.
10075 Jibboom St., Truckee, 530-550-9664, thepourhousetruckee.com
Wilderness Adventures Dog Sled Tours
Admire the graceful choreography and poetic paw work of a team of eight to 12 huskies pulling a sled through the snowy mountains on this one-hour tour. Daily daytime and sunset tours are available, weather permitting, winter through spring, leaving from the Resort at Squaw Creek. Up to two adults and two children typically fit per sled. Rates start at $110 per person.
400 Squaw Creek Road, Olympic Valley, 530-550-8133, tahoedogsledtours.com
Petra
In the Village at Northstar, Petra is food, wine and people in equal proportions, featuring some 150 wine selections, winemaker dinners and happy hours daily from 4 p.m. to 6 p.m. (two glasses of wine plus cheese for $20). The restaurant's menu is organized around cheese, charcuterie and tapas.
3001 North Village Drive, Truckee, 530-562-0600, teloswine.com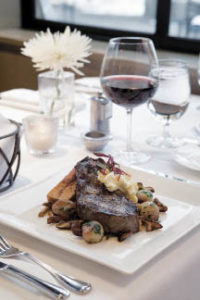 PlumpJack Squaw Valley Inn
The PlumpJack Café at Squaw Valley continues where the beloved San Francisco institution left off, creating sumptuous plates for lunch and dinner that are meant to be enjoyed with wine, which is sold at retail prices. It's a fun place with seasonal wine dinners a prominent part of the mix. On weekends, stay for Sunday Bloody Sunday, when Bloody Marys (Asian- and Southern-inspired) take on new meaning from 11:30 a.m. to 3 p.m. Rates start at $255.
1920 Squaw Valley Road, Squaw Valley, 530-583-1578, plumpjacksquawvalleyinn.com
Moody's Bistro, Bar & Beats
Within the Truckee Hotel, Moody's is both inspired eatery and live music hangout, where a plate of truffled deviled eggs or housemade corndogs with Coca-Cola ketchup makes perfect sense while a blues band plays. Thin-crust pizza, burgers, sandwiches and house-made pastas round out the standard offerings, while bison short ribs and Durham Ranch elk burger stand out as the not-in-Kansas-anymore choices. Wines on tap include J Pinot Gris and Qupé Syrah, and you can pillage Moody's Cellar for a bottle of something rare. And be on the lookout: Paul McCartney has been known to show up unannounced and sing a few tunes.
10007 Bridge St., Truckee, 530-587-8688, moodysbistro.com