All Gene Abravaya has left from nearly 15 years working behind the cameras in national network television is a grainy videotape.
The video shows him rehearsing a scene with actor Scott Baio for the sitcom called "Charles in Charge." Co-star Willie Aames was out that one day, so as the show's stage manager, Abravaya stepped in to help Baio run through his lines.
"Scott and I were wearing sweaters that looked exactly alike, and we had the same coloring, so the camera operators didn't know who was who," Abravaya said.
The tape caught Baio's inadvertent double-take when he was confronted by what looked like his double.
"It was my one and only time in front of the camera," Abravaya said.
In the North Bay, Abravaya, 62, has been a presence on the local live theater scene for the past quarter-century as an actor, director and playwright.
After working on soap operas in New York and sitcoms in Los Angeles from the mid-1970s to the late 1980s, Abravaya moved to Sonoma County in 1990 with his wife, Teri, and their two children. He became the publicist for Rohnert Park's Spreckels Center for the Performing Arts in 2000, and its manager in 2011.
Born in New York City in 1951, Abravaya grew up in Queens and graduated from Adelphi University on Long Island in 1973 with a bachelor's degree in speech.
After a summer stock theater tour in Ohio, including productions with comic impressionist Rich Little and TV actor David Doyle (Bosley on "Charlie's Angels"), Abravaya went looking for work in New York.
"I was auditioning for acting jobs when my money ran out," Abravaya recalled. "Then I saw a want ad in The New York Times that said, 'script typist needed.' It turned out to be the teleprompter service for all of the Procter & Gamble soap opera series that were taping in New York at that time."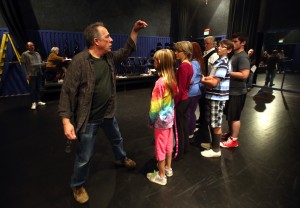 Soon he was the studio teleprompter operator for "As the World Turns," and during the next five years, worked his way up to assistant to the producer. He worked with series co-stars Eileen Fulton and Don Hastings, and former child actor Freddie Bartholomew, who joined the show as an executive producer.
At the series' occasional on-location shoots, Abravaya met with a blizzard in upstate New York and a traffic jam on the 59th Street Bridge in New York City, and he began to look west.
After sending out 300 resumes and getting three replies, Abravaya went to Los Angeles for an interview at Universal Television, NBC's production arm.
"The elevator doors opened, and a big guy in a gorilla suit waved to me and walked on by," Abravaya remembered. "From that moment on, I knew I had left reality."
In the 1980s, Abravaya worked as stage manager and eventually line producer on prime-time TV series in LA. He spent almost five years at Embassy TV, working on comedy series including "Facts of Life," "The Jeffersons," "One Day at a Time" and "Diff'rent Strokes."
Ultimately, Abravaya tired of long, hectic work weeks alternating with idle time between seasons, and decided he'd gone as far in TV as he could. In 1988, the television industry in Los Angeles was crippled when writers, directors and actors went out on strike, and Abravaya began to look north.
"I had done really well, but decided I'd had my fill. I'd been working 50 to 60 hours a week, but I had work 30 weeks a year and then the industry would go on hiatus between seasons," he said of the tumultuous work rhythm. "And by then, we had two children."
The Abravayas moved to Rohnert Park, where Teri's sister lived, and settled down to raise their family.
"When I think back on my career, I've always been lucky enough to be in the right place at the right time," he said.