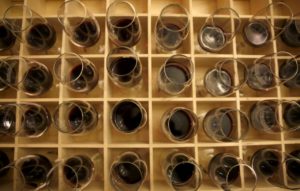 The judges of the North Coast Wine Challenge sipped their way through more than 1,050 wines at the Hilton Sonoma Wine Country Hotel in Santa Rosa Tuesday in a quest to uncover the best wines grown on the North Coast, one of the state's premier wine-growing regions.
The fourth annual wine competition, which drew entries from 22 new wineries this year, accepts only wines grown in appellations within the North Coast AVA (American Viticultural Area), which includes Napa, Sonoma, Mendocino and Lake counties, as well as parts of Marin and Solano counties.
"Today, they are judging through and awarding wines worthy of a gold medal and giving it a point score," said Daryl Groom of Healdsburg, the contest's chief judge. "Tomorrow, they will be judging off the best wines in each varietal … and at the end of tomorrow, we'll find out the best of each county, and we'll decide the Best of the Best," the varietal winner receiving the most points.
On Tuesday morning, nine panels of judges got down to the business of sizing up the wines, with each panel judging an average of six to eight varietals and each judge tasting through up to 120 wines. In general, the judges tackled most of the heavier, red wines in the morning, leaving the more refreshing whites and rosés for the afternoon.
Groom hand-picked the 27 judges from across the country, arranging them into well balanced panels that included one winemaker, one wine buyer and one media person or wine sommelier.
"The idea is that the wines are looked at from all different angles," Groom said. "It creates discussion and differences, but because we're dealing with North Coast wines, they are all high quality."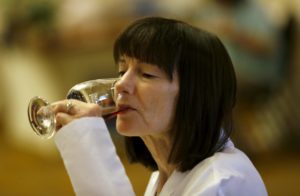 Many of the winemaker judges were sourced from larger wineries that produce a broad range of wines, such as Corey Beck of Francis Ford Coppola Winery, Randy Ullom of Kendall-Jackson and Chris Munsell of E&J Gallo Winery.
Wine buyers on the judging panels included Jusden Aumand of BevMo!, Teejay Lowe of G&G Supermarkets and Ben Pearson of Bottle Barn. Media/sommeliers included Leslie Sbrocco of KQED's "Check, Please!"; Bob Foster of the California Grapevine Wine Newsletter; and Fred Dame, a master sommelier and the first American to have served as President of the Court of Master Sommeliers Worldwide.
For the first time, Groom also added four associate judges — young winemakers or assistant winemakers working in the industry who were chosen from a field of 50 or 60 applicants who wanted to get more experience in wine competitions.
"I'm asking them to give me feedback on the experience," Groom said. "My vision is to have one on each panel next year."
Each of the young, associate judges was paired with a mentor on their panel, including some of the most prominent winemakers working today, from Dan Kosta of Kosta Browne Winery in Sebastopol to Heidi Barrett of Barrett & Barrett Wines of Calistoga.
"For our experienced judges, it's time to give back," Groom said. "I'm a strong believer in wine competitions .. this gives wine competitions a chance to live on and make sure they're important in the future."
Associate Judge Ashley Holland, assistant winemaker for Three Sticks Winery in Sonoma, was getting her first taste of judging Tuesday, tasting through some high-end pinot noirs and unusual red blends under the mentorship of Dennis Martin, winemaker for Fetzer Vineyards.
"I look at wine every day in a technical way, under the microscope," Holland said. "It's good to take a step back and look at it from a different perspective."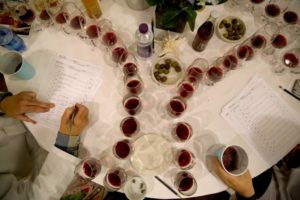 Associate Judge Greg Urmini, winemaker at Crossbarn Winery in Sebastopol, was tasting through $20 to $40 pinots, red blends and chardonnays Tuesday morning alongside his contest mentors. Kosta and Foster, both veterans of wine competitions.
"The biggest thing is backing away and seeing the wine in that category," he said. "Was it well made? Was it well balanced? Does it fit the profile?"
Meanwhile, Associate Judge Erica Stancliff, winemaker for Trombetta Family Winery in Forestville, was tasting through cabernet sauvignons in the luxury class ($75 and above) with her competition mentor, Barrett.
"It's a great way to see what more winemakers are doing stylistically," she said. "The trend I'm seeing now is people trying to find who they are … we're not just pinots, we're Sonoma Coast pinots. There's more competition, so you really have to define yourself and the way you stand apart."
Some of the most popular categories entered this year were pinot noir and chardonnay, both varietals that do well in the cooler, coastal climates of Sonoma and Mendocino counties. Nearly 200 pinot noirs were entered, reflecting trends in winemaking taste and consumer demand.
"People are making more pinot, and consumers are wanting to drink it," Groom said. "No. 1, it's food friendly. But the thing I love most about it is that it's the most diverse grape variety stylistically … you don't know what you're going to get."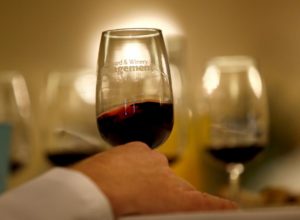 Groom, who also judges the Pinot Cup during the annual Pigs & Pinot benefit event at Hotel Healdsburg, said he plans to invite the best pinot producer from the North Coast Wine Challenge to be one of five honorees at the Pigs & Pinot gala dinner next year. That will be a first-time collaboration between the two contests and an extra feather in that pinot producer's cap.
Throughout the morning, the judges diligently cleansed their palates with still and sparkling water, two types of bread, Graber olives and roast beef.
"The olives take the tannins away," said Debra Del Fiorentino, whose company Wine Competition Management and Production manages all the competition logistics. "Roast beef lightens the tannins that build up on the back of your tongue."
Led by Del Fiorentino and her staff, an army of more than 40 volunteers kept the wine competition running smoothly in the back room, where each wine glass was numbered before being filled and carted out to the judges and each score was logged in, then checked and rechecked several times.
To keep the tasting going, about 4,000 wine glasses were unpacked, then continually washed and dried throughout the day as the judges plowed their way through the competing wines.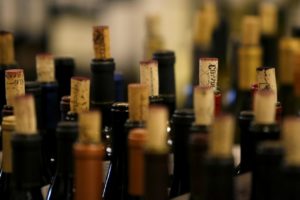 "It's a very intricate process," Del Fiorentino said. "Many of these people have been here for years."
Claudia Irvine, who owns her own marketing business but studies wine at the Santa Rosa Junior College, was one of the newer volunteers learning the ropes of the contest world.
"It's a lot of work, and it's fast paced," Irvine said. "But you learn a lot from how the judges speak about the wines."
The sweepstakes and gold medal winners will be published in Feast and on pressdemocrat.com. On May 15, the public can sample all the gold medal-winning wines and enjoy gourmet bites from nine celebrity chefs during a tasting from 1 to 4 p.m. at the Sonoma Mountain Village Event Center in Rohnert Park. To reserve tickets, go to northcoastwineevent.com.
The blind tasting, co-hosted by The Press Democrat and the trade organization Vineyard & Winery Management of Santa Rosa, was launched in 2013 By Steve Falk, CEO of Sonoma Media Investments, which owns The Press Democrat.
"We've evolved every year to make it better," Groom said. "My dream is to make it the must-enter contest for wineries … and for young judges, to help them get their start."
Staff writer Diane Peterson can be reached at 521-5287 or diane.peterson@pressdemocrat.com. On Twitter @dianepete56.
See the orginial post here.