Master glassblower Alex Leader squints into a furnace that holds a crucible of 2,000-degree molten glass as blankets of heat escape into the already sticky-hot studio. He scoops out a glowing mass of the melted silica, soda and lime, and with a long blowpipe and torch, uses his breath to create beauty.
Vases, stemware and light fixtures transform people's homes and are the hallmark of his artistry at Leaderglass, the company Leader founded in Sonoma with a calling card that meshes his name and his profession. It also reflects his restraint, as he resisted the temptation to add the tagline, "the leader in glass."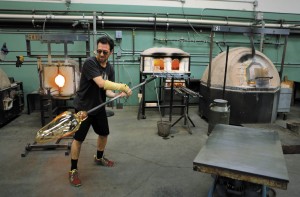 "I like to think I'm a little more humble than that," said Leader, whose latest spin in his glassblowing career is giving others the opportunity to experience his craft. "It's something different to do in Wine Country," he said of the classes he holds at Leaderglass as an alternative to wine tasting. Since 2011, more than 600 people, many of them tourists, have taken a class. Some have had private, two-hour sessions with Leader ($150); others pay $50 for one hour and help from the master in producing their own paperweight.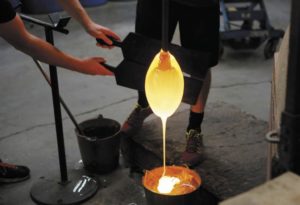 "I haven't turned anyone into a glassblower," Leader said, "but they come in and have fun and experience something new. Watching an expert glassblower makes it look very easy, but by the time people are done with the class, they know it's really difficult."
Leader has to help people finish their pieces, but everyone realizes it's not something to be learned in a day. He does have a few students taking a series of classes. They can be team-building exercises or corporate events, and he's taught small groups from Google and Genentech. Dinner parties have even been held in his hot shop, as it's called, while he blows glass as the entertainment.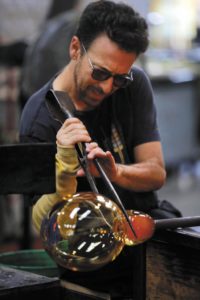 Stepping out of the sweltering studio into the dim office he calls his cave, Leader said that 17 years ago he and his wife, Lillian, came to Sonoma from New Jersey with their young son, Che, following a glassblowing job offer and the clichéd California dream. They fell in love with the Valley of the Moon and decided it was the place to raise their family, which now includes a 10-year-old daughter, Raven.
"I was a kid with a whim," said Leader, 41, of his passion to become a glassblower. An excellent student in high school in New Jersey, he entered Franklin Pierce College in New Hampshire with a leaning toward history and no real notion of what he wanted to do with his life. It was there he was exposed to glassblowing, and Leader eventually left college and took a job as an assistant to a glassblower, which is the centuries-old tradition for learning the trade.
While selling handmade glass he helped create for Belle Mead Hot Glass at a wholesale show in Philadelphia, he met Sonoma glassblower Frank Cavaz, owner of Bacchus Glass, and took him up on his job offer. Although Leader now has his own company, he continues to share space and furnaces with Cavaz.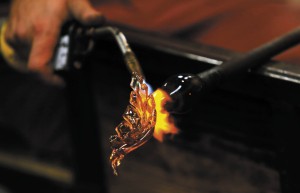 Leader likes to make art objects that homeowners will use and enjoy. He sells ornate, signed, stemmed wineglasses for $50 each, and hopes people drink from them rather than simply displaying them on a shelf.
"We commissioned him because he was great to work with and extraordinarily gifted," said Sonoma homeowner Chip Romer, who has an elaborate dining room chandelier and four sconces in his living room that were made by Leader. "He got the colors right and the shape was exactly what we wanted. He was happy to collaborate with my creative vision, which is really gratifying when working with an artist."
Leader makes special orders, and is proud that the trophies presented to the winners at NASCAR races at Sonoma Raceway are his creations. Recently he was commissioned by Sonoma Valley Hospital to produce large oak leaves of blown glass, which will be part of a permanent art installation in the hospital's new emergency center. He also made small commemorative oak leaves as gifts for major donors to the hospital's new building.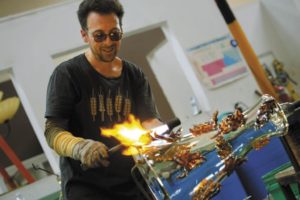 As beautiful as his works are, there are hazards in producing them.
"I burn and cut myself all the time," Leader said, although never seriously, and after 23 years he has no permanent scars. He loves that there is a 2,000-year history to glassblowing, an art most famous in Italy with its acclaimed Venetian glass. "In the last 50 years, it's been artist to artist," he said, explaining how one learns. "I've never taken a glassblowing class. No formal training, only on the job."
Leader is a huge admirer of Seattle's Dale Chihuly, who started the studio art glass movement in the 1970s and whom he credits with reviving glassblowing in the United States.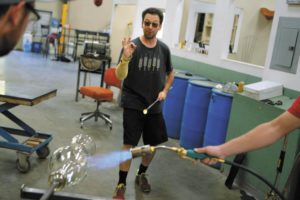 "From Colonial times up until World War II, glassmaking was a huge business here," he said, mentioning Libbey Glass and the makers of Carnival glass, who largely relocated production overseas. "And then came plastic, and glass seemed impractical when you had this new material that didn't break. We joke that Tupperware killed the glass industry."
A new niche Leader is creating is making decanters and wineglasses out of wine bottles, a very difficult and specialized technique.
"Glass hardens very quickly, and glass re-melted from a bottle hardens even faster, making it even more difficult to work with," he said of the glasses that will be sold in the tasting rooms of several wineries, including Gloria Ferrer Caves & Vineyards and Roche Winery, both in Sonoma.
"I live in the Wine Country and I make glasses. Glassmaking and winemaking, they are totally connected," Leader said of his creative life lived surrounded by vineyards, a lifestyle he never intends to leave.