Wake up just after sunrise to a melody of birds and soft light splashing across glistening hardwood floors. The air is crisp and fragrant, with subtle scents of the sea. Step outside and stroll the woods and pastures, and along the Tomales Bay shoreline. Take deep, invigorating breaths.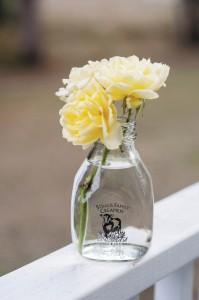 Back inside, brew a cup of espresso or organic tea, nestle deep into luxe linens and flip on the 50-inch flat-screen TV. Tickle the ivories on the Steinway, peruse the library of cookbooks and games, and plan a dinner menu to be prepared in the well-stocked kitchen or on the grill outside. Or call a private chef to take care of the meal.
Sound like paradise? Then the Straus Home Ranch, long a private West Marin residence recently renovated as a vacation rental, is the place for you. It's a 19th-century farmhouse, but one that has been polished to a beautiful sheen.
The property has been in the Straus family since 1941, when Bill and Ellen Straus purchased 160 acres next to Tomales Bay in the tiny hamlet of Marshall. At the time, there were several buildings on the property, including the main house, built in 1864 by Jeremiah Ladd Blake, a colorful character who was a farmer, artist, saddle maker and poet.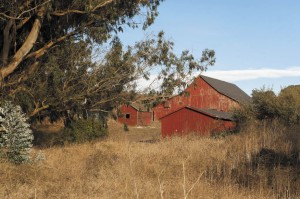 Bill and Ellen bought the property from the Blake family, and a few years later added a second parcel less than
a mile away. They started a small dairy, with 32 cows, on the original land and moved it to the newer property in 1950. For the next several decades, the Strauses raised their four children and tended their dairy in the pristine countryside, now protected by the Marin Agricultural Land Trust, which Ellen co-founded.
In certain ways, the rest is familiar history: Straus Family Creamery, founded by the couple's son, Albert, in 1994, is widely known for its premium organic dairy products, including milk, cream, yogurt, sour cream, butter and ice cream.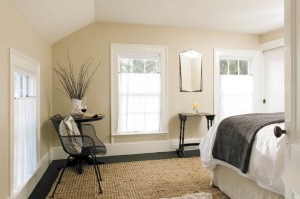 With the opening of the home ranch to visitors, another part of the land's story can be told.
When their parents died in the early 2000s, the Straus siblings divided the holdings, with Albert keeping the dairy and creamery. His siblings, Miriam, Vivien and Michael, kept the home ranch. For a decade or so, the family home was rented to long-term tenants. In 2012, the siblings decided to turn it into a vacation rental, welcoming their first guests in 2014: Japanese visitors who came to study organic and sustainable farming.
"We had to race to get it done in time for their visit," Michael Straus said of the restoration that took place during the first half of 2014.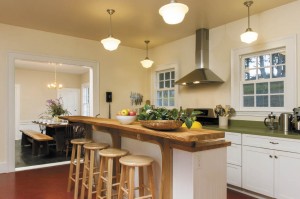 Henry and Irene Haupt of Petaluma did the restoration, working on the exterior and interior. "It was pretty run-down when we started," Irene said, "and we had to remove old wallpaper and paint inside and out."
The Haupts also added a railing to the downstairs porch. The upstairs wraparound porch already had a railing, so Henry crafted a matching one, using old redwood. The downstairs railing matches the upstairs railing so perfectly that it looks as if it had always been there. Whenever anything needed to be replaced, Henry would match the wood, produce the piece in his Petaluma workshop, and install it in a way that honored the integrity of the original structure.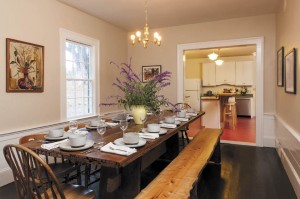 Vivien Straus, who lives in Petaluma, chose a palette that is soft and muted, with cream-colored walls and off-white trim. At certain times of the day, the house takes on a warm, buttery glow.
Darrel DeBoer, a family friend and architect who also builds furniture, used local wood to craft a dining table and bench, kitchen island, picnic table and more.
In the barn, he found pieces of redwood and used them to make the spectacular table for the dining room. He used California bay from his own land in El Sobrante in Contra Costa County for the bench.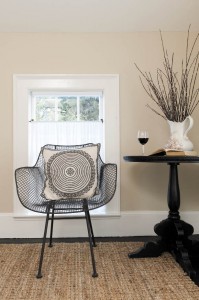 Bay does not grow straight, but rather twists and turns in response to its environment. It is typically dismissed for furniture, yet if it's milled and the pieces clamped together, it dries straight and becomes a gorgeous piece of wood. DeBoer also embraces other local hardwoods, including cedar, madrone and live oak.
A dead cedar tree from El Cerrito, with beautiful knots and a soft yellow hue, became a two-tiered island in the fully renovated kitchen, the only room to undergo structural changes. For a picnic table, DeBoer used lumber discards, Douglas fir that is typically used for framing houses. Six-foot lengths, unsuitable for framing, are perfect for tables. The trick was in the finish.
"Think about it like a boat if you want it to last," he said. "If you don't, it won't have a long life. If you do, it will last a very long time."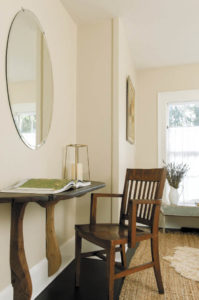 DeBoer was particularly inspired by a piece of redwood he found on the Straus ranch, a long, 2-foot-wide board.
"Finding 2-foot-wide redwood is impossible today," he said. "Cows had been walking on this for a hundred years and all I had to do was hang it on the wall, step back and stare at it." Now it's a desk in an upstairs bedroom.
Stacy Lauer, who lives in another house on the property, shaped the interior design of the 4-bedroom, 2-bath home.
"I wanted to honor the history and spirit of the house," she explained, "and focus on comfort, function and simplicity. It's not really vintage, but it's not modern." She, too, worked with a muted palette, with white, off-white, soft cream, beautiful grays and rich, earthy browns. With a limited budget, she indulged where it mattered most.
"I went very high-end with bed linens," she said, "and because we had to stay with white, I used a lot of textures."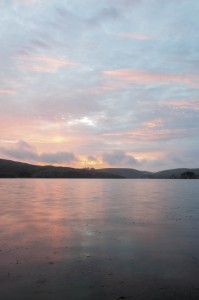 Decor came from Crate & Barrel and Ikea on the low end, and Matteo Linens of Los Angeles on the high end.
Lauer is a pastry chef and caterer by trade and will provide chef services by advance arrangement for guests at the home ranch.
Not much was needed to enhance the landscaping, as there is so much natural beauty on the property. Some of the acreage is leased to ranchers for grazing heifers and for organic silage production. There's a large hay barn painted red, a rental home and several other small farm buildings.
Another Straus family friend, landscaper Daphne Edwards of Berkeley, added some lush yet drought-tolerant plants that blend beautifully with the natural environment.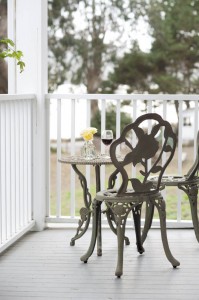 One of Michael Straus' more vivid memories of his childhood at the ranch are the magical winters, when he loved playing outside in the rain. "And sometimes I'd just sit on a big rock on the tiny beach near the front of the house and watch the bay and the amazing sunsets," he said.
Now that the Straus family welcomes guests to the old farmhouse, others can make their own winter memories there. Watch the bay and the sunset, or let the occasional storm make staying inside all the cozier and more comforting.
Editor's Note: Travel, dining and wine tasting can be complicated right now. Use our inspirational ideas to plan ahead for your next outing, be it this week or next year. If you visit restaurants, wineries, and other businesses during the pandemic, remember to call ahead, make reservations, wear a mask and social distance.